My First Trip to Bangkok, Thailand
Recently, I had a beautiful opportunity to travel to the capital of Thailand, Bangkok, which is well-known for its elephant sanctuaries. Unfortunately, this was not exactly a vacation – but rather an important trip to my friend's wedding – so I could not do the usual "vegan eatery exploring" that I've done with other cities. However, my friends took me to a few spots with veggie options, and I wanted to share the good vegan memories with you today.
During the five days in Bangkok, I stayed at Hotel Arnoma that my friend had booked for me. Not only was I impressed with their food, but also their awareness of veganism and willingness to welcome vegetarians and vegetalians (another term for vegan). It was a rare moment that made me feel understood, especially in an Asian country. (You'll know what I mean if you read my blog on Seoul, Korea).
The Lunch Buffet at Hotel Arnoma, after the traditional engagement ceremony.
When I landed in Bangkok at 3 in the morning, I only had six hours to sleep and get ready for my friend's engagement ceremony. I don't remember what exactly happened because I was half asleep the entire day, but I managed to take photos of the food I ate, so here it goes…
The hotel restaurant was so large that it took me several minutes to find this vegetarian corner. I almost lost hope, when I found these two dishes just in time!
The following evening….. The Dinner Banquet
As expected, I was the only vegan among the 80 guests who were invited to the wedding. The chef was notified in advance of my food restrictions, thanks to my dear friends, so I was very grateful that I didn't leave the banquet with a hungry stomach. There was no doubt that I was very lucky to have this option available for me, but I still wasn't sure if what I was feeling at the time was a positive emotion.
I couldn't help but think that my choices will always alienate me in such occasions (doesn't mean I regret making the decision to become vegan!). People around me were staring at me and my food, and was wondering why I wasn't touching any of the meat. All these mix of emotions came to me.
One thing I did know for certain was that I loathed their menu, which included shark's fin. When I read that, I lost all my composure and I let the look of disgust appear on my face.
Wedding is over…. Next day at the mall!
After congratulating my dear friend who had just become a wife, she and I celebrated her success by going shopping (that's what females do…) at one of the biggest malls in Bangkok. She also knew there was a place that I would really enjoy for lunch. There is one important thing to keep in mind. You cannot pay your food with cash; there is a platinum card that you can get in order to have your meals (picture followed). I guess it works like tokens. Don't worry, you can get your money back once you deposit it.
The next day…  at a restaurant!
Every place I went, my friends made sure that the food they ordered for me was entirely plant-based. Actually, it was quite easy to veganize Thai food because their main ingredient was rice and noodles, which are plant-based. I just omitted any meat, eggs, and fish sauce, and the meal was vegan. You can see the plate that's in front of me (I took the photo) looks a bit bland compared to the other two, but it still tasted great. And… a little bit of French fries on the side doesn't hurt.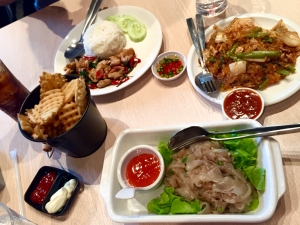 Last day… At the airport
I'm not usually so worried about eating at the airport because I know there will ALWAYS be an option for me. I'm more worried about selecting which one to order because there will be too many to choose from! Well, that happened in Bangkok. My friend and I had a dilemma because all the options looked too good. We ended up choosing… well, you'll see. 🙂
First, we got some mushrooms that were stir-fried in soy sauce. And we also ordered spicy cabbage soup, which was really cool because it tasted exactly like one of my favourite Korean dishes!!! (Yes, I'm Korean.) Finally, we asked for a little bit of noodles to share because otherwise, we would have regretted it.
So, my travel diary ends here. Due to my limited time, I wasn't able to explore all the desired places, but I hope this gives you a brief idea. If you haven't been to Thailand, now you know what to expect – if you have been there in the past, I hope this brings a nice reminiscence.
One day, I hope to go back to actually do a tour of all the vegan places. I was a bit sad that I didn't get to visit any of the ones I had in mind, but that's ok. At least it gives me a reason to return! Have you been to Bangkok or any other cities in Thailand? How was your experience? Share your vegan memories with us in the comments!
Kap Koon Ka~ (Thank you in Thai)