Like in many other big cities across the planet,eating vegan in Bangkok is pretty easy nowadays. Bangkok has become those last years a surprising vegan destination. Not only the thai cooking is perfectly suitable to veganism, but many 100 % vegan restaurants offering more than asian food have appeared.
On Happy Cow there is 31 vegan restaurants or stands in Bangkok (in 2017 – though some don't exist anymore). I couldn't test them all myself but I'm pretty sure I found the best! Prepare your taste buds and let's go… Ranked from « worst » (meaning pretty good here) to best .
Ton Phon
Onnut Farm Complex, The Phyll, 10260, 2/3 Soi Sukhumvit 54, Bang Chak, Phra Khanong. Metro: On Nut.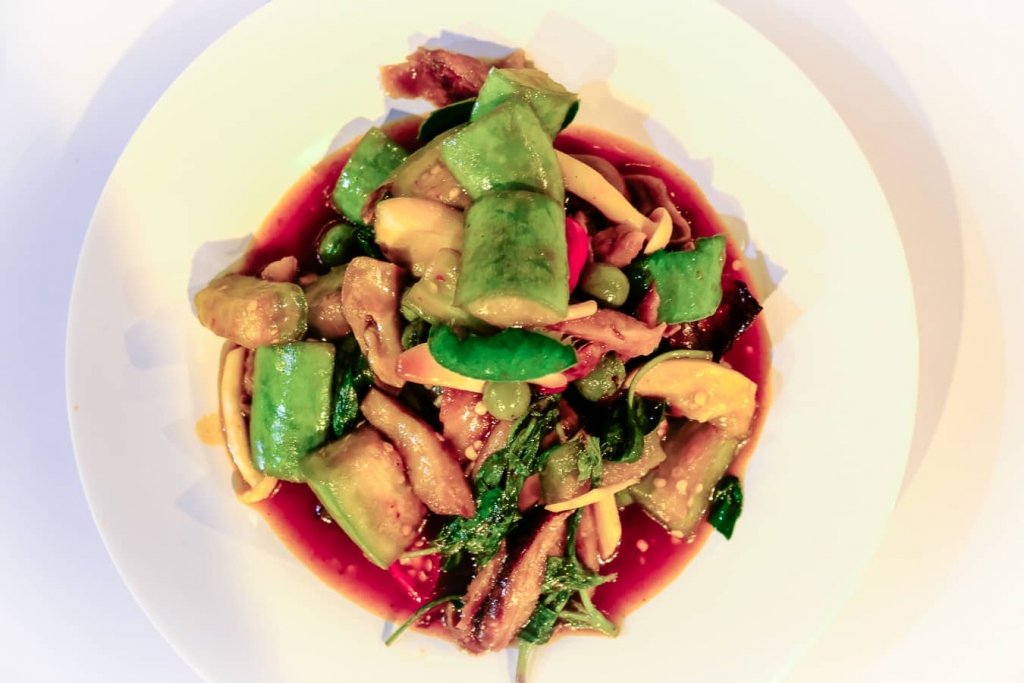 You will probably never pass in the neighborhood, but if so, try this small stand with freshly cooked food and nice prices (about 50-70 baht per dish). It is located in the basement of a small shopping center, next to a co-working space. Not always easy to have what you ask though.
Mango
Thanon Tanao, Wat Bowon Niwet, Phra Nakhon. Close to Khao San Road.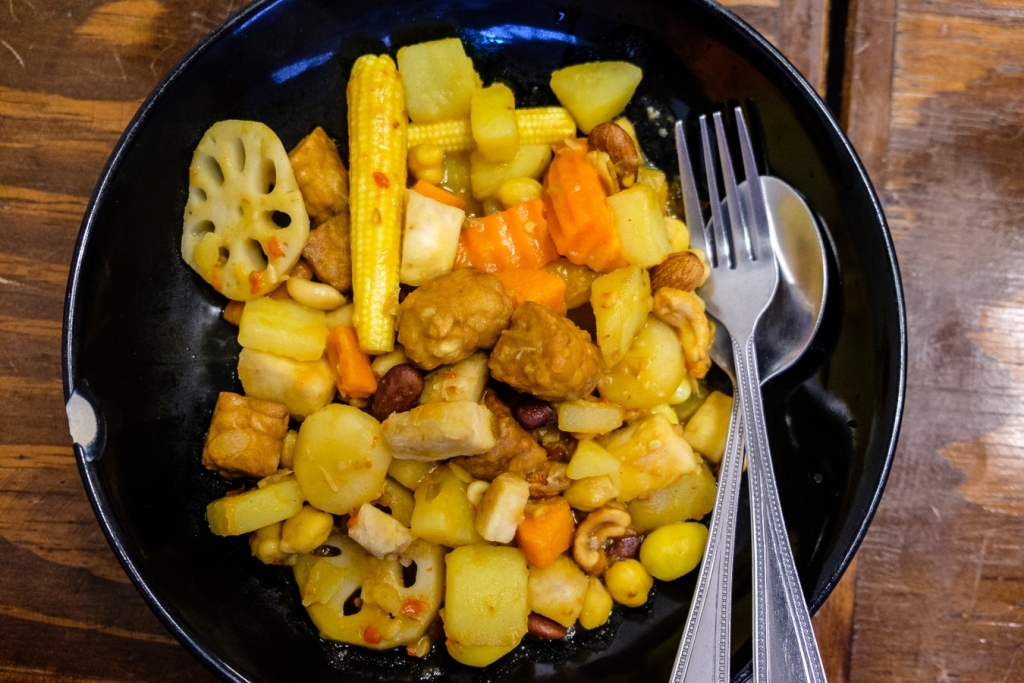 This small vegan restaurant near Khao San offers different dishes full of seasonal vegetables, and some delicious fruit kombucha. There is also tempeh! The food is not as nice as other more expensive restaurants, but the food is good and the prices are right.
Broccoli Revolution
899, Sukhumvit Rd, Khlong Tan. Metro: Thong Lo.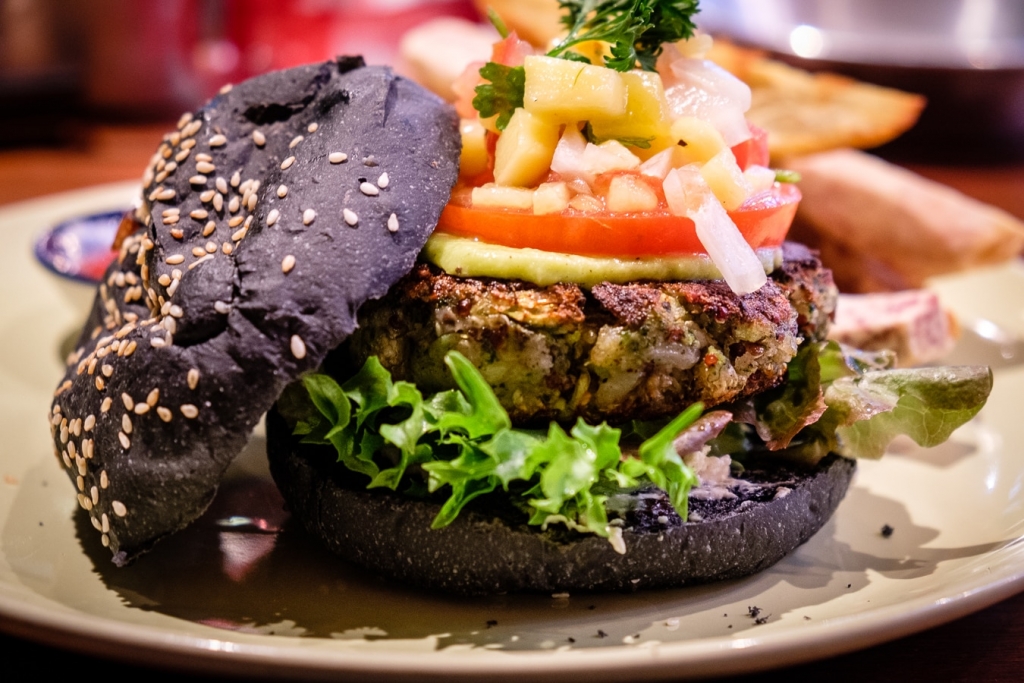 Surrounded by an exotic decoration made of hanging plants and brick walls reminiscent of New York, Broccoli Revolution is an expensive restaurant with a large staff. I tasted a specialty, a vegan burger with black bread: very good! The fries, on the other hand, were not really to my taste, a little too dry. The desserts, common, are not made on site. A space is dedicated to exhibitions.
Bonita Café and Social Club
100 Soi Pramote (Silom Soi 26), Silom Road, Suriyawong. Metro: Surasak.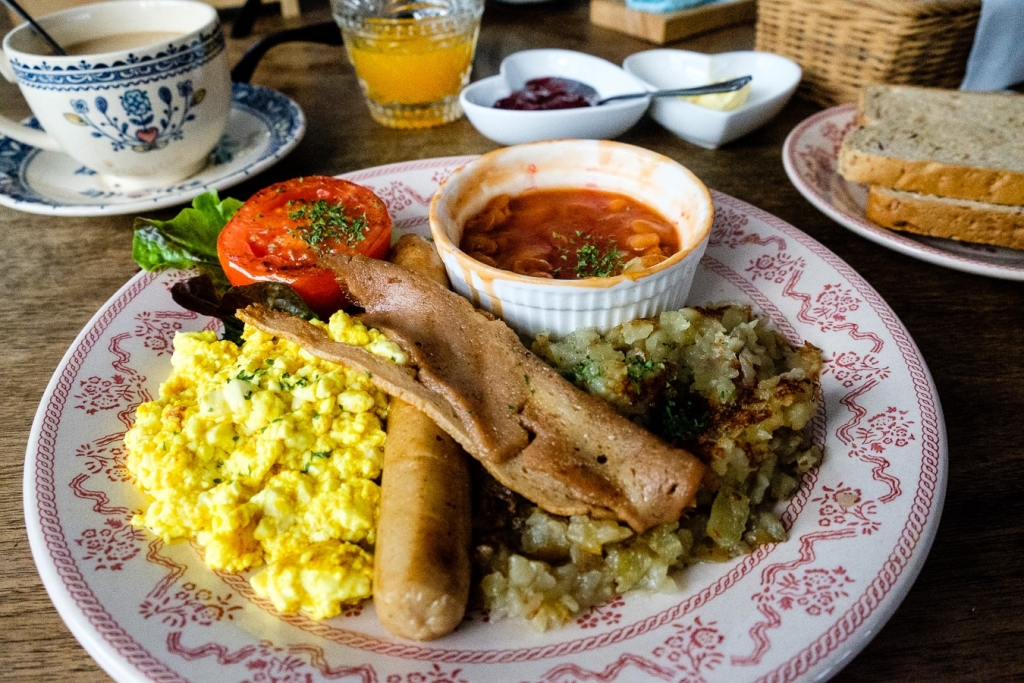 In the heart of the old town, Bonita is a special place. You can eat full breakfasts and several mouth-watering dishes upstairs, in a small room full of old furniture giving the pleasant feeling of being at your grandparents' home. Interesting if you are in the old city or close to Chinatown.
May Veggie Home
8/3 Sukhumvit Soi 16. Metro: Asoke.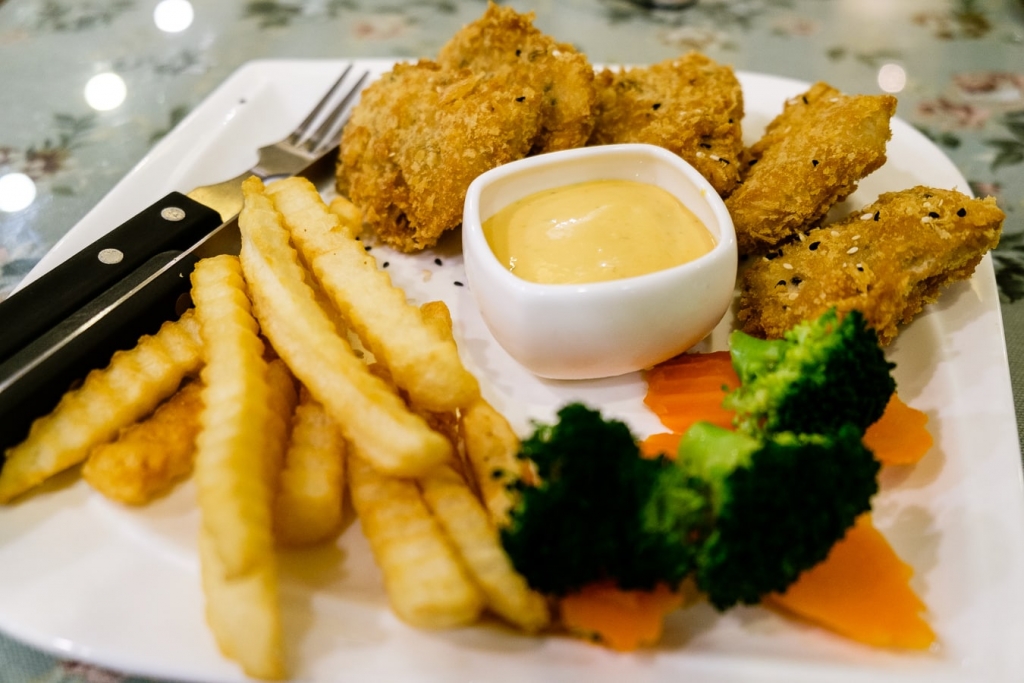 A large vegan restaurant, in line with prices of other restaurants and offering a fairly large menu. I ate a steak with pepper sauce, the best vegan steak I have eaten in my whole life! It was accompanied by a delicious mashed potatoes and some steamed vegetables.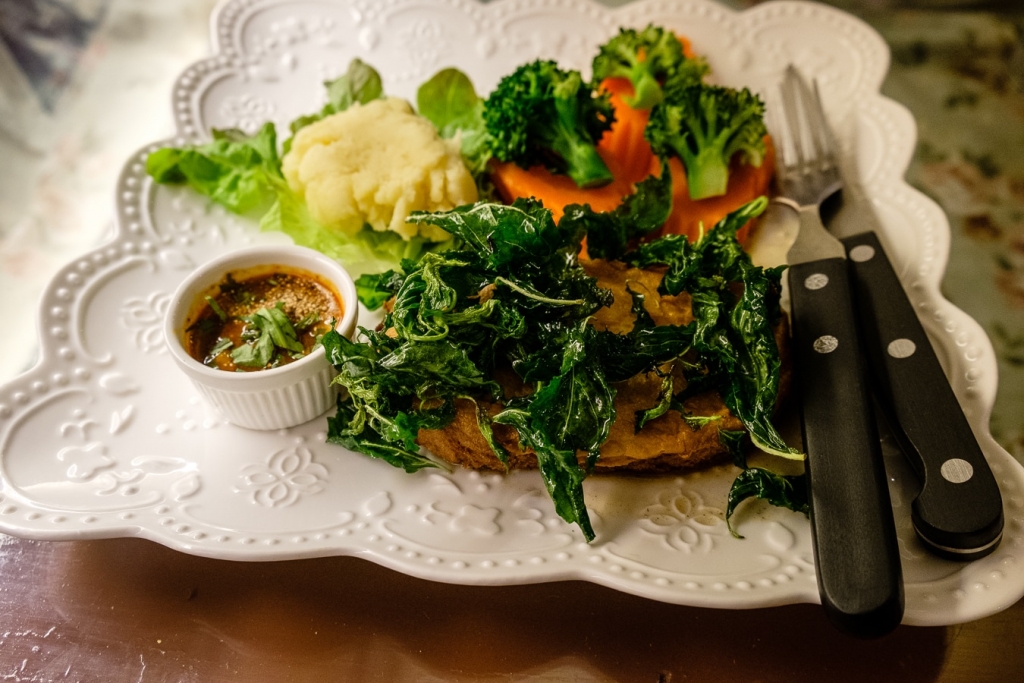 I also tasted the fake fish croquettes, very good! The choice of drinks is also very important. They offer some desserts including ice cream.
Rasayana Raw Food Café
57 Soi Sukhumvit 39 (Prom-mitr) Sukhumvit Rd, Klongton-Nua Wattana. Metro: Phrom Phong.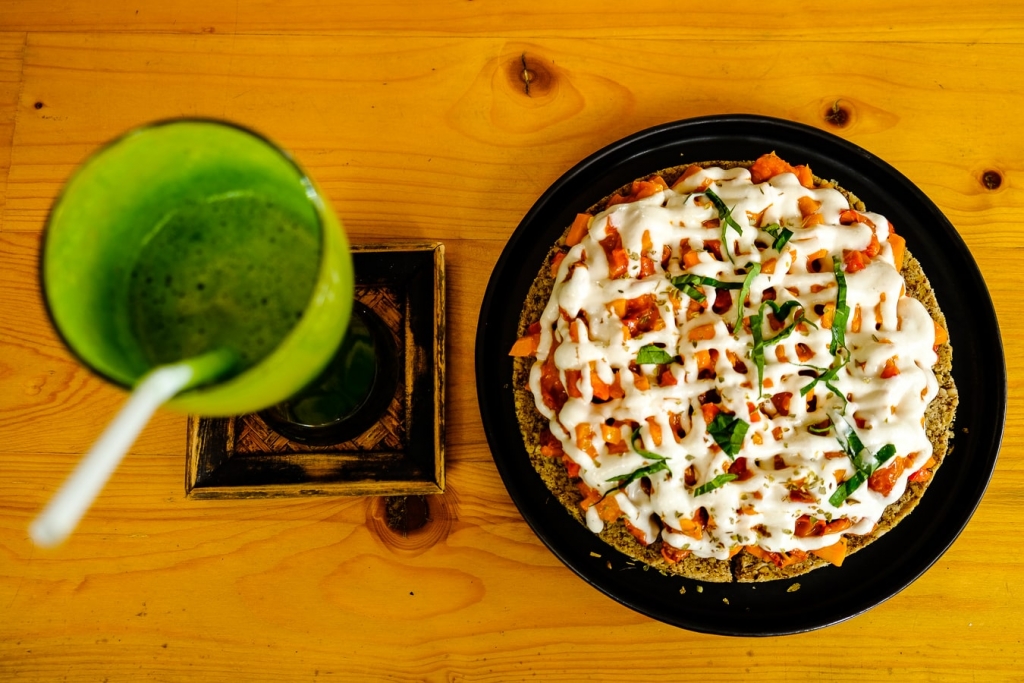 Rasayana is the only raw restaurant in Bangkok, but what a restaurant! What a « crusine » (a word made from cru – raw in french – and cuisine) ! I particularly like raw food not only because it is very healthy, it's also filling and incredibly original.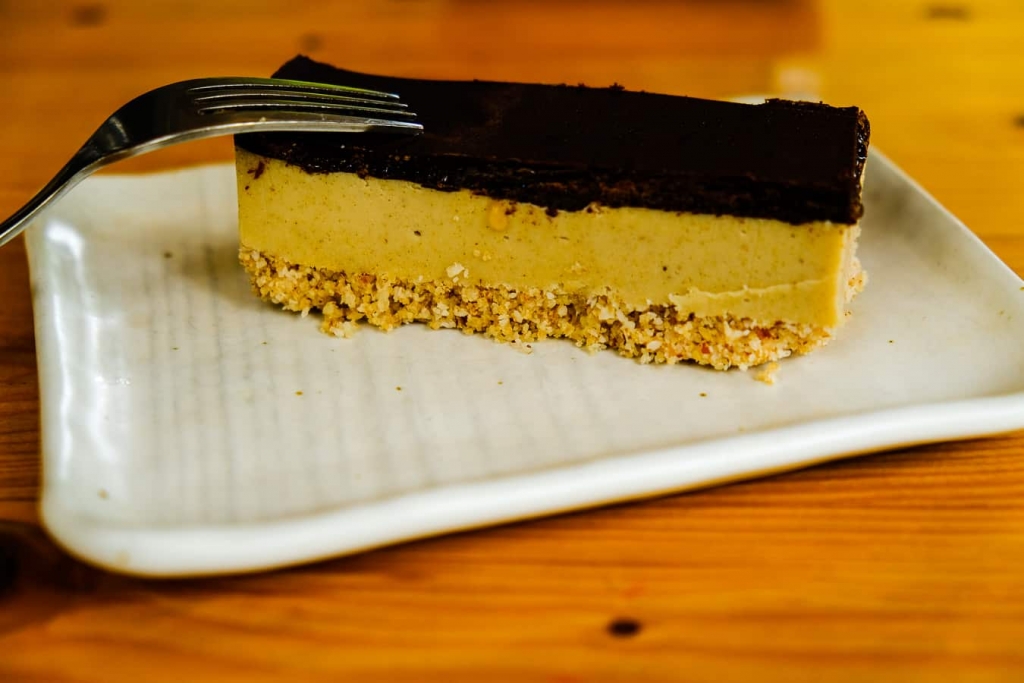 Of course, like most raw restaurants, it's expensive. But clearly cheaper than what can be found in Europe or USA. Count about 600 bahts for a drink, a dish and a dessert. I tested the flavourish Hawaiian pizza and a decadent caramel dessert to die for.
Veganerie
Four different locations:
Veganerie Concept, 35/2 Soi Methi-nivet, Sukhumvit 24. Metro: Phrom Phong.
Veganerie Soul, Siam Paragon, 991 Rama 9 Rd, Pathumwan. Metro: Siam.
Veganerie Bakery – Mercury Ville, 4F Mercury Ville, Lang Suan St. Metro: Chitlom.
Veganerie Bakery – Em Quartier, 637 Sukhumvit Rd, EmQuartier District, M floor, Khlong Tan Nuea, Watthana. Metro: Phrom Phong.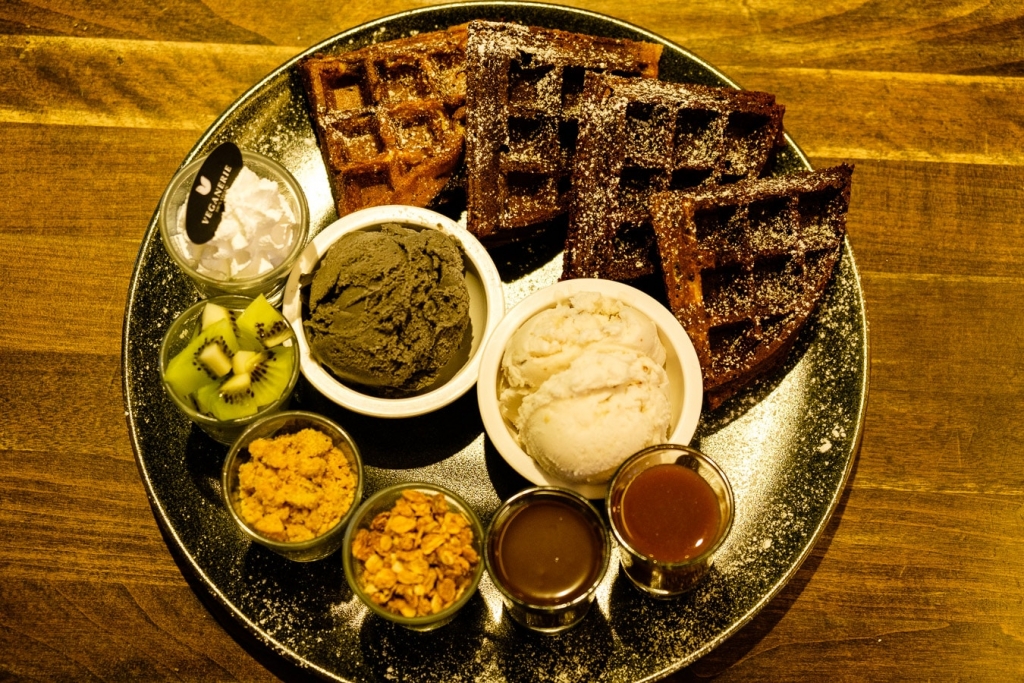 As always, I kept the best for the end … I do not know who created Veganerie, but I say thank you !! You will quickly forget the prices (a little high for Bangkok) when you'll discover the originality and the freshness of the dishes! It's healthy (sometimes) and delicious (always).
It goes from the smoothie bowl to waffles covered with ice cream and various sauces through the waffle burger (that one was a big success in my mouth), the delicious pastries (I ate my best cinnamon roll, there are also cakes, pies …), juices, smoothies and shakes, pancakes, many Thai dishes, etc, etc … A vegan paradise in Asia!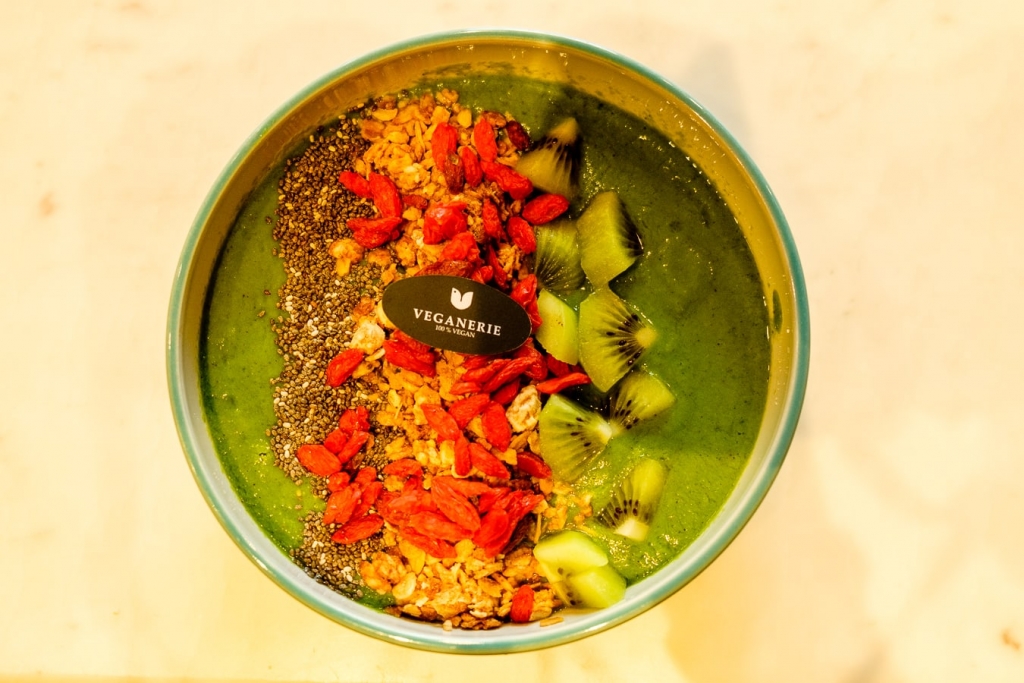 Veganerie Concept is the largest restaurant. Veganerie Soul is a small restaurant in Siam Paragon that offers a few dishes and plenty desserts. The other two places are more suited to breakfast or afternoon snacks, the one at the Mercury City building being the first one created.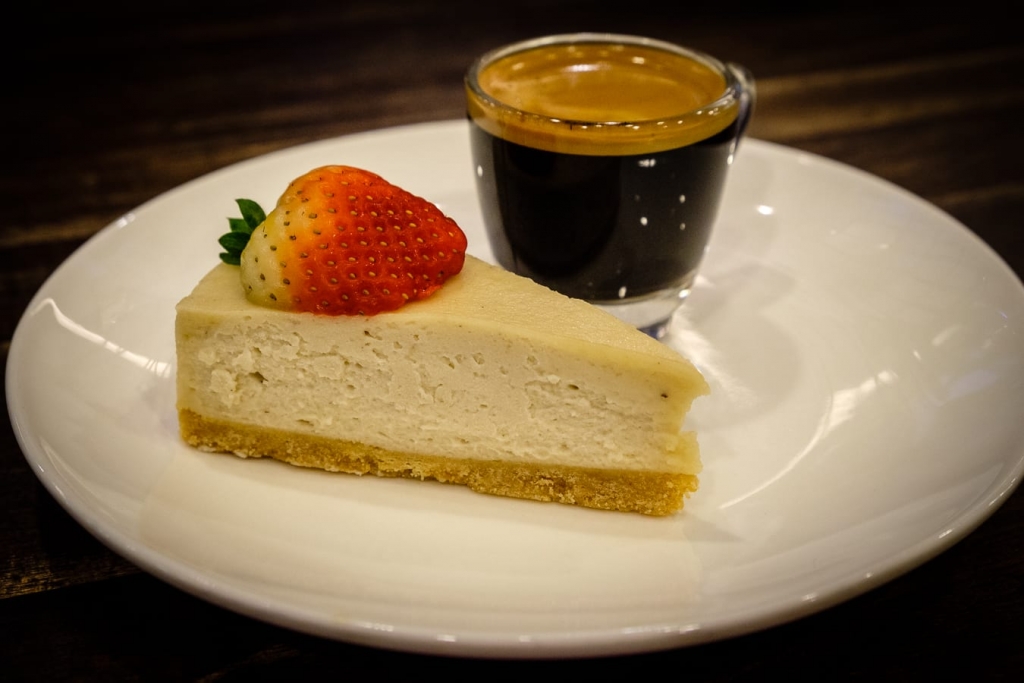 But eating vegan in Bangkok, it's also stalls in the street or in many shopping centers, my favorite being the one located at the 5th level of Terminal 21 in Asoke and dozens of vegetarian restaurants. I think of May Kaidee for example : if you want to learn how to cook Thai, this is where you have to go. So I can only recommend to any vegan gourmet to spend more time in Bangkok than most tourists, and give your mouth and your stomach some ethic pleasure !