We went to Bangkok with very little knowledge of their vegan food scene and found some of the best food we've had while travelling. We only had a few days at the beginning and end of our trip in the city, so there was only so much ground we could cover. Despite the short amount of time we had to explore, Bangkok had some real gems that we loved!
Check out our top spots below ????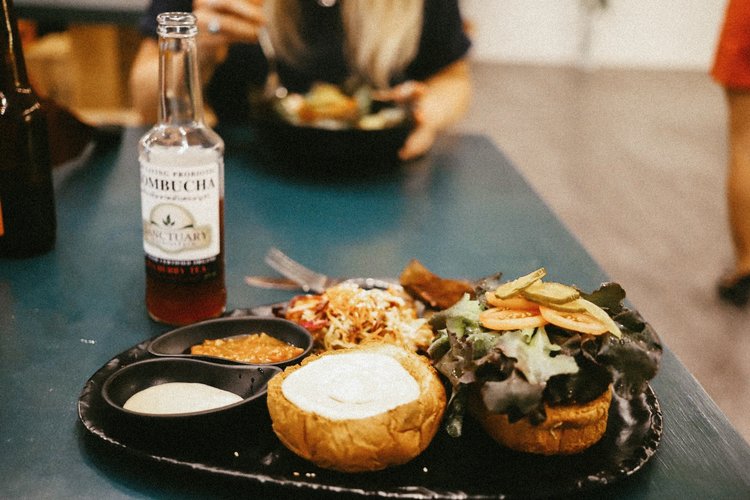 1. Nourish Cafe
The Vibe: We arrived to Nourish Cafe jet lagged and exhausted on our first night in Bangkok. The cafe is situated above Bangkok Fight Lab, a boxing gym, so you can watch the boxers train and fight while you eat. It was a really cool atmosphere; like any cafe that's connected to a sports facility, you felt like you were in safe hands, if it's nourishing all these boxers then it's gotta be good right? It's pretty cool to see more gyms promoting vegan nutrition to athletes. The staff were really friendly and they have some shelves with skin care products, vegan merch and health foods. Really cool. It was super quiet when we went so I imagine when it's a bit busier that the vibe is even better.
The Food: We ordered two burgers, an açai bowl and two drinks. I don't know whether it was our jet lagged, seriously hungry brains talking but the food was insane and exactly what we needed. You can have your burger with salad or a bun, I chose salad and Isaak had the bun. Both were delicious and the portions were just right. The açai bowl could've done with a few more toppings, it got a bit samey after a while. I think this cafe would be awesome for breakfast and lunch too and may be busier at those times.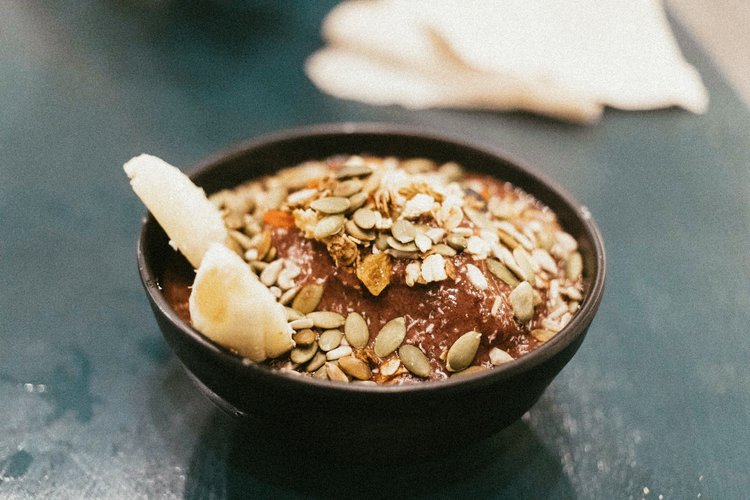 2. Mango
The Vibe: We stumbled upon Mango by chance. We went to a big night market near where Isaak spent a lot of time a few years ago in Bangkok. He remembered a little veggie/vegan place on the corner from the last time he was here – funnily, it stuck in his mind because he ate meat at the time and knew he didn't want to eat at a vegan place that he saw every day – oh how times have changed ???? We loved this place from the get go. I have a real appreciation for places in Asia where no shoes are allowed, it really changes the atmosphere and makes you feel more comfortable, like you're at home. We sat on pillows on the floor and hung out with a rescue cat that teased us with his little purrs. The staff were really kind and the menu was quite varied, but it was clear that they did traditional Thai food very well.
The Food: This was one of our favourite places in Asia – the food was delicious. We both had curries served with black rice. This place felt like a well kept secret, it was so understated but the food was insane! It also feels different when you're eating on the floor with no shoes on, best way to do it. The veg in the curry was really varied and local and the balance within the meal was perfect.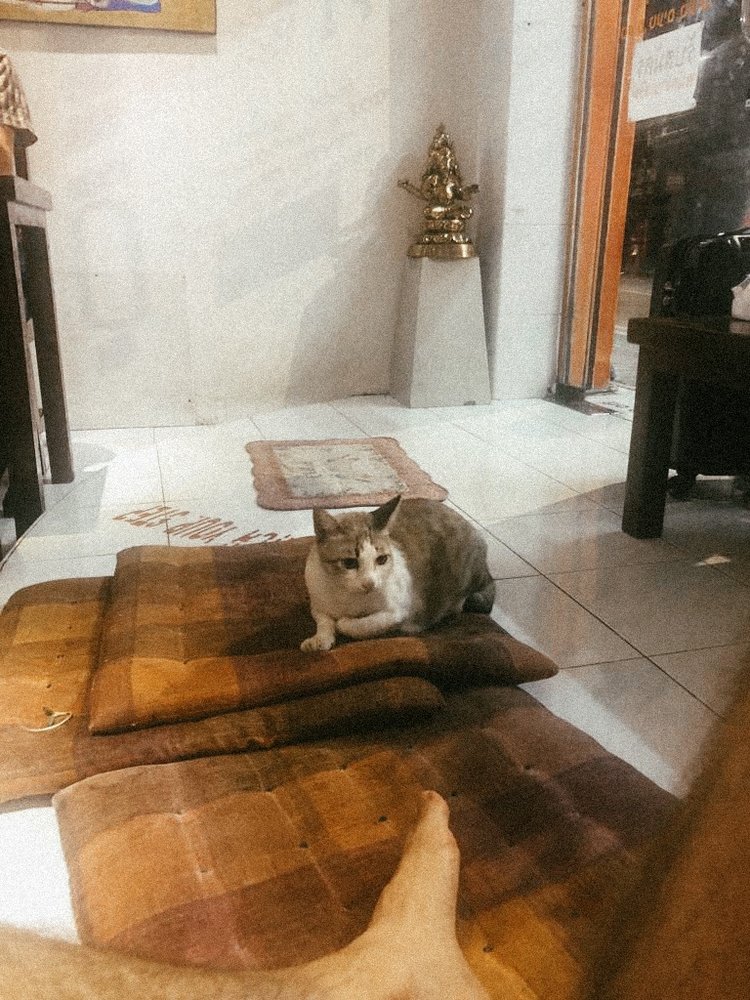 3. Veganerie Concept – Benjasiri Park
The Vibe: Veganerie Concept is now a chain in Bangkok, with restaurants in a few different locations. This was the first one we went to and we came back. The vibe was nice, very minimalist, lots of plants and signs saying 'go vegan' etc. It wasn't really anything unique but was a nice space to eat in. What was unique about this place was the menu.
The Food: Where do I even begin with this. I think this restaurant has the biggest vegan menu I've ever seen. All your dreams can come true at this place – from mac and cheese and decadent chocolate smoothies (with whipped cream) to hearty raw salads (with the best peanut sauce in existence). It was a total dream. Our first visit I had a big raw bowl with tofu skewers and peanut and coconut sauce (pictured). Isaak had the vegan breakfast, he wasn't hugely impressed but it did the job. We both had a milkshake – I've never had such a decadent drink that's vegan. The mint chocolate milkshake/smoothie is incredible – hard to finish tho. They used coconut based whipped cream as well, which was delicious! The second time we went here I wasn't so impressed. I ordered their Caesar Salad – which was basically just lettuce with a few croutons, this weird 'bacon' which didn't taste like bacon at all and a sauce. Not great for the price. Then got the mac and cheese, which was good but the portion was tiny!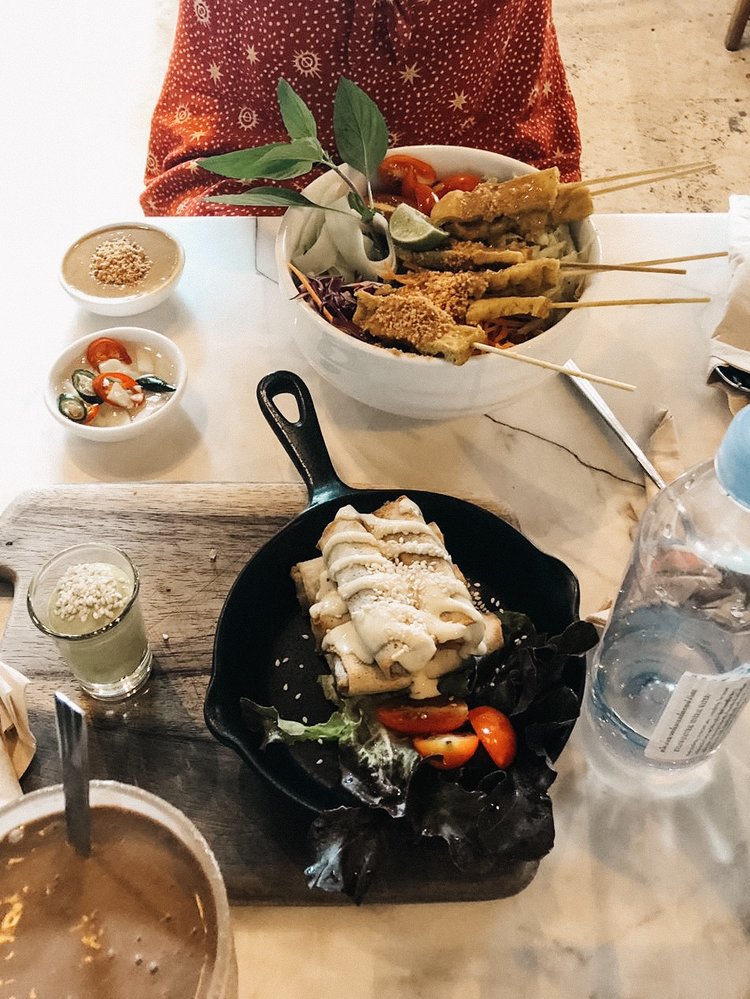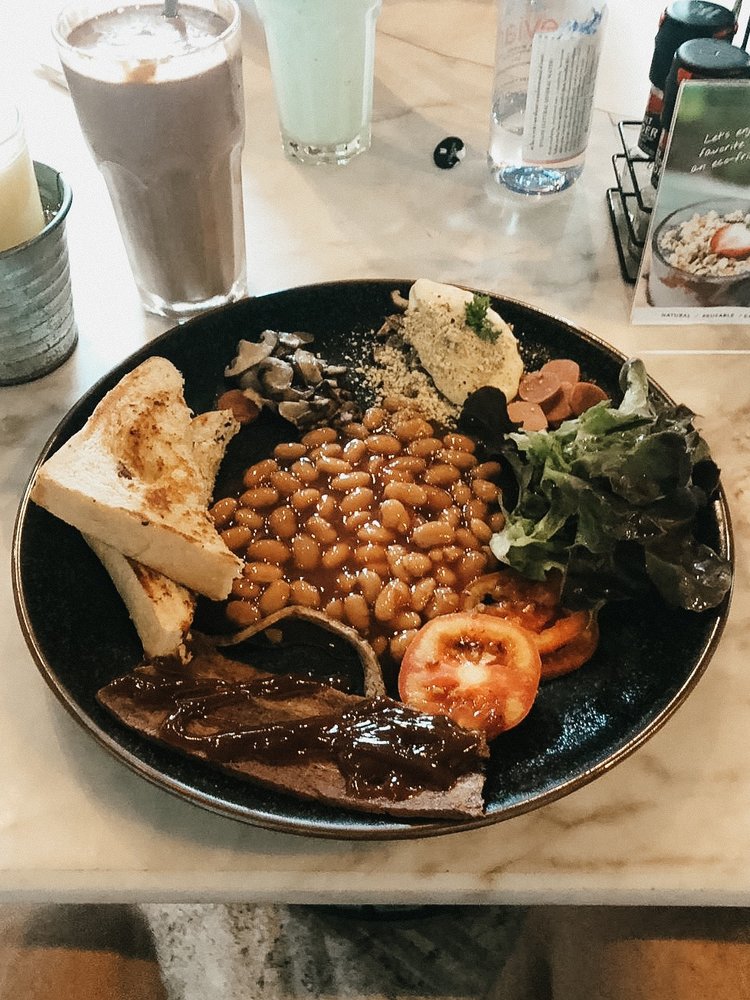 4. Veganerie Soul – Siam Paragon
The Vibe: We loved the massive menu at Veganerie Concept so much that on our return to Bangkok we decided to check out another of their restaurants. The vibe at their branch in the Siam Paragon shopping centre was quite different to the other one we visited. The shopping centre is beautiful, it's one of the more luxurious shopping locations in Bangkok (think Harrods, but not as iconic). The restaurant was set next to an indoor river and there was a forest of green hanging from the ceiling, our kinda vibe.
The Food: The menu was a bit smaller than the other branch but they had all the good stuff. Their raw pad thai was especially good.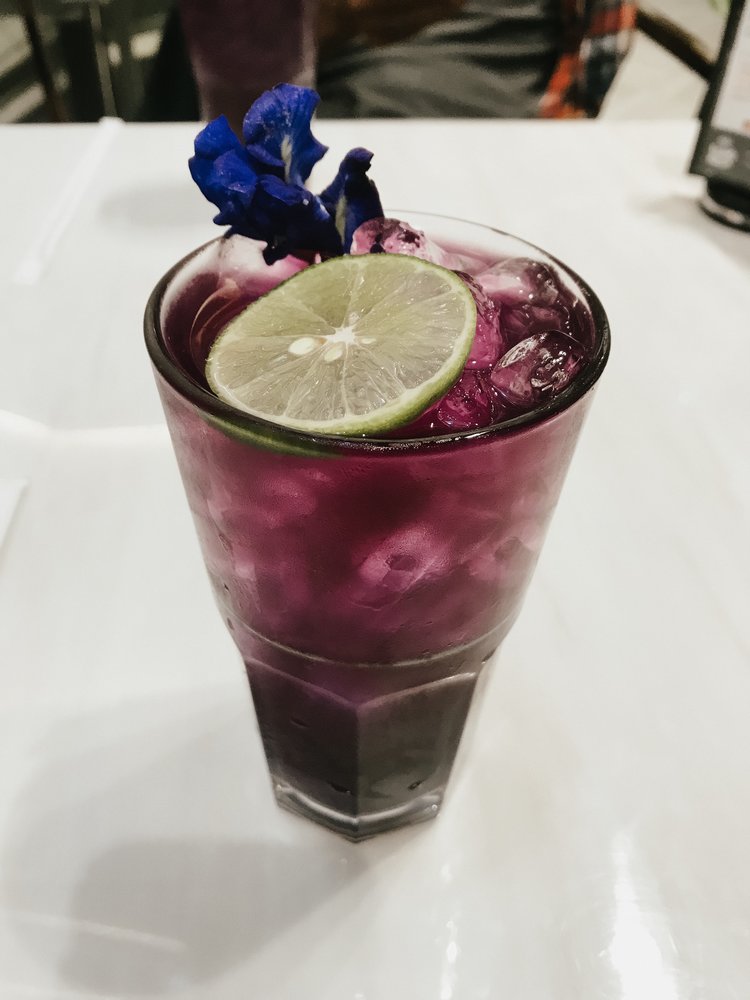 We wished we could have explored way more of Bangkok's vegan food scene! If you're headed to Bangkok drop us a message, or comment below if you've got any other great vegan spots to suggest.
Peace & Love ????