Tag Archive for: Blogs by Bex and Isaak
Home
Blogs by Bex and Isaak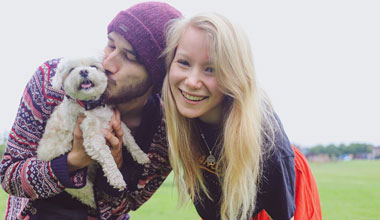 Bex and Isaak are a vegan couple from London, UK. They love being creative, cooking up delicious food and spending days outdoors on long adventures with their Maltese Poodle, Noah. They're always up for exploring new territory and finding all of the best vegan spots that a place has to offer. They blog regularly at www.lassyandthefox.com and love sharing tips for new vegans, all of their best travel advice and new recipes they've tried and tested. They're currently on the hunt for the best vegan burger in London, so watch this space if you love a good burger. You can connect with Isaak and Bex on Twitter @LassyandtheFox and Instagram @lassyandthefox 
We went to Bangkok with very little knowledge of their vegan food scene and found some of the best...
We awoke to silence. In our tiny little patch of paradise the loudest noise came from the sprinkler watering...
Vegan Listings Near Me
To view a map of vegan listings near you, click the box below.
Please note: Location Services on your browser or device needs to be activated for this widget to work.