Chiang Mai is a low rise city filled with ornate temples and canals.
The pace of life is much slower than bustling Bangkok, but it has a charm all its own.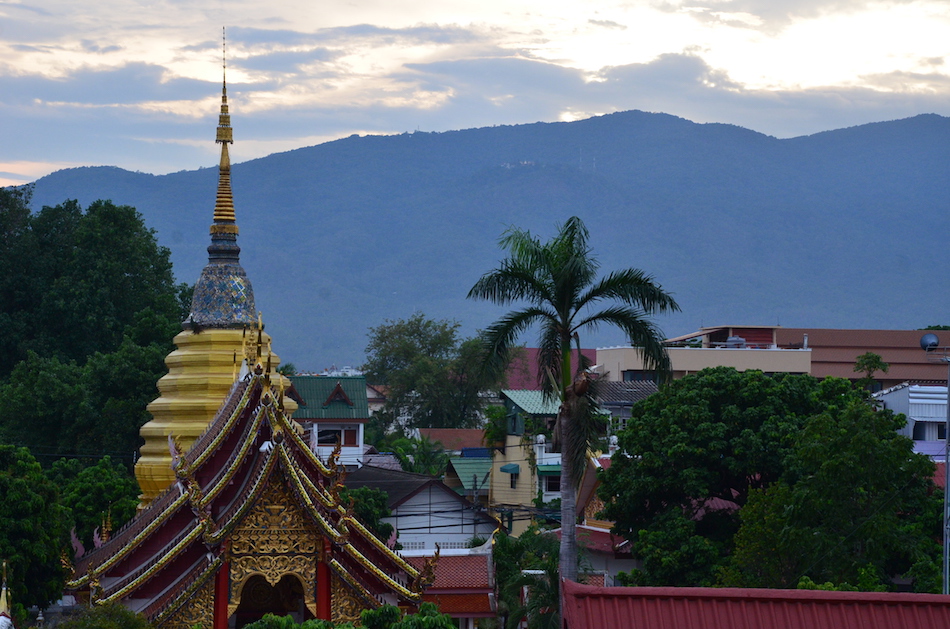 In the last 20 years, tourism has transformed this low key city into a thriving destination filled with lanna style guest houses, several markets to choose from, a vibrant art scene, and no shortage of vegan options all over town; which brings us to the topic of this blog. FOOD.
We LOVE Chiang Mai.
In our opinion it is one of the easiest cities to be/eat vegan in. There are numerous restaurants serving wholesome organic vegan dishes with veggies from their own farms, brown and black rice can be found at most health conscious places, and you can easily locate wheat grass, soy yogurt, spirulina, kombucha, and turmeric.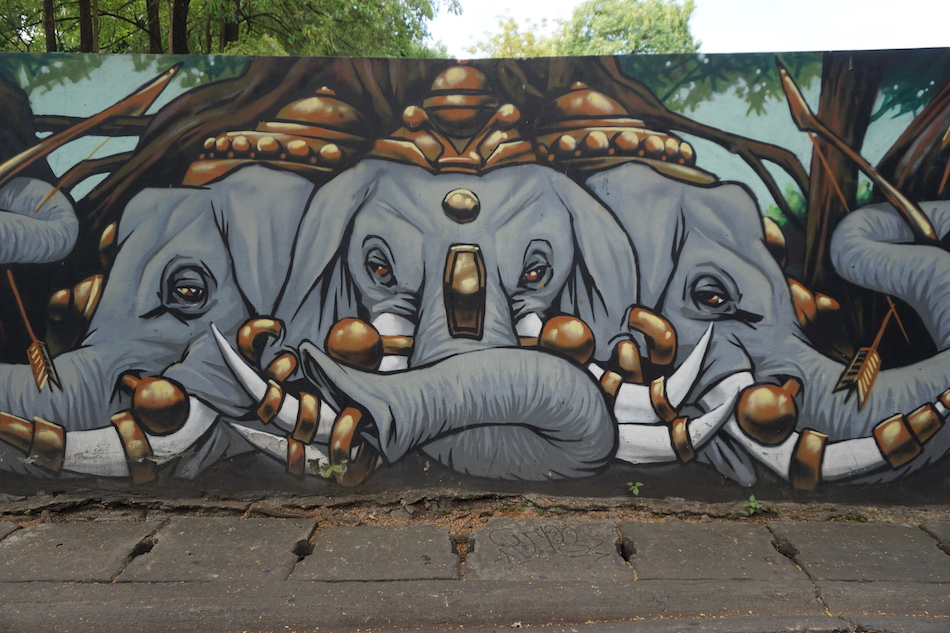 We spent 2 relaxing and healing weeks in Chiang Mai roaming around the quiet lanes of the old city, and traversing the lesser known parts of the outer walls.
There are outdoor food stalls and vendors all over the city selling goodies like Khanom Krok (sweet coconut custard mini pancakes), mango sticky rice, coconut ice-cream, fresh fruit, veggie spring rolls, tofu kebabs, corn on the cob, and probably much more that we have yet to discover.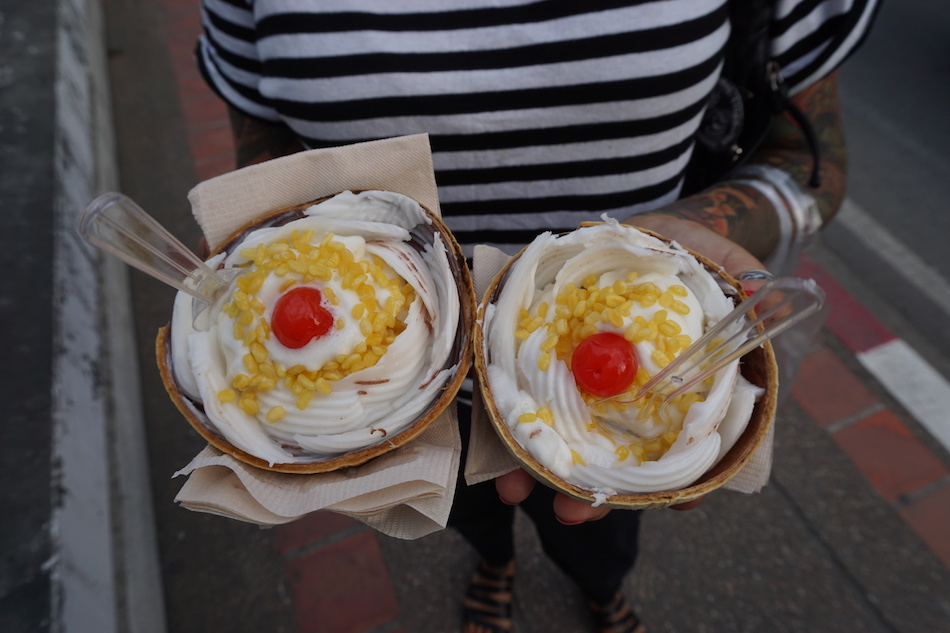 And then there are the restaurants and cafes!
This is our vegan guide to Chiang Mai. Most of the restaurants were fantastic, but definitely not all of them, so read on to find out where to eat, and what to avoid!
Cody and I visited Amrita at the end of our 2 weeks in Chiang Mai and we loved it.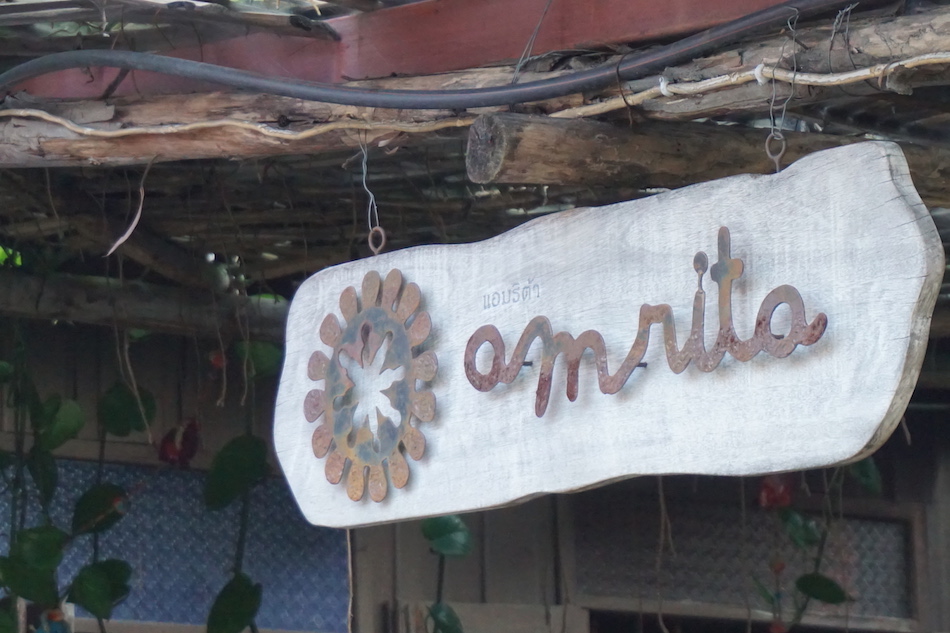 This vegetarian and mostly vegan macrobiotic Japanese restaurant is located in a lovely peaceful traditional teak house in the old city. Their focus is on nutritious healthful food.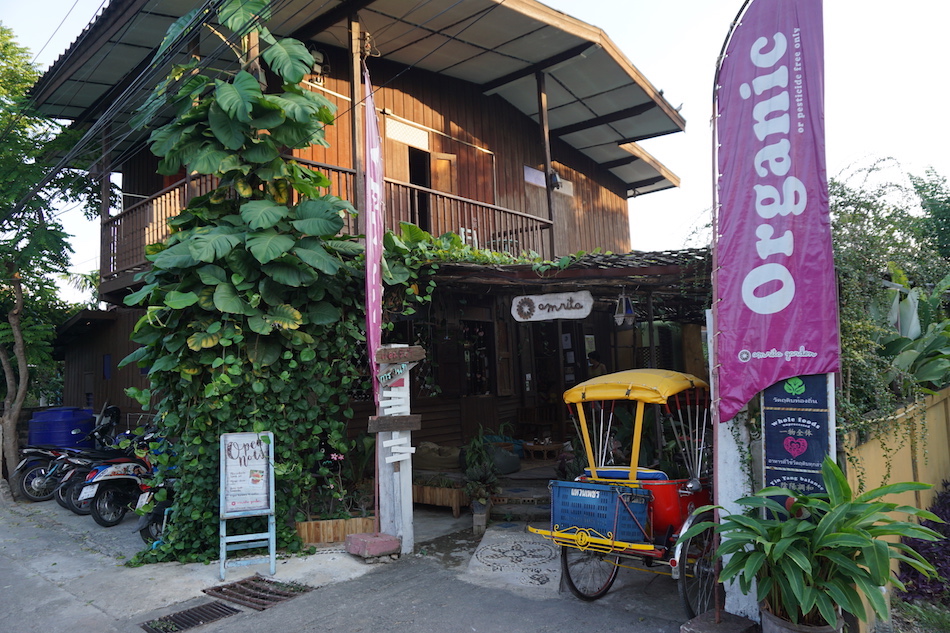 It was difficult to choose from all of the incredible options, but in the end Cody ordered their double decker burger, and I had to try their cheese platter.
It was a very attractive towering burger stuffed full of veggies, but what's better, is that it was tasty!
There are no sides served with it, but fries are not needed with a burger this size.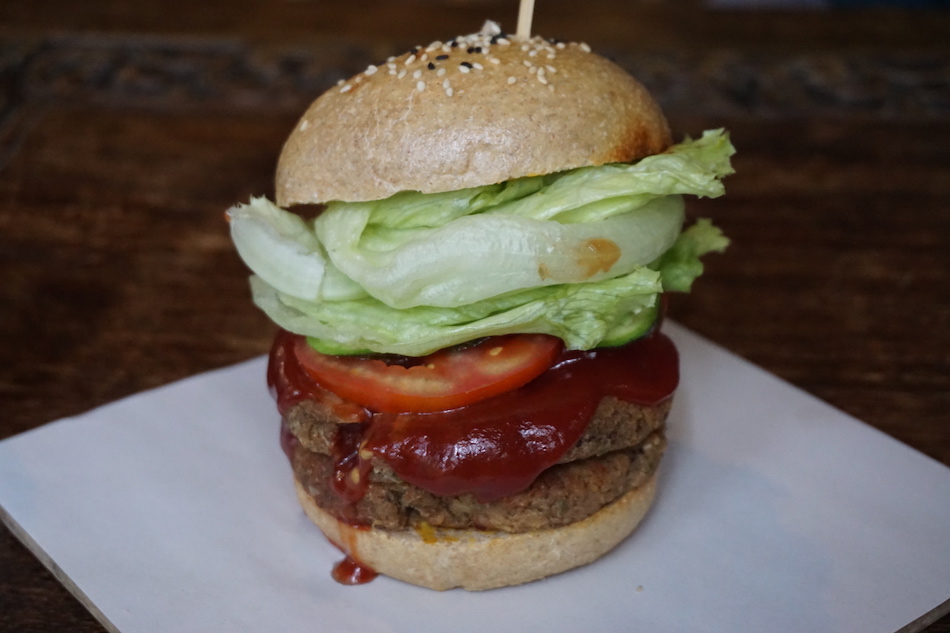 When ordering the vegan cheese platter, you can choose from 2, 3, or 4 different flavours of cheese out of 8 options.
I tried the dill, black pepper, and havarti. They were served with sweet pickled veggies, and sliced toasted baguette.
Every cheese was smooth and creamy. They were less firm, and more buttery and spreadable, much like a brie cheese.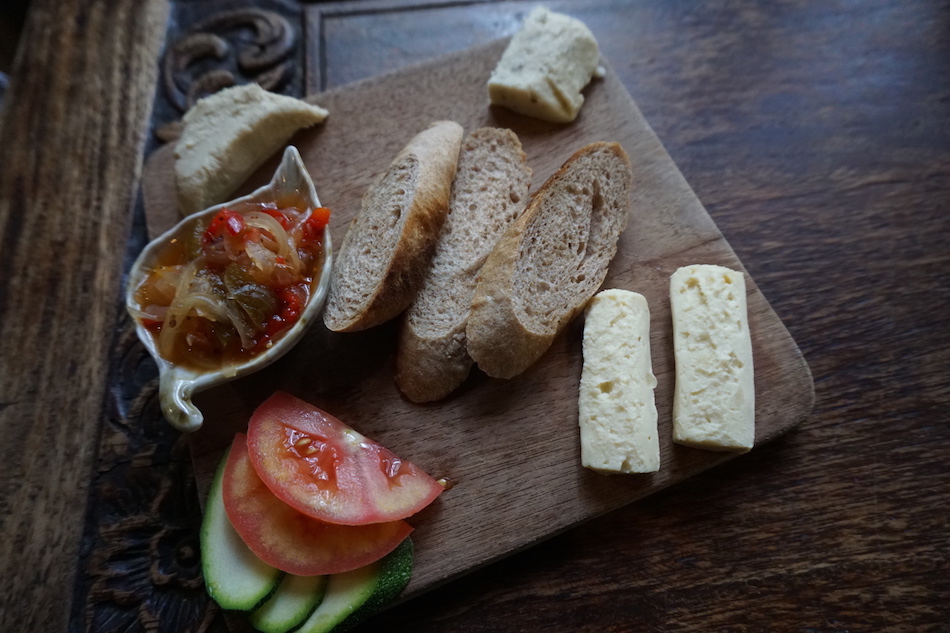 Such a treat in a city that has not yet tapped into the vegan cheese trend. If you are not extremely hungry, I would order this delicious cheese platter. Amrita also offers set lunch meals, vegan desserts, Kombucha, and sake!
2/1 Soi 5 Samlan Rd., Chiang Mai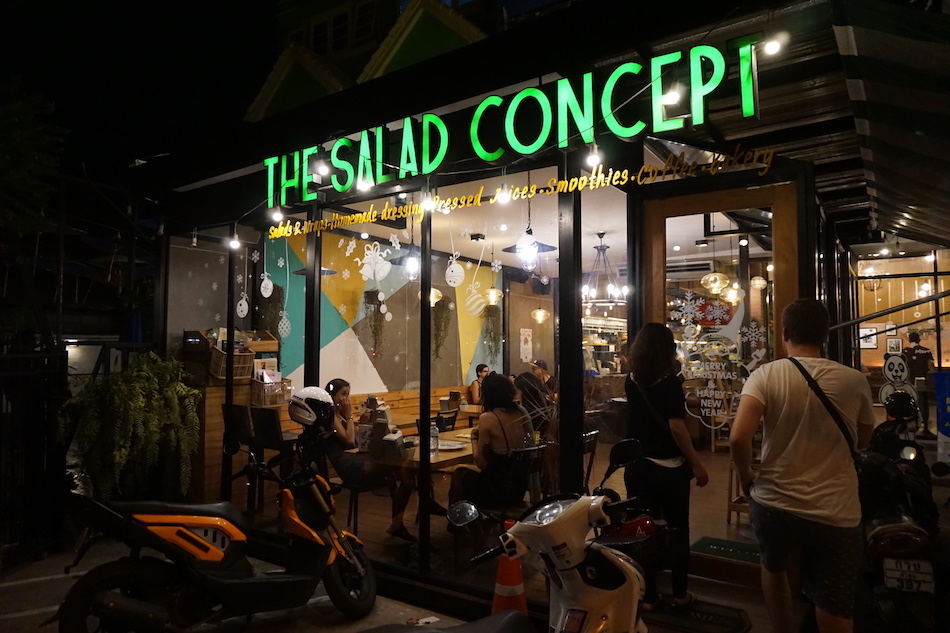 Salad concept is a place to visit if you are interested in getting away from typical Thai dishes and you just want a huge salad.
The menu is not completely vegan or vegetarian, but they definitely have vegan options. We ordered a salad and veggie wrap.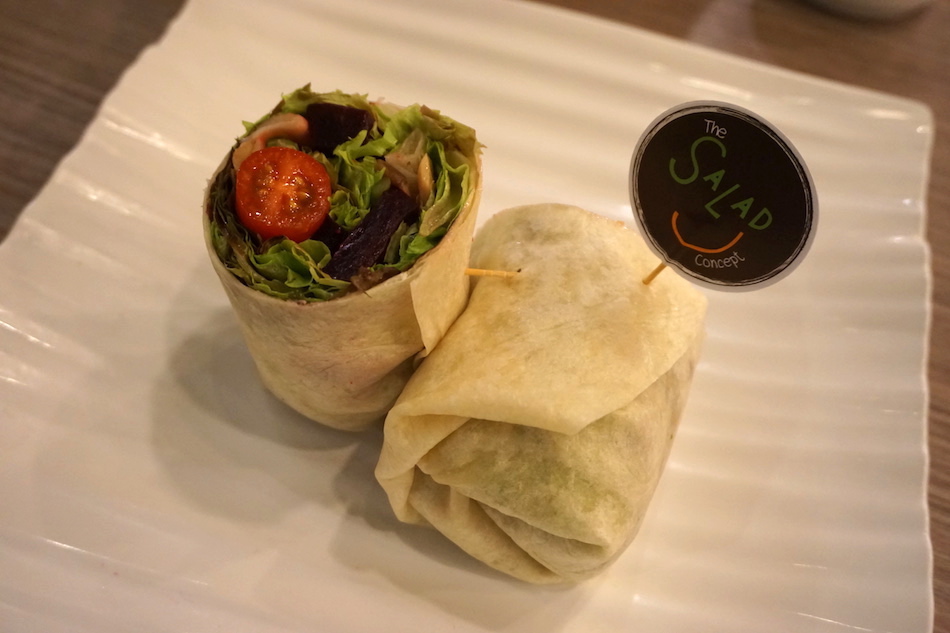 There is a pad of paper at each table to check off what you would like to order with all of your ingredients.
Cody's salad was ginormous! My wrap was quite large as well. The food at Salad Concept was good, but nothing to write home about.
If you don't have a lot of time in Chiang Mai, I would skip it.
94 Chai Sri Poom Soi 1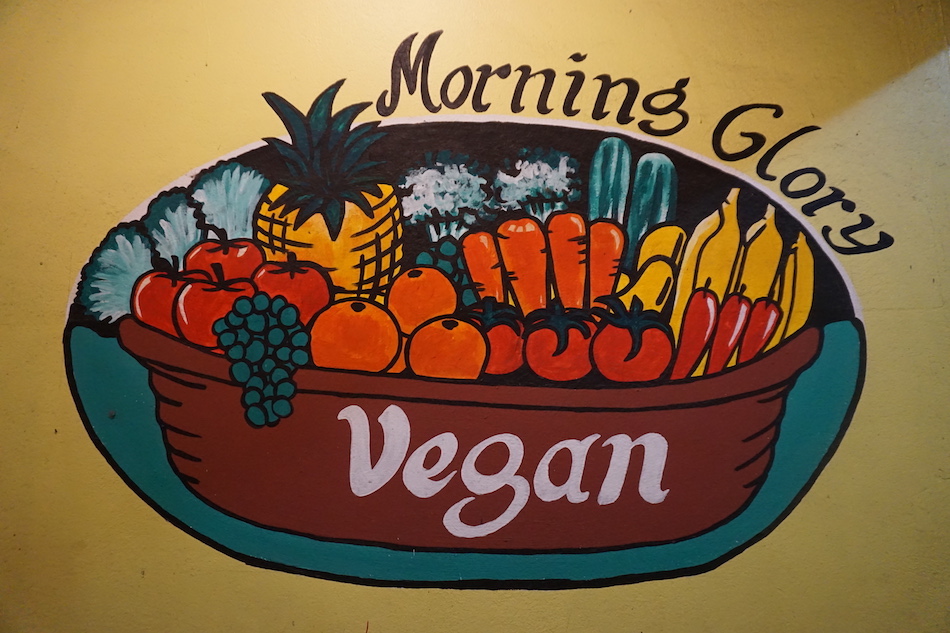 The sign outside of Morning Glory reads "Morning Glory Vegan" but they serve yogurt and honey. Close, but no cigar.
Morning Glory is a pretty typical Thai food restaurant serving up vegan dishes at a reasonable price.
34 Prapokklao Rd, Chiang Mai
Yes, another non-vegetarian or vegan restaurant, but Blue Diamond is a must visit in our book because they serve an abundance of vegan desserts, as well as soy, almond, or coconut milk lattes, cappuccinos, and frappes.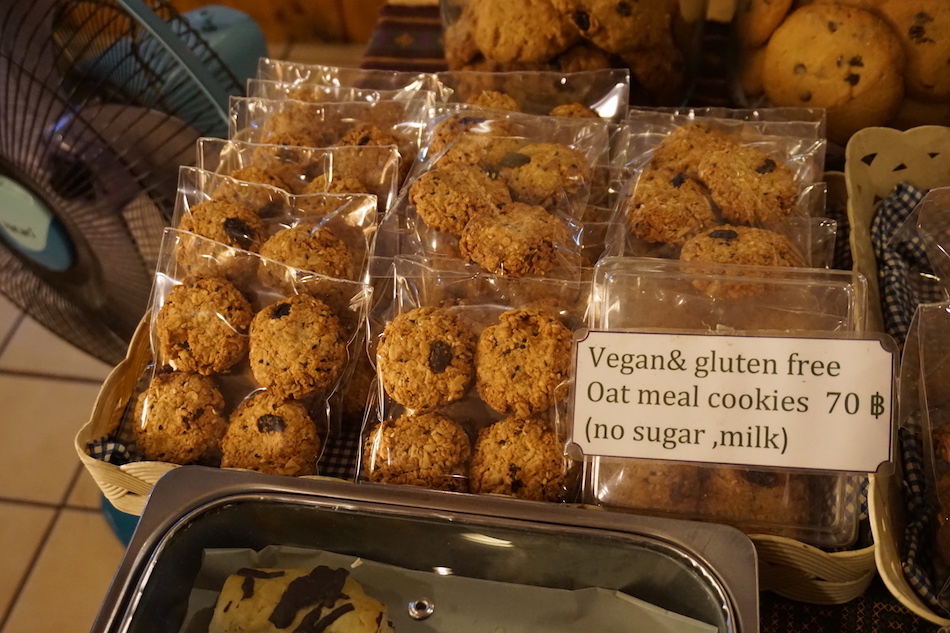 Do not leave without trying a cinnamon bun, or 2, or 3. They are incredible!
Almost all of their muffins are vegan, as well as their fantastic whole grain and regular croissants.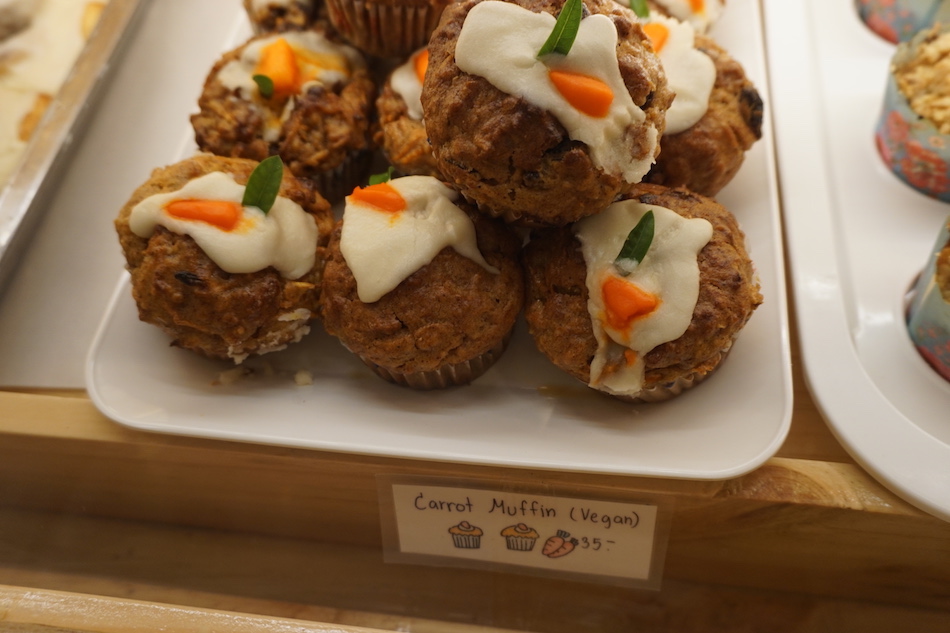 The cake fridge also contains a few plant based goodies like coconut cream pie, chocolate peanut butter pie, chocolate caramel bars, chocolate cake, and couple more I don't recall at the moment.
We usually stop by in the evening for a latte and vegan sweets.
Blue Diamond also serves vegan fruit pancakes, tofu avocado sandwiches, vegan soups, and a variety of stir fried veggie and rice dishes.
They have a pretty courtyard with a pond, and seating on Thai pillows. It is a very tranquil place to be.
Moonmuang Rd, Soi 9, Chiang Mai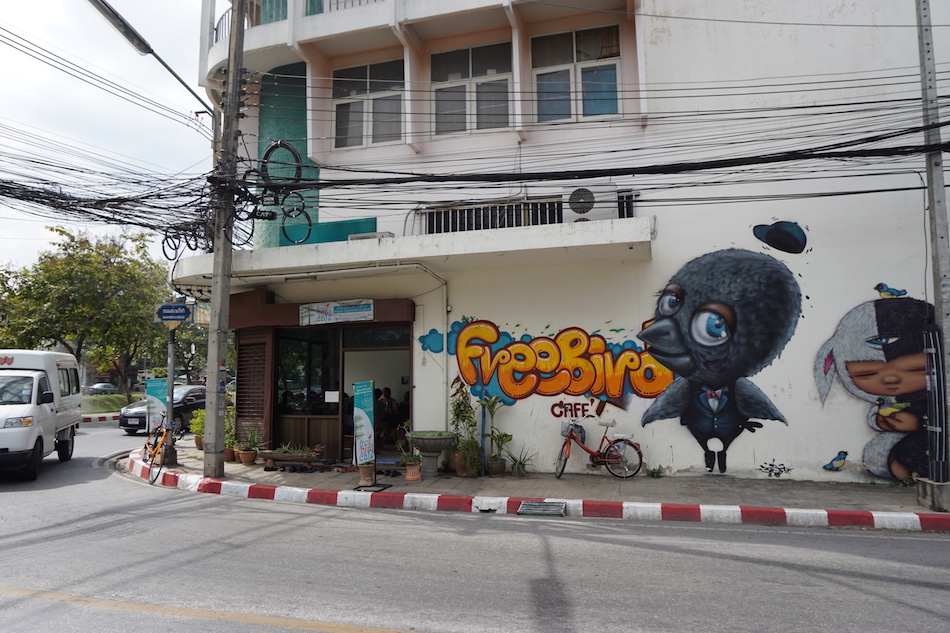 Free Bird Cafe has always been a favourite of ours, but I'm sad to say that we have been disappointed during our past 2 visits.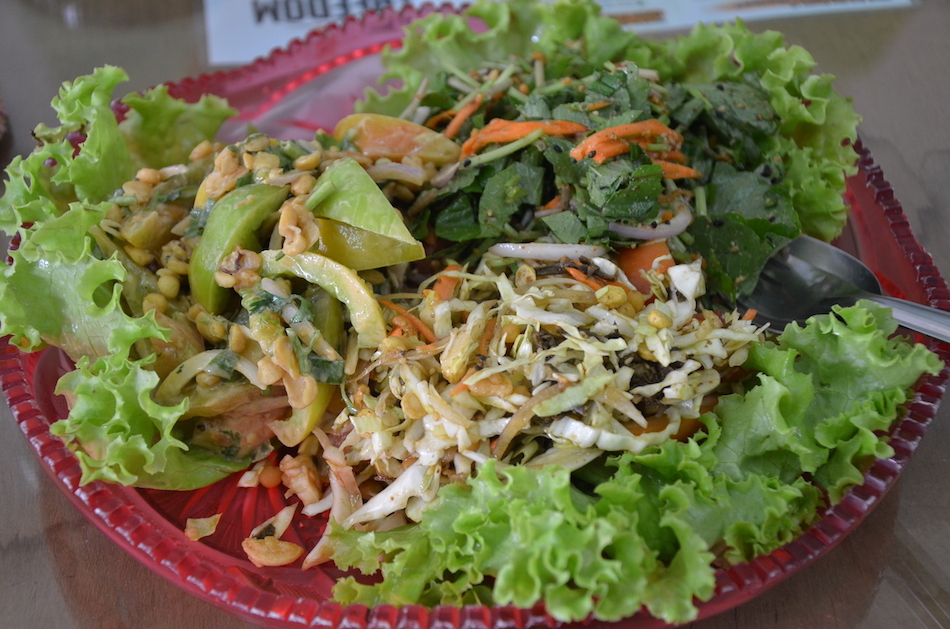 This vegan/vegetarian Cafe supports the Thai Freedom House, a community education centre helping Burmese refugees and indigenous people, and we love supporting such a great cause, but the dishes have gotten smaller in size, and the prices higher.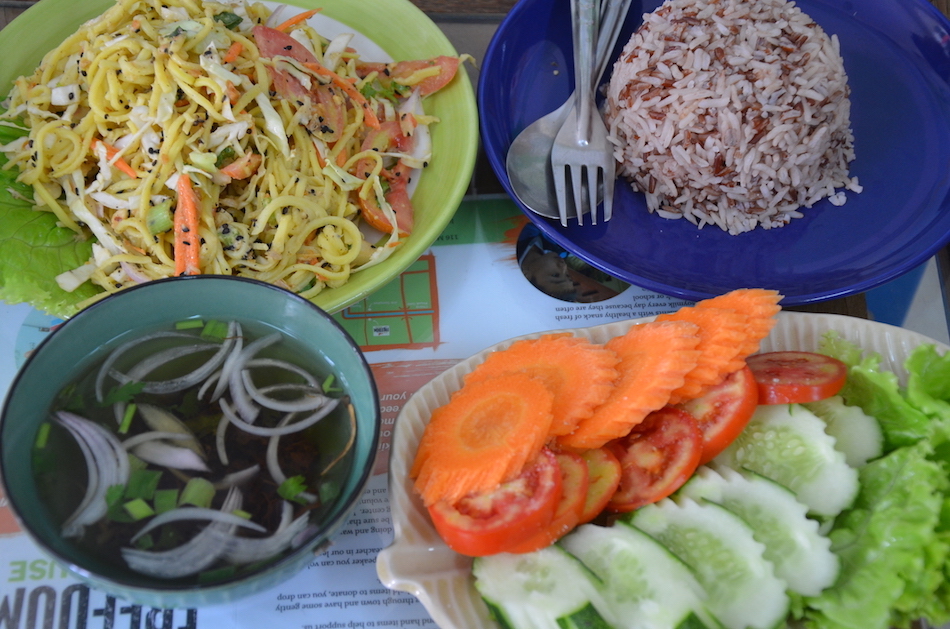 I still recommend paying Free Bird a visit if you are interested in trying authentic Burmese food, because their salad sampler is delicious, as is their vegan Jok-a savoury purple rice porridge served with veggies, and minced ginger and garlic, but stay away from the tofu scramble, and tomato hummus sandwich.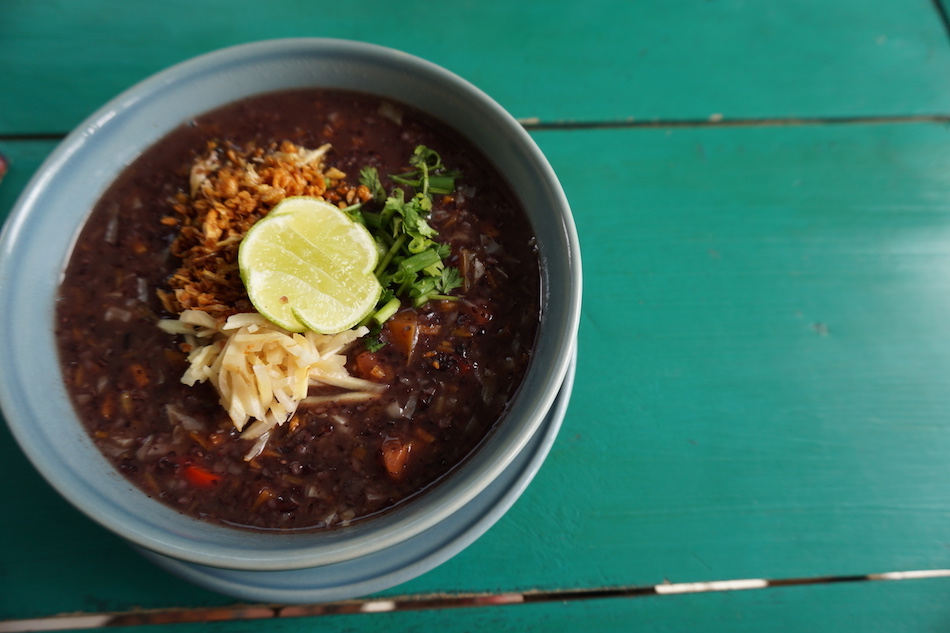 The scramble I ordered smelled, and even tasted incredibly fishy, and the sandwich is just too small for the price.
If you are looking for a drink, try the nutty nong.
116 Maneenopparat Rd.
Olé Mexican Gourmet is a fairly new kid on the block in Chiang Mai.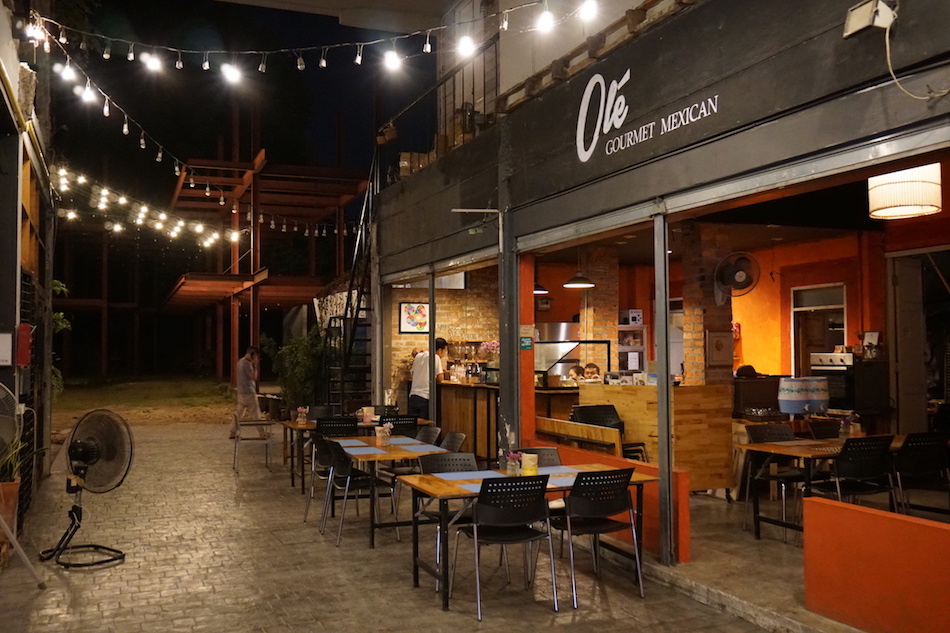 We loved that they support local farmers, they don't use palm oil, and they also refrain from using corn for their chips to stay away from GMO's, and instead they use pumpkin.
Their menu is clearly labeled with vegan options which is always refreshing, and so is their ginger fizz!
We tried the Mexicans dish, a colourful plate packed with chips, salsa, guacamole, black beans, lettuce, soft flour torts, and healthy garlic black rice, as well as a large burrito stuffed with lettuce, guacamole, rice, and beans.
If you are a bit tired of Thai food, you should give Olé a try. Our meals were fresh and really delicious.
88, Tha Phae Rd Soi 6
Karma Kitchen is a new addition to Chiang Mai.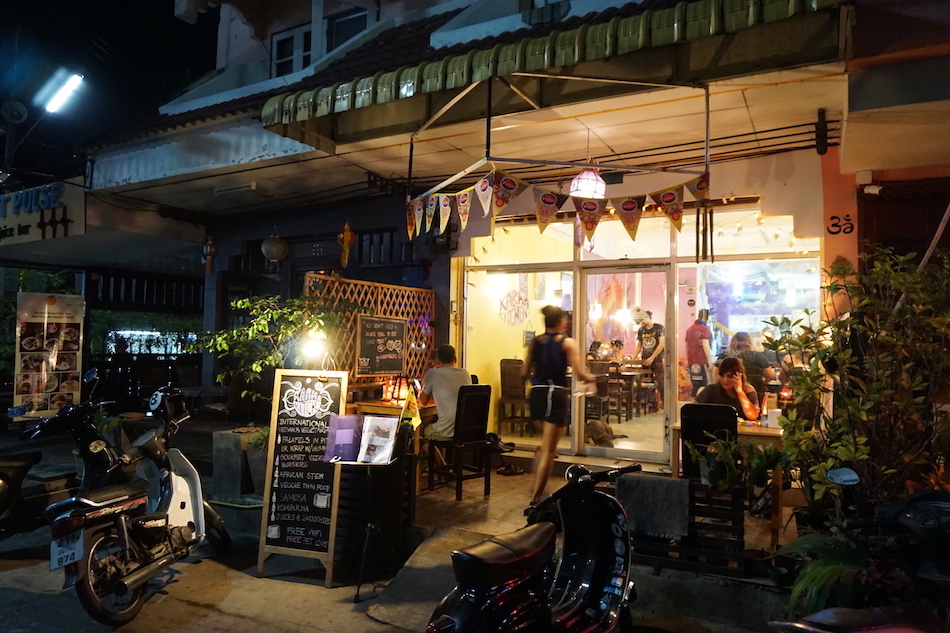 This restaurant serves vegan and vegetarian Thai food, falafel wraps, samosas, and vegan burgers. The mushroom, and chickpea/peanut burgers are your best bet.
They are incredibly delicious, and made with care. You can choose 2 out of 3 sauces (Salsa, vegan mayo, and hummus), 1 for your burger, the other as a dip.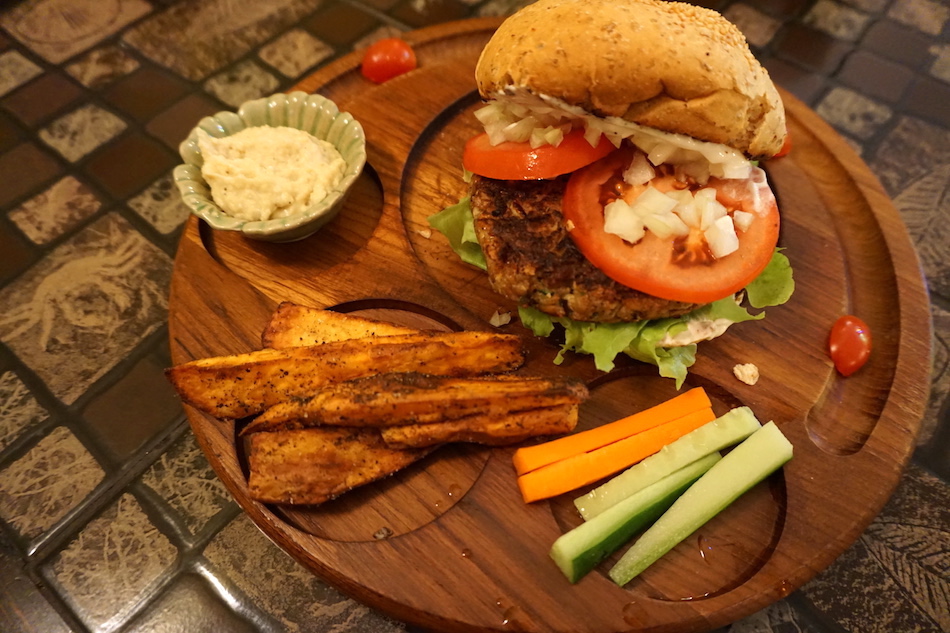 The burger is served with a handful of seasoned sweet potato fries. You really don't need more than a handful after finishing this burger.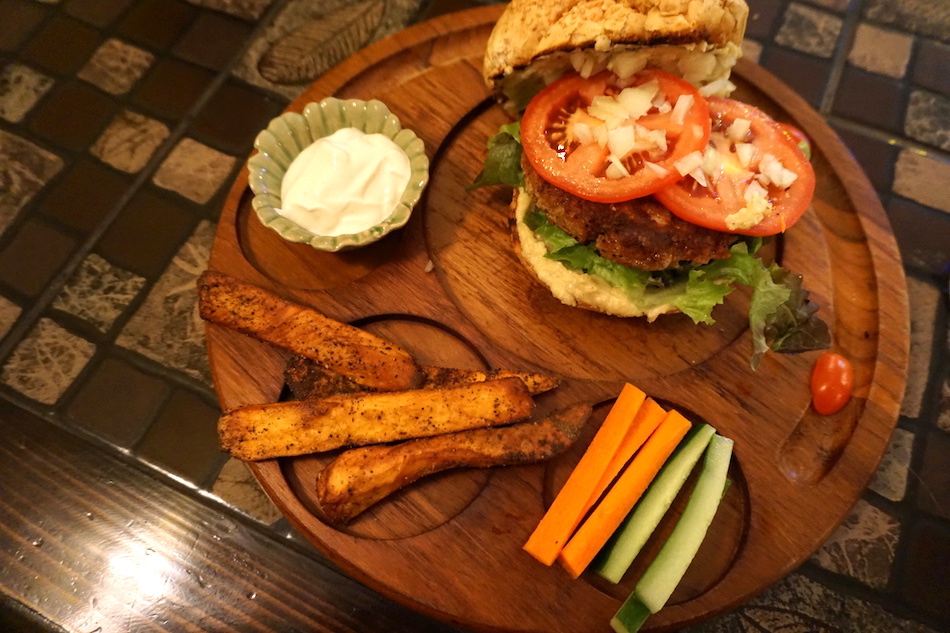 The service at karma kitchen is also excellent. Thailand is not known for great customer service, and we don't expect it, so kudos to KK for making that little extra effort of asking us how our food was, apologizing for a delayed burger, and refilling our water 4 times. 4 times!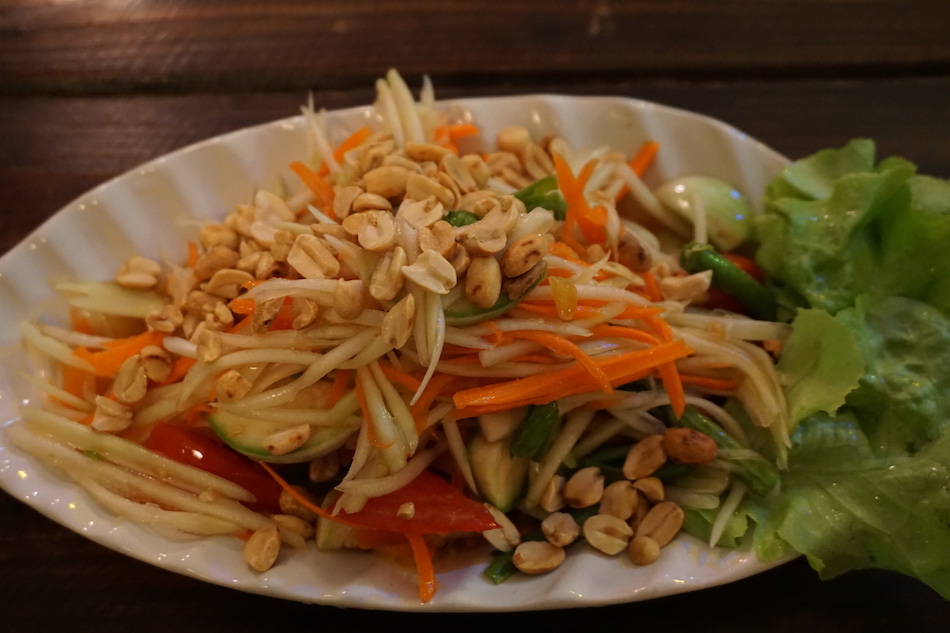 Karma Kitchen is a new favourite in Chiang Mai.
Moon Muang Rd Soi 9
For 30 years Aum has inhabited the same building across from Thae Pae Gate.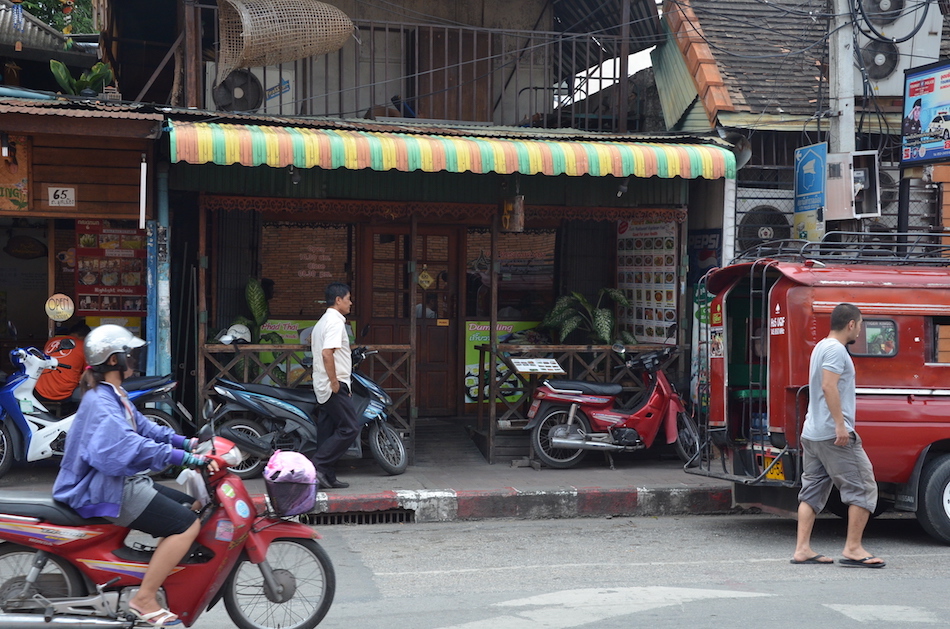 This Thai owned vegan/vegetarian restaurant is a no frills place to go for consistently good, healthy, and inexpensive Thai food.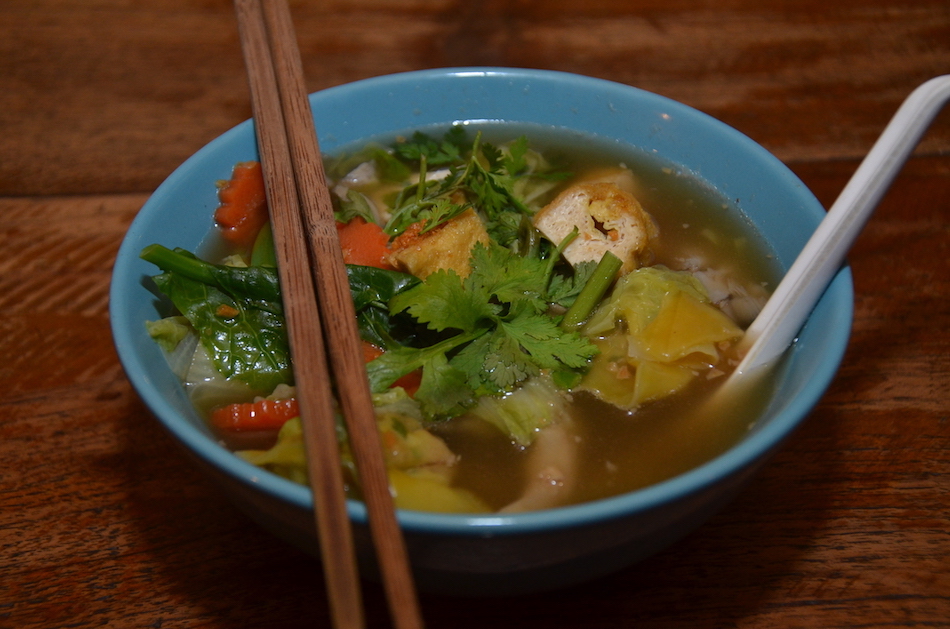 Their menu is quite large ranging from cashew cream sushi, to vegan burgers, to tempura, to beautiful giant fresh salads, to fresh coconuts and smoothies, to tempeh and much more.
We have visited Aum several times while in Chiang Mai, and we will continue popping in for some Khao Soi, Massive Salads, Delicious Soups, and Kombucha.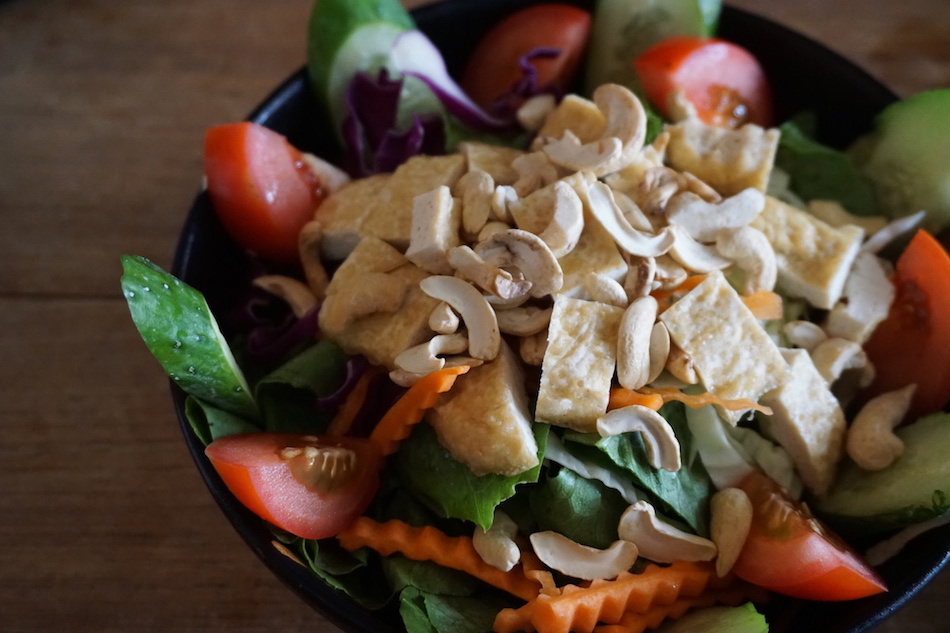 In mid 2017 Aum will be changing location. We look forward to visiting them in their new home.
Jay Restaurants-Thai Orchid Vegetarian
The word "Jay" is Thai for vegan. More specifically, it means Buddhist vegetarian food, and this "เจ" is a symbol that goes along with it.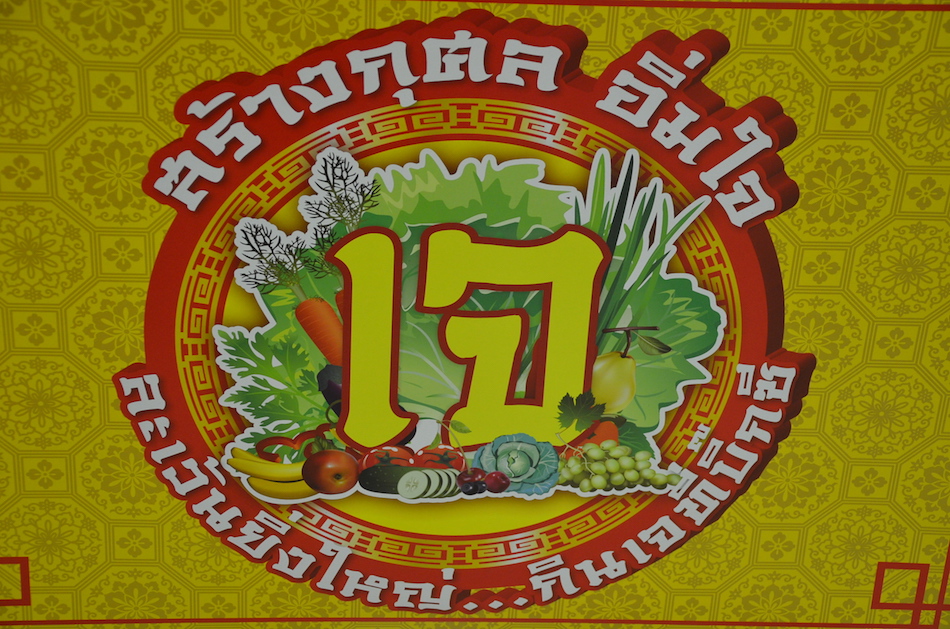 There are jay restaurants all over Thailand. These extremely inexpensive no frills restaurants serve plant based food and are great for those on a budget.
These eateries range from a small cart selling small snacks, to a full restaurant with a large vegan menu consisting of a number of noodle soups and mock meat dishes.
Cody and I visited 3 Buddhist restaurants in Chiang Mai.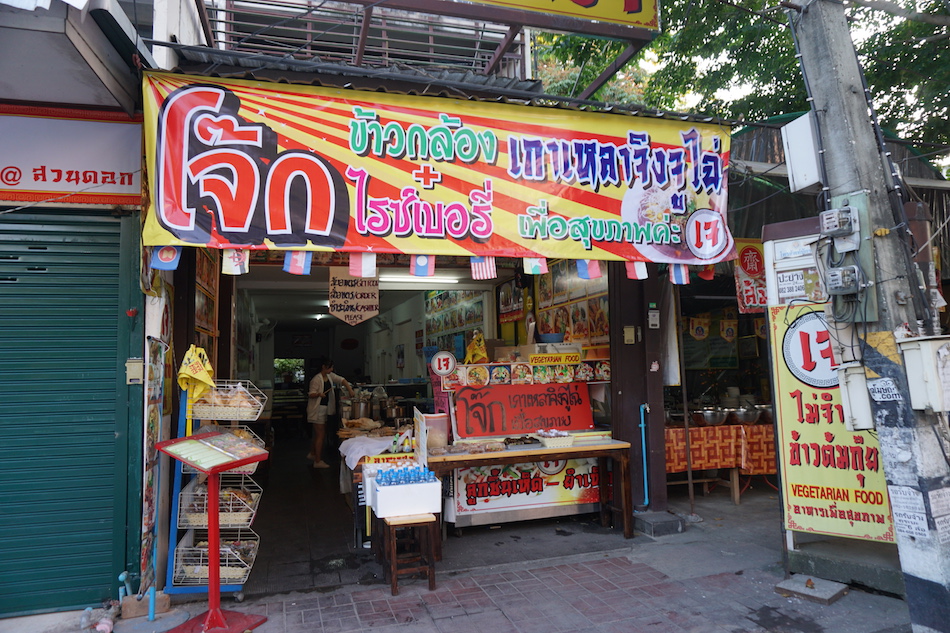 Our favourite was Jay My Jam Jay, located about a block away from Wat Suan Dok (Buddhist temple).
This location had the largest selection of jay meals out of any others we have been to.
A menu of about 6 or 7 pages gave us plenty to choose from. Delicious noodle soups filled with veggies, brown rice with veggies, mock duck and chicken, vegan burgers and other snacks for takeaway.
They also have a cooler filled with lettuce, pickled vegetables, and sunflower sprouts to top off your plate, free of charge.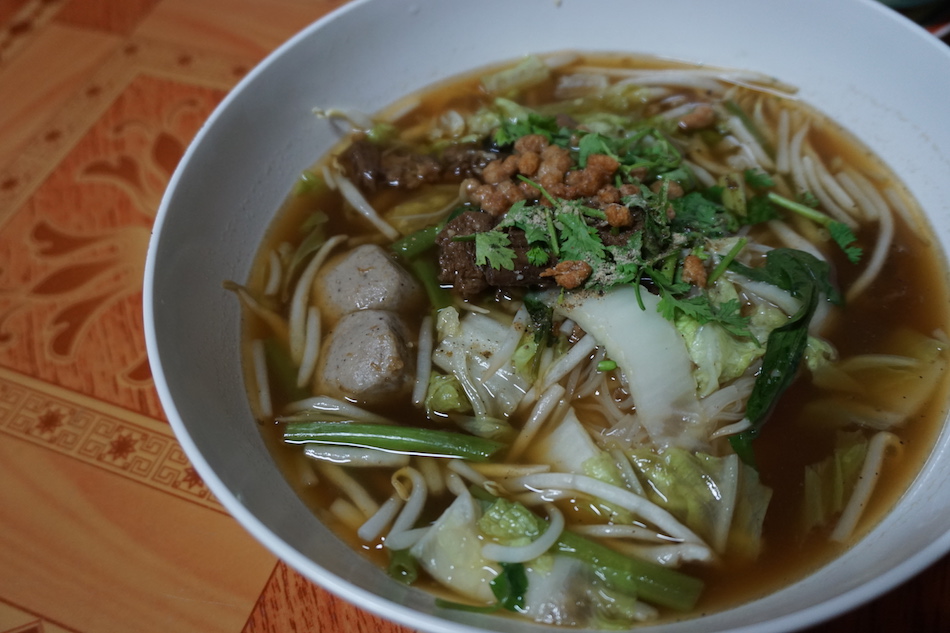 We also visited Ming Kwan Vegetarian on Rachadamnoen Rd, and Thai Orchid Vegetarian on Wichayanon Rd.
This pizzeria was another last minute visit recommended by a friend.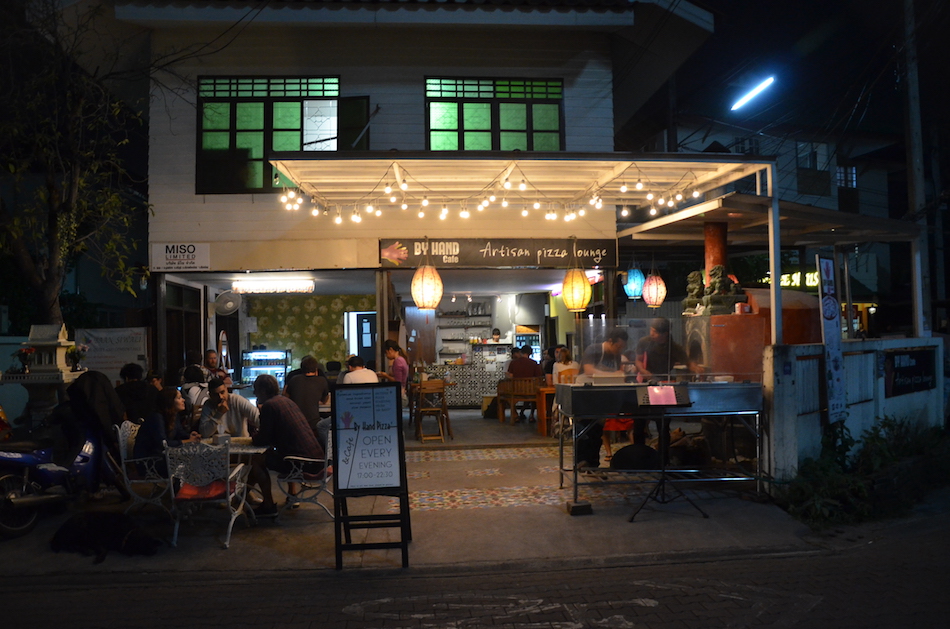 Vegans have 4 pizzas to choose from, and is the "green vegan" pizza ever good!!
Pesto sauce, capers, fresh mushrooms, and fresh basil on a proper thin crust baked in an authentic wood fire brick oven.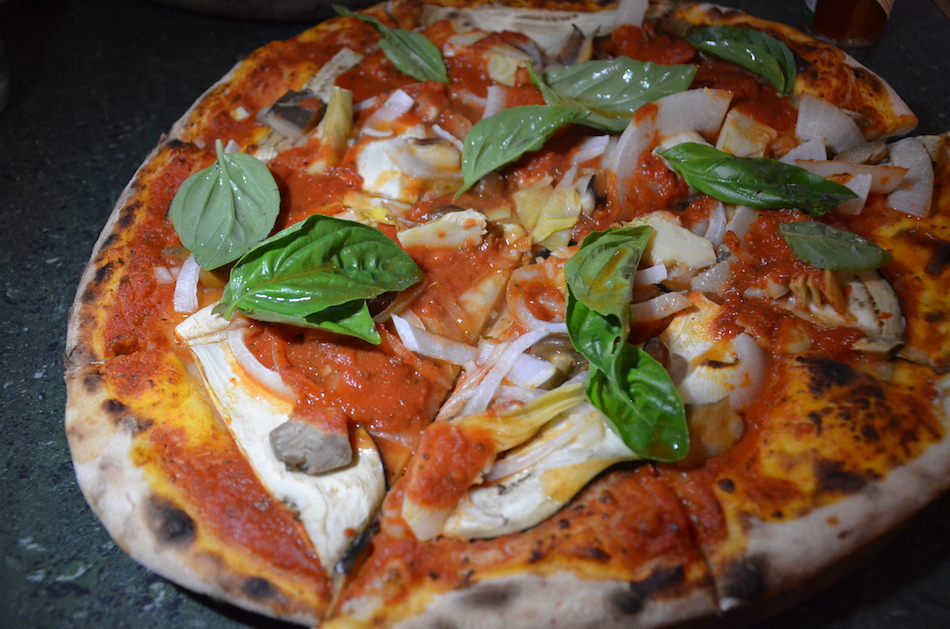 When we arrived the restaurant was busy, but luckily we managed to snag the last table. I don't have much else to say about this place, other than that they make a damn good pizza.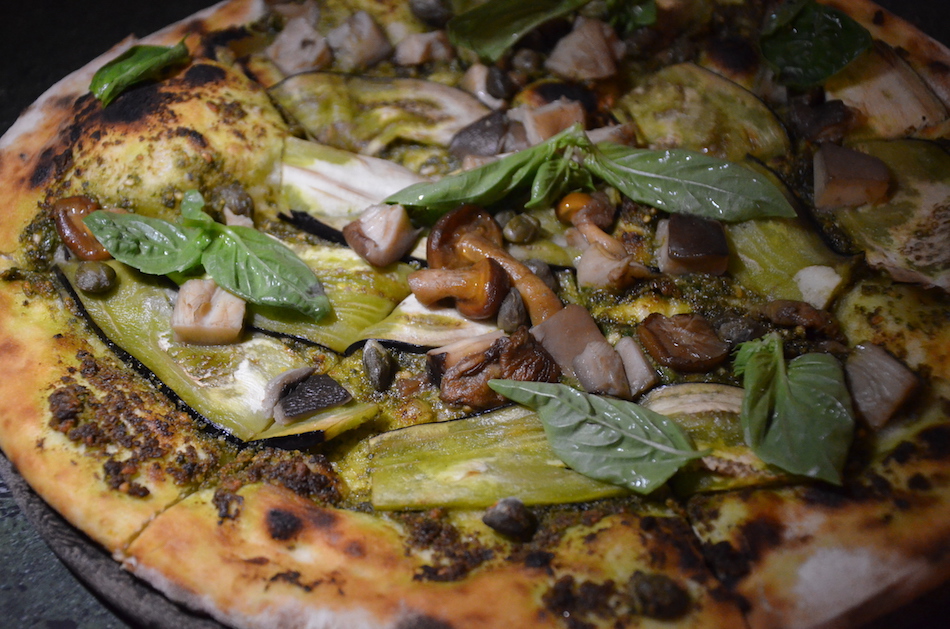 It is a welcome change from Thai food every once in a while.
Moon Muang Road Lane 7, (Next to Wat Lamchang)
This Ice-cream Cafe is adorable. We didn't even get in the door before the owner stepped out to ask us if we were vegan.
Ice Love You has over 100 vegan ice cream flavours in total that rotate daily.
So everyday there are 45 different varieties to choose from. Wasabi, rum raisin, and black sesame were our favourites.
Did I mention the place is superhero themed? There are superhero masks and toys all over the shop.
We couldn't resist slipping a few on.
25/34 Srivichai, Suthep Rd
The Canteen is an omni tapas restaurant in the heart of old town Chiang Mai. It was exciting to see 16 vegan options on the menu, more than the vegetarian and non-vegetarian options!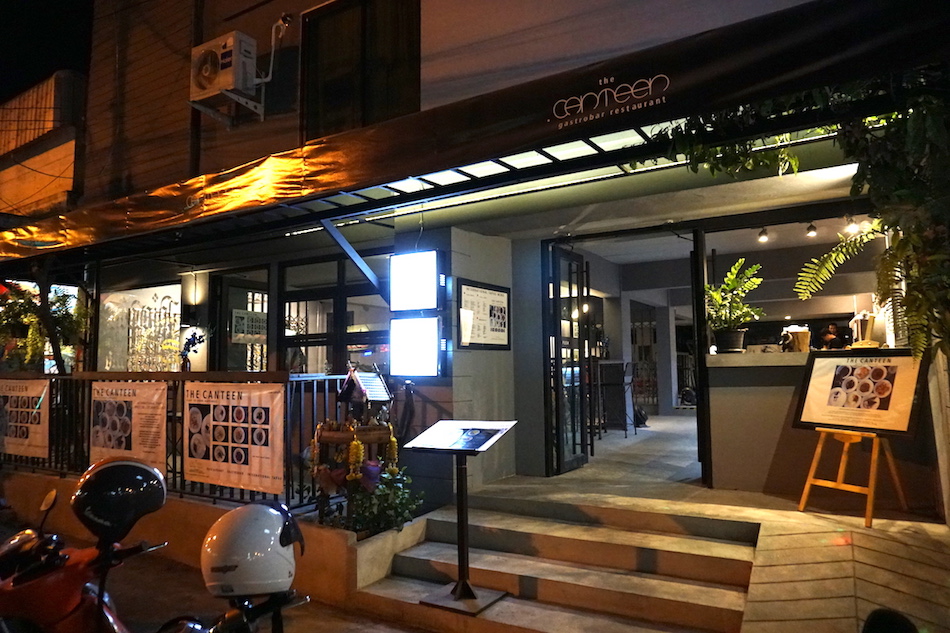 We ordered 8 dishes and every single one was incredible.
Their tapas are small plates of a great variety of international dishes, from Moroccan tomato salad, to roasted bell pepper sesame spread, to oregano fried potatoes, to mushrooms krupuk with Thai green pepper salsa, and more.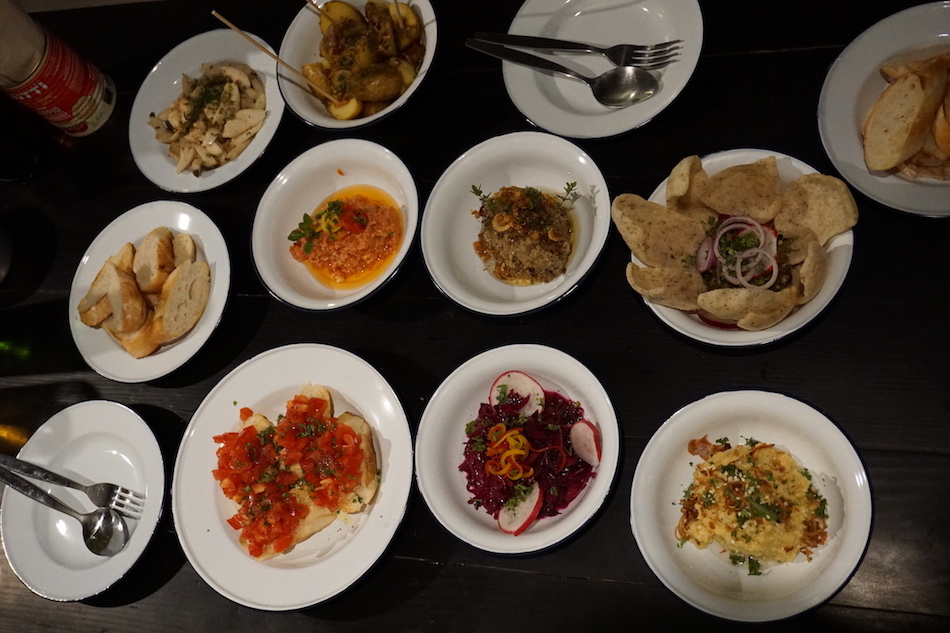 They use only seasonal and regional ingredients from local suppliers and fresh markets.
The interior at canteen is cool and modern with a relaxed ambience. I am looking very forward to returning again soon!
We have enjoyed many a breakfast at Nice Kitchen.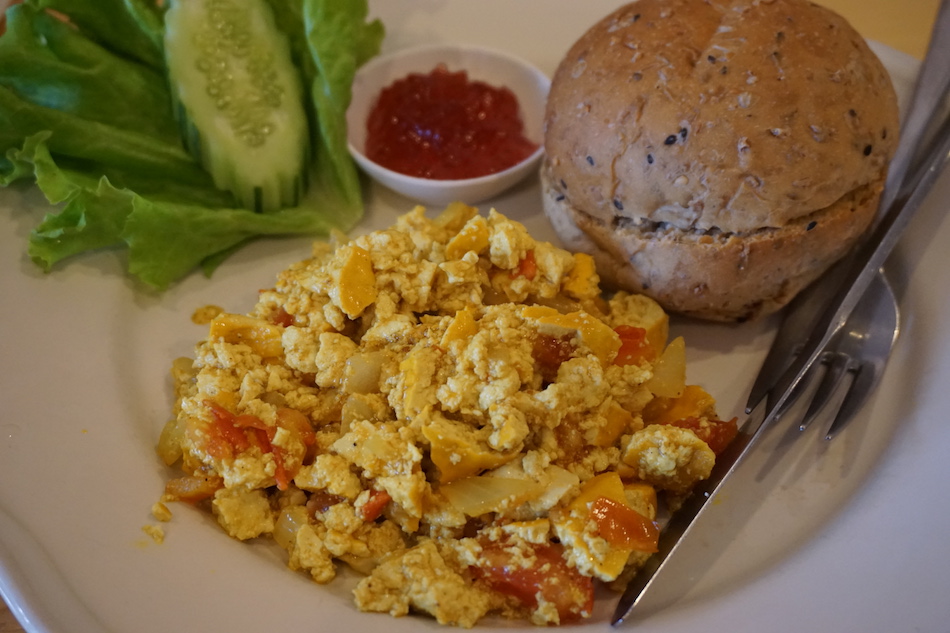 Another non-veg restaurant with plenty of vegan options.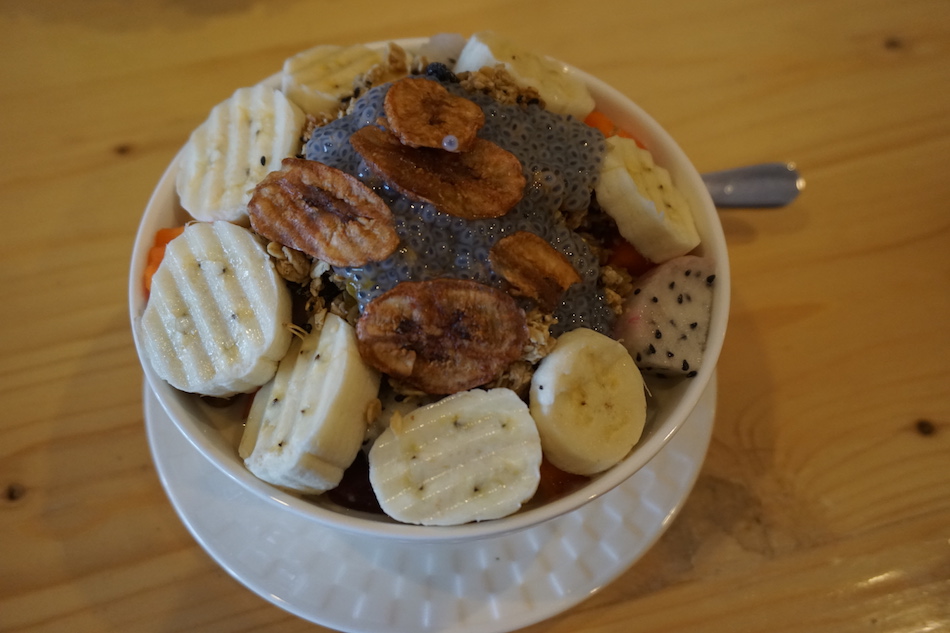 Tofu scramble, muesli with fresh fruit and soy milk, vegan pancakes, homefries, baked beans, and fruit plates. Good portions, decent prices, fair service, no complaints.
15/1 Moonmuang Soi 6, Chiang Mai
Peppermaint Guesthouse and Restaurant
Cody and I noticed that this restaurant had vegan options so we decided to give it a go.
I ordered the vegan "burger" and Cody the soup. The soup came without a hitch, but my "burger" arrived, and it was a whole grain bun with mashed avocado inside. That's it. Oh, and a side of lettuce with a few sliced tomatoes and cucumbers.
I also asked for tofu when ordering the burger, but all I got was a bun with guacamole essentially.
So I asked for tofu to be added and they happily came back with a bun filled with tofu and onions, and of course avocado.
I took a bite and it tasted very much like butter, so I asked if there was butter in it, and the owner says-yes the tofu was cooked in butter. So I said I wont be eating it because I am vegan, that is why I ordered the vegan burger.
She first claimed that the cook was new.
Fast forward to Cody paying the bill. (I am waiting outside) They wanted us to pay for the entire bill. Cody refused, so they charged us for half of the burger because they claim I ate half of it (I did not).
The owner then tells Cody that the butter was vegan and brings out the container that has the Jay (Thai vegan) symbol on it. So the entire time it was vegan butter!!
If she had just explained that to me, I would had continued eating my "burger" even though I was not impressed.
So now I'm really really not impressed. Terrible service, and poor communication.
If you visit peppermaint guesthouse and restaurant, do not order the vegan burger, because it's just a sandwich with mashed avocado in it.
7/1 Rachadamnoen Rd Soi 5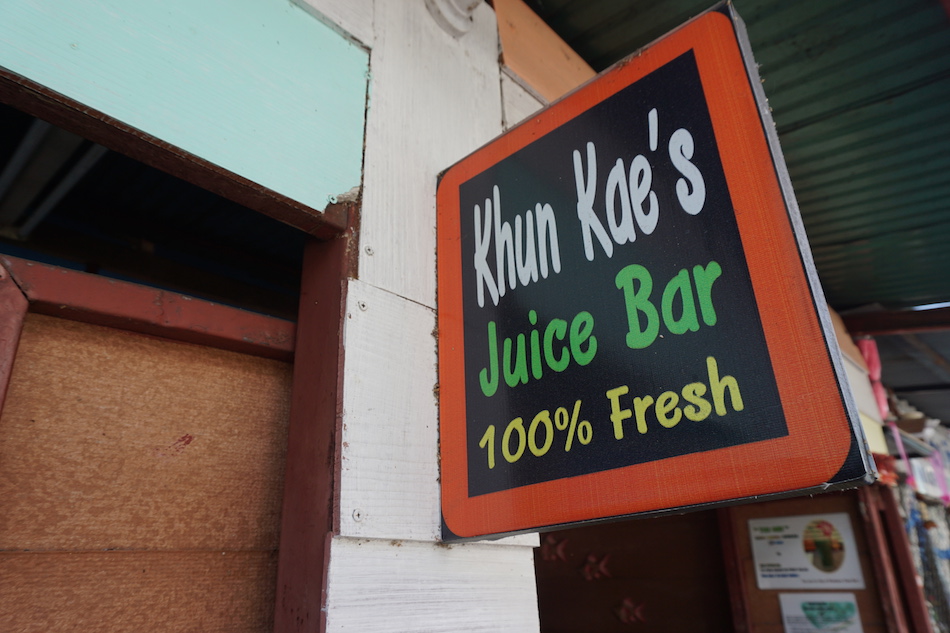 Probably the busiest juice bar in all of Chiang Mai. Khun Kae serves nothing but delicious fresh fruit smoothies and wheat grass shots.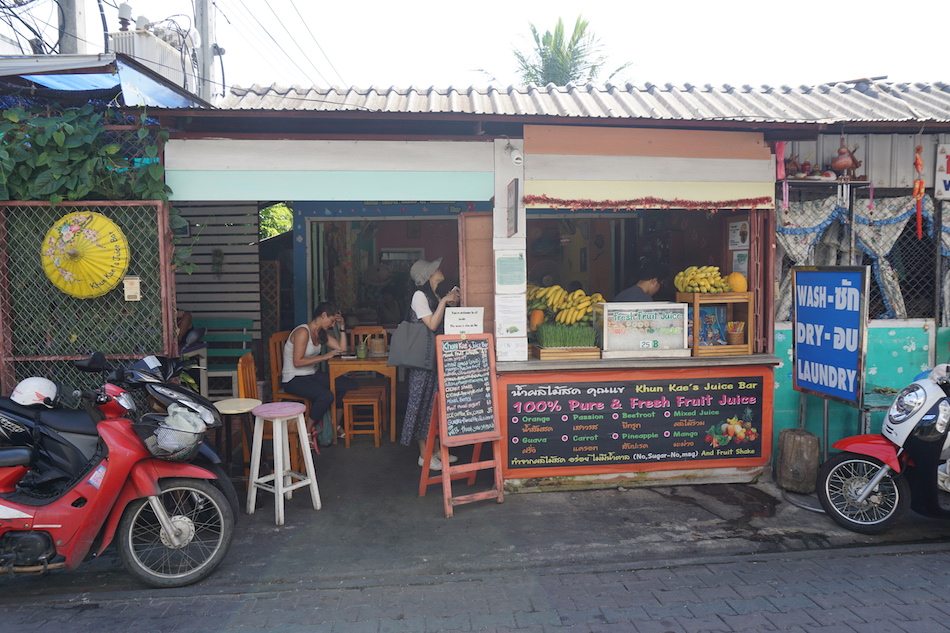 Most shakes are 40 baht. You can add spirulina, coconut milk, or peanut butter for an added cost.
We usually walk over for a cold shake at some point during the day.
19/3 Moon Muang Road Soi 7
A vegan/vegetarian restaurant with raw and cooked meals tucked away on a quiet street.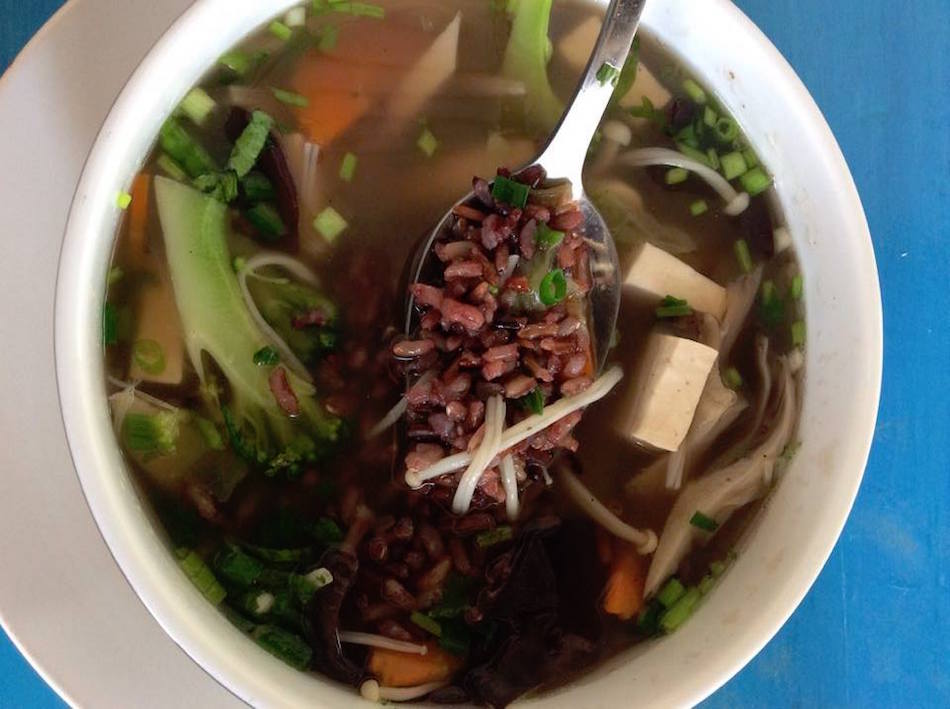 They have a tasty burger, and even tastier vegetable rice soup, and an incredibly flavourful Tom yum soup.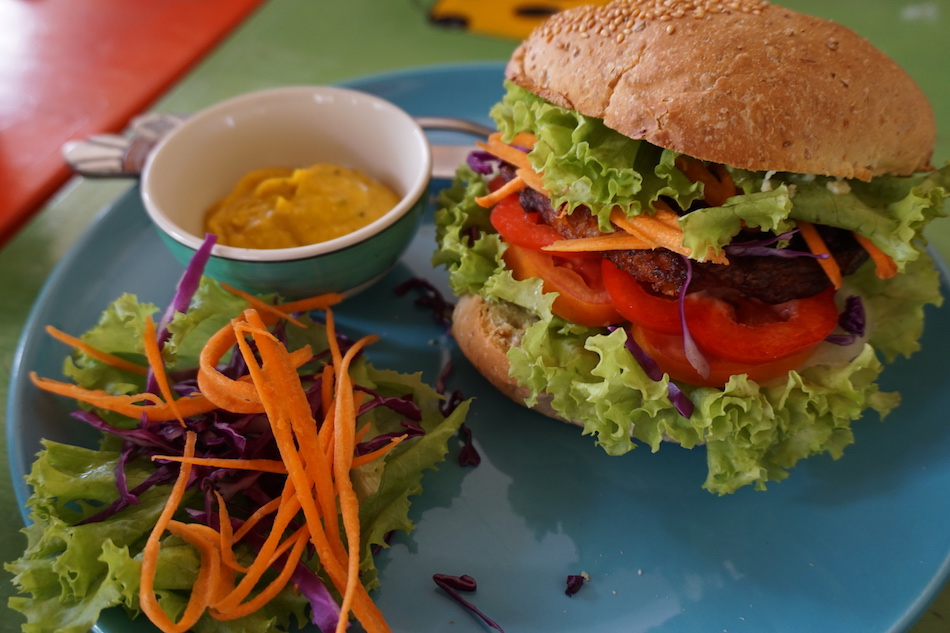 Rachadamnoen Rd Soi 5 across from Ampawan House
May Kaidee is a chain of vegan/vegetarian restaurants and cooking schools.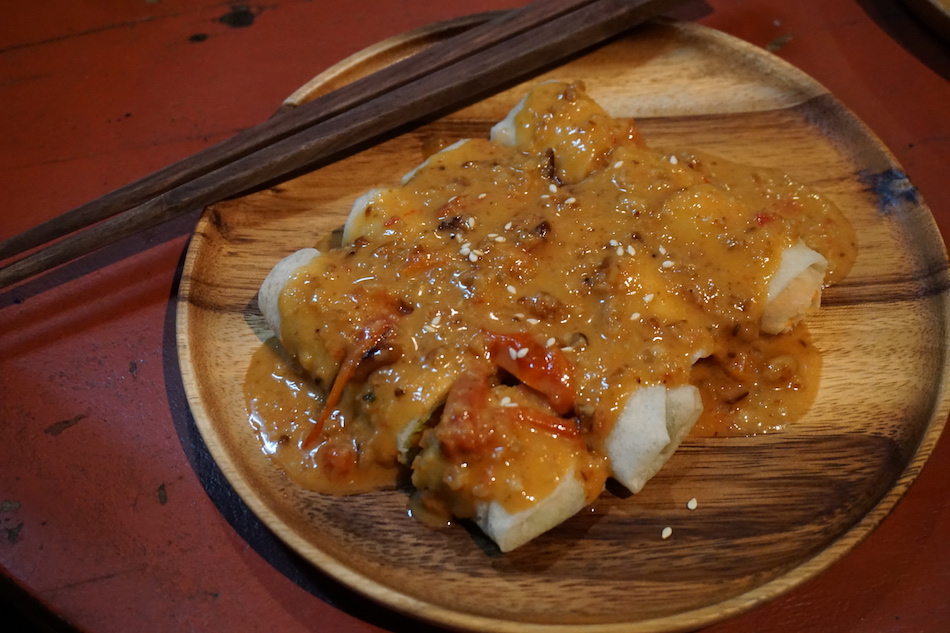 We have visited their 2 locations in Bangkok, and just recently visited the Chiang Mai location.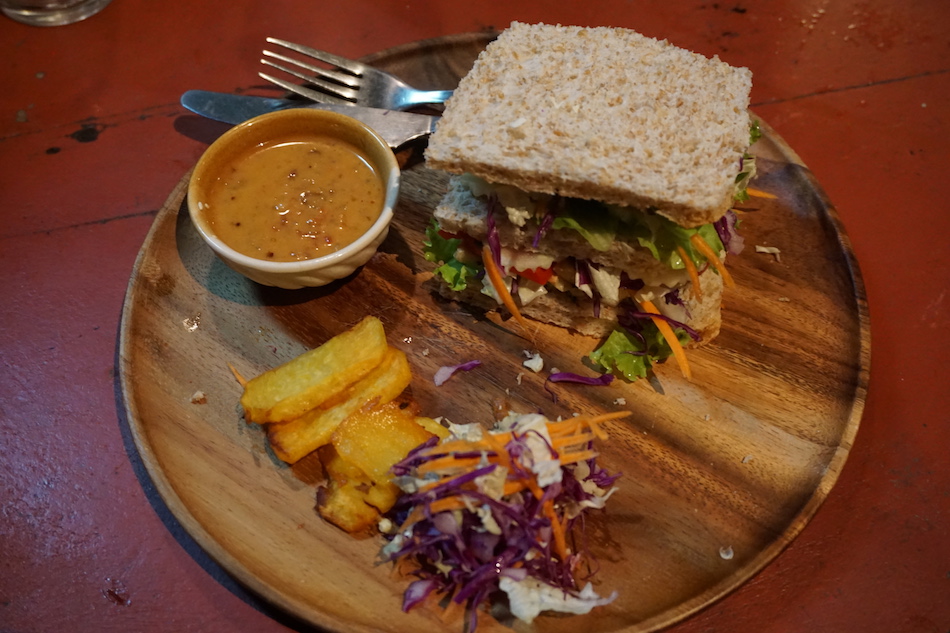 The food is mostly Thai and it is fresh and tasty. If you don't feel like Thai food, they do have a nice veggie and tofu toasted sandwich served with homefries (more like home fry) that is quite good.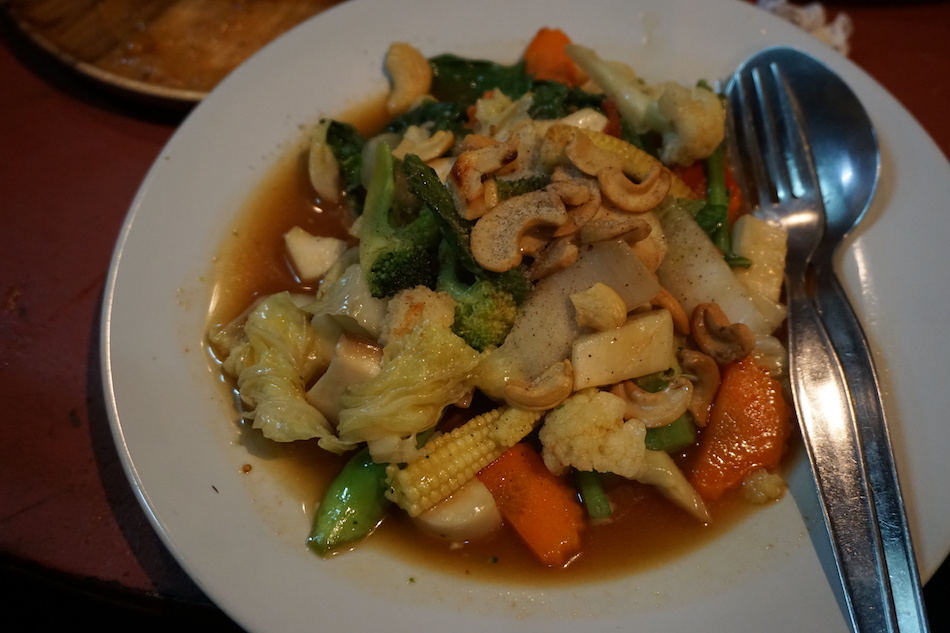 The pumpkin hummus is also delicious!
Chang Moi Kao Rd across from Wat Ou Sai Kham
Oh dear………So I decided to save the worst for last. We have heard nothing but good things about Pun Pun and it's even in a few vegan food guides to Chiang Mai, so we definitely wanted to give it a go.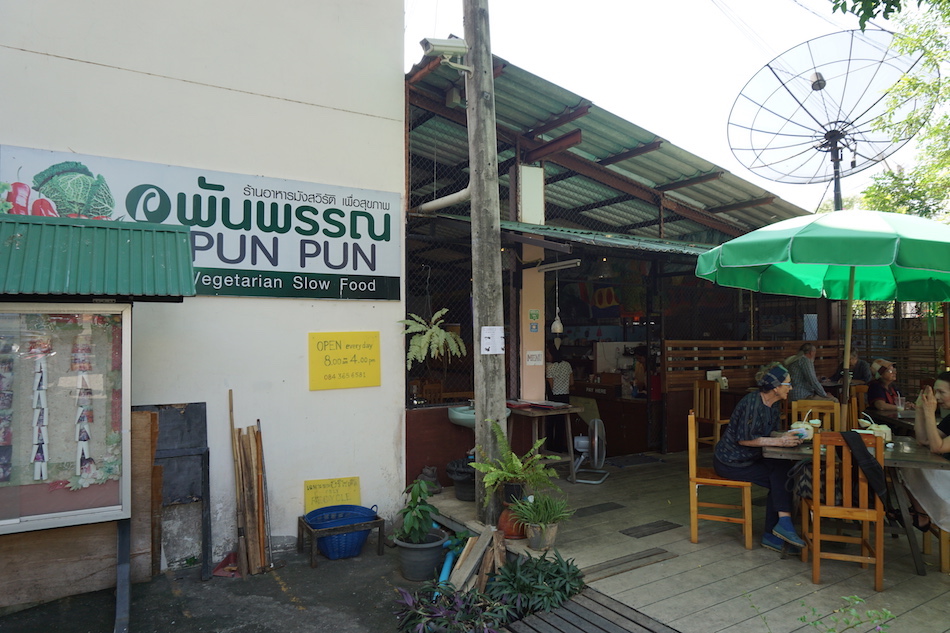 We arrived later in the afternoon one day and the restaurant was closed (we should have taken that as a sign), so we left and returned in the early afternoon the next day.
It was just when we arrived, and all of the tables outside were occupied so we had no choice but to sit inside. We walked in and chose a table. I noticed a big dead cockroach on its back.
We thought, "the restaurant is open to nature, so bugs are bound to get in". No big deal.
We moved further back to another table. Another cockroach, and another, and another. Filthy floors, dusty corners. Gross.
I didn't want to stay, but we ended up staying because we walked so far out to get there, we were very hungry, and we thought we could write about it and warn anyone thinking about visiting.
I ordered fried tempeh and a glass noodle hotpot with ginger and mushrooms. Cody ordered a Thai curry. The curry was decent.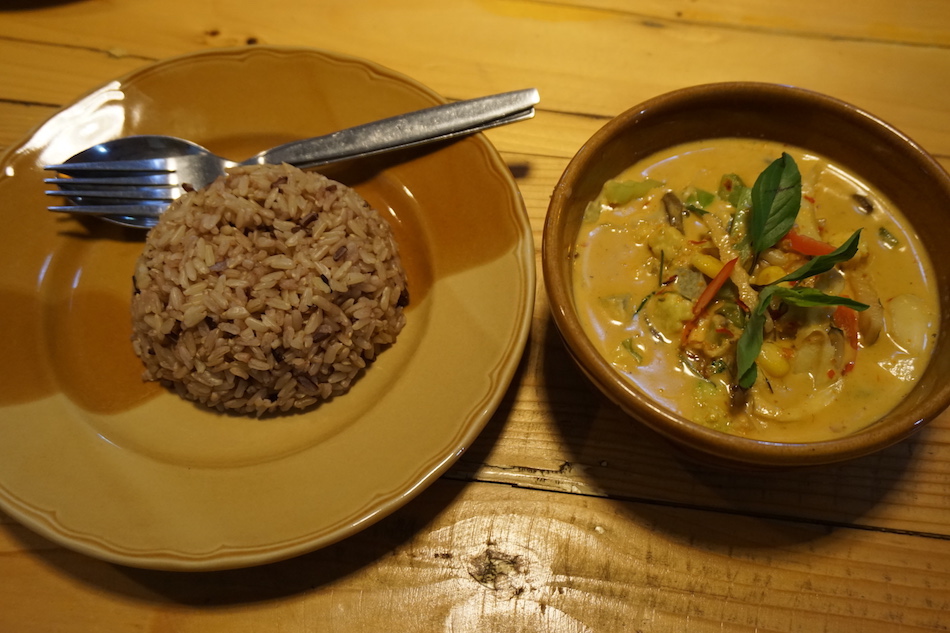 My tempeh was served swimming in oil, and the hotpot appeared to have been made 2 days prior to it being served. Mushy brown glass noodles stuck to the pot, and flavourless everything.
It didn't help that I could see a giant dead cockroach laying on his back from the corner of my eye. Shocking is a word that comes to mind. There were 3 other tables eating and no one seemed to notice or care.
We counted at least 10 cockroaches of various sizes all over the restaurant floor, plus a baby following in the footsteps of his elders on our table.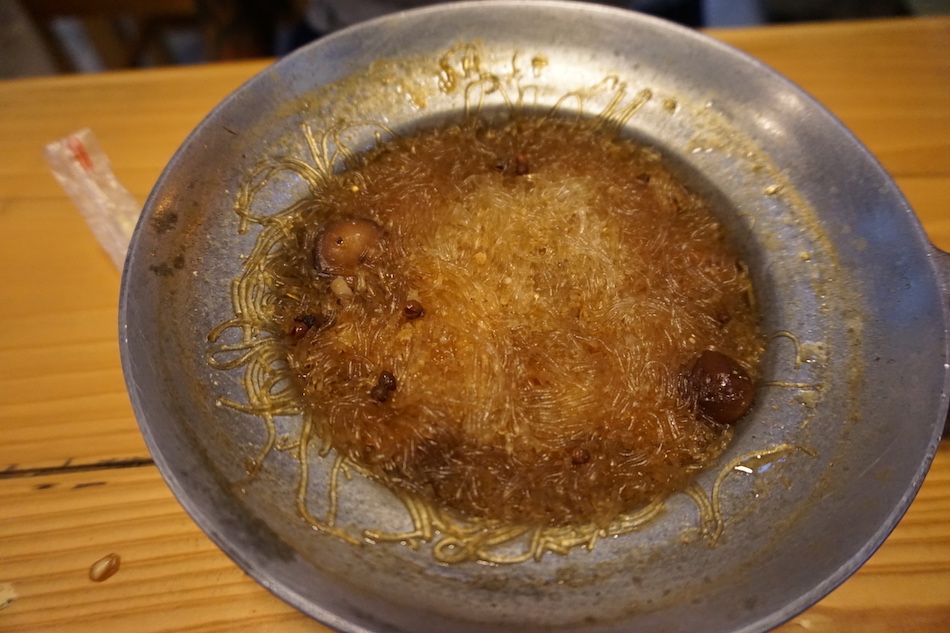 And yes, we did pay for the entire meal even though I only took 2 bites of my food. Terrible. Would not recommend eating at Pun Pun.
Luckily Pun Pun is located in the compound at the back of Wat Suan Dok, and Jay My Jam Jay is just down the street from the temple, so we filled our belly's with fresh clean food.
So there you have it. You win some, you lose some. But if you are able to spend time in Chiang Mai eating all of the incredible food, you're mostly winning.