After 5 and a half months of an amazing journey around the world with Vegan Travel, Cody and I made our way back to Thailand where we were graced with the awesome presence of my cousins Aaron and Isaac, and our friends, Amber and Scotty.
This was Aaron and Isaac's first big trip away from home, and a pretty epic trip for Scotty and Amber as well, so I made sure to stuff in as many different activities and destinations as I could during their stay.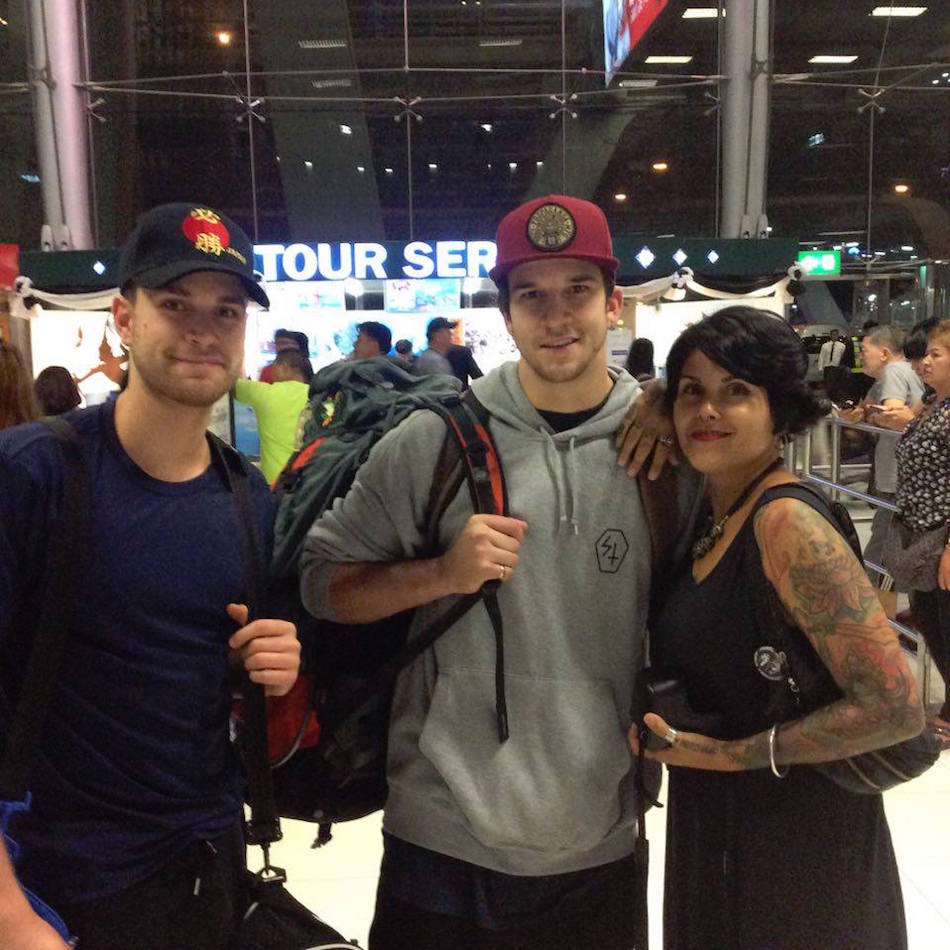 We met my cousins at the airport for their midnight arrival, gave them big hugs, alerted their mother that they arrived in one piece, and took a taxi straight to our hotel.
Even after 20+ hours of flying from Canada to Thailand, the boys were still up for checking out the nightlife, so we dropped off their bags, and left for Khao San Rd.
We walked through Khao San and Rambutri a few times, met a friendly Polish traveller who tagged along with us, and got to bed around 5am. Time flies when you're having fun.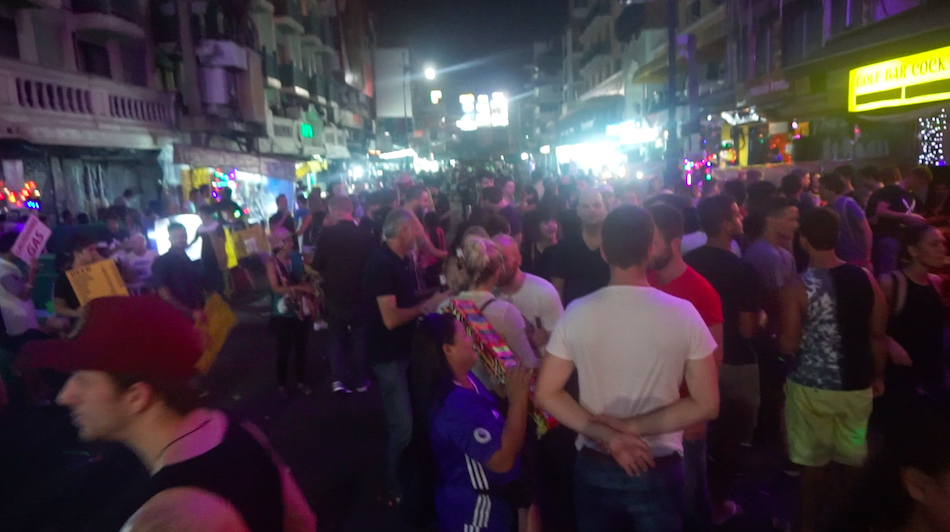 The next morning we walked over to Ethos, one of our favourite vegetarian/vegan restaurants in the area-and really the only reason we visit Khao San Rd when we are on our own.
Ethos never disappoints with their massive vegan pancakes, blueberry coconut smoothies, spaghetti and "meatballs", and falafel plates.
After breakfast we hopped in a taxi, then on the BTS, and brought Aaron and Isaac to MBK mall for 8 levels of shopping. We then visited the Sukhumvit area of Bangkok (the location we always stay at while visiting the city) and enjoyed an amazing lunch at May Veggie Home.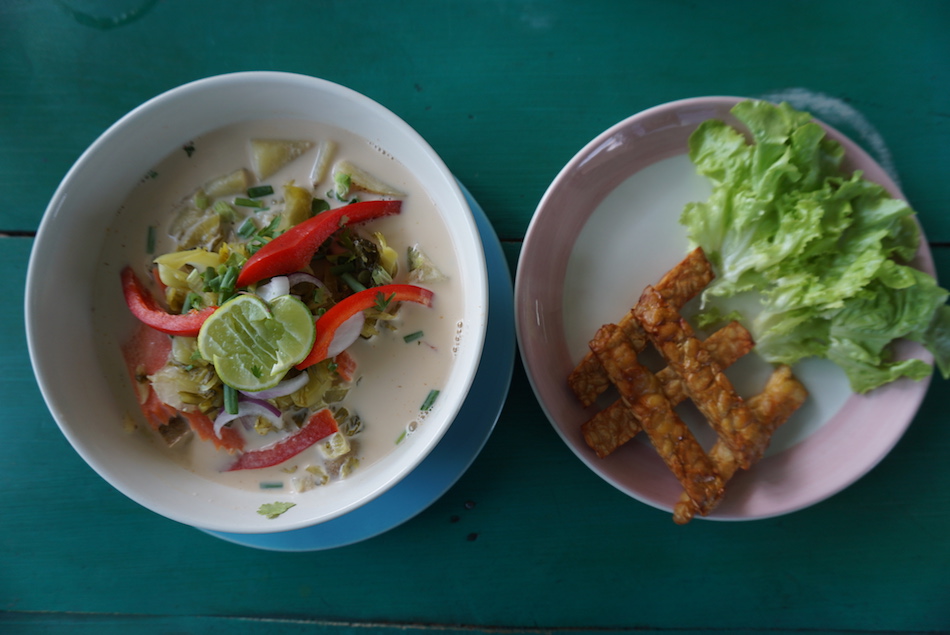 The guys felt the need for a second lunch so we crossed over to pick up a few slices of vegan pizza at Pala Pizza Romana, and then we took a long walk over to Mercuryville Mall for dessert at Veganerie.
Basically we ate all day and night. A foreshadowing of the rest of our time together.
Scotty and Amber arrived that evening and of course we did more eating and exploring of the Banglumpoo area of Bangkok.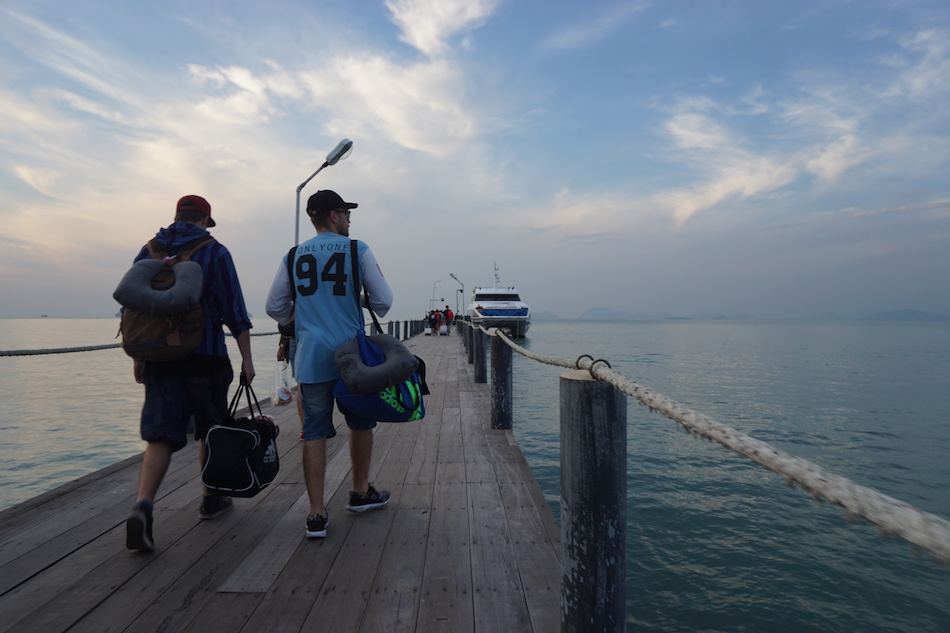 The next night we boarded an overnight bus to Chumphon, and then a speed catamaran to Koh Tao. It was a very rough ride, and my first time ever getting sick from the motion.
We spent 3 nights at Monkey Flower Villas, our favourite accommodation on the island.
The property has a gorgeous view overlooking the ocean, we had our own private pool, a sweet 2 bedroom villa with a loft, and kitchen, and 2 great drivers, Steve and Mo, who would pick us up, and drop us off anywhere on the island.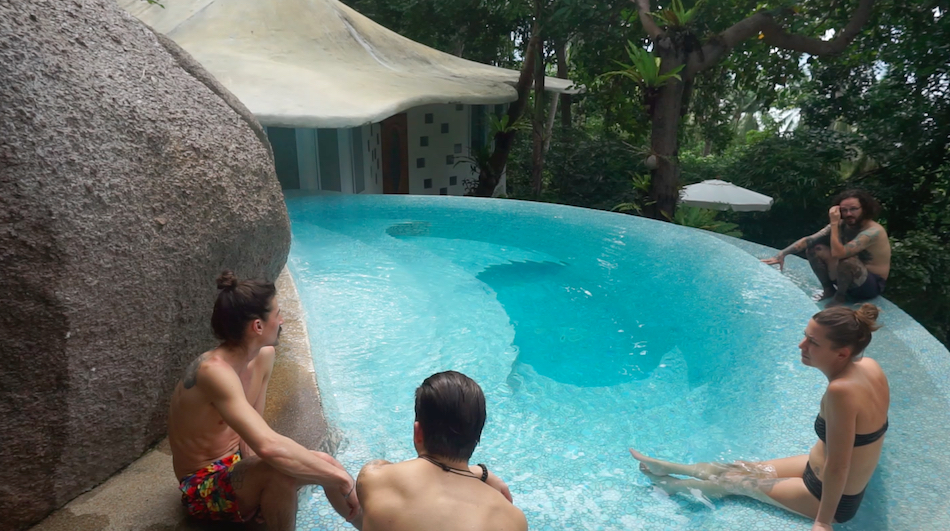 We spent our time by the pool, watched movies on a rainy day, and hiked through the jungle until we reached the abandoned resort at Laem Thian beach.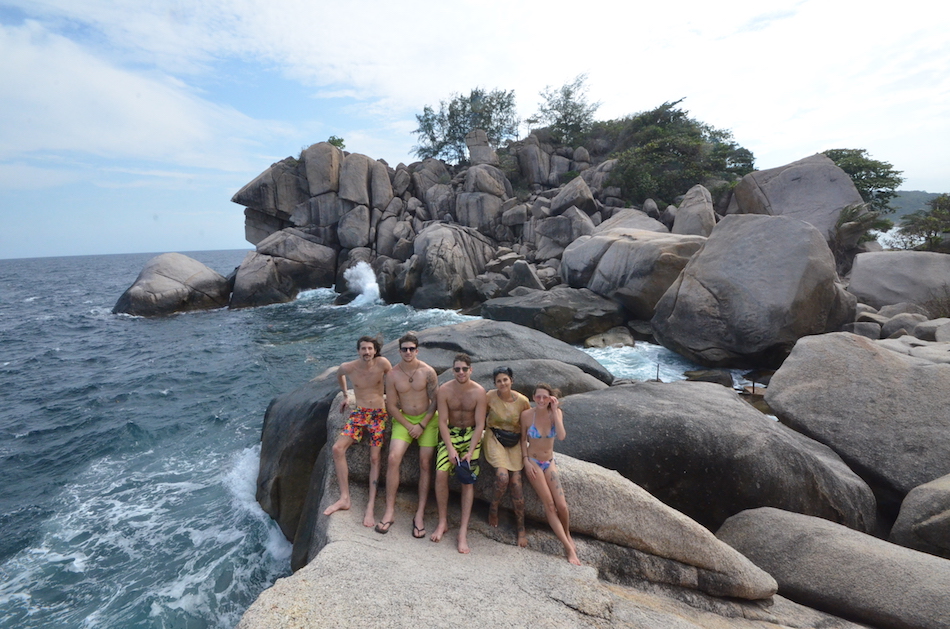 The tide was high when we arrived at Laem Thian, but we still managed to dip into the ocean. We also explored the abandoned huts, and did some careful rock climbing in the area.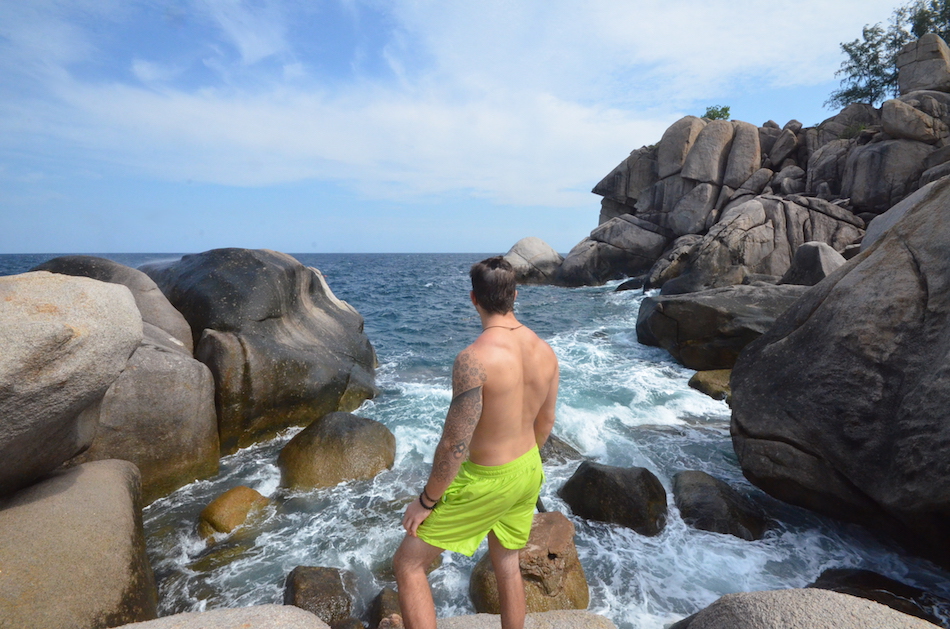 When the sun set, the 6 of us spent time in town being mesmerized by the amazing fire dancers at Lotus Bar, and the glam of a lady boy show.
Next stop Chiang Mai!
We left Koh Tao in the morning and arrived back in Bangkok just in time for a vegan buffet at Mai Kaidee restaurant behind Khao San Rd.
The 6 of us checked into our hotel for the night, then checked in at Don Mueng airport the next morning for our flight to Chiang Mai.
At the airport, we ran into a fellow vegan friend Jez, whom we had just met in person for the first time a few weeks earlier, and he became part of the group. We spent several days taking everyone on a vegan food crawl and barely scratched the surface.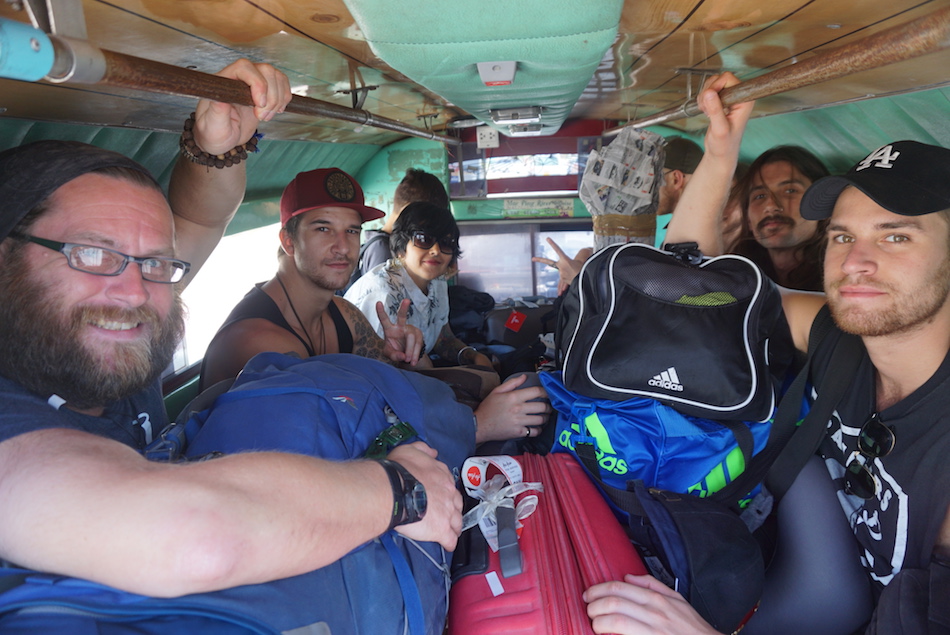 Everyone agreed that Blue Diamond had amazing vegan desserts including cinnamon buns, coconut cream pie, cupcakes, and a very large and delicious tofu scramble with home fries, toast, fresh coffee, and orange juice.
Another favourite was Karma Kitchen for their consistently delicious vegan burgers, as well as Ice Love You for their incredible and delicious selection of vegan ice creams, and By Hand Pizzeria for their authentic and flavourful vegan pizzas.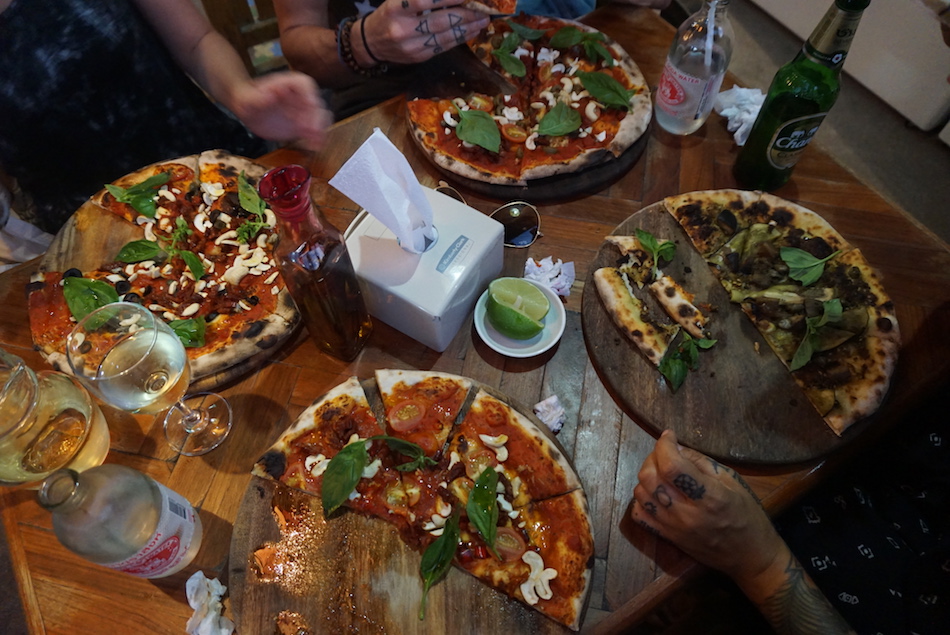 When we weren't eating, we walked around the city visiting temples, the quiet side streets of Chiang Mai, and even visited Grand Canyon Waterpark; an amazing inflated obstacle course inside a flooded canyon.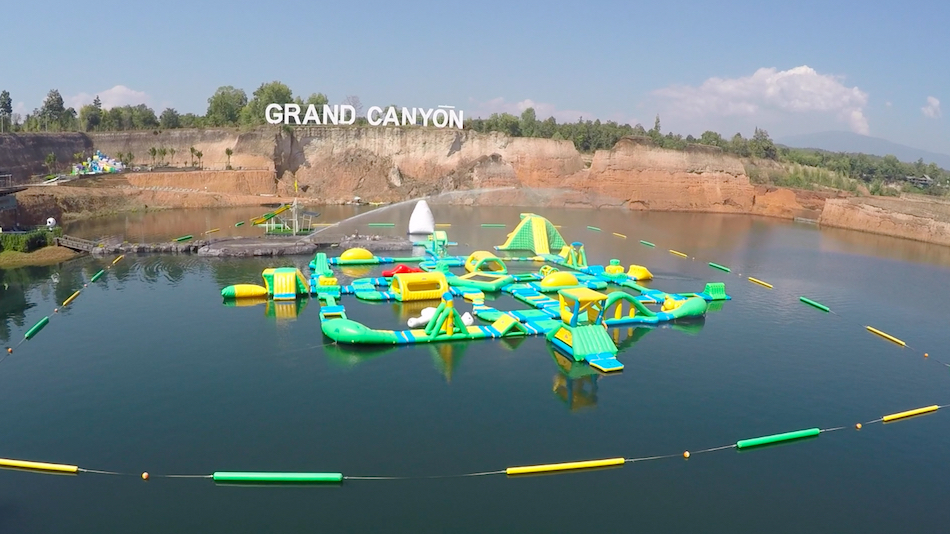 Aaron, Isaac, and Cody hung around the big inflated blob catapulting people high into the sky, and then into the water. There were also water slides, giant rubber duckies, monkey bars, and trampolines.
We all had so much fun being kids again. I can't wait to return!
One evening we walked over to the North Gate Jazz Co-op to listen to some locals and expats make some beautiful music together.
The place was packed to the brim with people spilling out onto the street. After a few jam sessions at North Gate, we all walked over to Zoe in Yellow, a popular night club in the old town with a complex of several other bars and music to choose from.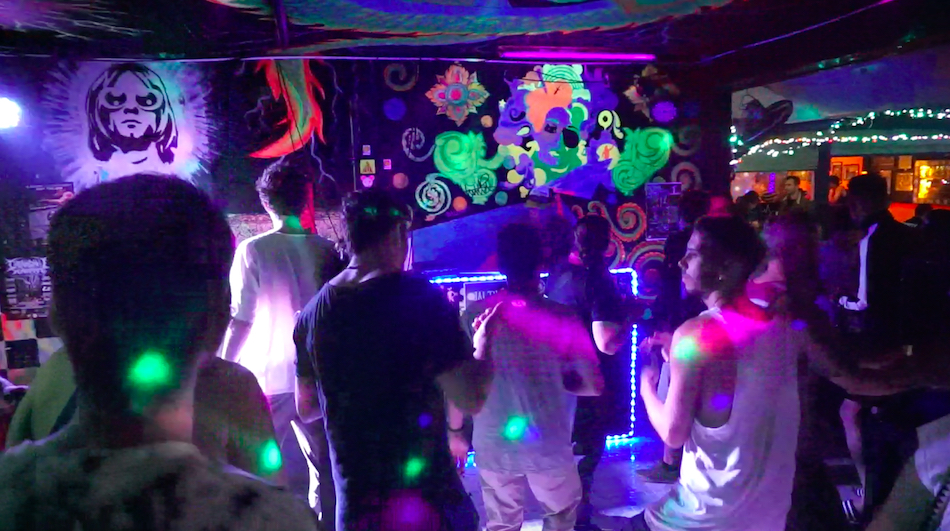 It had been a while since I danced so much, I forgot how much I enjoy it. There were Thai ladies walking around the complex selling hand made bracelets with inscriptions on them, so we all decided to get a few made.
The group had such a great night out dancing that we returned two more times that week, and Aaron was invited to DJ, which was a pretty great way to end to his time in Thailand.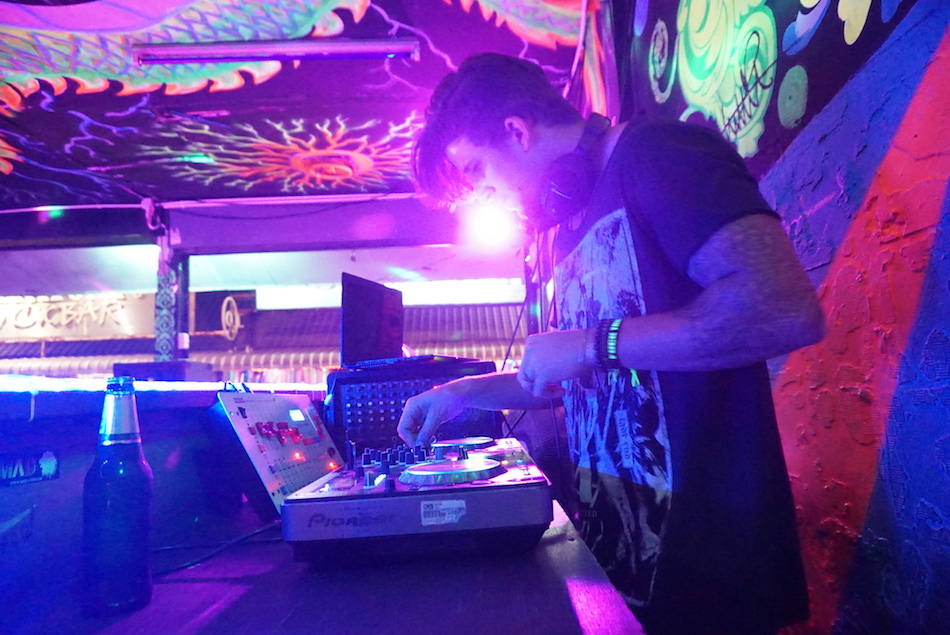 The next morning Scotty, Amber, and Aaron collected some permanent souvenirs by getting tattooed by our friend Jodi in our hotel room.
Sadly, all good things come to an end, and the next day we said our goodbyes to Aaron and Isaac.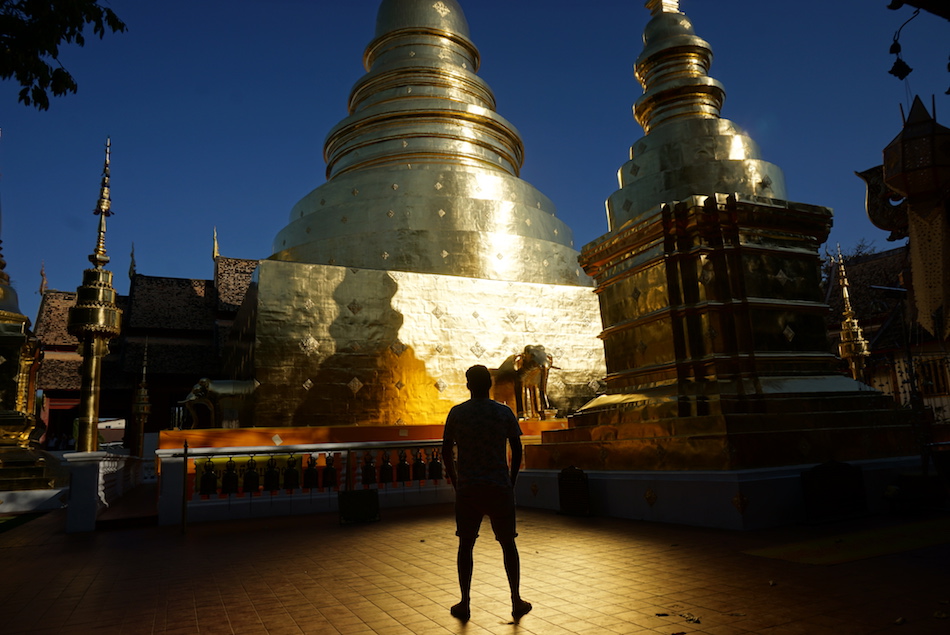 Cody and I were so excited for their visit, and were so thrilled to know how much they enjoyed themselves. We can hardly wait when they return for a longer amount of time, so we can show them more of Thailand at a slower pace.
Our last 2 weeks with Jez, Amber, and Scotty were spent happily eating, attending Jai Thep-an amazing music festival in the Chiang Mai countryside, and visiting Pai for a few days.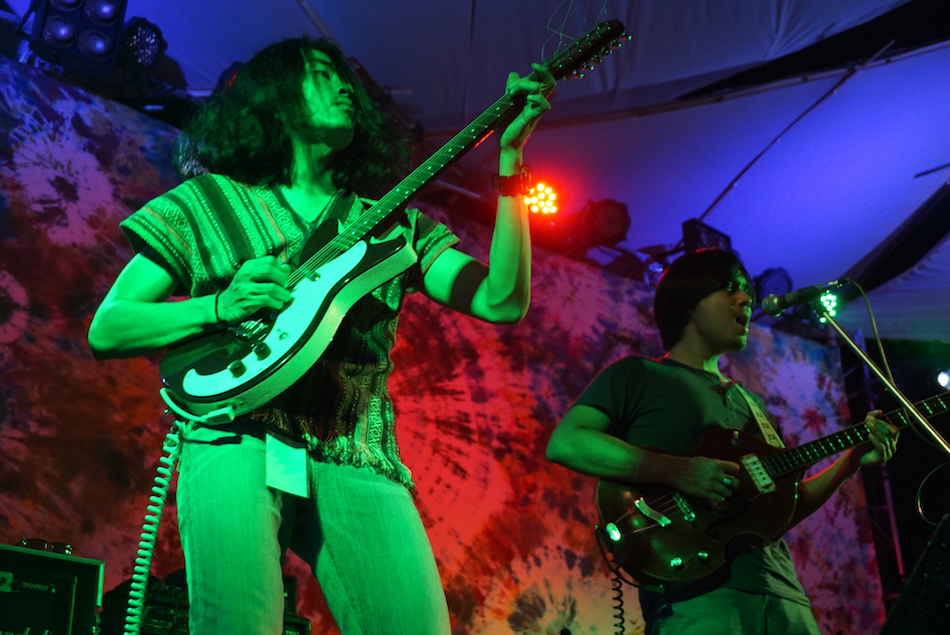 When your time is spent dancing, swimming, and eating, and eating, swimming, and dancing, you know you're doing something right.
Of course, the day came to say goodbye to Scotty, Amber, and Jez, and we are presently on our own again relaxing in Chiang Mai.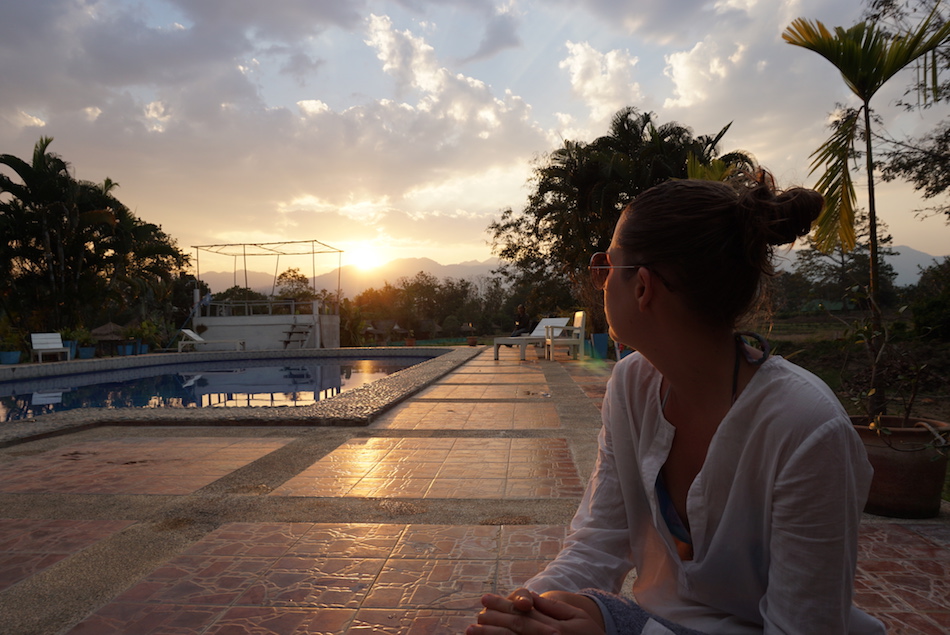 Cody and I can't thank you all enough for spending so much time with us. We are so grateful for all of the laughs, conversations, meals we shared, and how well we all connected.
We know you could have chosen to be anywhere else in the world, with several other people, so thank you for choosing to be with us.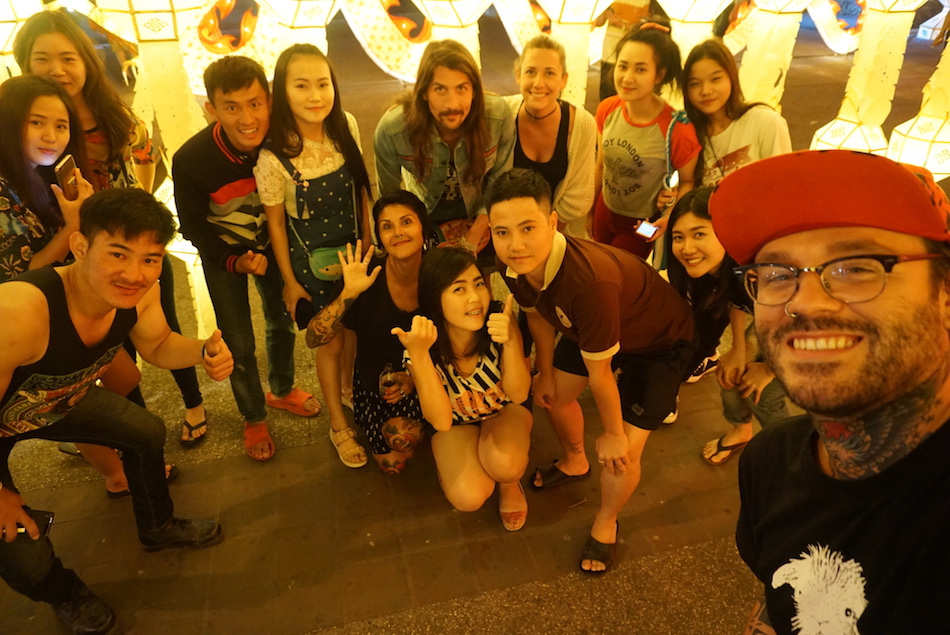 Until our next adventure. We love you.