After sharing my advice and suggestions about
what not to do in Thailand
, I thought it only fair to also let everyone know about the abundance of incredible responsible travel activities there are to participate in without negatively affecting the locals, human and non-human alike.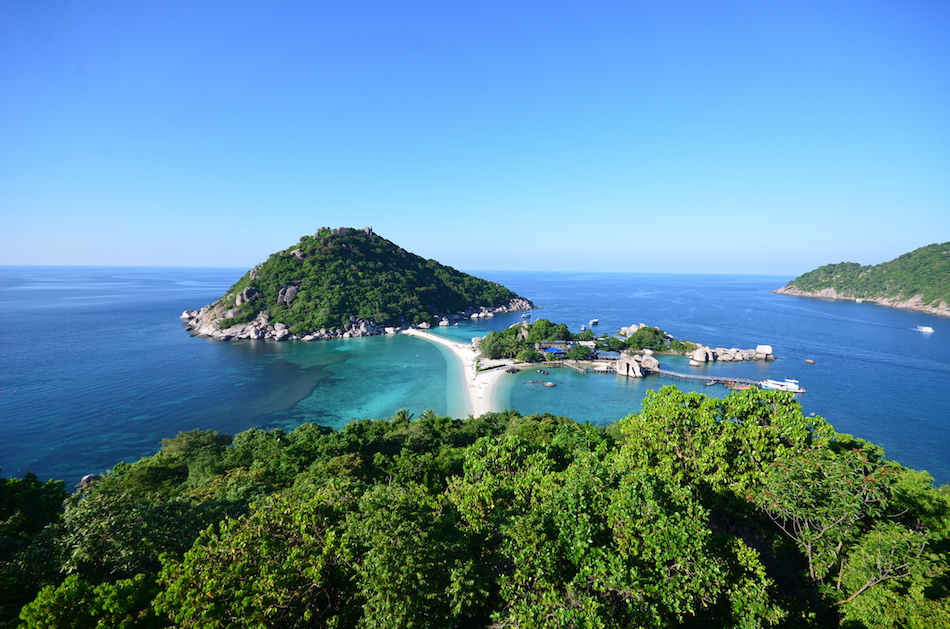 The beauty of Thailand is that it truly has something for everyone. For those who love to shop; Thailand is a shopper's paradise. For those who love adventure; hiking, trekking, scuba diving, and zip-lining has them covered.
For those who simply want to breathe, be in the moment, and find themselves; yoga, mediation, and massage are available all over the country.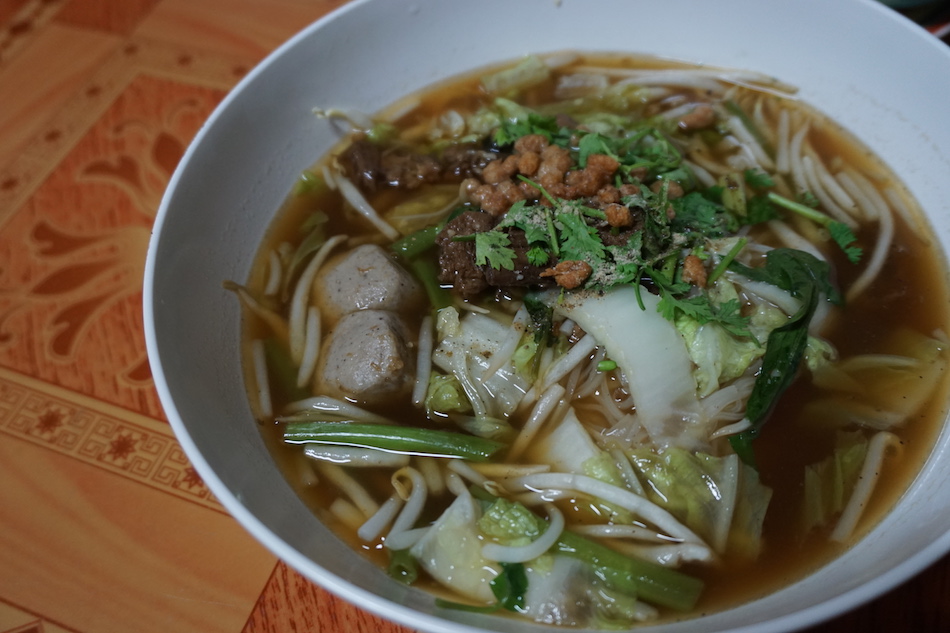 And then, there are those of us who love to eat; green curry, mango sticky rice, khao soy, burgers, papaya salad, sushi, muesli, and pizza has us more than covered!
YOGA
Whether it is group yoga retreats, yoga teacher training, or single practice sessions, you can find every style of yoga from down South to up North.
Having the time to practice in a jungle setting, be it in Phuket or Chiang Mai, will give you the opportunity to learn more, go deeper, and improve your practice.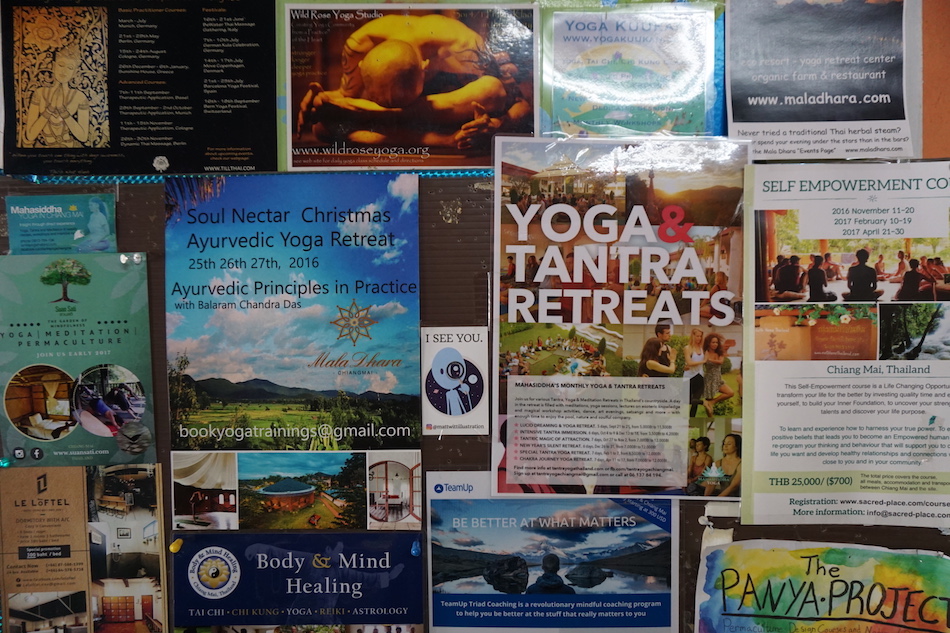 MEDITATION
Meditation retreats and sessions are also easy to come by in this Buddhist country. You can sign up for short novice retreats, or long, serious-minded ones.
They are mostly held in Buddhist temples with Thai and western teachers. They include interviews and talks about Buddhist practice and teachings.
Segregation of male and female is enforced, reading and writing is discouraged, and you will not be allowed to leave the complex, so pack everything you require in your mediation bag.
Most wats ask for a minimal daily donation (around 200 Baht) to cover the costs of the simple accommodation and food.
MASSAGE
It's Thailand. You have to experience a Thai massage!
Most people who visit Thailand have a bucket list of things that they want to do, and I would say Thai massage is almost always on the list.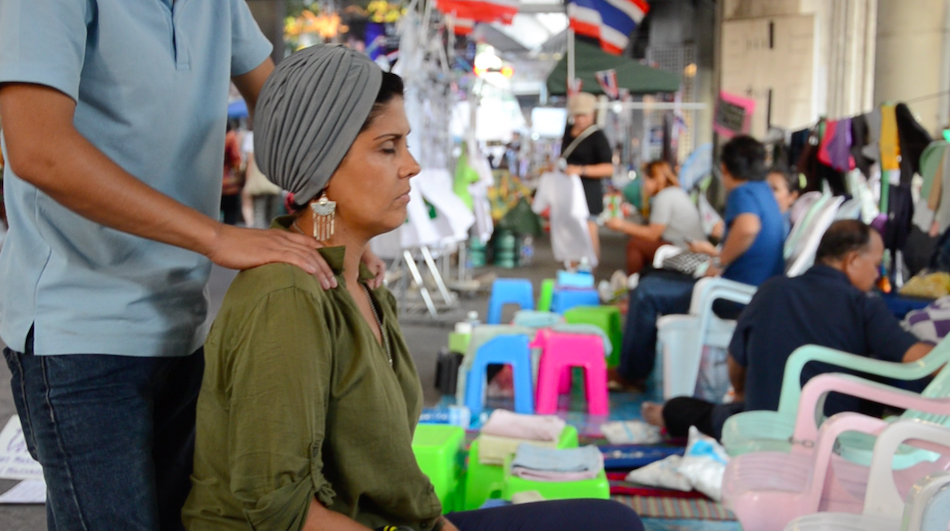 There must be thousands of options to choose from, and they are definitely not all created equal. You will find several outdoor massages at markets where people sit on chairs to get their feet and legs massaged.
You should give those a try. You can sit and watch the world go by. There is a wonderful facility in Chiang Mai called Lila Thai Massage that helps newly released inmates by training them in massage.
The Chiang Mai Women's Prison and the Institute of Skill Development designed a 180 hour massage training course for these inmates. They meet the requirements of the health department, so you will receive a nurturing and healing massage, while doing something good for someone.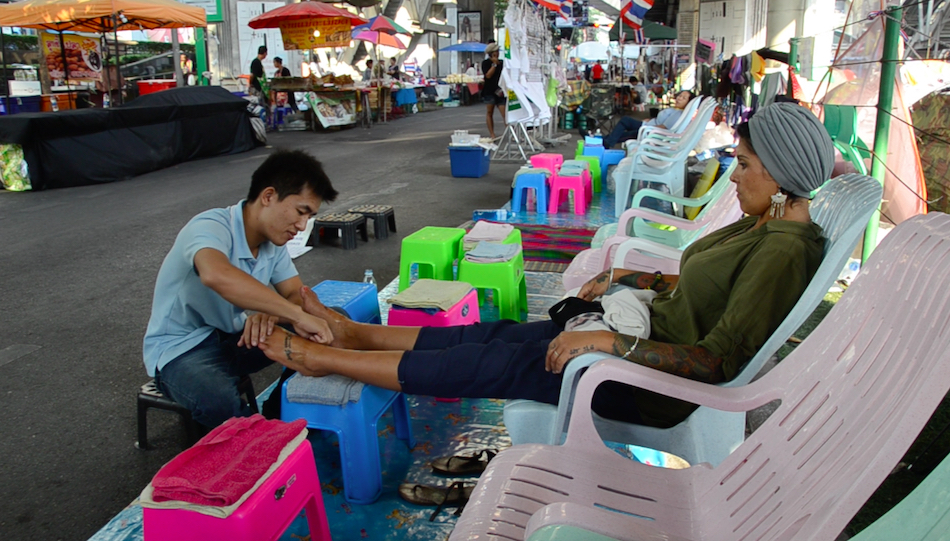 Khun Naowarat Thanasrisutharat, former director of Chiang Mai Womens' Prison, established Lila Thai Massage to bridge the gap between a non-accepting public and the problems released inmates encounter adapting to a new community. Working at Lila allows them to make a living and contribute to society.
It's a massage with a purpose!
SHOPPING
Whether you love hunting for a thrift store bargain, or discovering new local designers, you will find any shopping experience you seek, and none will be identical.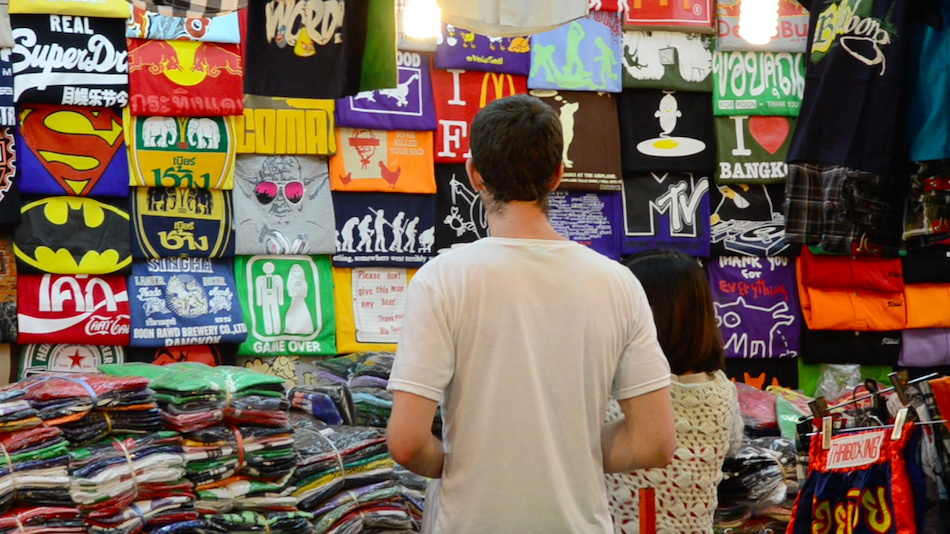 Jatujak (or Chatuchak) Weekend Market in Bangkok is a favourite of ours. 15,000 stalls may be slightly overwhelming, but just take your time and enjoy. You will find a gaggle of hipster and punk characters hawking their goods. JJ market is a great place to dig through old rock and roll t-shirts, and all things second hand and vintage.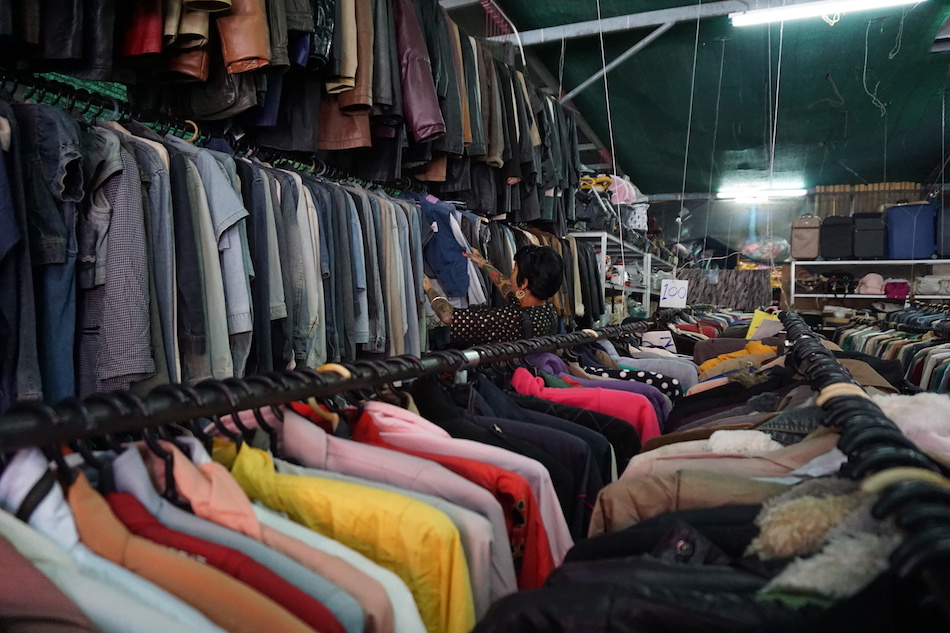 Khao San Rd, and MBK mall are great for bargain shopping, and Siam Square is the place to visit if you're looking for up and coming local designers.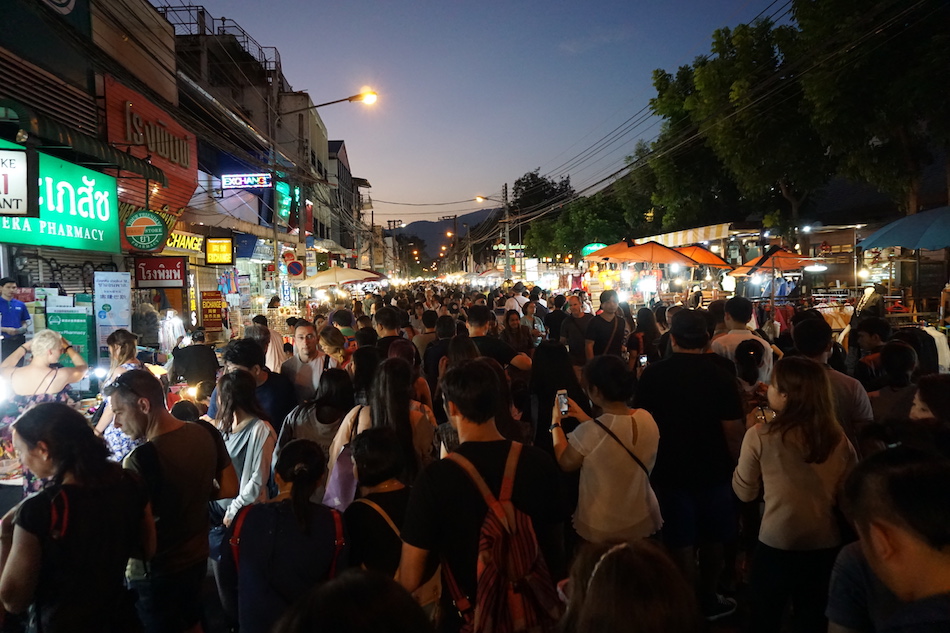 In Chiang Mai, the Sunday night walking street market is a fantastic place to pick up cute souvenirs before heading home. There are also several thrift shops in Chiang Mai to sort through if you have the patience.
MUAY THAI
If you've been to Thailand, you are familiar with the radio adverts for Muay Thai blaring out of trucks all over the city inviting you to attend a match.
Muay Thai is a martial art from Thailand that is highly respected. People from all over the world come to train in Thailand, and even if you are not looking to become a pro fighter, it is a great way to stay in shape, and get to know yet another part of Thai culture.
We have yet to jump into a ring, but it is something we would definitely like to try in the future.
TREKKING, CAVING, AND MOUNTAIN BIKING
Thailand is brimming with responsible travel activities like trekking, caving, and biking adventures. The landscapes range from lush rainforests, to emerald valleys and towering misty mountains.
Your adventure can be as simple or as challenging as you choose, you just have to be aware of your fitness level. Exploring the rural regions of Thailand is a great way to enjoy the fresh air, revel in the natural beauty, and meet the locals.
Whether you are in Phuket or Chiang Rai, you will find quite a few companies offering trekking, biking, or caving packages.
DIVING/SNORKELLING
Thailand is a beautiful place for snorkelling and diving. In fact, Cody and I both received our PADI diving certification in Koh Tao a few years ago, and it was so much fun.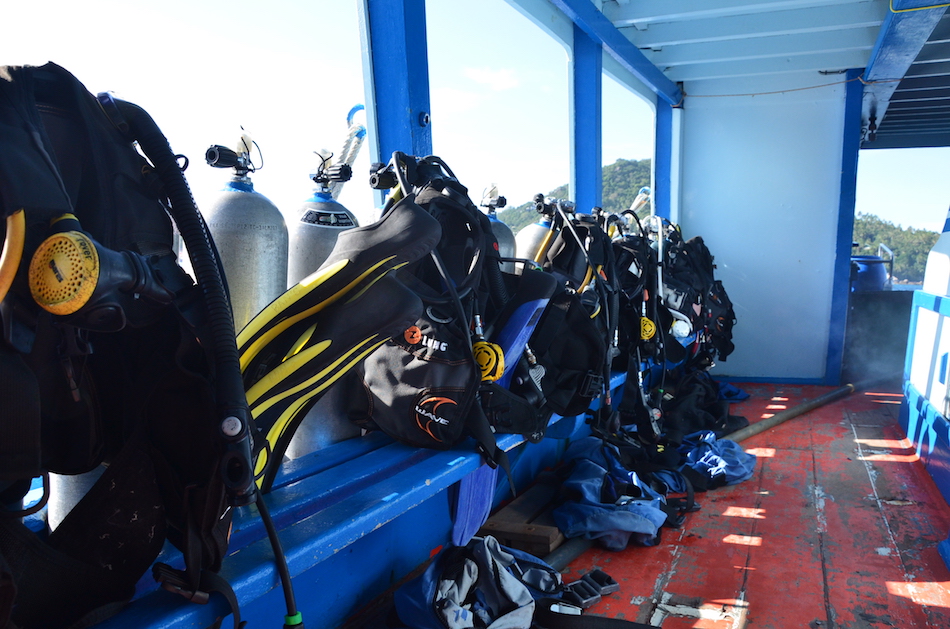 We went with Bans Diving School, the largest outfit on the island, and at the time they offered the course for $300.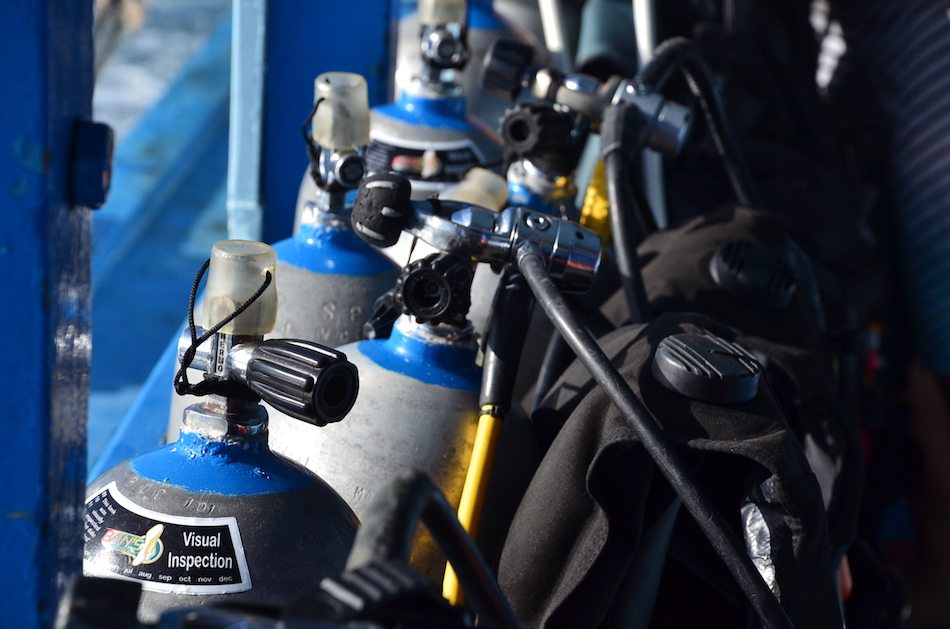 If diving seems a bit daunting, snorkelling can be just as spectacular in the Andaman Ocean. Koh Tao, Koh Samui, Koh Lipe and a number of other islands are teeming with marine life to admire.
ZIP-LINING
This is another activity that Cody and I have yet to try. It looks exhilarating, and we will likely participate the next time my mom is in town.
Spending the day soaring over the treetops, walking across sky bridges and through forests is a grandeur way to explore the natural side of Thailand.
EATING
Lemongrass, coconut milk, galangal, mangosteen, banana pancakes, massaman curry, noodle soup, waffles, tempura.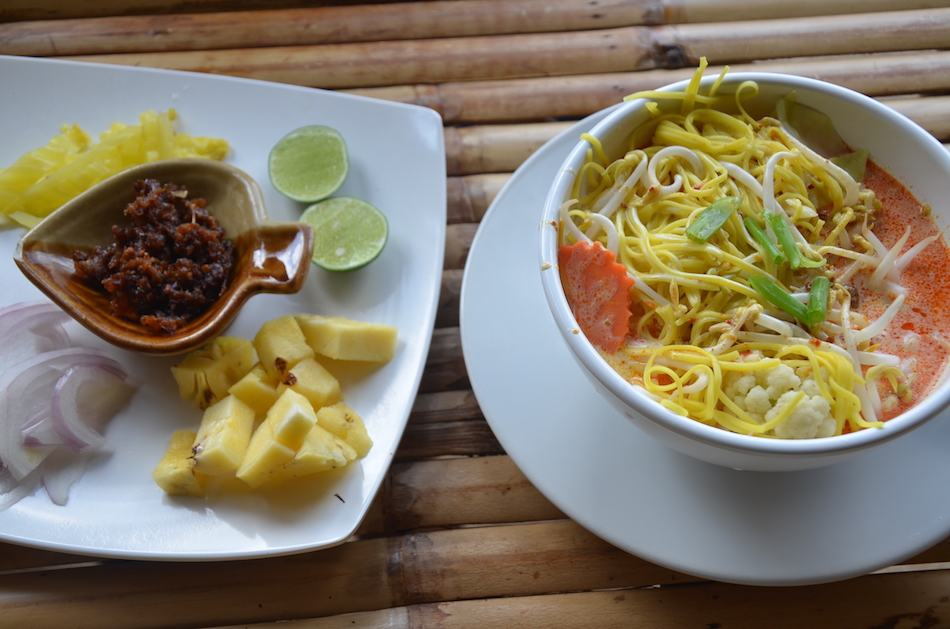 A destination is never as enjoyable unless we are thoroughly able to dive head first into the cuisine, and Thailand never ever disappoints. Although fish sauce is used in a lot of the cuisine, you can easily ask to omit it, and navigating around everything else is a piece of red velvet cake from Veganerie.
Thais don't generally have full kitchens their homes as it is more cost effective to eat out, and this has created a wonderful outdoor eating culture.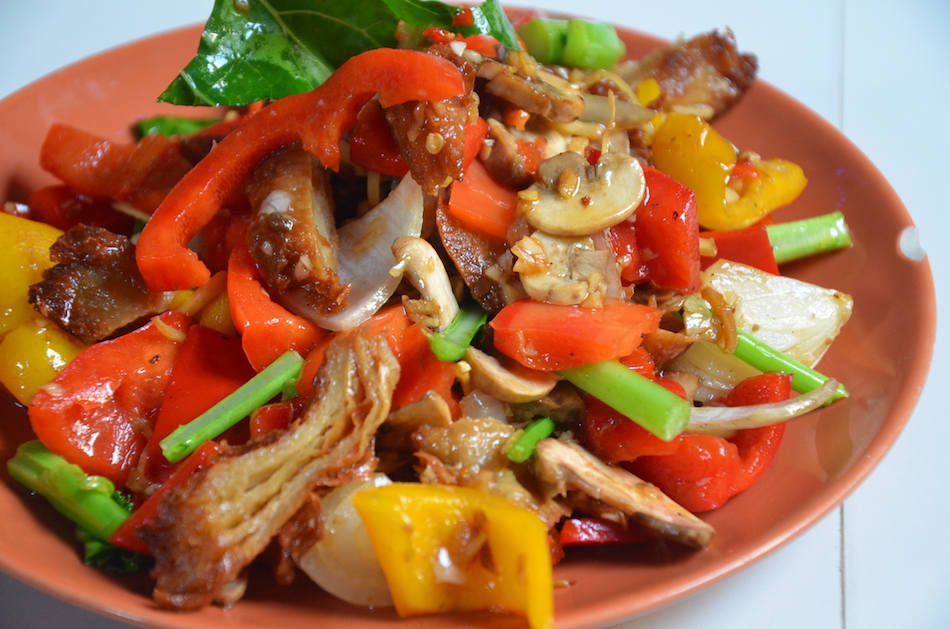 Once the sun goes down, you begin to notice people setting up their food stalls and putting out tables and chairs for customers.
These make-shift restaurants are on every street, down several alleys, and also fill up large outdoor areas covered by tarped roofs. It's not all vegan, but plenty of it is. There are also Buddhist vegan canteens all over Thailand, and plenty of vegan/vegetarian restaurants to choose from.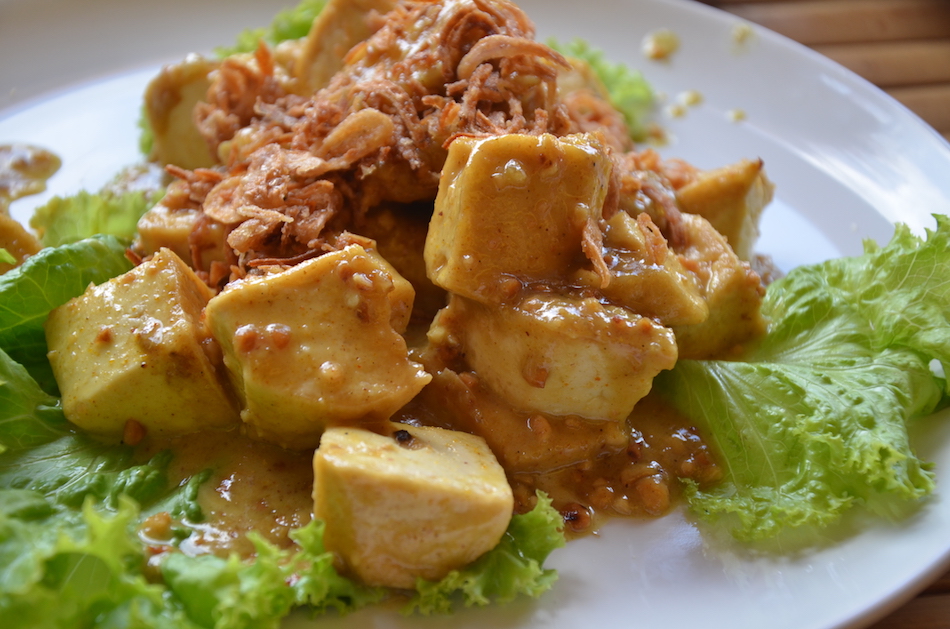 Even 7/11's carry a frozen vegan meal, Vitasoy chocolate soy milk, and a pretty tasty soy yogurt.
Eating vegan is a joy in Thailand. Look for this symbol "เจ" on packaged items, and in front of food stalls. It is the vegan symbol in Thai lettering.
VOLUNTEERING
If you care to extend your time in Thailand but you are running out of money, volunteering at a hostel is a great way to prolong your stay.
There are also several stray dog organizations like Care for Dogs and Santisook in Chiang Mai that are always in need of loving people.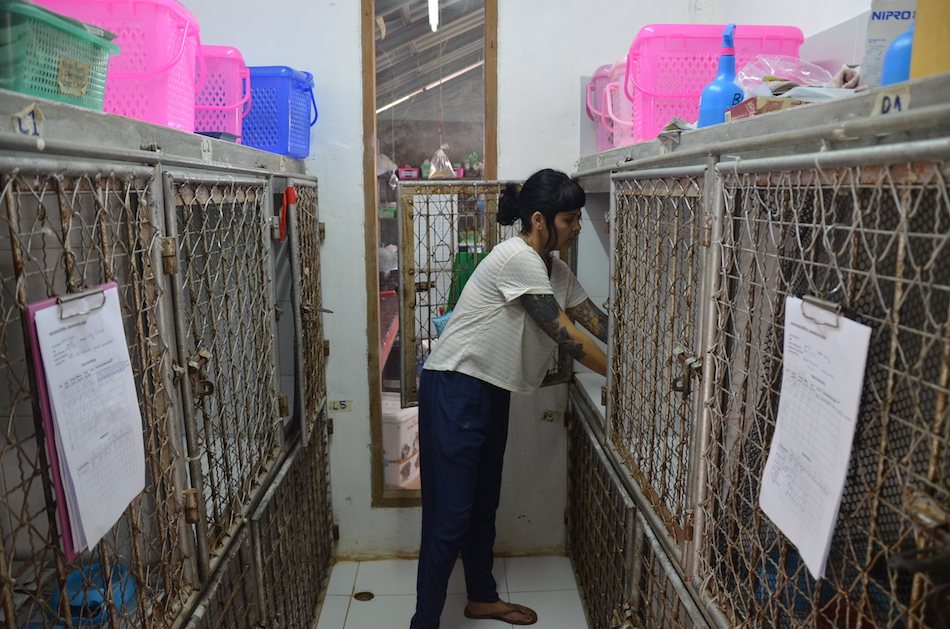 Lanta Animal Welfare in Koh Lanta are always looking for a few good people to care for all of the cats and dogs in their care, as is PAWS in Bangkok, and BEES in Chiang Mai offer some great responsible travel volunteer programs if you would like to assist in the day to day care of former working elephants.
Volunteering has given us the opportunity to meet so many incredible likeminded people. It has also assisted us in changing the way we view certain animals simply by spending time with them.
We wouldn't be where we are today if it wasn't for all of the volunteer work we have done in the past. It is a rewarding experience, and a great way to give while on vacation.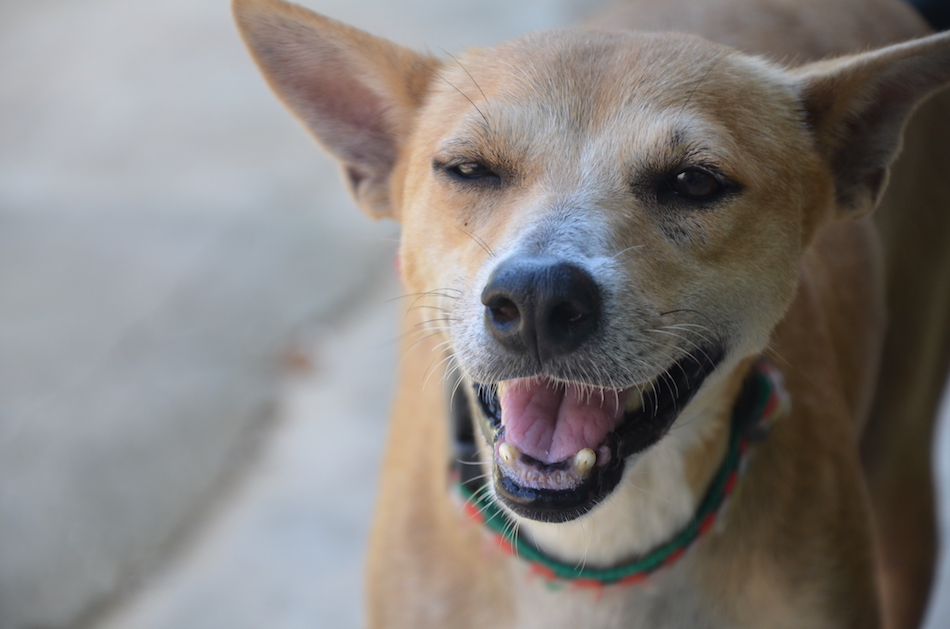 Workaway is a great website to flip through to help you find a volunteer position that will work for you.
COOKING
Since our 1st visit to Thailand back in 2012, Thai vegan and vegetarian cooking classes have been popping up everywhere.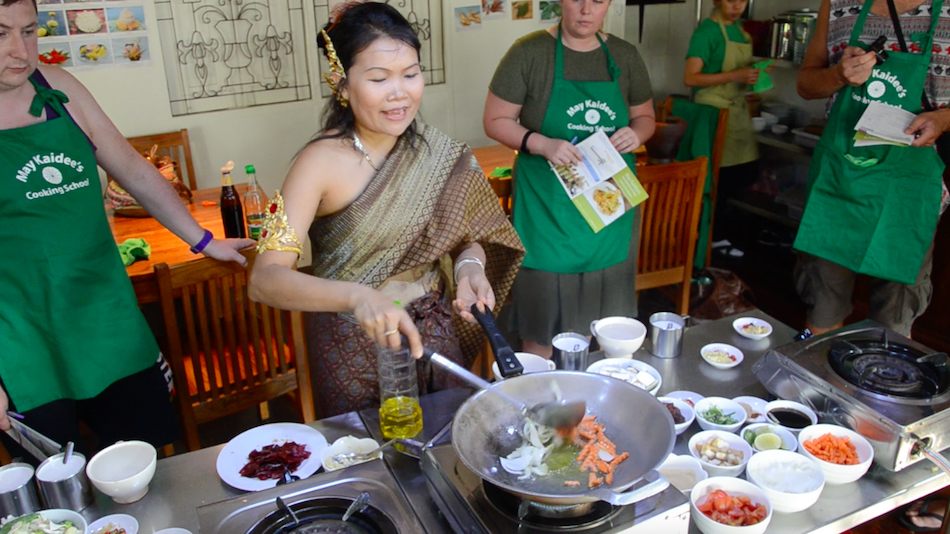 We did a really fun cooking class with 2 friends at May Kaidee behind Khao San Rd. We cooked, we ate, we cooked we ate, we cooked we ate and we sang. My idea of a real good time.
There is also a May Kaidee in Chiang Mai, On's Thai Issan in Kanchanaburi, and Bamboo Bee, and Morning Glory are also in Chiang Mai.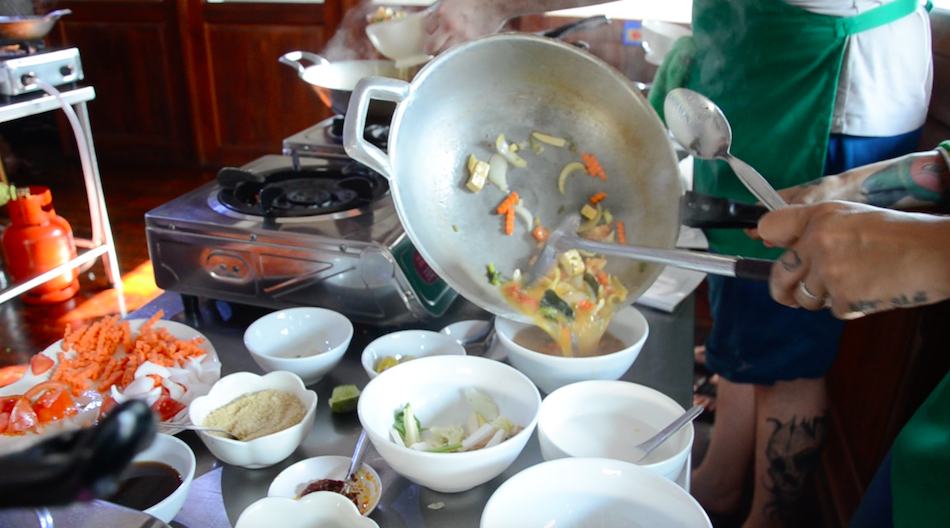 Learning about all of the fragrant and flavourful Thai spices while eating your way through the lessons is a really fun way to spend a day.
There are a plethora of fun and exciting responsible travel activities to participate in without exploiting the people and animals of Thailand.
We wish you a responsible, lovely time!