August 2015 was were it all started for Dean and myself. Our first trip away and where best to start than the beautiful country of Malta.
We wanted to visit somewhere hot, with lots of exciting scenic places to explore, which also had an interesting and lively nightlife. Malta was the perfect choice and perhaps the best country we have ever visited.
We went for  a total of ten days and packed so much into our itinerary. There was talk of renting a moped and exploring the island that way, but as a handy tip – don't! The roads are dangerous, there is little signposting, and to get to a lot of places it's up and around uneven, bendy and narrow 'roads.' Instead we opted to hire a car, which was about 70 euro for 5 days. We are glad we did as it enabled us to not just explore Malta, but take trips to the nearby islands- Gozo and Comino.
We also made use of the bus which got us as far as Valletta with no problems- it can get fairly busy at times though.
At this point Dean wasn't a vegan himself so the struggle to find a restaurant I could also eat at was very much real, but thankfully the locals spoke fairly good English and knew what a vegan was, so it wasn't impossible to find a good, tasty and nutritious meal that wasn't expensive either.
Our hotel was in Silema. A not-too-touristy town, a short walk to the local shops and restaurants, and a couple of hours from the airport. However when we arrived at the hotel, we were told there had been a problem with the bookings and we would be staying at a nearby hotel for a couple of days.
When we were told it was nearby we assumed it would be around the corner, but after an hour's taxi ride we ended up in St. Paul's Bay- not somewhere we had originally intended to visit, but we went with it as we didn't want something to ruin the holiday, especially so early on. In fact staying at another part of the Island was great and it allowed us to see more than we intended the time frame to allow. We were also closer to parts it would have taken half a day's drive to get to such as the ferry to Gozo.
One of the easiest places to visit was the medieval town Valletta. Full of history and culture, and just a short bus ride away. With its countless shops, cafes and religious spots, Valletta is very touristy and can get very busy. Try to avoid going during peak times or on very hot days as there is little shelter or shade within the city walls. One of the most beautiful sites in the heart of the city was St. John's Co Cathedral. Also close by is one of many forts the island has- Fort St. Elmo.
After the first few days of exploring the Northwest of Malta, we returned back to Silema to the hotel we had  originally booked to stay at. As much as we loved exploring and travelling around as much as we could during the day, we also looked forward to the sun going down, getting dressed up and strolling into the town for dinner and drinks.  This as I mentioned was a very touristy part of town, but that made it easier to get something vegan. There was not any specific restaurant we went to that I could name offering  exclusive vegan food, it was more "make the best of what they could do," i.e salads and veggies. Thankfully for my sweet tooth there was a wide variety of fruit sorbets around every corner to keep me cooled down and my sweet tooth at bay.
Our first road trip was to the nearby island of Gozo. I was so excited as this island had been used to film some scenes from season one of Game of Thrones. I would highly recommend visiting here as a day trip, it is a beautiful island among itself and full of natural, breathtaking sites; and unlike Malta, it is 'quieter' and far less touristy than its sister island. My other recommendation is to take a car- we travelled to the other side of Gozo, whilst stopping several times, which took the whole day. I couldn't imagine doing it via public transport, or if it is even possible.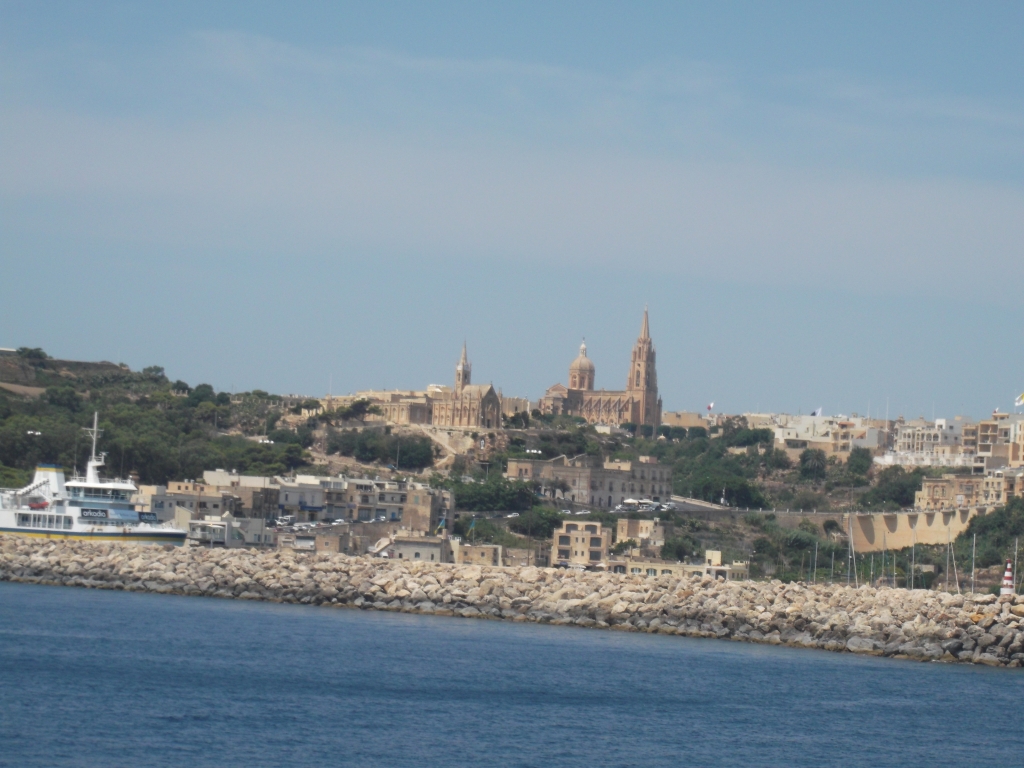 We took the ferry from Cirkewwa which is next to Paradise Bay. It was simple enough, and ran a frequent service back and forth which cost about 15 euro each way. Once we were on the other side our exploration began. We first headed towards Ramla Bay. It is one of the only beaches on Gozo and Malta that has a sandy beach. The majority of beaches are uneven, sharp rocks which makes it nearly impossible to comfortably sunbathe. The one we visited had a soft golden layer of sand and clear blue sea which was the perfect place to cool off. We did a lot of snorkelling in the clear Mediterranean Sea, where there was a load of wonderful sites to discover as well as the endless array of fish life.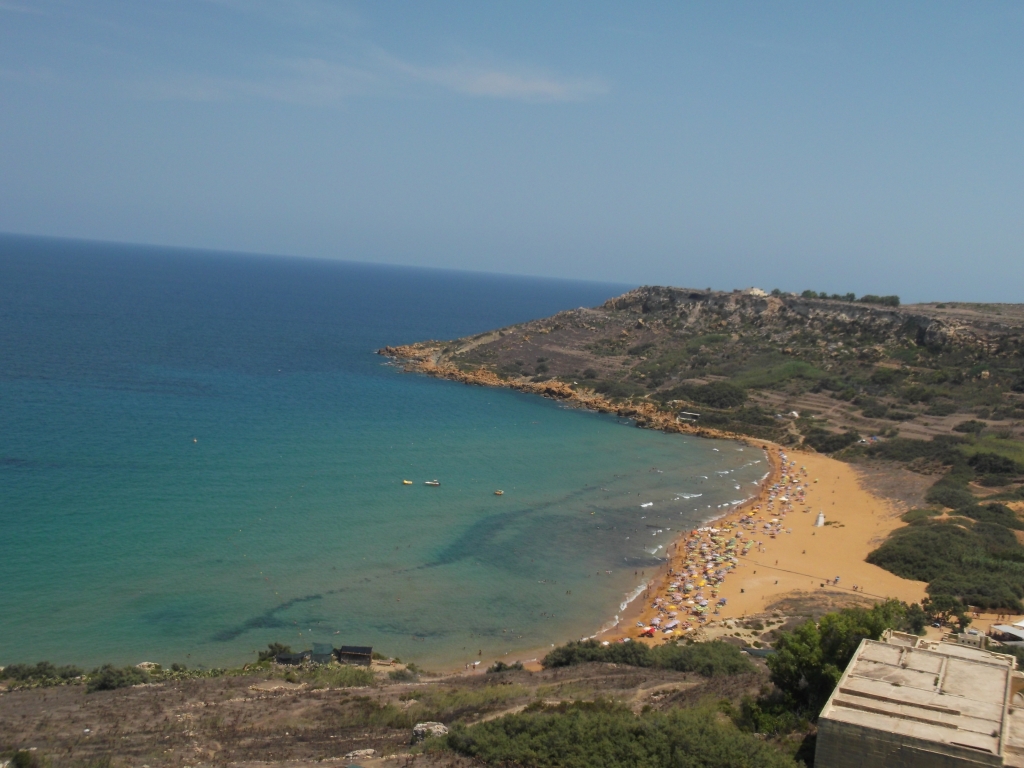 Close by to the beach was a stop I couldn't resist going to, which was Calypso's Cave. Granted, there was not much to see there as they had stopped access to it due to the danger, it was still a romantic spot to stop at.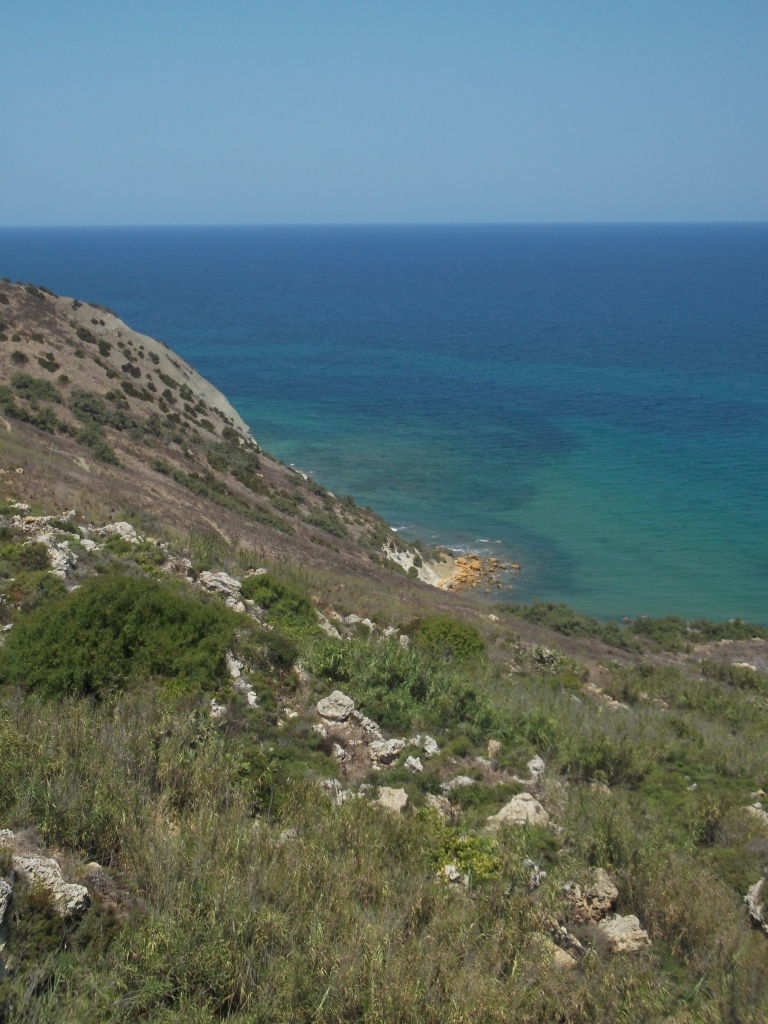 Following on from Ramla Bay we headed to Gozo's capital city, ' Rabat,' AKA Victoria. This was a hugely picturesque town which was full of culture and religion. We were pretty sure we had just missed a festival hosted within the town as there were signs and decorations up throughout.
One of the best things we did whilst there was visit the Citadel. To get to it we had to climb up a very steep slope and hundreds of stairs, but once there it is something else. You can walk around the tops of the Citadel which looks down on the rooftops of the whole city. There is also a small 'dungeon' and botanical museum if you have time and are intrigued by its history. The dungeon was impressive as they still had markings and original features from the time it held prisoners.
Our last stop on our trip through Gozo is truly the most beautiful place of earth I have and will ever visit: Azure Window. To visit here is worth the day's ride through the island and across on the ferry. It is free to visit and is one of the worlds most spectacular natural wonders.
Nearby is a huge cave stretching from one side to the open sea, it has a small narrow pool and pebble beach. It was the perfect way to spend the afternoon and there was a restaurant nearby to have some dinner at.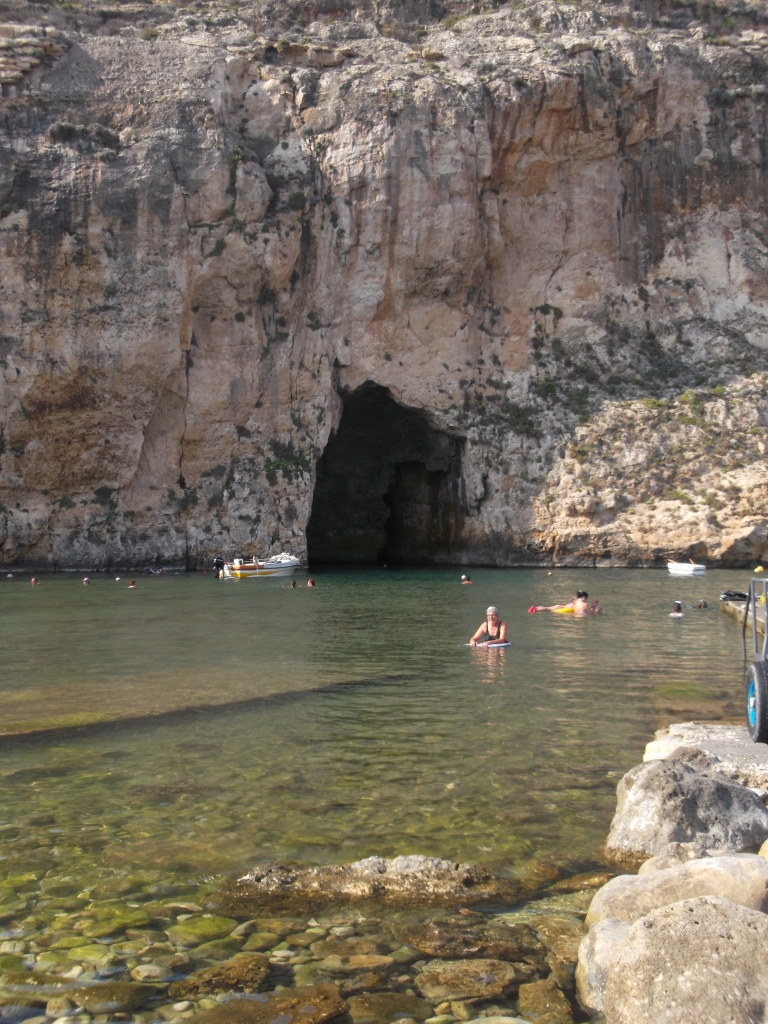 Azure Window itself is breathtaking. Around it is a collection of rock pools rightfully named 'Blue Hole,' which if you have the courage to dive down in, you'll find that it is bottomless. Take some sturdy shoes as the surface is rough and you do have to do a lot of climbing to get to the rock pools.
We climbed up Azure Window and the sight at the top was mind blowing. Again, take suitable footwear as it is rocky and uneven.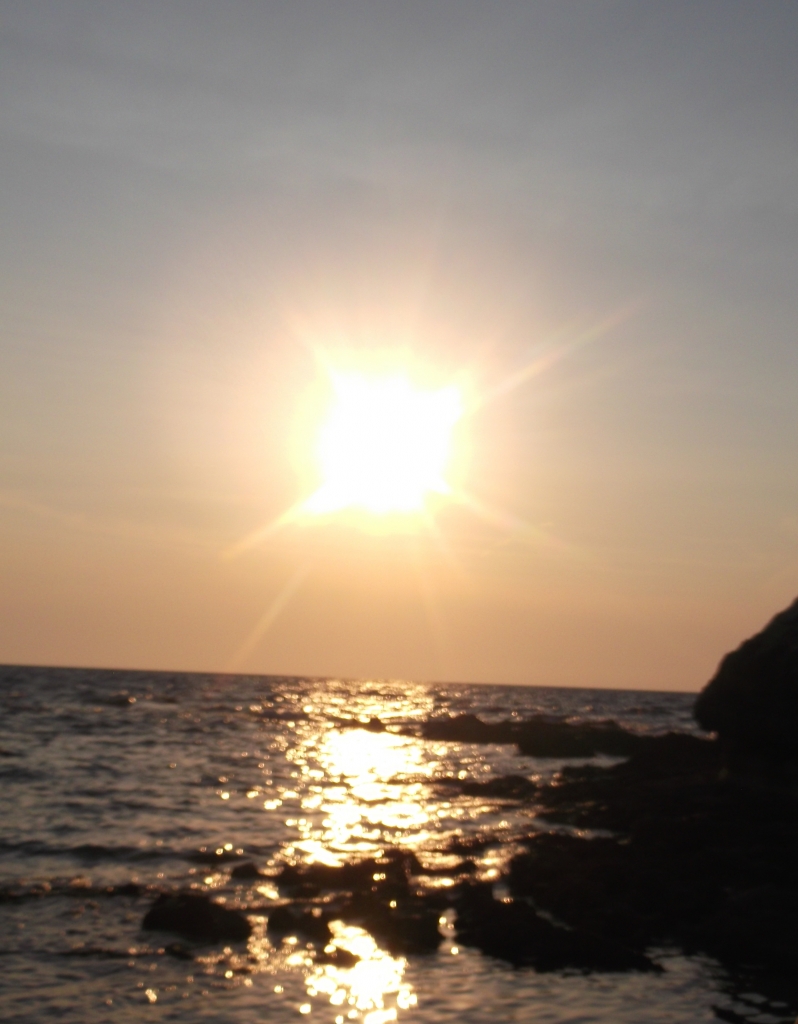 Another day trip was to the closer Island of  Comino, surrounded by clear blue seas and again rocks as beaches, most famous for the 'Blue Lagoon' beach, countless caves and opportunities to snorkel in the deep ocean and rock pools. To get here you have to go to Cirkewwa to catch the taxi boat, which takes you straight to the Blue Lagoon. I will be honest and say this place gets very busy and with little places to sunbathe you have to be prepared. There is also little to no vegan food stalls there- only fast food places. Either take pre-packed food or be prepared to pay overpriced for a tub of fruit and salad.
There was a smaller beach with sand just over the other side of the taxi drop off. What we did is brought a lilo, blew it up, wrapped our bags in a bin liner and swam to it, where we spent the day exploring, relaxing, snorkelling and sunbathing- perhaps not in that order, but otherwise we would not nearly have enjoyed ourselves as it was over crowded with very little space to chill out.
On our final week we did more central Malta, aka Mdina & Rabat. Both these cities were full of a lot of medieval history, culture and religion. We visited a few museums within the cities we visited which, granted, is not something you would usually do when on holiday in a tropical country and the sun is shining outside, but we were interested and intrigued by the history of the country.
Initially intending to only visit the entrance to Mdina, as it has a huge drawbridge that can be seen in Game of Thrones as the entrance to the red keep, we were blown away by the inside of this medieval city with stunning churches, little narrow streets and intriguing building structures. Among one of the shops was Mdina Glass- pay a visit if you get the chance as their glass work is so cleverly constructed and the perfect piece of memorabilia.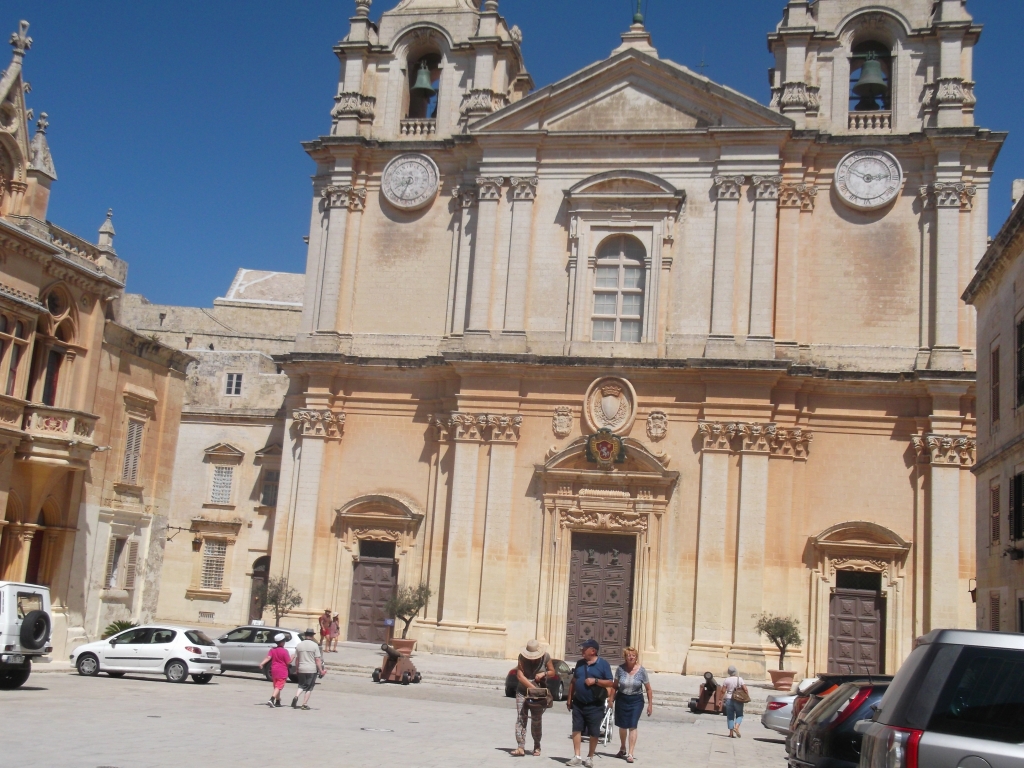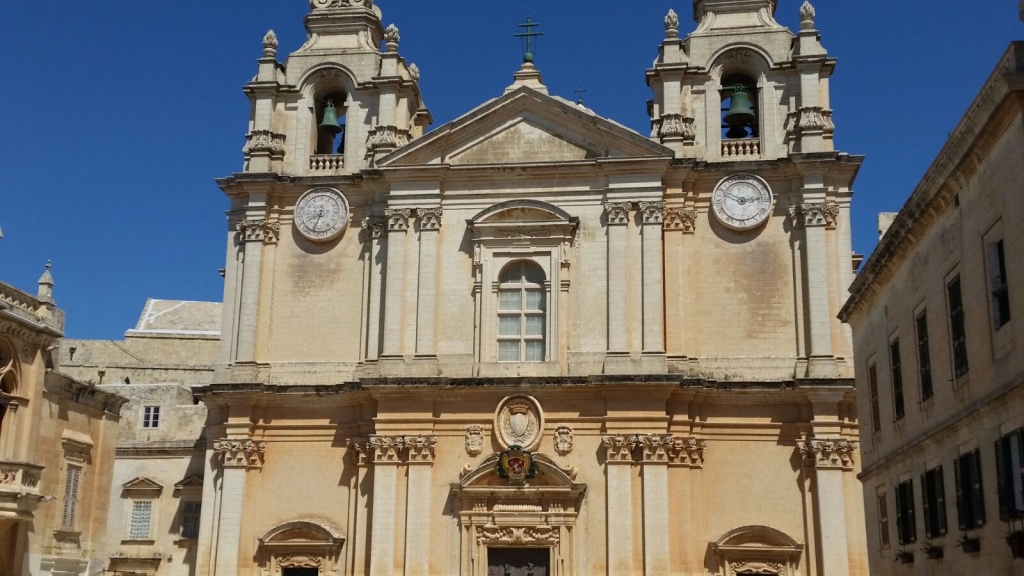 Rabat was not too far from Mdina. This was the city we visited most for no other reason than how pretty and historical it was. There were several museums, shops where natural lace was made, St. Paul's church, several forts and palaces in the area, as well as something I was dreading but Dean was excited for: the Catacombs. I have never been as scared in  my life than under ground in the pitch black. In hindsight however it was not unbearable but not recommended if you suffer from claustrophobia.
Rabat is not vegan friendly, so we ended up stocking up on fruit and snacks from a grocery store and having a big meal once we got back  to Silema.
On the way to Mdina and Rabat we stopped off at St. Anton Palace and Gardens. This had beautiful grounds and although you couldn't go into the palace, there was enough of the gardens and grounds to make it worth the visit. There was also a small cafe close to the rose garden that had a few vegan selections.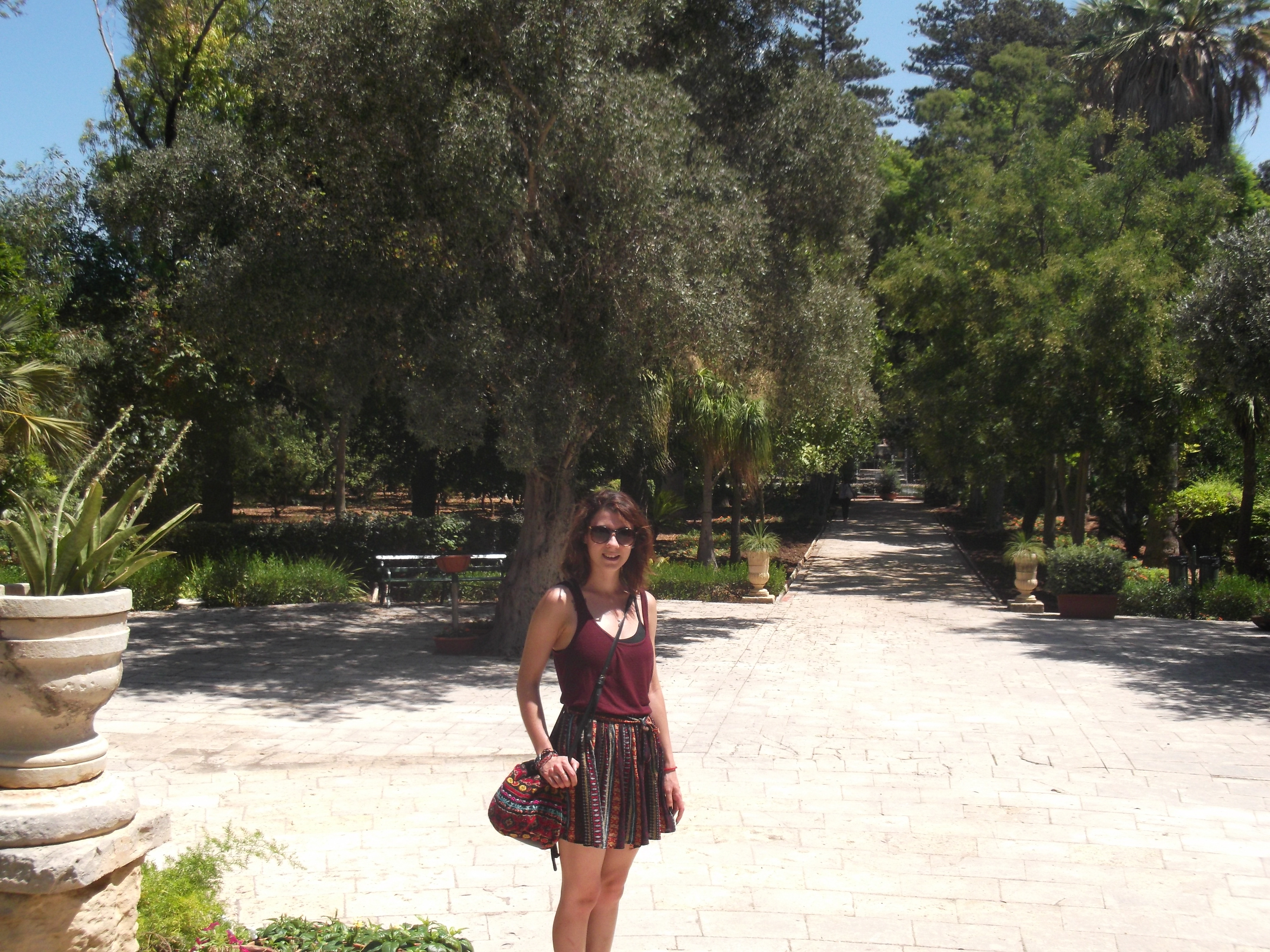 Another palace we stopped off at but is unfortunately restricted to the public was the Verdala Palace in the Buskett Gardens, another location used in the first season of Game of Thrones.
On one of our final days out we visited a Fort Rinella which turned out to be very educational as they put on talks and demonstrations about how medieval's used to fight, the weapons they used and tactics within battle. It turns out there had also been several famous films shot there or within the area, and a few miles down was Malta's own film studio.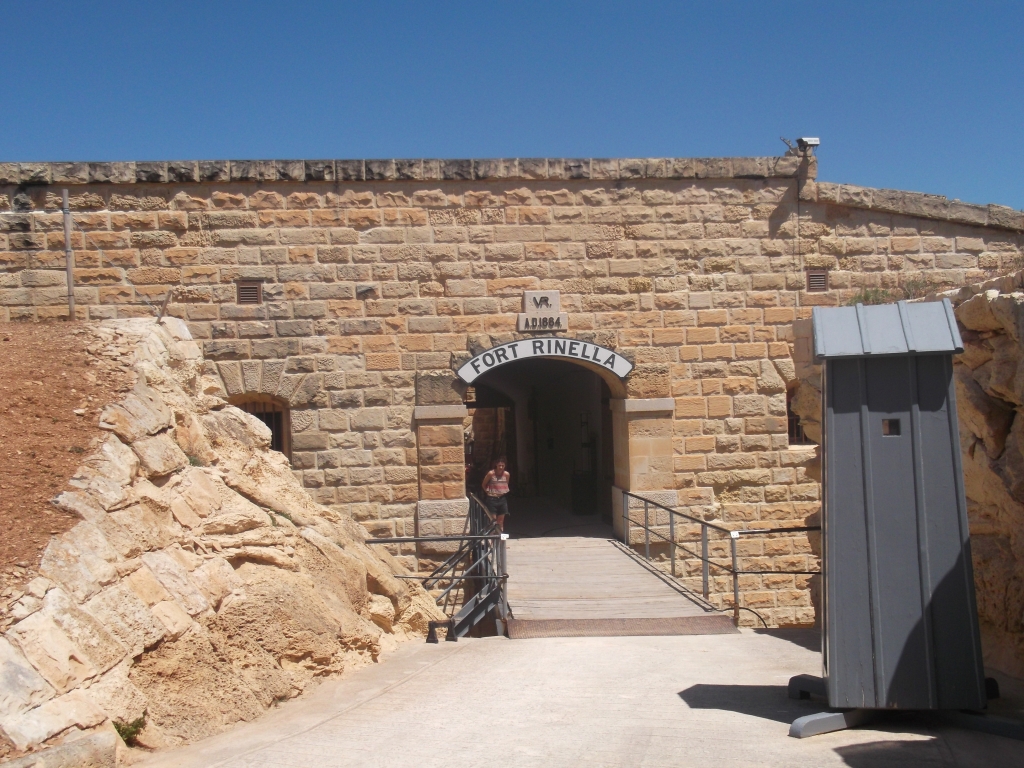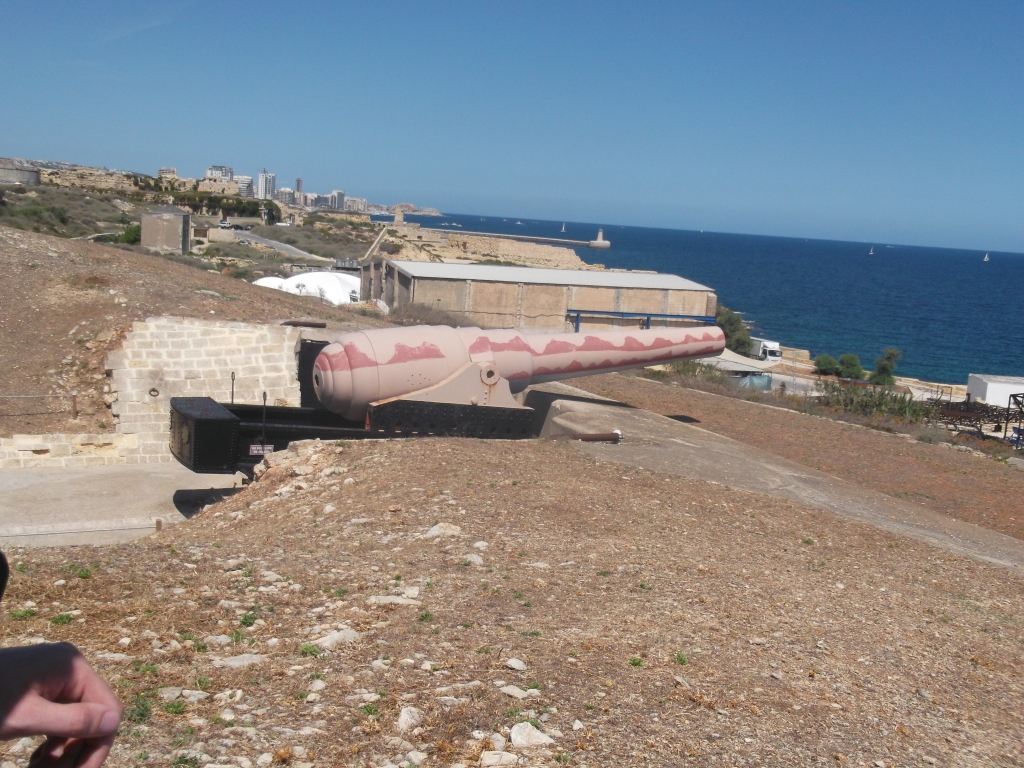 We had a wonderful time in Malta, besides from there still be loads of things to do. If you get the chance to go I highly recommend it.