Studying Spanish in Austria means having the possibility to study abroad for some time, and in my case, I took advantage of doing an Erasmus (something I can recommend to absolutely everybody out there!). Depending on the country you go to and your home university, you get a certain amount of money for each month you go there and you can attend the guest university like an ordinary student.
I guess I don't have to explain to you that every student that loves to travel will love the possibility to live abroad during months while doing something that totally will be doing very well on your CV and getting to know people from a whole lot of different countries. Still, it feels strange from the beginning to the end: somehow you become a local, somehow you will always be a tourist and traveler, but this is also an experience that nobody can take from you and that everyone should have lived once in their life.
As for me, I chose Valencia, a Spanish city right at the Mediterranean sea. Valencia is one of the biggest and most important cities in Spain and it is known for a lot of things: the Fallas festival in March, orange trees, paella, the City of Arts and Science and a lot more.
I'll try to explain to you why everyone visiting Spain should also visit Valencia for at least two or three days and then I'll tell you why Valencia easily impresses vegans as well.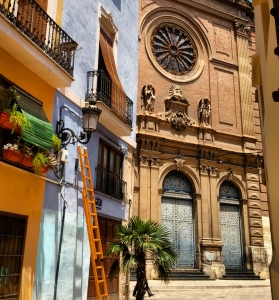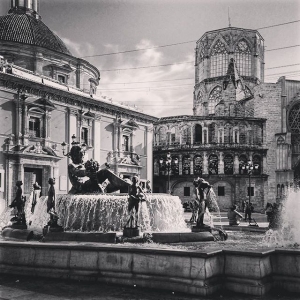 Valencia is not a huge city compared to Spanish cities like Madrid and Barcelona or a lot of other European cities, so you can easily get to know all the beautiful spots within a view days. Strolling around through the Old Town you will easily pass by all the most important buildings, but if you are into To-Do lists, here are some sites and things that I would recommend to you: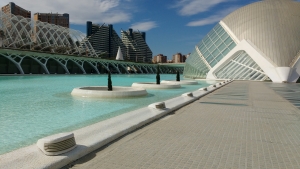 Make sure to walk through the City of Arts and Science. It will show you a totally different side of Valencia – the modern one! If you have time to go out, you will find Mya and Umbracle there – Mya is the biggest club of Valencia and has three different floors. Umbracle is a terrace above Mya and means partying between palm trees.
The Turia Park is Valencia's former river. They dried it up because of frequent floodings and turned it into an oasis for sportive people and anyone who enjoys a good, long walk between orange and palm trees.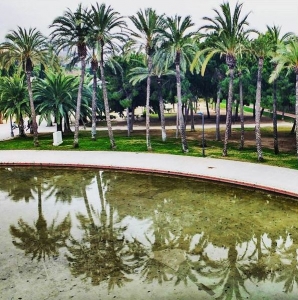 If you decide to go to the beach, you will be surprised by amazing, Mediterranean beaches that are not as crowded as Barcelona's beaches, but yet more beautiful. Also make sure to walk through Cabanyal, an old district you have to pass when going to the beach. It may look shabby and old at times but give it a try and look closely at the houses and you will see how different and colourful all the house facades are.
Fallas Festival in March
If you have the chance to visit Valencia in March, you will live something unique called the Fallas Festival. Basically it's almost one month of partying, fireworks, eating buñuelos, watching processions and a city full of Fallas and streetlights. It's difficult to describe the Fallas, you just have to experience them!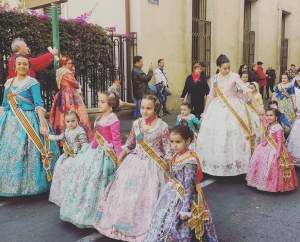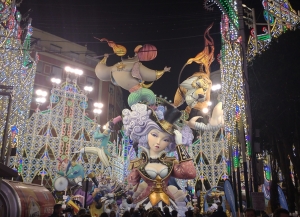 All the Fallas (huge statues placed all over the city) are burnt on the last day of fires. Yep. Burnt. Right where they are standing. Definitely a unique experience.
Buñuelos are the typical sweet that you get all over the city during Fallas. You can eat them with or without chocolate. The chocolate isn't vegan, but the buñuelos normally are – just ask before buying. Kimpira Restaurant in the city centre prepares vegan and gluten free buñuelos with chocolate during Fallas – check it out!! It's worth trying, but it's also really sweet so lots of non-Spanish people are ok with having it tried once or twice 😀
Surviving as a vegan
Now let's get to the most important part! How do I survive as a vegan in Valencia? I already introduced you to the Market Hall and all the amazing stuff you can get there. Supermarkets are not easy to find in the city centre so during the day (until 3 o'clock, then the Market Hall closes) you can go there and get amazing snacks and juices that will satisfy you until dinner.
Furthermore there are some organic supermarkets in Valencia called Ecorganic where vegans can find almost ANYTHING they need, seriously!! I totally recommend going there at least once!
In general you have to have in mind that people in Spain have lunch from 1 or 2 o'clock onwards and have dinner from 9 or 10 o'clock onwards, which means that before that the restaurants are closed as well. Be sure to prepare yourself mentally for that 😀
As for breakfast you can almost everywhere order coffee, fresh orange juice and Pan con tomate (bread with tomato puree) and I'll promise you it will be cheap. It's the most popular breakfast in Spain and if you tell them to bring you cafe solo (coffee without milk) it is also vegan.
Going to a normal restaurant in Valencia can be really, really hard. Most of the times the only thing you'll be able to order will be bravas or salad without tuna and egg. If you are up to having some Tapas (small portions of food you can have at typical bodegas and bars) watch out for:
Pimientos de Padron (little, green peppers)
Pan con Tomate (bread with tomato puree)
Bravas con alioli (ask how they prepare the alioli!! Traditional, housemade alioli only contains garlic and oil but sometimes they buy stuff that contains dairy or egg. If they don't have housemade, vegan alioli, ask for ketchup) Bravas are potatoes, somehow similar to potatoe wedges but still different
Alcachofas (artichokes, check if it is only artichokes or if it comes with jamón/bacon)
Setas/campiñones (mushrooms)
And a whole lot of stuff any restaurant can come up with – every restaurant invites their own tapas and you will get different stuff everywhere.
Words to avoid in general when watching out for food: carne, jamón, huevos, leche, queso, nata, manteca, mantequilla, pescado, lomo, mariscos,….
Most important thing to eat in Valencia: PAELLA
It's the most typical dish in Valencia and you will love it!!Watch out for Paella de Verduras, which means Vegetable Paella. Best places to have Paella are the city centre, like the district El Carmen and the beach. Just stroll around and ask if they have Paella de Verduras. Not all the restaurants have it, but a lot do 😉 Furthermore, make sure they don't charge you more than 12 Euros per person for the Paella. Anything above would be overpriced for Paella de Verduras.
And now the most interesting part: Vegetarian and Vegan Restaurants
Valencia surprisingly has a lot of restaurant where vegans will find more than they need!
Despite having lived there for five months I haven't been to all of them, but I have passed by, seen pics etc. and all of them look great!
Here are the ones I have been to and can totally recommend:
All of them have Facebook and/or Instagram pages 🙂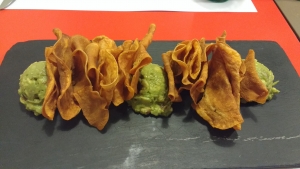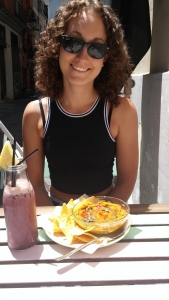 Furthermore there are two Facebook Groups for vegans in Valencia. If you speak Spanish, post in Spanish, but surely you will also always get a response in English as well.
Veganos y vegetarianos de Valencia (España)
If you have any more questions, you can ask me anything and I'll be happy to help 🙂
You can also find me on Instagram, where I do not post food pics, but only my favourite travel captures: kimberlythegood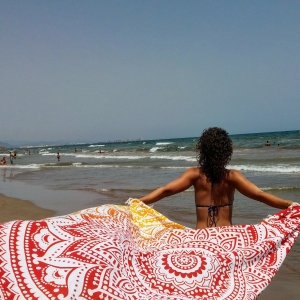 Additional Spain Vegan Travel Blogs:
Barcelona Travelling in Europe in so fun, not just being there, which is obviously great, but the getting from place to place is just more fun by train. Trains, IMHO, are a vastly superior form of land transportation (Greyhounds are […]
Walking is a great way to enjoy and get close to nature, and some of the finest of all walking routes can be found in the most beautiful parts of Europe. The glorious, varied and unspoiled landscapes that we are […]
Decided not to stay in France too long after my return from Asia, with the desire to learn spanish, I went at the end of July in Asturias, a small mountainous region of northern Spain, to spend five weeks at […]
Spain Vegan Travel Videos:
Vegan Barcelona - The Healthy Voyager Carolyn Scott-Hamilton...
VeganTravel.com is a place where vegans from around the world can share their passion for travel and adventure, help promote and grow interest in going vegan, shed light on the issues animals are facing around the globe, and help build a more sustainable and compassionate world. By sharing our collective experiences, we believe we can show the world how easy it is not only to travel as a vegan, but also spread a message of compassion with those we meet along the way.