Tag Archive for: Blogs by Ana
Vegan Travel Blogs by Ana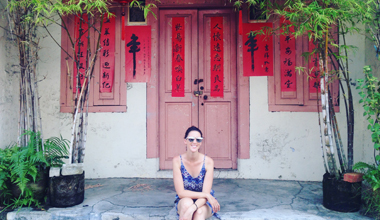 Ana is a Portuguese woman living and working as a teacher in Cambridge (UK). She has lived in different countries and continents. She is passionate about travel and cooking, and to live a healthy, companionate and fulfilling life. She conciliates her profession with travels and has visited dozens of countries. Ana has been sharing her vegan experiences @ cook the beans, Instagram and on Facebook. 
Follow your fellow vegan travelers as they explore compassionately, meet local vegans and other vegan travelers, and share the amazing vegan food they enjoyed during their travels! They also share the sites they visited, the places they stayed at, vegan shops they found, and the activities they enjoyed doing during their time at each destination. We hope you will also consider becoming a member of our vegan community and sharing your travel adventures so your fellow vegans can learn some new travel tips from you, and we can collectively show the world how easy it is to be vegan and travel compassionately.
At Kuala Lumpur airport we got a flight to Kota Kinabalu. From the airport there are public buses (5RM)...
Being a vegetarian/vegan in Portugal is not easy, especially if you are traveling relying mostly on restaurants and cafes....
Vegan Listings Near Me
To view a map of vegan listings near you, click the box below.
Please note: Location Services on your browser or device needs to be activated for this widget to work.