In terms of grandeur gothic architecture, old world Europe charm, and fairytale surroundings, Prague is one of the most beautiful cities in the world.
It was also Hitler's favourite city, and so it was spared from much of the devastation during his dark reign.
Albert Einstein, a brilliant man, who had much more of a positive effect on the world, lived and taught in Prague. During his 17-months here, Einstein wrote 11 scientific works, 5 of them on radiation mathematics and on quantum theory of the solids.
We loved Czech Republic's capital so much, that we extended our stay.
There is much to see and do here, and the history of the city is so rich.
One of the worlds oldest universities was founded in Prague in 1348.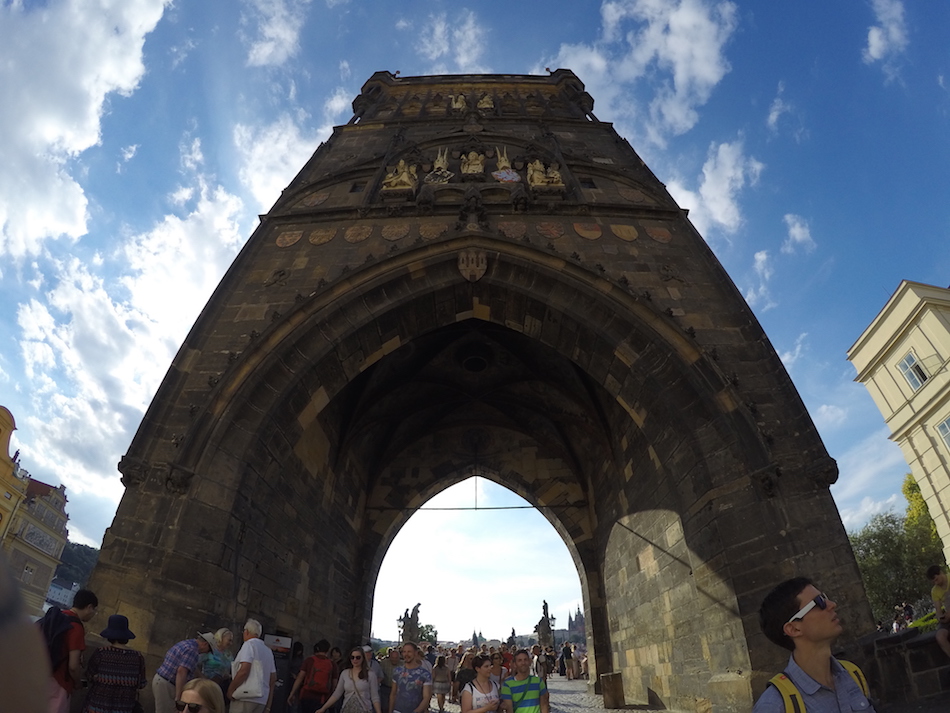 Our time in Prague was so enjoyable. We walked around the city quite a bit and also took the metro. One Saturday we walked out from the underground and walked right into a pride parade! We had no clue it was pride that weekend. We were so excited to march with everyone through the streets!
Here are a few things that filled our days in this engaging city.
The Lennon wall, once a blank canvas, is now filled with John Lennon quotes, and inspirational words from visitors around the world. In 1988, the wall vexed the communist regime, as young Czechs would write criticisms on the wall.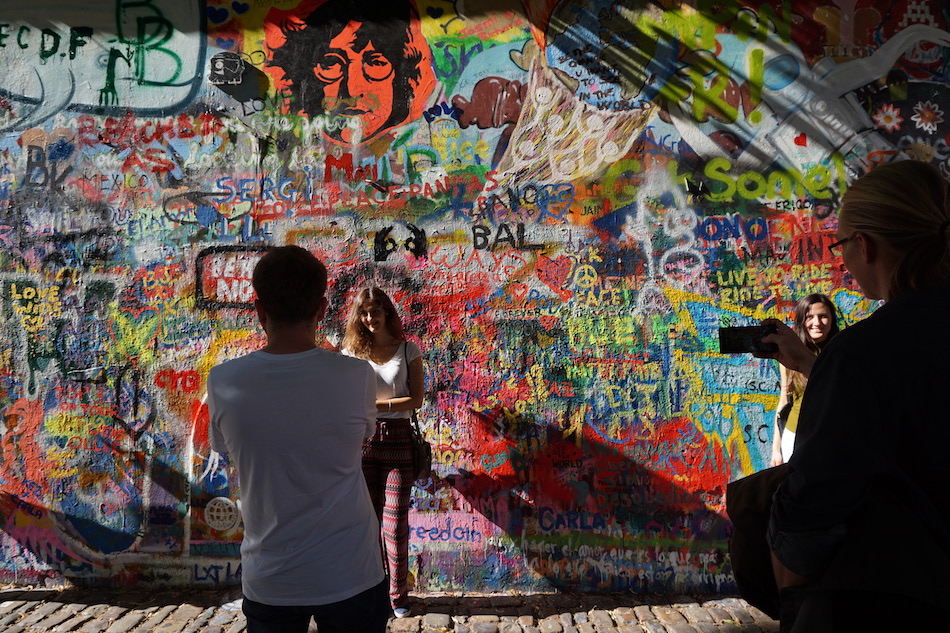 This led to a confrontation with the security police on the nearby Charles bridge. This movement was described as "Lennonism" and the authorities described these young agitators as agents of western capitalism, sociopathic, and mentally deranged.
The wall is constantly evolving with new portraits, poems, songs, and words of love under layers and layers of paint.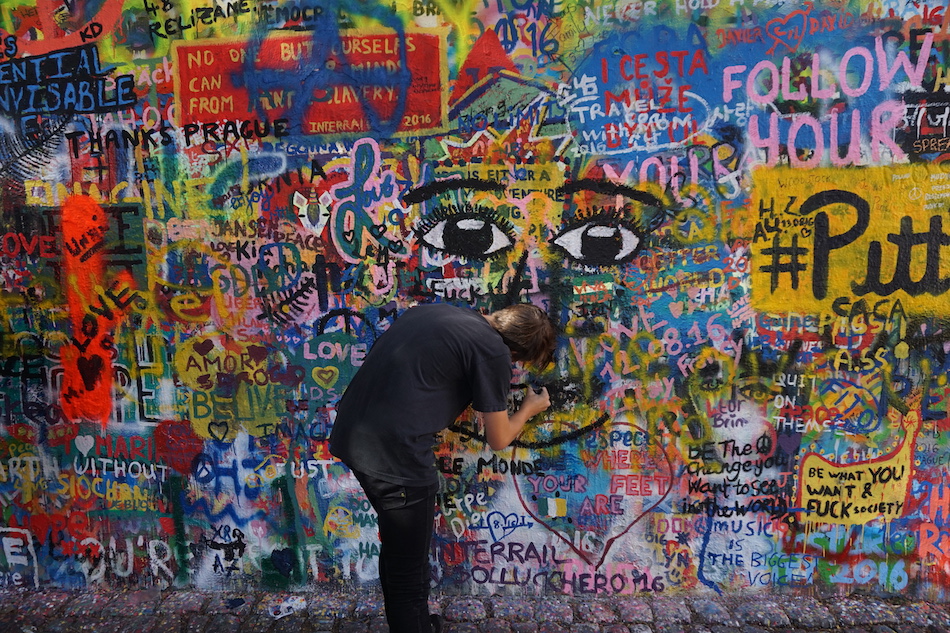 The wall symbolizes love, unity, peace, and hope for people around the world.
ABSINTHERIE
Much like food, alcohol can tell a story about the history and culture of a city.
For most people in the west, Absinthe is a drink shrouded in mystery. I didn't discover it myself until I saw it in a music video years ago, and the traditional method in which it was served intrigued me. Absinthe is a strong, bitter distilled spirit made from wormwood, (a plant that grows wild all over Europe), anise, and fennel.
Absinthe was very much favoured, and considered a muse by Parisian artists in the 19th century, resulting in many works of art referencing the libation.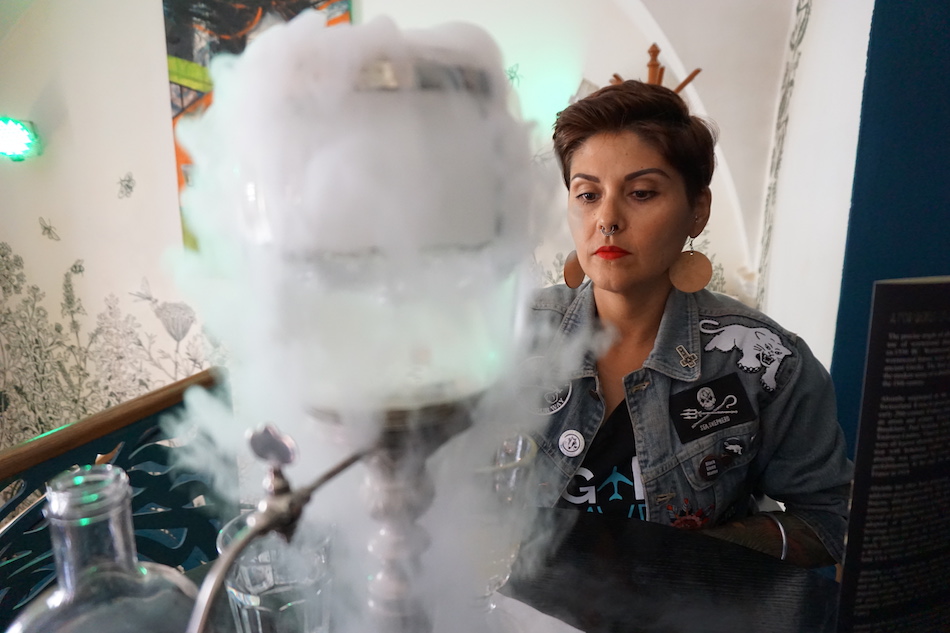 By the end of the 19th century, it was embraced by the literary Bohemian (Czech) crowd, embracing it as their inspiration. When properly done, absinthe is served in a glass along with a fountain of water. A spoon topped with a sugar cube is placed over the glass, and water is slowly poured over the cube until the sugar is completely dissolved and the drink is opaque.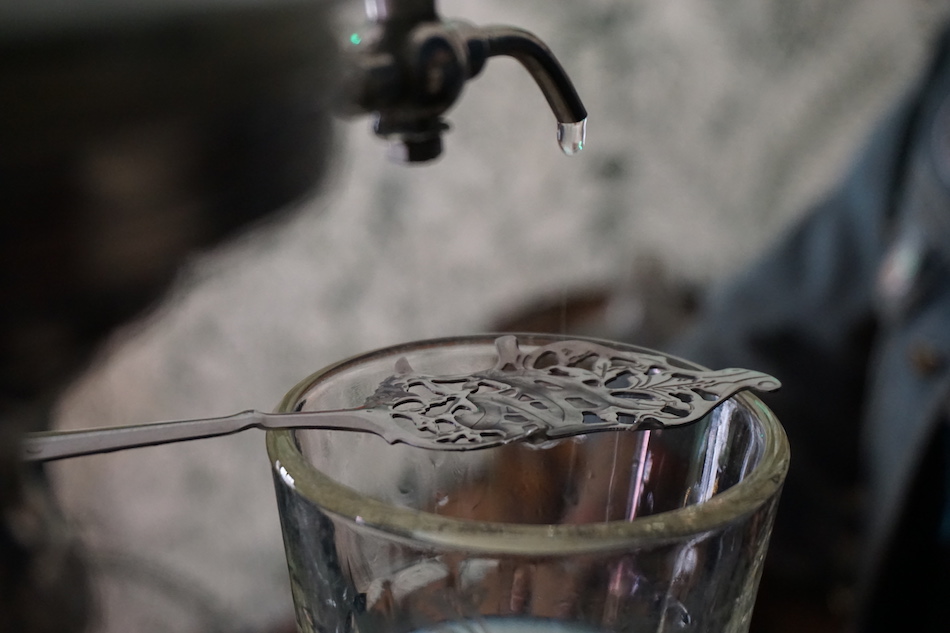 This strong spirit was used as a medicinal remedy by the French, hence watering it down. The first documented medicinal use of wormwood dates back to ancient Egypt in 1550 BC.
Absinthe AKA the green fairy, does cause intoxication, but people have reported that it is a clear headed form of inebriation; perhaps this is why so many artists took a liking to it?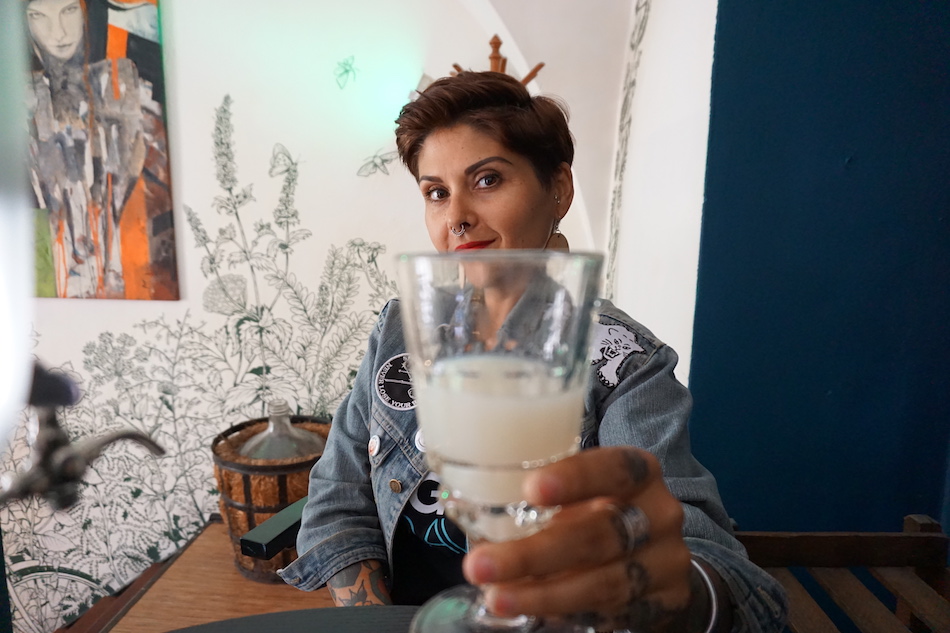 Whether you are someone who enjoys an occasional drink, or you prefer to stick with water, it's difficult to deny that the green lady has a charming history and an alluring ritual.
DAVID ČERNY'S ART INSTALLATIONS
David Černy is a controversial Czech artist with works all over Prague. Most of his sculptures can be found in public spaces, and we ran into a few while touring the city.
"Piss" is made up of 2 men standing outside the Kafka museum urinating into a pool the shape of the Czech Republic. They spell out quotes from political leaders, but visitors can also get in on the fun by sending a text to a number displayed next to the sculpture. The figures then write the message in the water.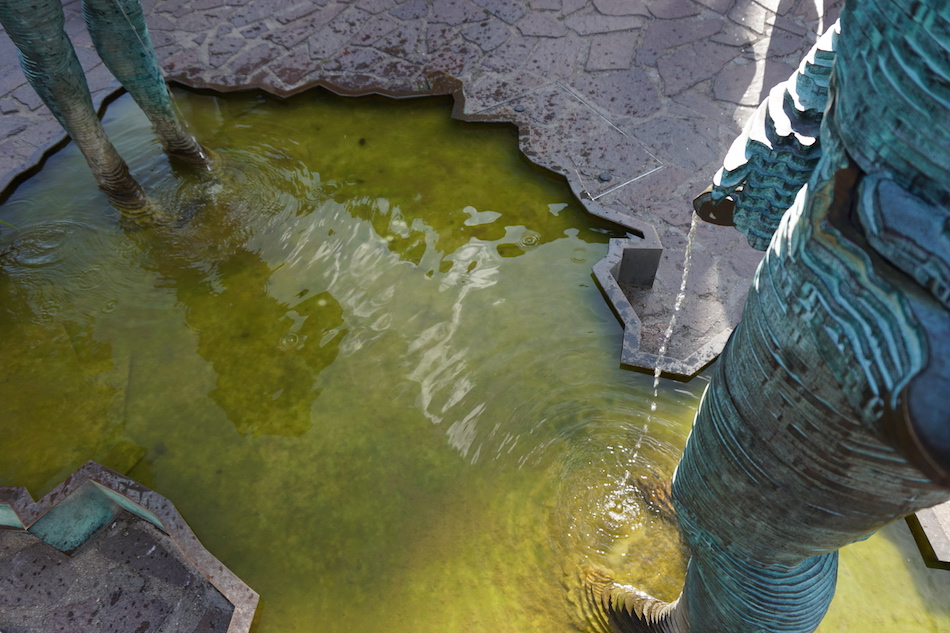 We stumbled upon "Metalmorphosis" while walking around Prague. Metalmorphosis is a mesmerizing 42 layer stainless steel sculpture of writer Franz Kafka. The sculpture rotates in different directions representing Kafka's tormented personality and self doubt. It is a beautiful sculpture that we recommend seeing in person.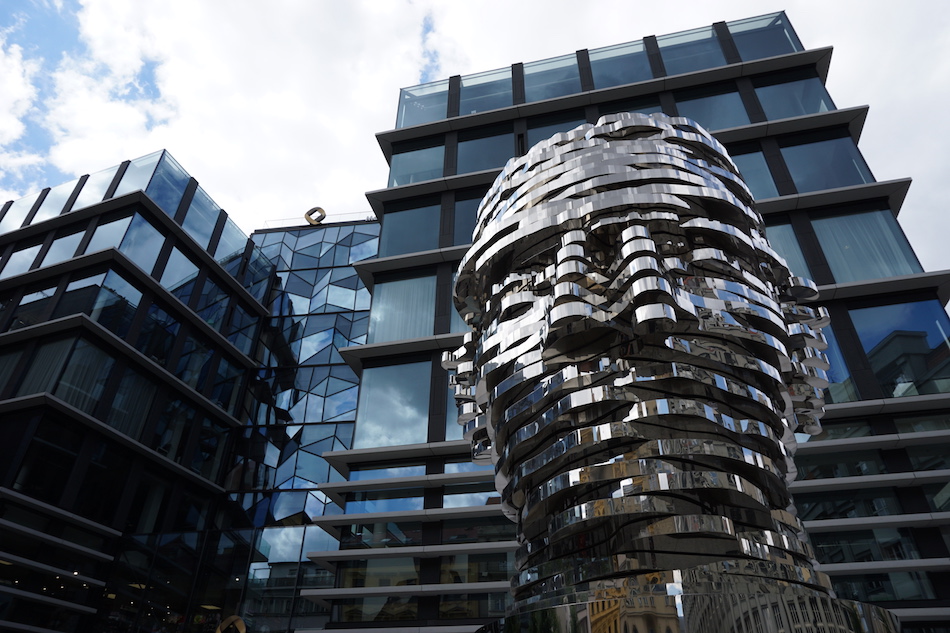 "Babies"
The bronze babies at Kampa park, sit (or crawl) outside of the entrance of the Kampa museum. You can also find them scaling the Zizkov TV tower in Prague.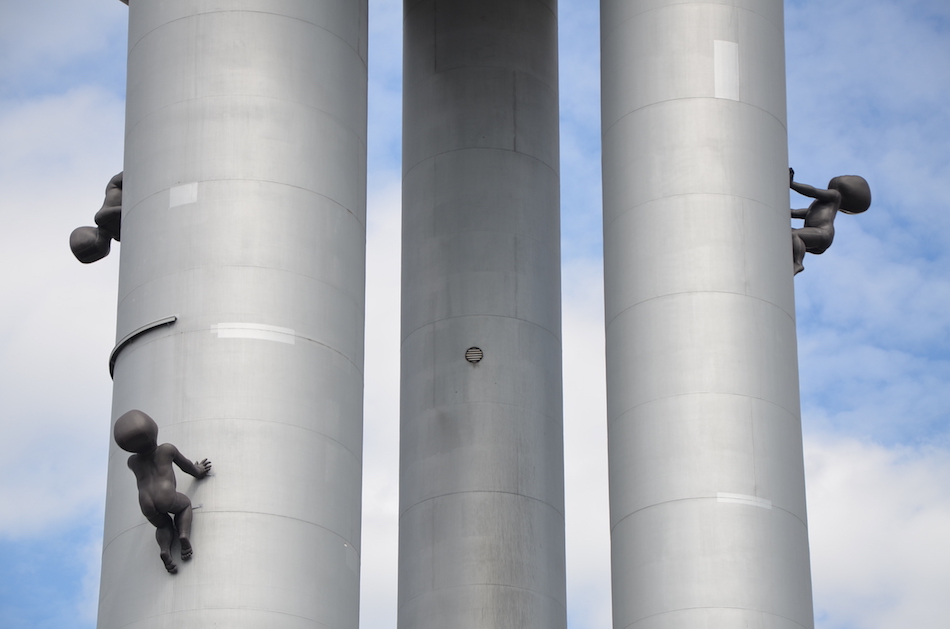 They are a symbol of the communist era-their growth stifled by the landmark of totalitarian control. The babies also have slots for faces.
To many locals, Cerny's art is an eye sore, but we feel it adds personality to the city.
If crowds don't bother you, be sure to take a stroll across Charles Bridge. This stunning bridge spans 16 arches and is lined with 30 Baroque statues of religious figures.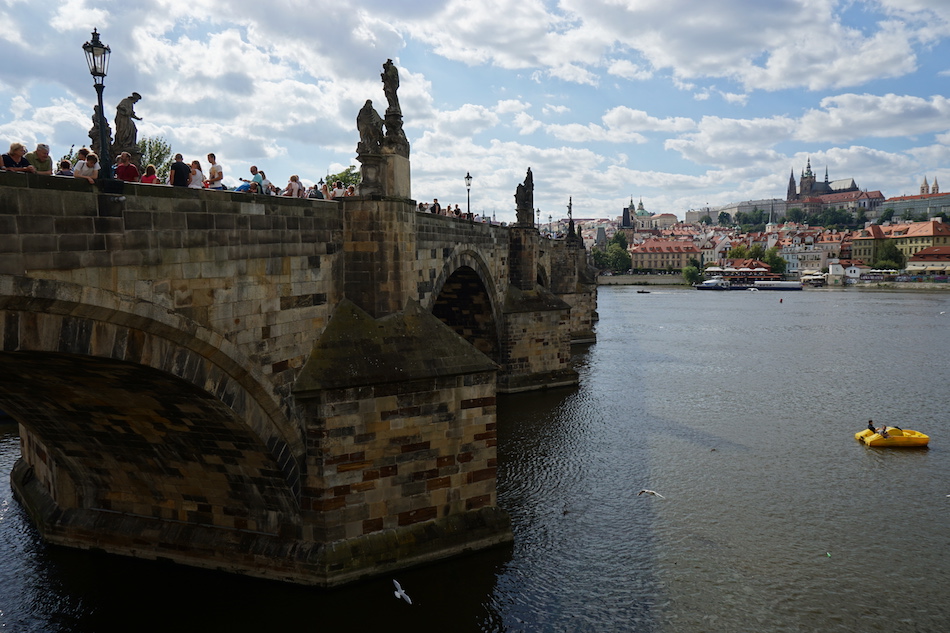 Everyday, vendors fight for spots to sell their miniature paintings, jewellery, and caricature drawings.
BEER CULTURE
They call it liquid bread, and there is no shortage of it. It is everywhere.
Pivo is considered a part of their national heritage. In fact, the Czech people drink more beer per capita than anyone else in the entire world, and they are quite proud of it. I myself am quite partial to a cold beer on a hot day at a cafe. If you prefer a pub, no worries, there are plenty of those too. And if you don't fancy a pub, Letna beer garden is another popular summer option with beautiful views of the city, leafy trees offering shade, and an abundance of picnic tables.
Cody and I are fascinated with oddities, outcasts, and free-thinkers. We also enjoy the darker side of things which Prague showcases beautifully. Below are a few of the more gothic places we visited in Prague and the surrounding area.
Although it is a cathedral, this building appears as if it jumped right out of the pages of a gothic fairytale. St. Vitus is the biggest, most important, and most beautiful cathedral in Prague.
We stood for quite a few minutes in admiration of the architecture. The flying buttresses on St. Vitus are stunning.
A buttress is an architectural structure built against a wall which serves as a support system to reinforce the wall.
A "flying" buttress is not in contact with the wall it supports, like a traditional buttress. Instead, it literally flies through the air. It is made by building an arch which connects a standard pillar-style buttress with a roof transferring the weight from the walls to the pillar.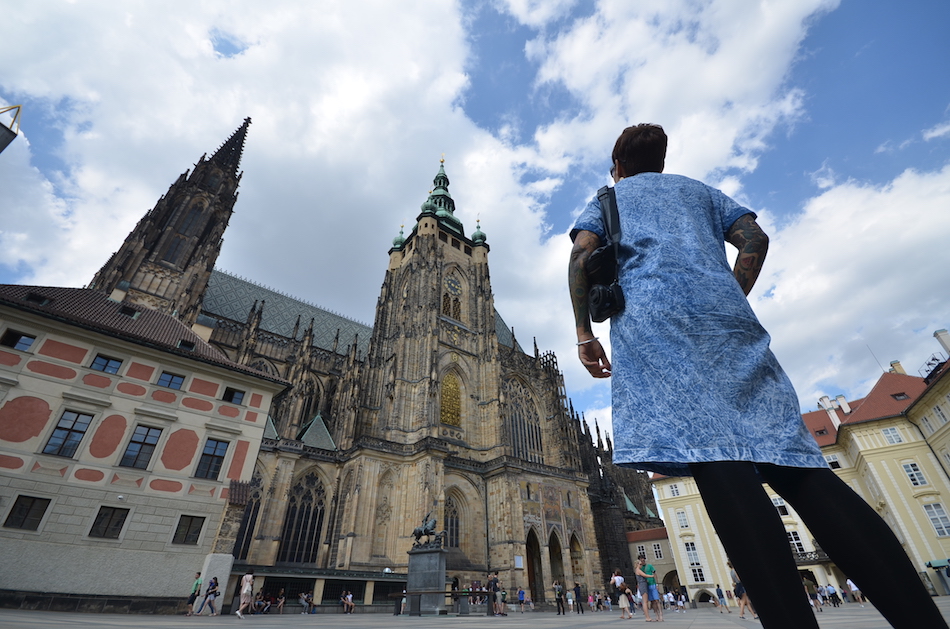 Originally these arches were concealed, but in gothic architecture they became a part of the beauty. Without the flying buttress, the huge stained glass windows we are familiar with from this period would not exist.
The dial and mechanism of this beautiful time piece was built in 1410, and around 1490 a calendar dial was added.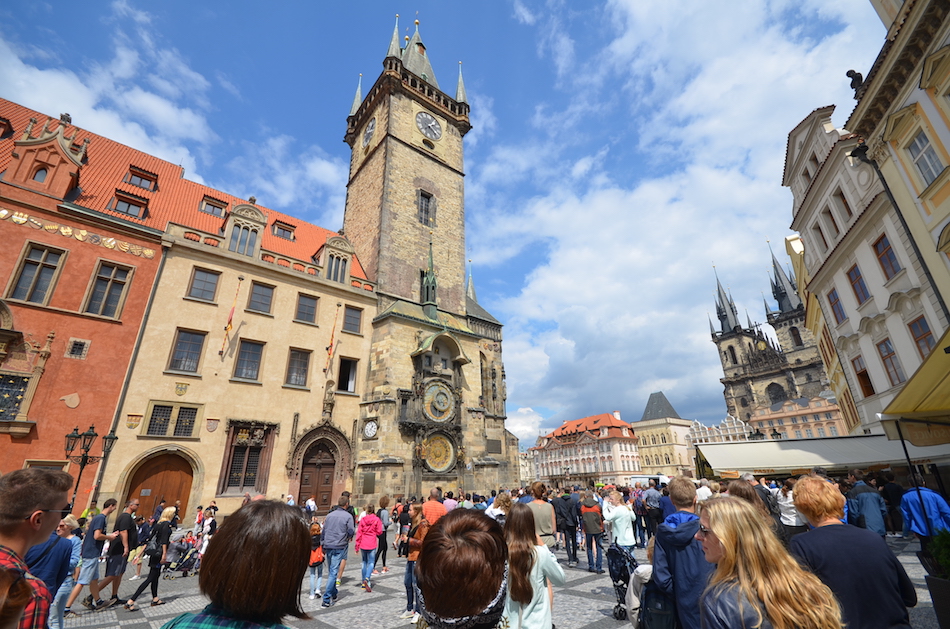 The astronomical clock sits in the old town hall tower in the old town square. Every hour on the hour, Christ marches out of the clock while death tolls the bell.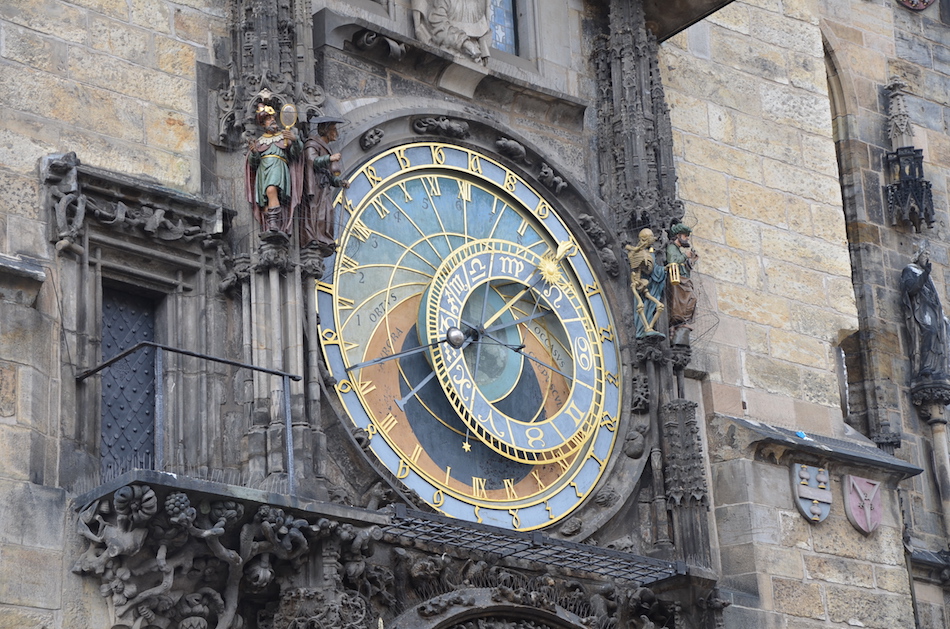 We don't recommend waiting to see Christ pop out on the hour as it is a little underwhelming, but a visit to this over 600 year old clock is a must.
A Roman Catholic chapel located beneath a cemetery church in Kutna Hora, a town just outside of Prague. It is one of 12 world heritage sites in the Czech Republic, and one we recommend visiting.
When we arrived, archeologists were still digging up human remains all around the exterior of the church.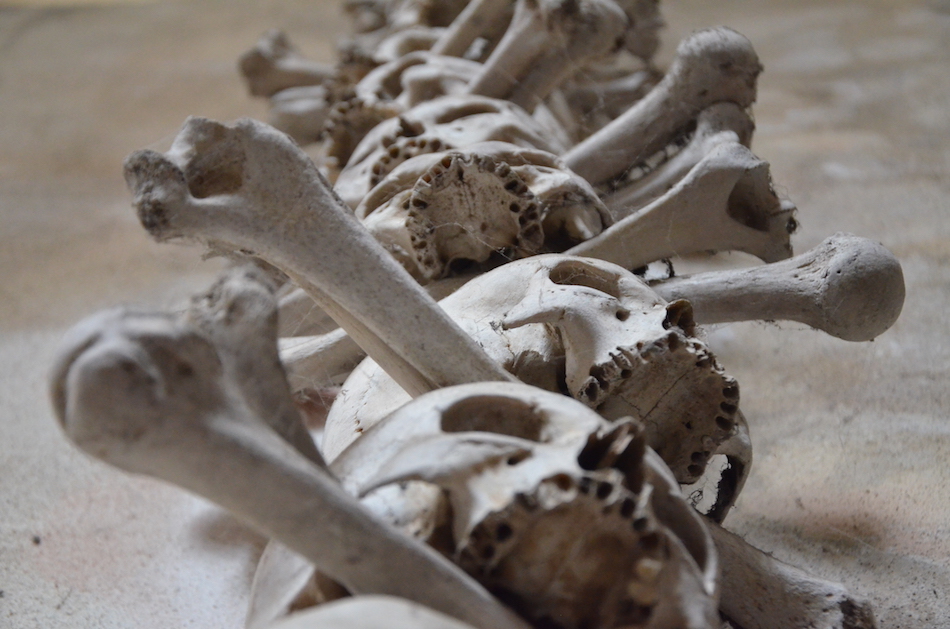 It is an extremely unusual chapel. The facade of the church is quite plain, but once you enter you are met with over 40,000 humans bones making up the interior of the chapel.
In 1278, an abbot of the cistercian monastery in Sedlec was sent to the holy land. From there he returned with a small amount of earth he had removed from Golgotha (a site immediately outside of Jerusalem's walls where Jesus was crucified) and sprinkled it over the cemetery.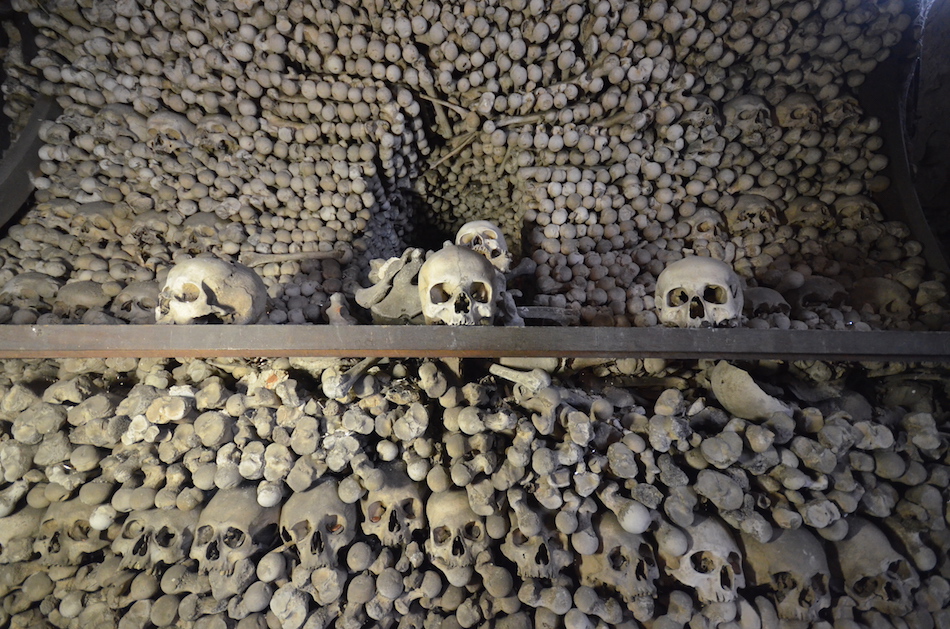 The word quickly spread and the cemetery in Sedlec became a desirable burial site for people across central Europe. During the black death, several thousands were buried in the abbey cemetery, so it had to be enlarged. A gothic church was then constructed in the centre of the cemetery with an arched upper level, and lower chapel to be used as an ossuary for the mass graves that were to be excavated.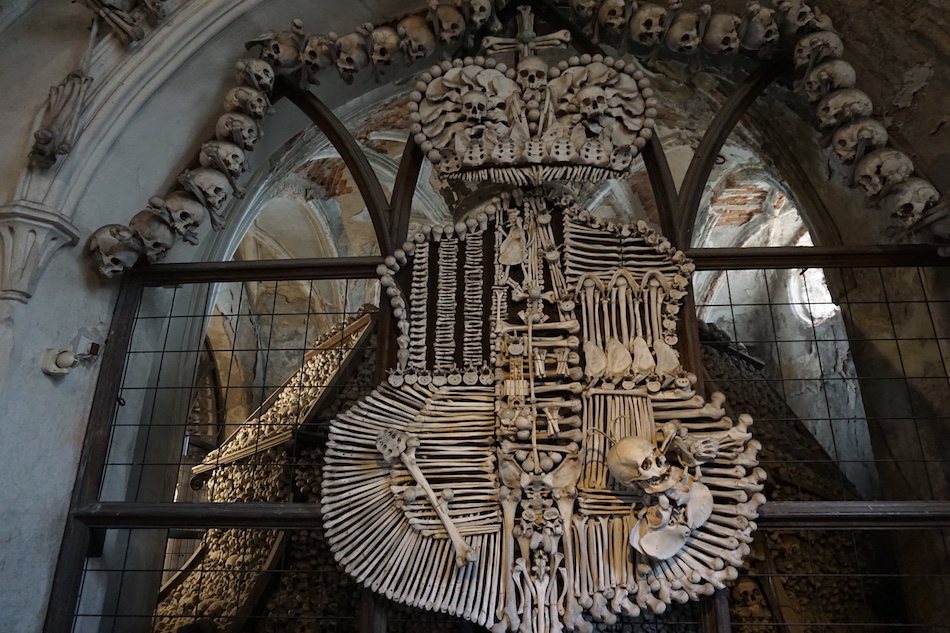 Eventually, the task of unearthing the human skeletons and stacking the bones in the chapel was given to a half-blind monk of the order.
A visit to Eastern Europe wouldn't be complete without spending a few days in the very walkable and bohemian Prague, and of course visiting many of these sights.