VeganTravel
Blogger Guide
The choice of the content is entirely yours. We just ask that your blog does not contain any disturbing or graphic images and that it be vegan and travel-related! Original content is welcome as is content you may already have on your own blog site. The blogging platform on VeganTravel is WordPress, and as a site blogger, you will have access to the back end of the site. For consistency purposes, we ask that you follow this set of rules as you prepare each of your blog posts to share on the site.
Update Your Profile Page:

All blogs on this site display a link crediting the author. As this link goes to your profile page, please update your page with your profile photo and a cover photo. This is also a good place to share your website and social media pages, as well as let our community know a little bit about yourself.
Starting a New Blog Post:
Log into the site as you normally would.
Once you have author access you should see a toolbar at the top of the page.
Hover over the "New" section at the top to add a "Post"
(shown in the image on the right).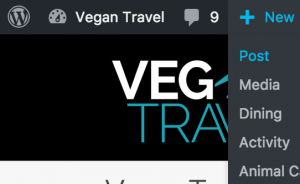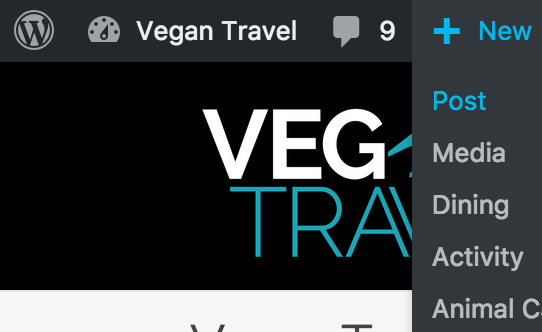 Your screen should now display a blank post with fields for you to add the blog title and blog content. Here you can write your blog, and upload any photos (Add Media) you would like to add to your blog.
If you don't finish your blog post in one sitting, you can always return to it by clicking on the Vegan Travel / Dashboard link in the upper left of the top toolbar, and then click on Posts to go back and edit your blog.
Adding photos to your blog:
As you upload photos to the site, you will have the option to choose alignment, photo size, and add a descriptive Title and related Alt text. Alt text and image title help visually impaired users using screen readers know what each photo is about. It may also help people browsing the web, find your blog. You can also add a Caption if you would like that caption text to be displayed directly under your photo.
NOTE: all photos should have a MAXIMUM width of 2,000 pixels for page performance purposes.
Photo sizing: As you add photos to your blog, please feel free to select any display size you like (Medium, Large, or Full Size). You can set your photo display size when you first upload your photo to your blog by selecting the option settings in the Add Media window. You can also set your photo size once your photo is in your blog by clicking on your photo and selecting the Edit button (Pencil shape).
Please only use photos/videos you have taken yourself, or you have asked and been given permission to use on this site.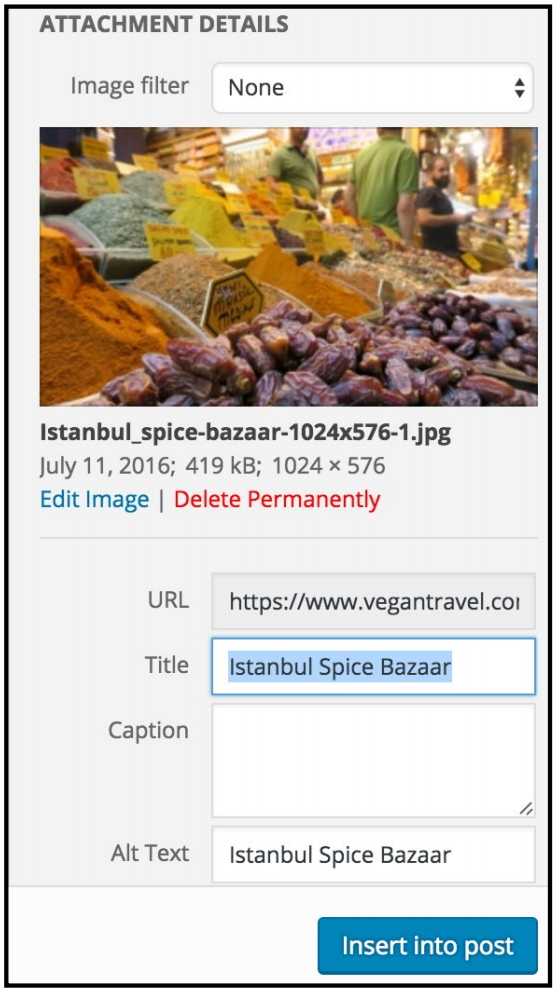 Size and Alignment are selectable for each uploaded photo.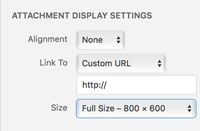 Adding a video to your blog:
To add a video to your blog post, simply copy the link from your video's YouTube or Vimeo page, and paste it into your blog post. You can use either the link at the top of your browser page, or the Share link.
Vimeo & YouTube Vloggers should also checkout our Vlogger Guide here for additional options.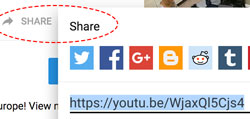 Adding links to your blog:
If your blog mentions a restaurant, vegan-friendly store or accommodation, vegan event, or animal sanctuary, please feel free to include a link to their websites or social pages in your blog.
If you have your own blog or social page that you would like to share with our community, you are most welcome to add a link to them, but please only add them at the end of your blog post.
To add a link to your blog post, select the text you would like to link, and then click the Insert/edit link button.
⠀⠀⠀⠀⠀⠀⠀⠀⠀
Paste the link you would like to use, and then click on the Link Options button.
⠀⠀⠀⠀⠀⠀⠀⠀⠀
In the Insert/edit link window, please check the "Open link in a new tab" option for all links you add to your blog post. Opening the link in a new tab helps readers easily return to your blog after they explore the page you provided a link to.
Links other than those mentioned above, and particularly to URLs that are not extremely well known by our community or for any kind of marketing purposes, will be removed during our editing process to maintain content continuity, and help protect our community from spamming, irrelevant, or potentially malicious links.


—————————————

—————————————

Please include a Featured Image for your blog. This photo is what people see when browsing blogs on our site, and when your blog is shared on social media. The Featured Image box is in the lower right hand column, and will let you select any photo from your blog.

Once you complete your blog post, please save it as "Pending Review"
When you've completed your blog, it is almost ready to be shared with the world! Please set the Draft Status to "Pending Review" and then click on the "Save Draft" link at the top right-hand corner of the editor. One of our team members will then review it, add tags and categories, and make any small edits if necessary. Tags and categories let the site know which pages on our site are relevant to display your post and help site visitors easily find it. This step also helps prevent multiple posts from being shared at once. Content spaced out throughout the week is usually seen by more of our site community.

We are so thrilled to have you as a blogger on VeganTravel.com! However, please note that all content must be approved by our team before it goes live on the site. VeganTravel reserves the right to deny or remove any content that does not align with our values. If the author role is misused in anyway, we have the right to revoke blogger access at any time.
Additional Info & Optional Tips:
Where blogs are displayed:
A quick note on how we share blogs with our community:
The most popular blogs are featured on our home page.
All blogs are available on our Vegan Traveler Blogs page, with most recent blogs shown on top.
Blogs are featured in our relevant Vegan Travel Guides.
Blogs about animal sanctuaries are featured on the pages above, and are also featured on our Animal Sanctuary Blogs and Why go Vegan pages.
Blogs appear in your Featured Blogger's page (see section below).
Select blogs will be featured on our social media pages
VeganTravel.com has over 17,000 monthly users, and over 60,000 followers on our social media pages (as of July, 2018).
Featured Vegan Travel Bloggers
Our featured blogger pages enable readers who enjoy one of your blogs or videos to easily find others you have shared on this site. These pages also provide additional exposure for your blog posts while letting our followers know about your website and other social pages you would like them to follow you on.
If you like to be a featured blogger, email a couple of photos to us (a profile photo and a banner photo), and a bio of you written in 3rd person. You can see photos and bio examples here.
Responding to comments you receive on your blogs on our site and our social pages.
We encourage all our bloggers to respond to comments received on your blog posts. And if you like, please share them on your own social pages.
We have noticed that the algorithms for Instagram and Facebook favor posts with lots of comments and shares, and give these posts more exposure.
Also, please support your fellow vegan bloggers by liking and commenting on their blogs as well.
An optional tool you can use in your blogs is the "Create Gallery"
When adding two or more photos in a row to your blog, the Add Media Photo Gallery is an optional tool you can use to help organize how they aesthetically appear on your page. Following is an example of a photo gallery using 3 photos in a row.
To learn how to use photo galleries in your blog post click here.
Your blogs and videos help demonstrate just how easy it is to live and travel as ethical vegans, and help highlight the joys of living a more compassionate lifestyle. Approved blogs will be featured on this site, on Facebook, and on our other social media pages. To help give you blogs as much exposure as possible, please consider sharing your blog on your social pages as well. And we encourage you to respond to any comments we get about your blog on our site and our other social platforms.
Please note that we are not accepting new bloggers at this time.