I had always thought of Czech as a meat and potato heavy country, and while this still holds true, the abundance of vegan and vegan friendly restaurants in Prague really excited and surprised us.
We really loved our time in Prague, and with so many vegan restaurants in the city, it truly made our week that much more memorable.
This was our first time there, and we were definitely not disappointed by the choices. Our days consisted of eating, sight seeing, eating again, strolling, finishing up dinner, and then taking cake home. For blogging purposes of course.
Here is our Vegan Guide to Prague.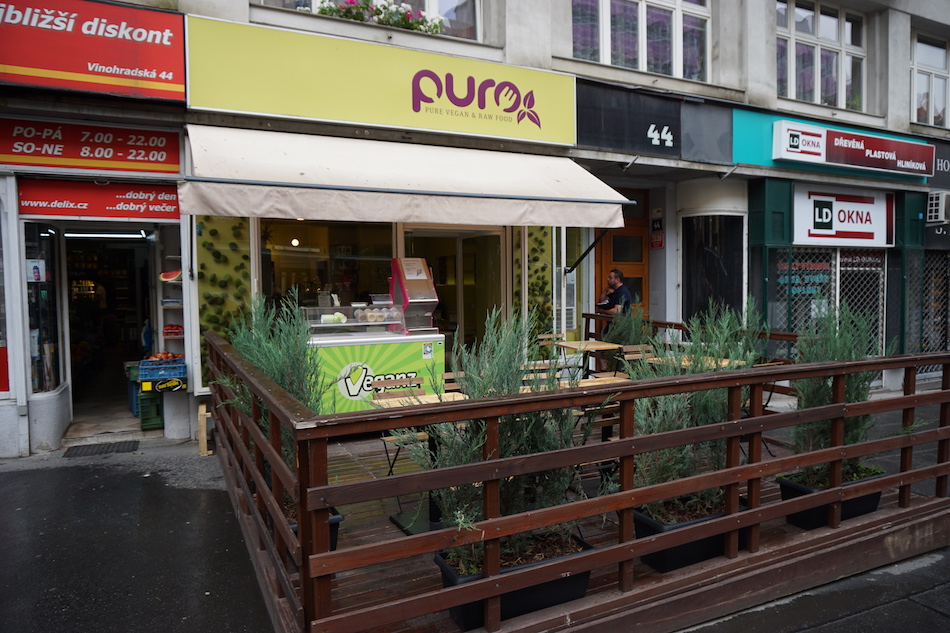 Puro is a completely vegan cafe in Prague serving tasty soups, sandwiches, salads, desserts, fresh juices, and coffee. Cody and I visited a few times in the morning for a quick bite before starting our day.
We also picked up a few sandwiches, a tiramisu, and chia seed pudding to go for our bus ride to Berlin.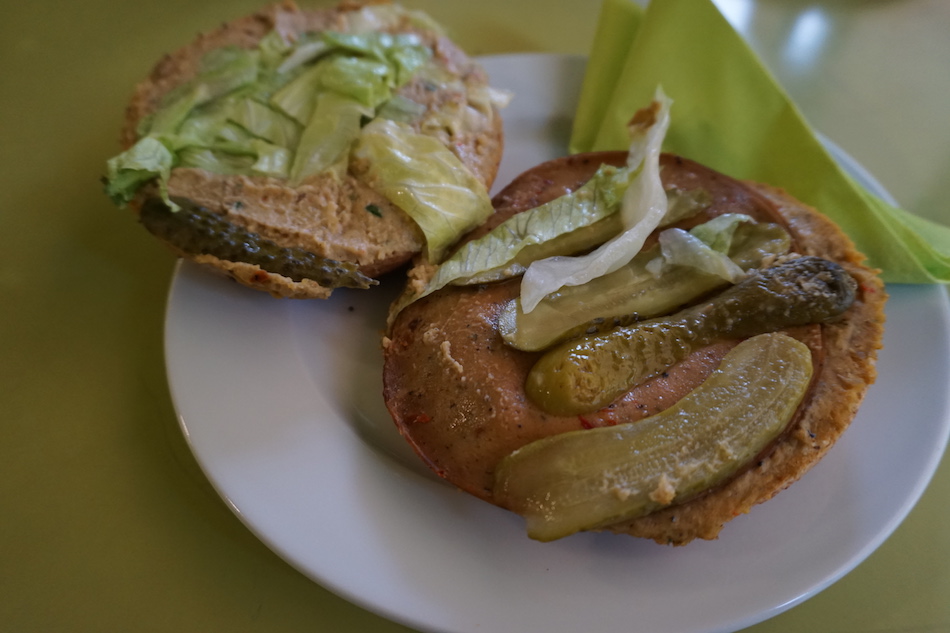 We tried their toasted pesto sandwich with violife cheese, greens, and tomatoes, as well as their cheese and bologna bagel, a nice warm parsnip soup, cappuccino, and raw snickers bars.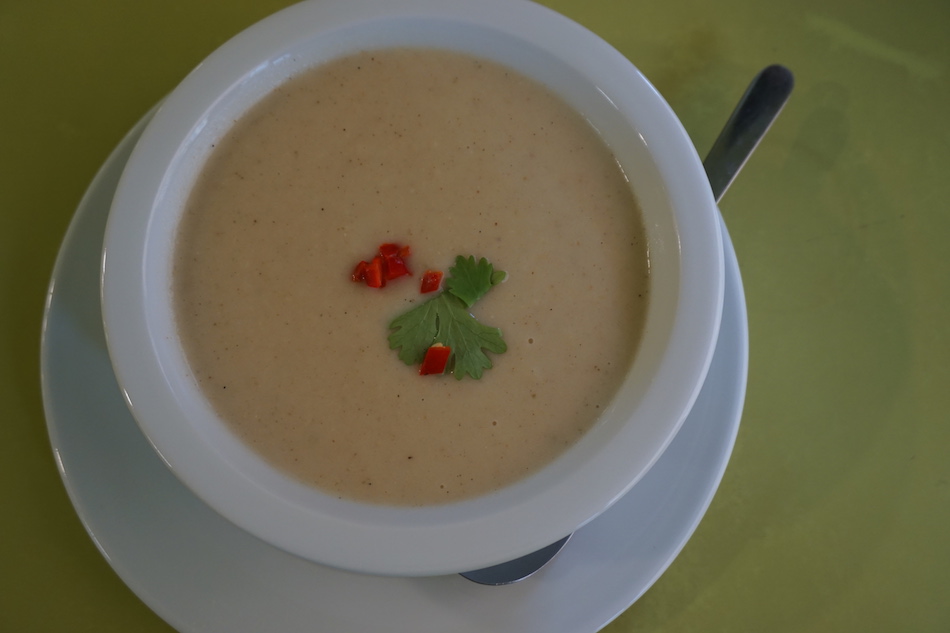 Puro is a perfect place to stop and fuel up before heading out into bustling Prague.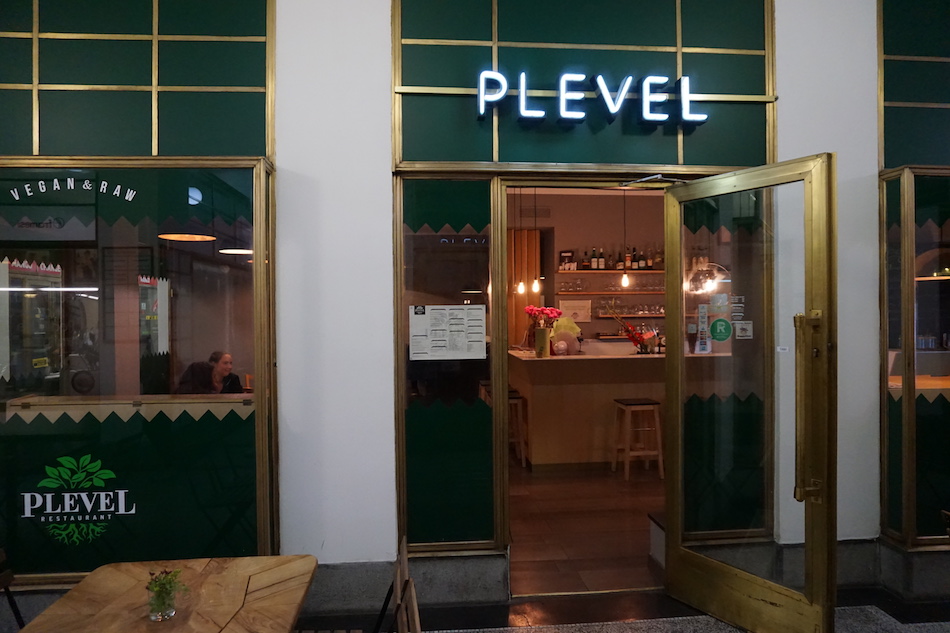 Plevel is a vegan and raw restaurant with 2 locations in Prague. This warm, inviting and quirky restaurant serves veganized renditions of Czech food. We visited twice and both times the food was great.
The menu changes often so patrons are able to try several different dishes if they choose to visit more than once. The burger was very tasty as was their Czech dumpling dish.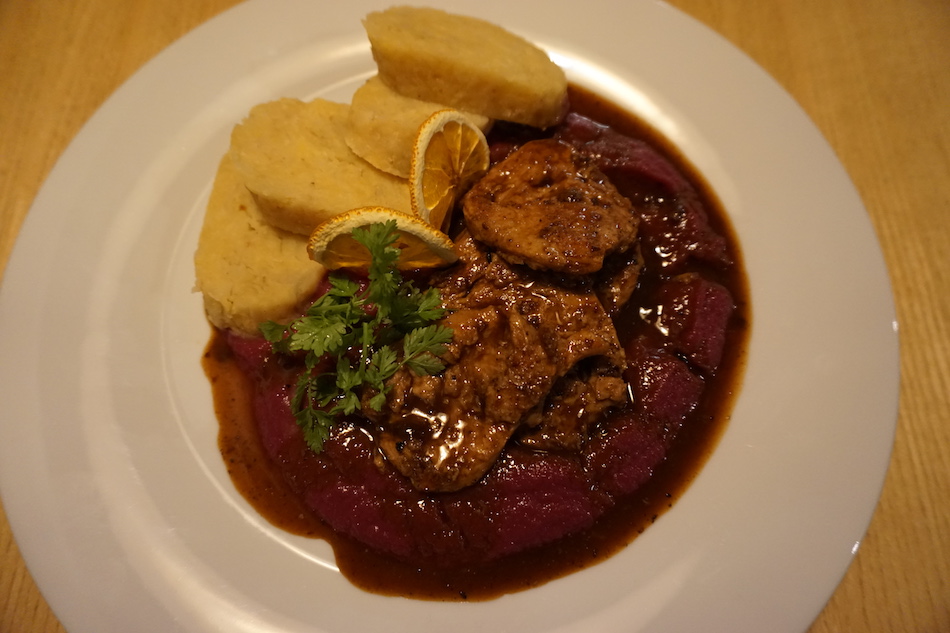 You can order teas, coffees, beer or wine here as well.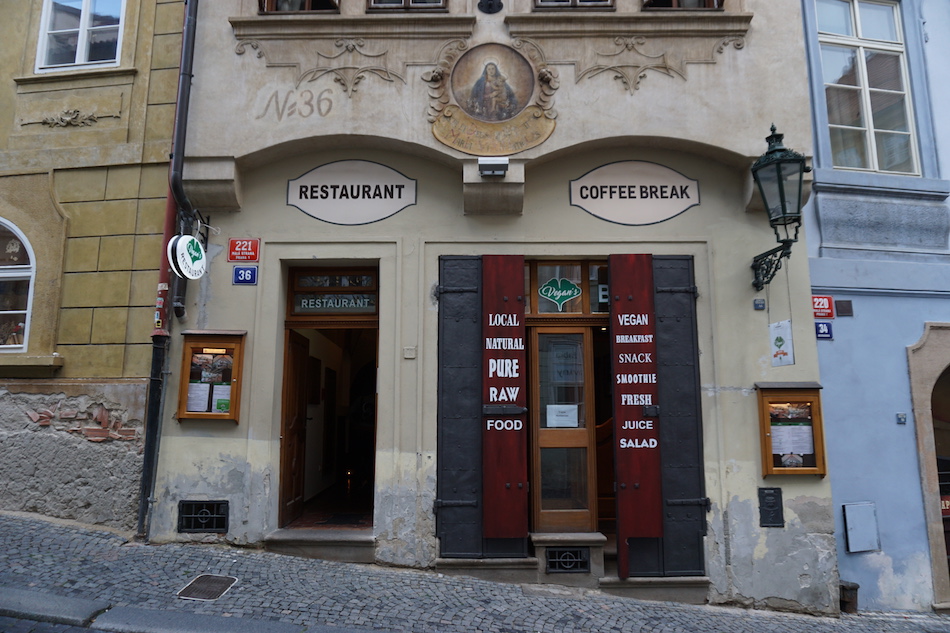 Vegan's Prague is located in a beautiful space on the top 2 floors of an old building. The rooftop floor is reached via a spiral staircase, and if you are lucky, you can sit at a table outside to admire a beautiful romantic view of the old city.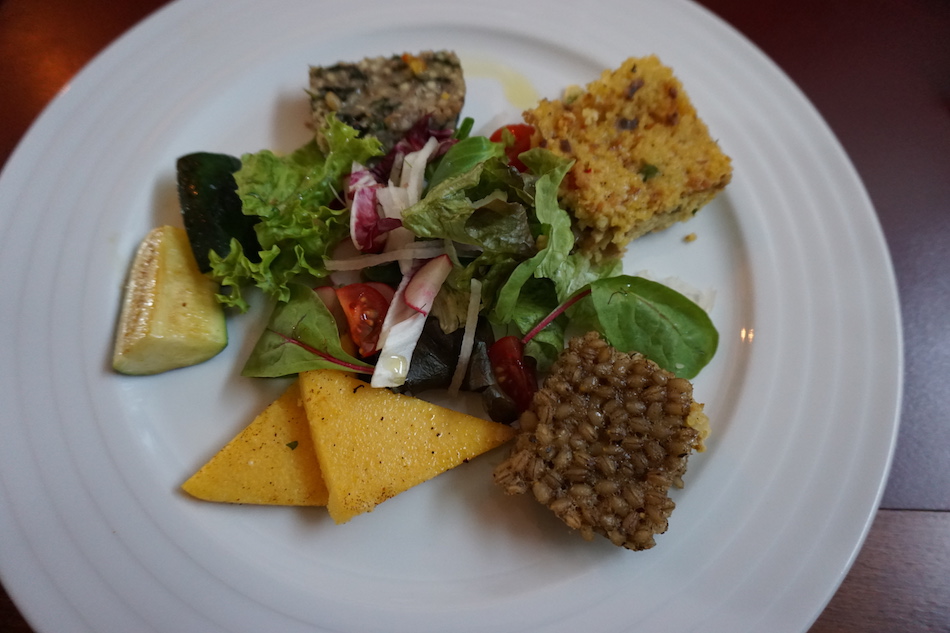 This restaurant does a vegan take on traditional Czech cuisine, and although we felt the portions were quite small, the food was very tasty.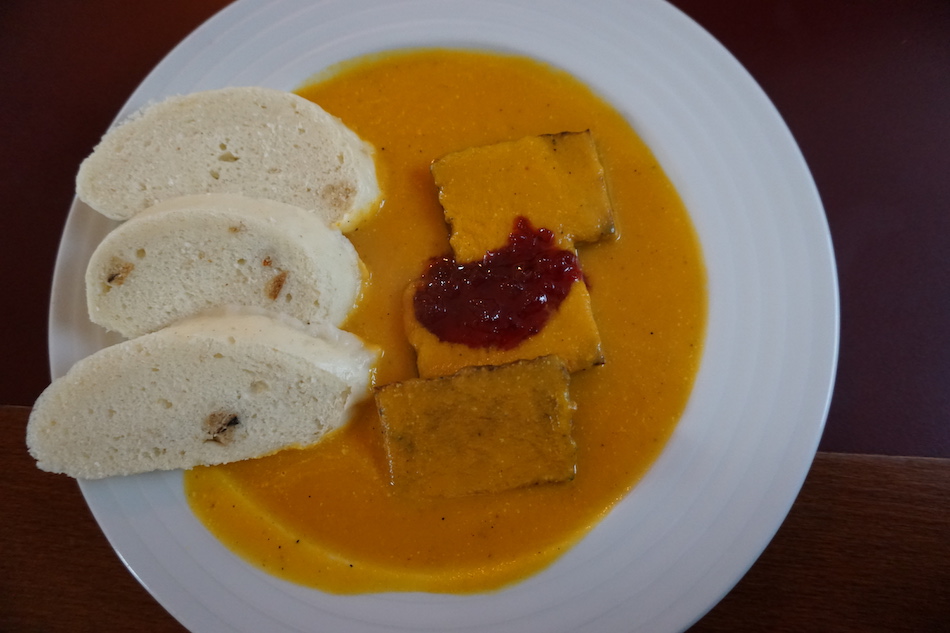 They also serve burgers if you are looking for a casual western meal.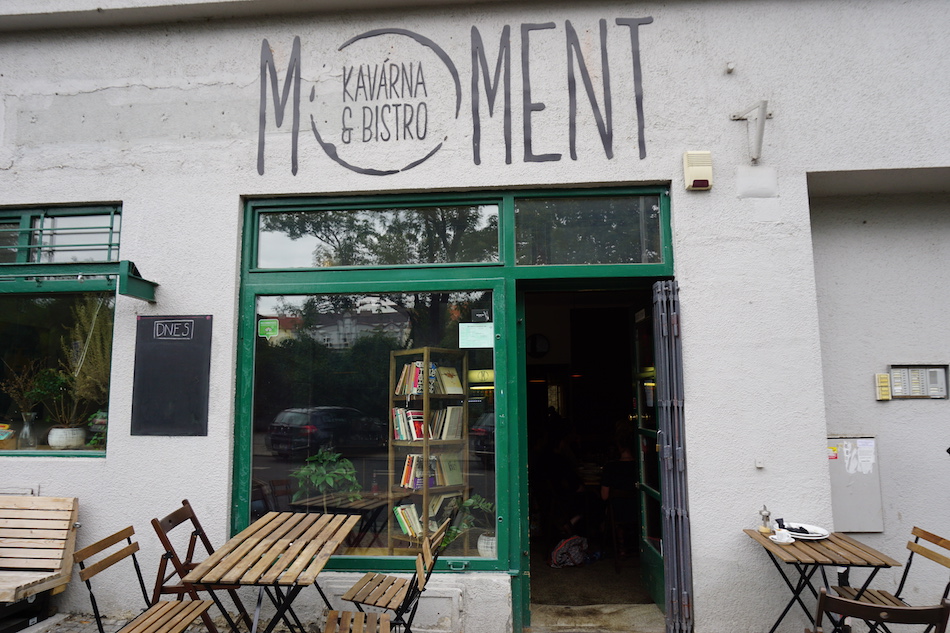 Once we discovered that Moment was across the street from where we were staying, we visited everyday before heading into the city.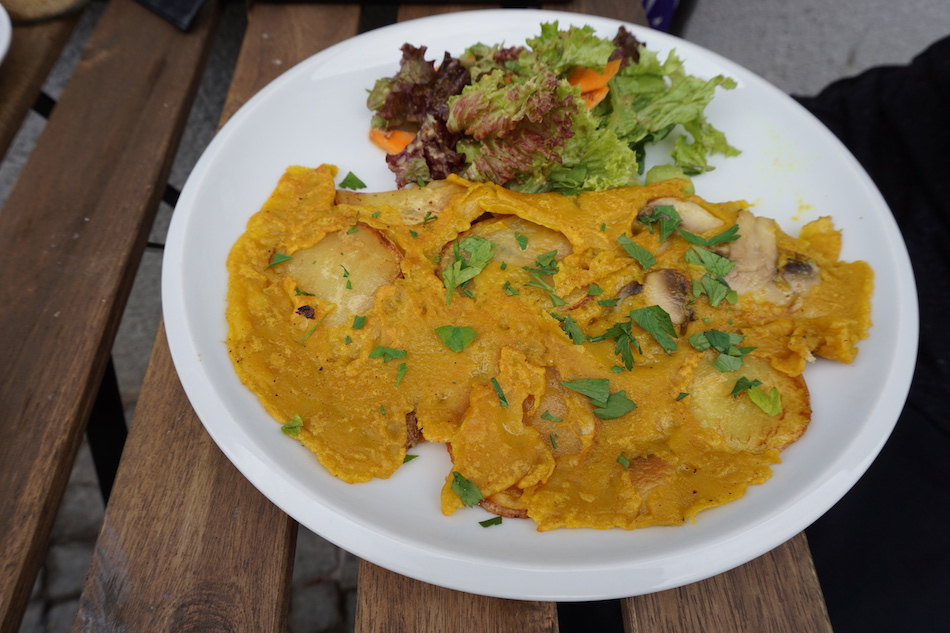 This cool all vegan cafe serves tasty breakfasts including omelettes, tofu scramble, waffles, and a big portion of pancakes topped with whipped cream and fruit.
Their dinner menu changes daily, and they have a nice selection of cakes. Coffees, teas, and alcoholic beverages are also served.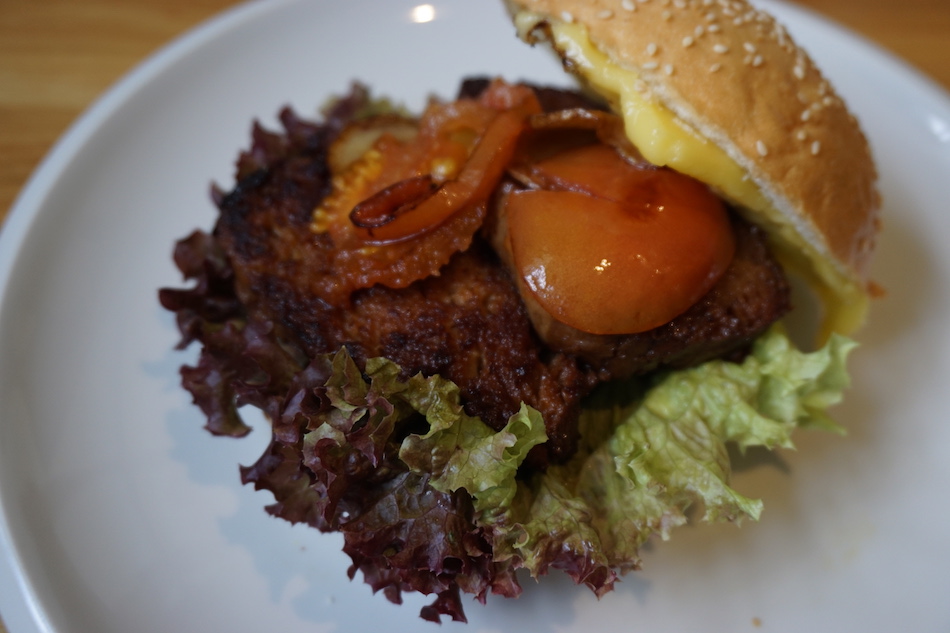 DO try the seitan and cheese bagel. And grab an anti-fur sticker from the counter!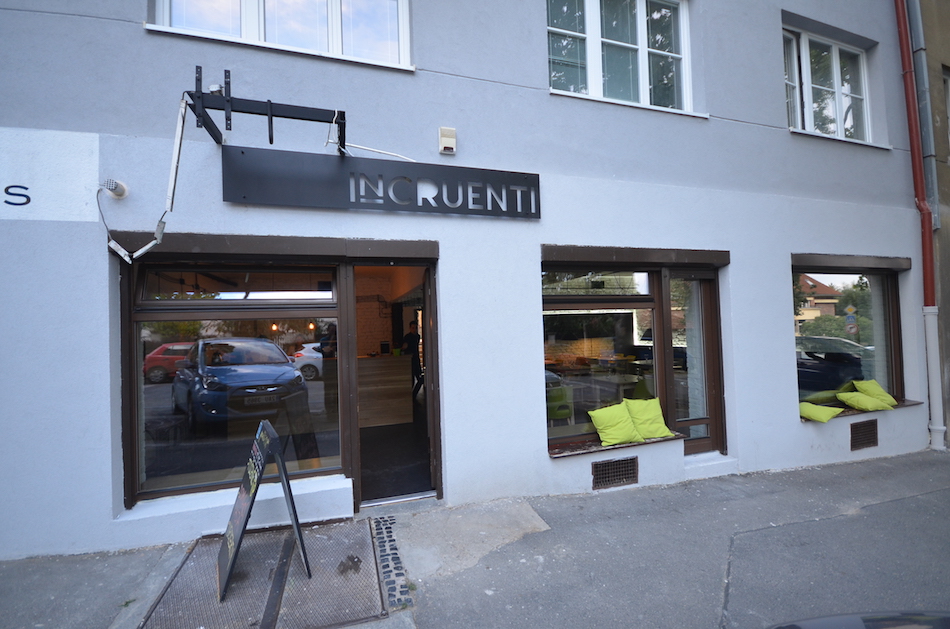 Incruenti is brand new on the vegan block, but we're pretty positive they are here to stay.
This restaurant has a hipster vibe minus the pretension. Surrounded by residential apartment buildings, the back patio is constructed from repurposed wood pallets-including the tables, the herb garden gives it a nice green touch, and the grumpy looking Persian cat watching you eat from his/her window just completes the experience.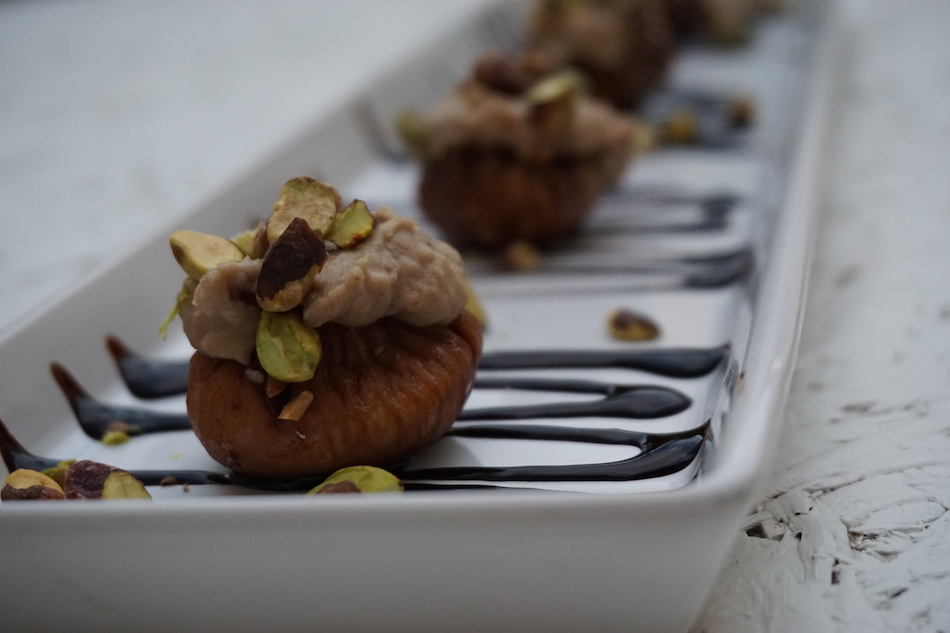 DO try the homemade ravioli, and the cashew cream stuffed figs garnished with pistachios and a balsamic reduction.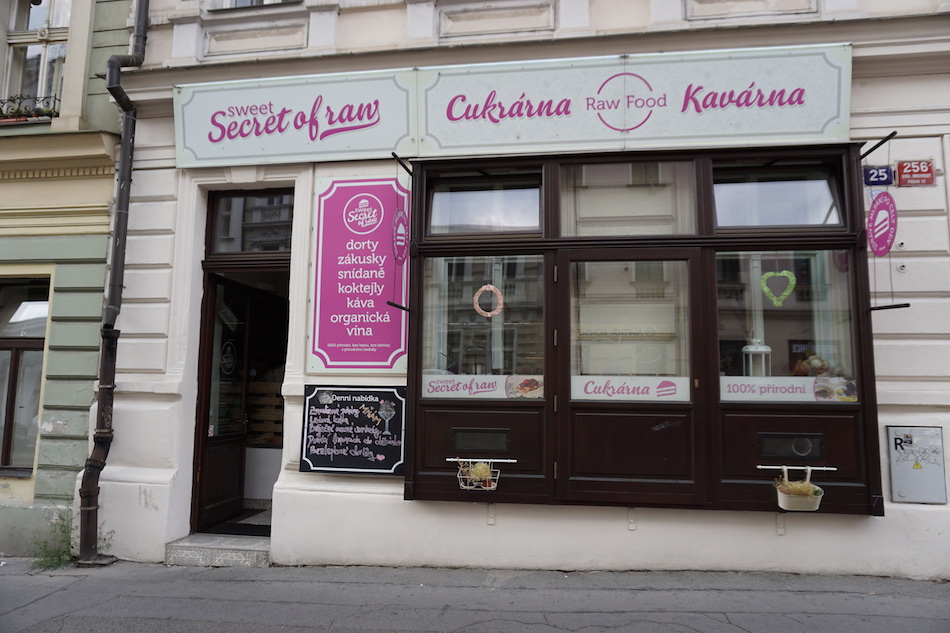 Sweet secret of raw is a raw vegan dessert cafe with the exception of one cake that contains honey.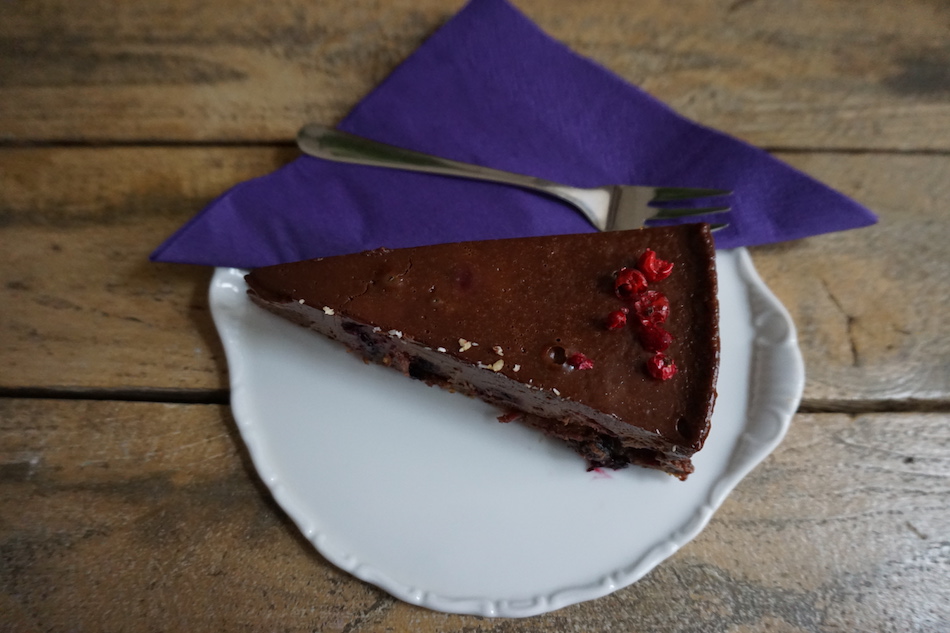 You can choose from several different cheesecakes, or go for the sample platter of 5 smaller sized slices. They also serve decadent sundaes.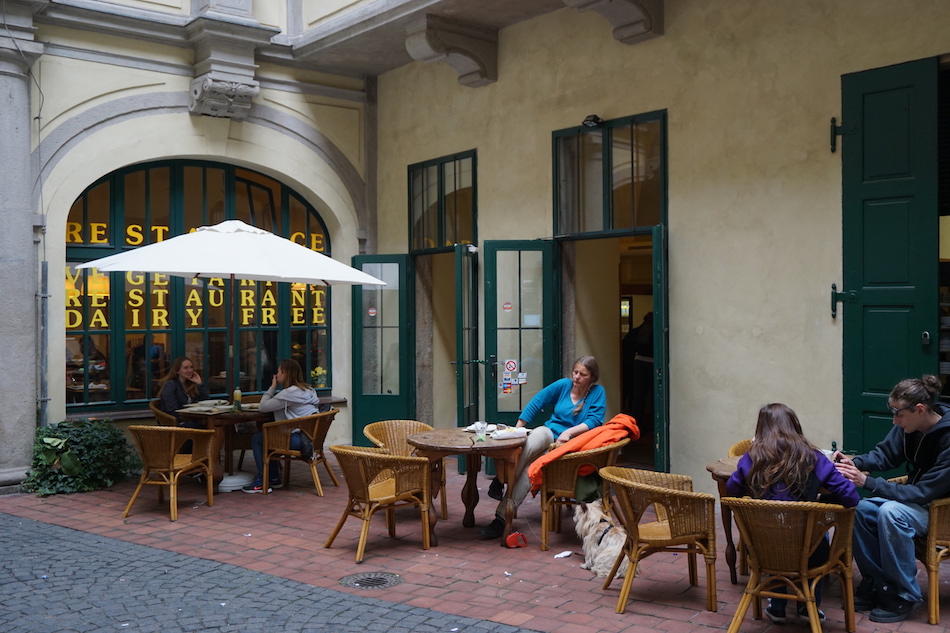 Country Life is a specialty bio food shop that carries several vegan items from soy or coconut yogurts, to vegan vegetable pates, to vegan sausages, baked bread, and vegan power bars.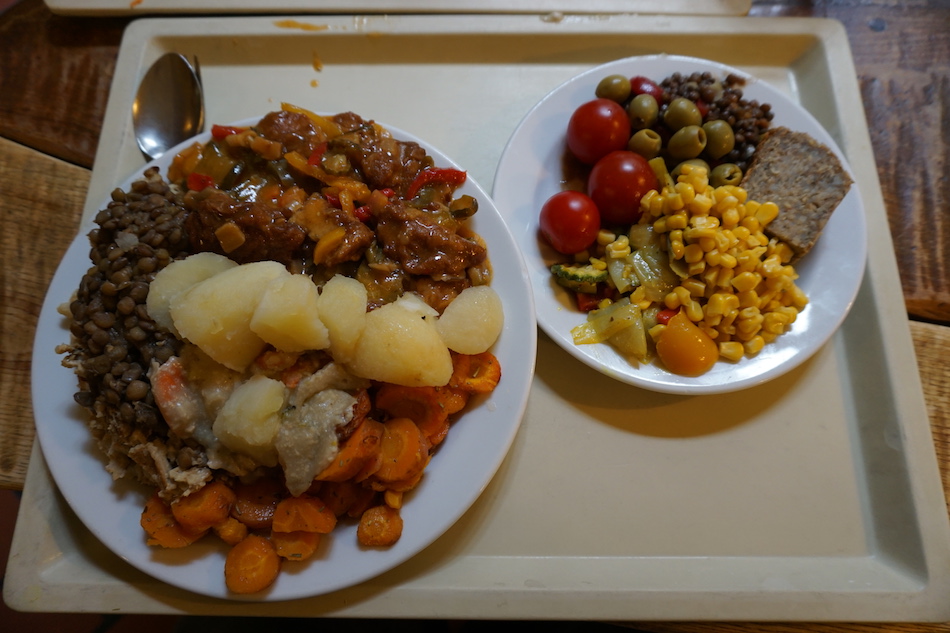 They also run a restaurant around the corner that is buffet style (by weight) and all the food is vegan. They sell raw vegan ice cream bars in the restaurant as well.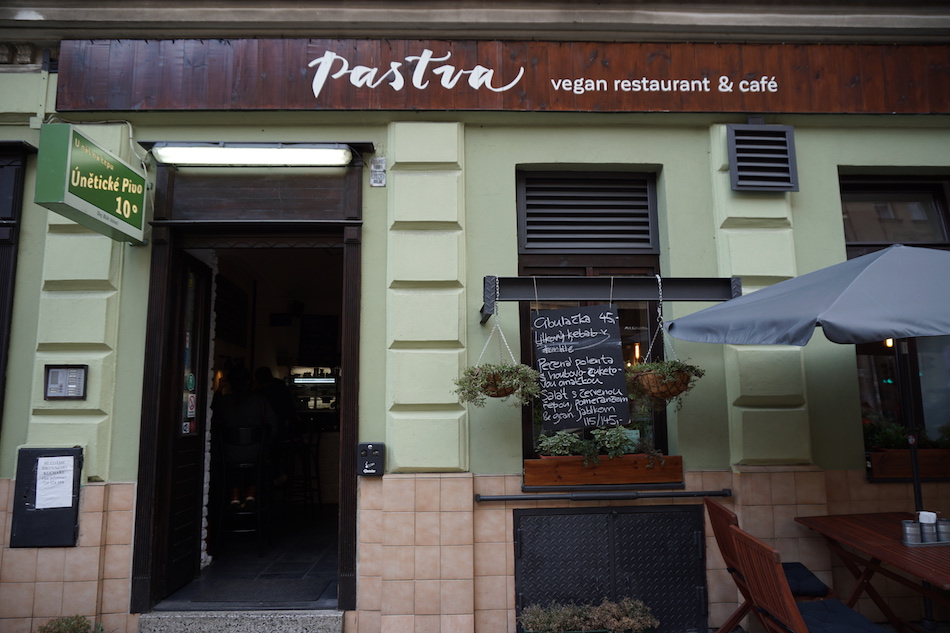 Pastva is a stylish vegan resto serving up bistro style food. Lentil loaf with potato salad, king mushroom on a bed of mashed cauliflower and potato, are just a few of the dishes to try here.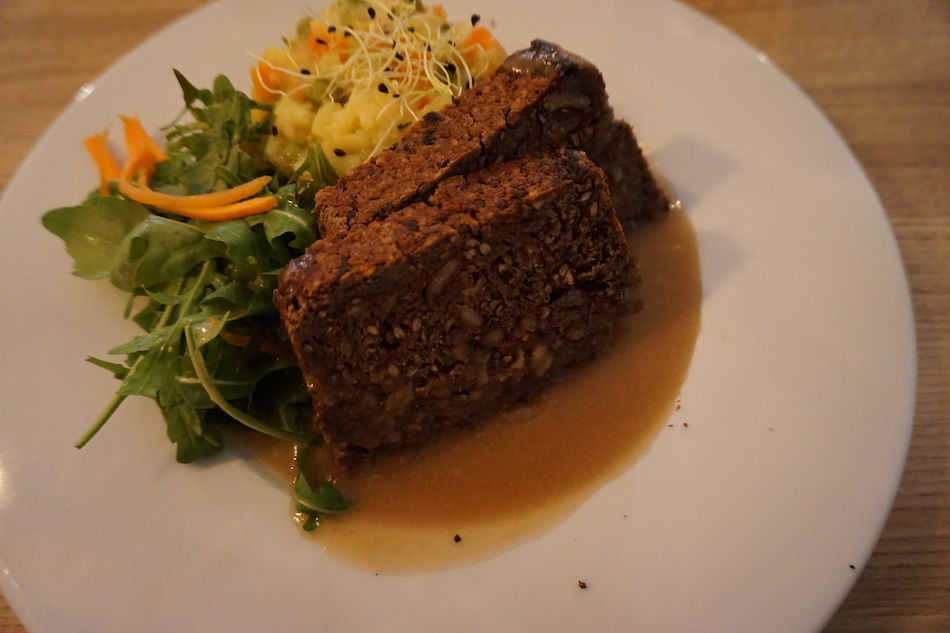 Pastva serves 3-5 new dishes daily as well as having a regular menu. The atmosphere is laid back and comfortable.
There are 3 Loving Hut locations in Prague. The food here is buffet style and by weight, but you can also order from the menu.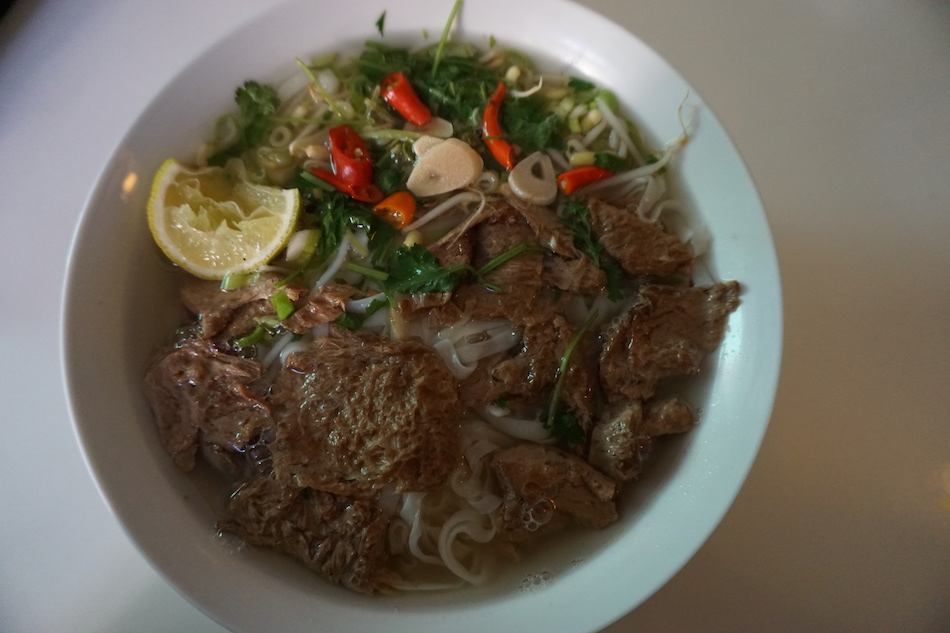 We especially enjoyed the Zborovska location run by a Vietnamese family where we joyfully lapped up a vegan phô soup.
If you have a limited amount of time in Prague, we highly recommend taking a vegan tour with I Like Veggie Tours. This is a walking food tour, and it is quite a bit of fun.

We met our guide Karolina downtown at 11am, and she did a great job of taking us around the city. We visited 4 different restaurants on the tour as well as an authentic local watering hole.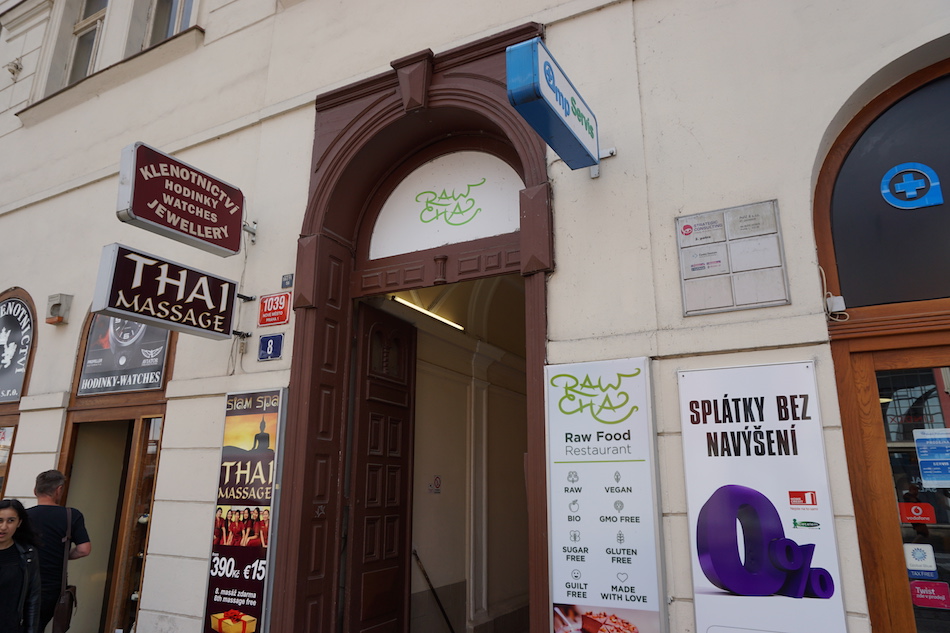 Rawcha was our first stop on the veggie tour. We started lite with a beautifully presented raw cream of mushroom soup.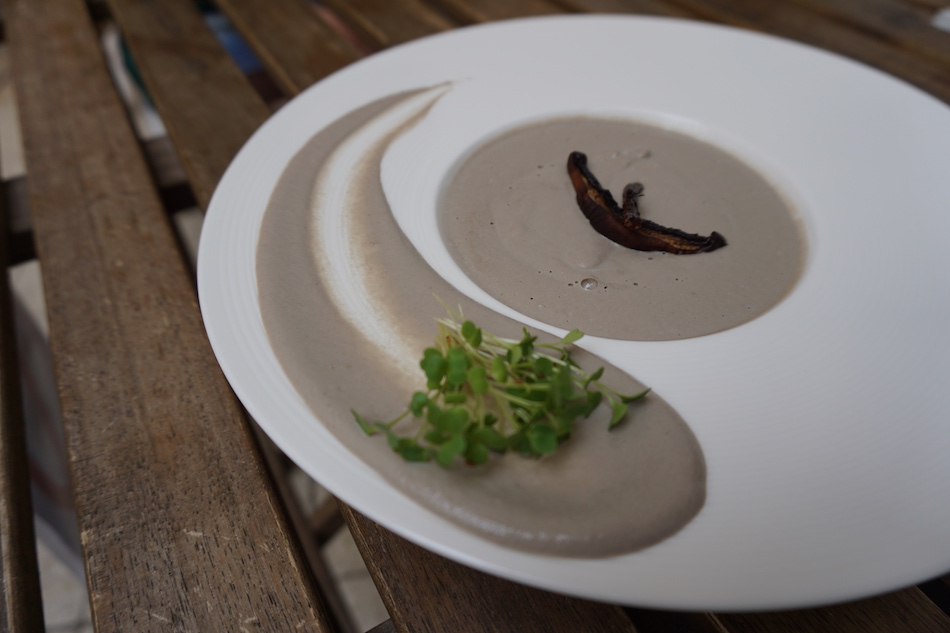 This raw vegan restaurant also serves pizza, mushroom burgers, zucchini noodles, teas, and fresh juices.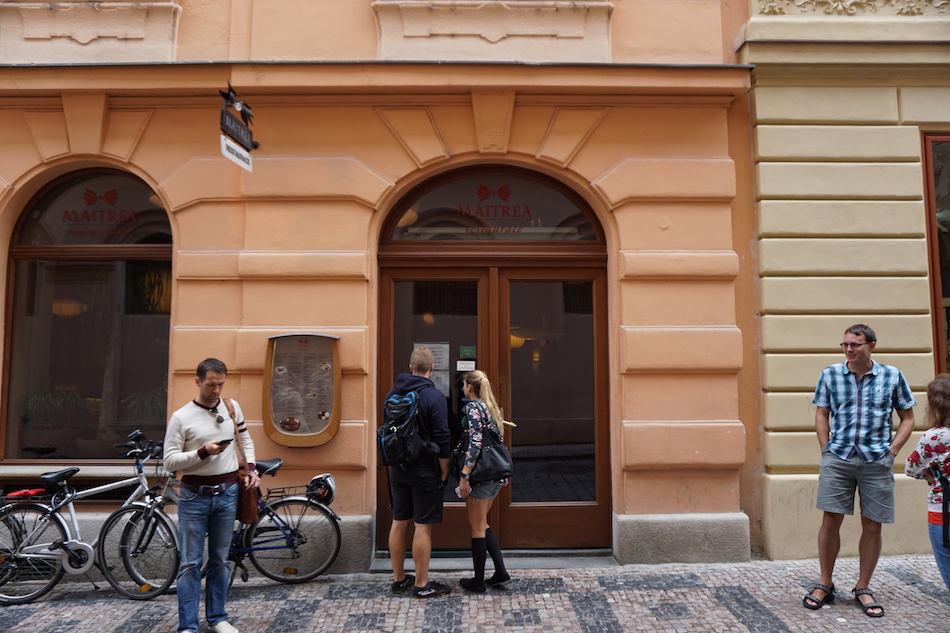 Maitrea is a vegetarian restaurant with vegan options. The space has 2 levels, and we dined on the lower level both times we visited.
The main floor resembles a regular cafe, but the lower level feels as if you are underground in a serene cave. The light shades hanging above the tables as well as on the walls had an otherworldly feel.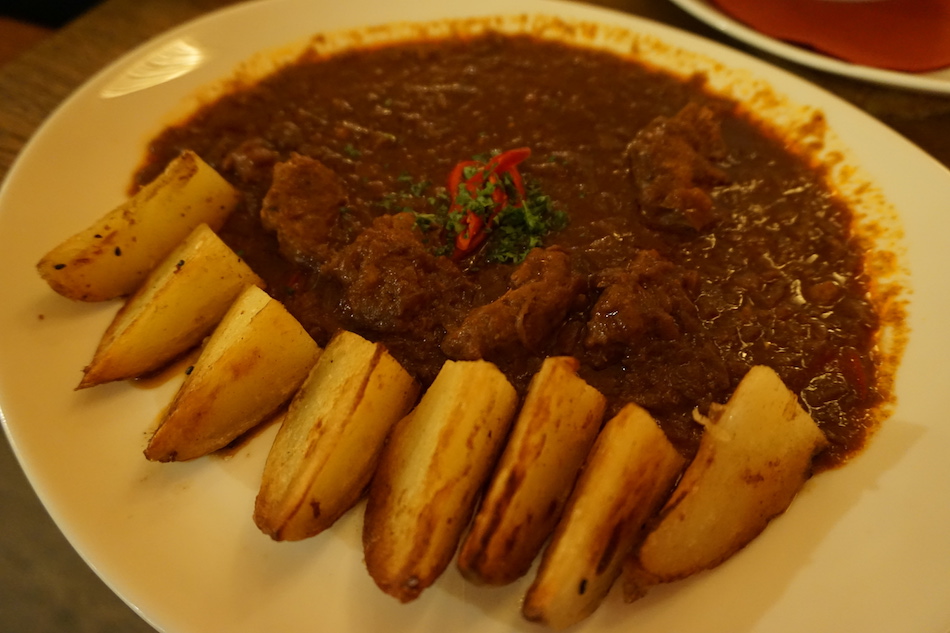 The menu contains a variety of dishes from Asian to Czech. They also serve desserts, coffee teas, alcoholic beverages, and kombucha.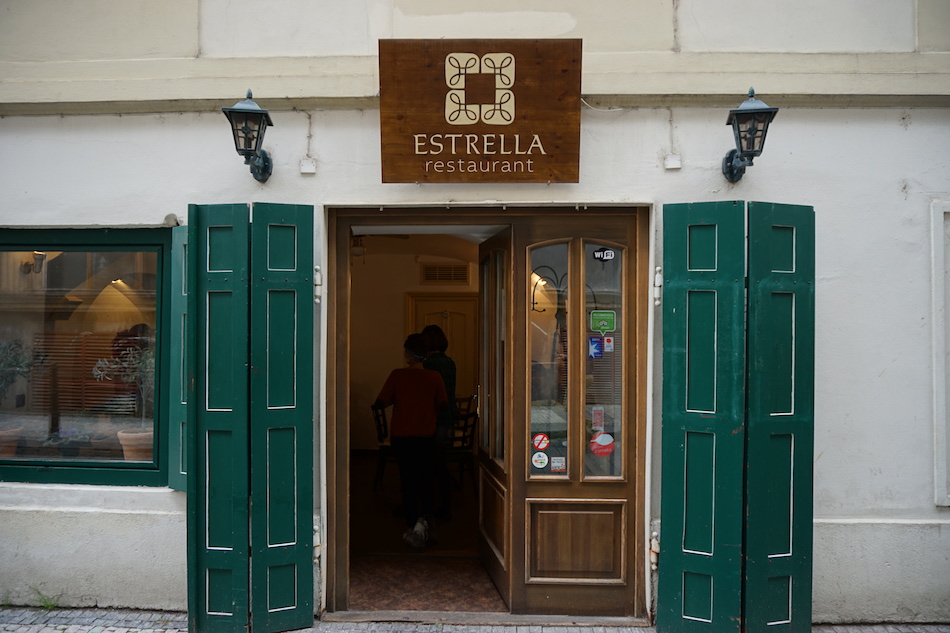 This little restaurant is extremely busy, so reservations are recommended. The menu is predominately vegetarian but there are a few vegan and raw options.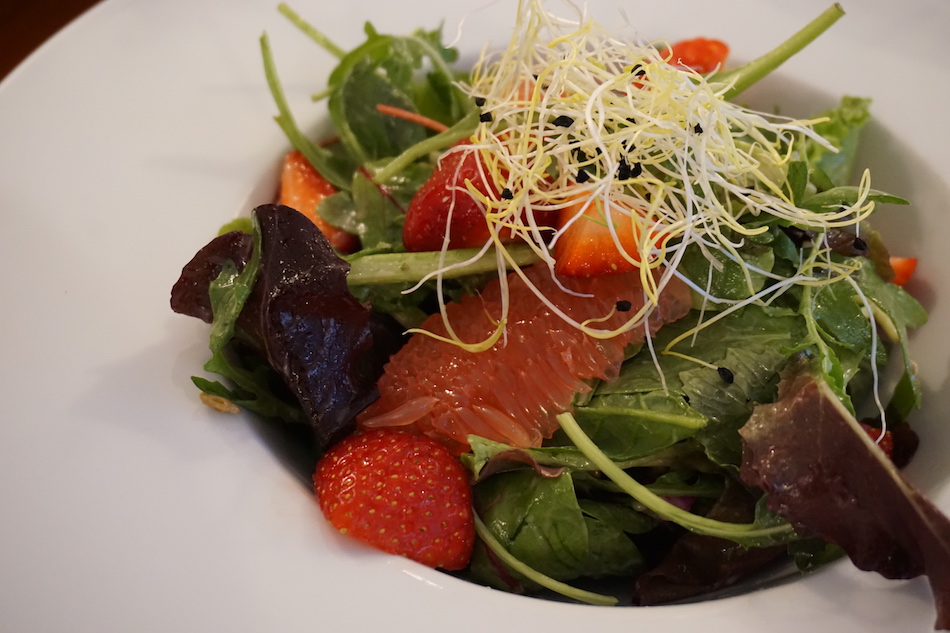 The staff here are attentive and friendly.
DO try the vegan phô.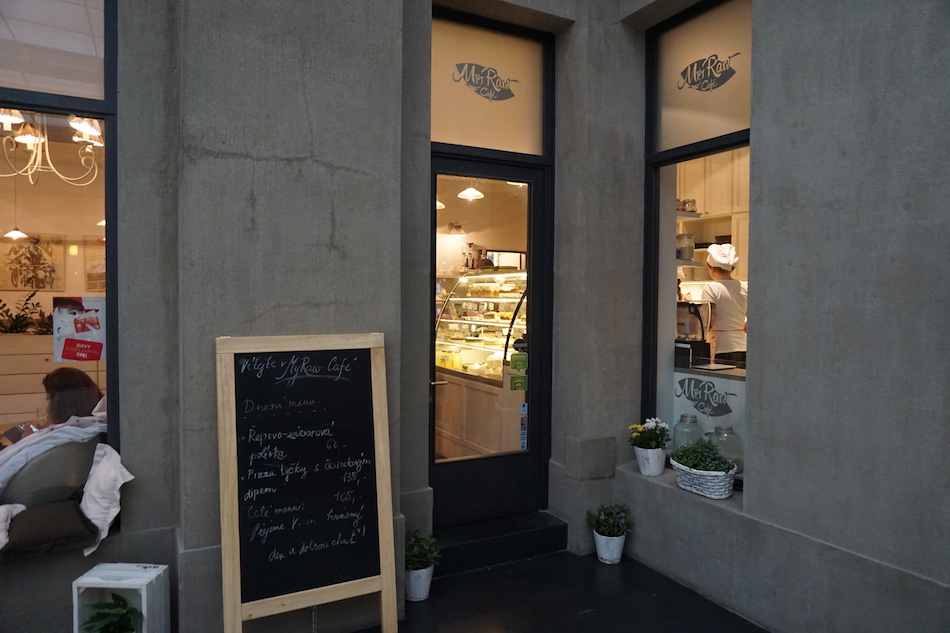 A completely raw vegan bistro serving up desserts and savoury dishes like sushi, wraps and quiche.
The cake display is beautiful showcasing all of their cashew based cheesecakes.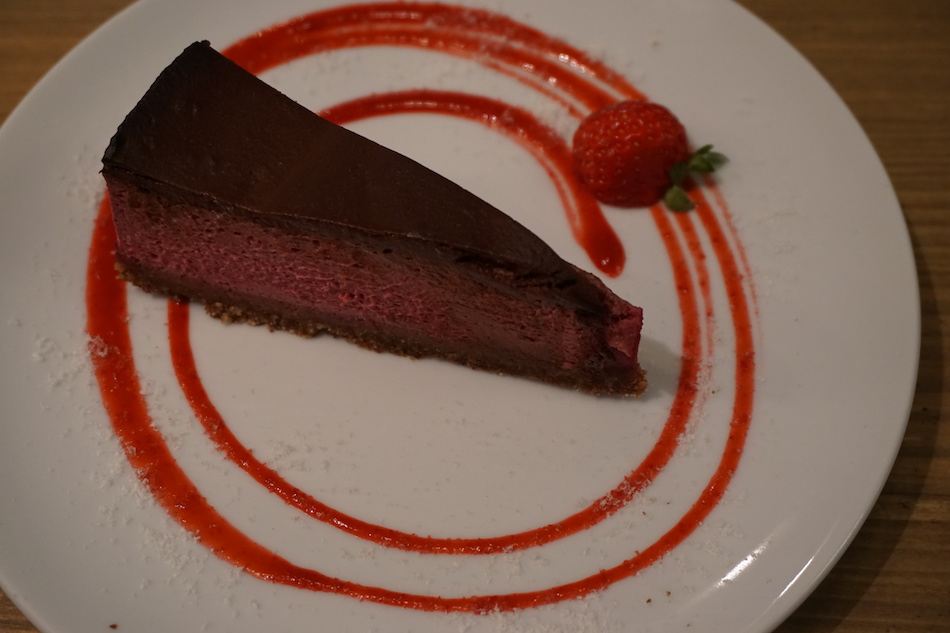 The staff are friendly, and the design of the Cafe is very sweet.
DO try the raspberry chocolate cheesecake.