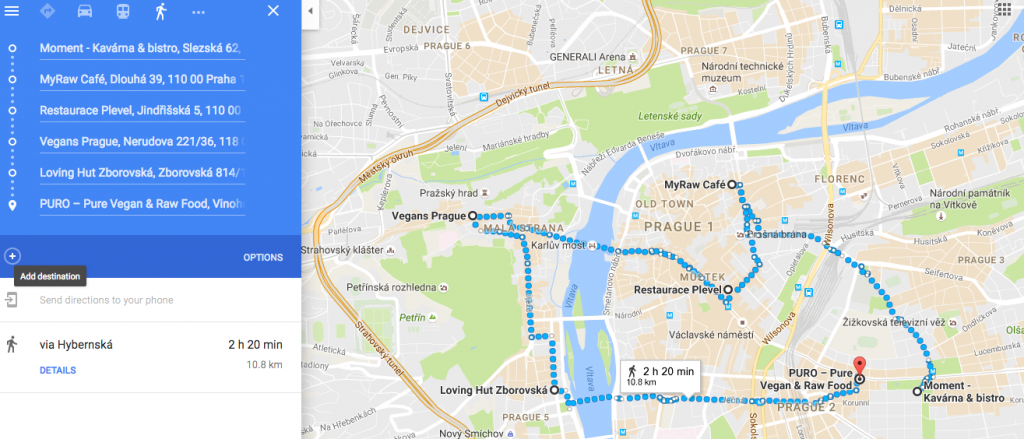 Similar to my quick trip to Poznań, Poland, I hopped down to Prague, Czech Republic for a few days since it was just a short bus ride (about 4 hours) from Berlin (where I was based for about a month).
I'd always heard how vegan-friendly and beautiful Prague is so I was excited to be connected to a lovely woman named Hana, who offered me her spare bedroom for a couple of nights. I took a RegioJet bus down on a Tuesday morning, landed in the afternoon, and Hana and I headed direct to our first foodie destination:
There are two Plevel restaurant locations, one in "Jindrisska" and another in "Krymská." Hana took me to the one in Jindrisska as it was the nearest to the bus station.
Located inside of a small shopping plaza, this Plevel restaurant offers a variety of vegan cuisine, including a dish that was made up of soy slices, red pepper sauce, and mashed potatoes. Hana tells me traditional Czech foods include a portion of starch + meat + gravy. This one also came with a starter salad and I enjoyed a cappuccino as well.
After lunch I needed to jump on wifi for a meeting so we went directly to Moment Cafe. This place came highly recommended by several people (both local to Prague and those who have visited).
Their desserts are phenomenal (the frosting. OMG. On. Point.). I only went one time but thoroughly enjoyed the chocolate cake and latte I had. It's a nice, spacious cafe with lots of natural light, plenty of seating, and a hip vibe. The people working were super nice and helpful as well!
Put this one at the top of your to-visit lists, for sure!
I started my second day in Prague with a light yet flavorful salad from Puro Vegan & Raw Food. They've got a variety of Veganz products (the vegan grocery store out of Germany)—including a Veganz ice cream stand!
There are a few shelves with vegan staples and other products, a display case full of sweets and pastries, and a small menu of prepared salads, sandwiches, and drinks. I liked this place quite a bit!
One of my favorite foodie stops in Prague was MyRaw. It's small place within a shopping center with a clean, minimalist design, colorful warm decor, and fantastic food!
Going to a raw restaurant isn't always at the top of my list, but this place was fantastic and I'm so glad Hana took me here.
I had an avocado-based "scramble," and the raw "toast" that came with it was unbelievably packed with flavor and zest. The berry smoothie was perfectly balanced and Hana's porridge + raw chocolate-banana pancake was absolutely divine!
Even though the portions were smaller than I expected, the entire meal was very filling. I didn't even have room for a dessert! 🙂

I ended up visiting Vegan's Prague twice because the first evening I went in for dinner I'd had a long day and was aiming for a big, filling meal. While the "vegan feast" I ordered was quite delicious, it wasn't as big a dish as I expected. I was also craving something a bit more hearty and warm so I ended up taking a stroll over to one of the Loving Huts (pictures below) after my first meal at Vegan's Prague.
When I went back again the next day, for lunch, I quite enjoyed the tempeh and potato-bread dish—another that Hana indicated is quite representative of Czech food.
To be fair, the restaurant had only been open about six months by the time I visited. The atmosphere was absolutely lovely, but be prepared to walk up three or so flights of stairs to get there. They've got two floors for seating; the top of which includes a small outside balcony area as well.
The servers were incredibly nice and enthusiastic. I'd definitely go back again!

Prague is home to four (!) Loving Huts. I visited THIS one and had a great pho dish as well as a scrumptious scoop of ice cream.
Each Loving Hut is a little different but they all tend to be quite affordable and have a variety of noms to choose from.
I think I saw something about this church on the Discovery channel once, as a kid. It stuck with me and when I realized it was a relatively short train ride (a little over an hour) from Prague, I knew I needed to go check it out.
Upon first glance, the Ossuary appears as a typical chapel, from the outside. But the moment you walk in it's like a totally different world.
Inside, this Gothic chapel is made up of about 40,000 human bones. From elaborate combinations of skulls, femurs, ribs, and everything in between—resulting in incredibly unique art sculptures, so to speak—to candle vigils, and eerie canvas art, it's worth taking the time to go see for yourself!
COOL BUILDINGS + UNIQUE ARCHITECTURE
Something that Prague certainly does NOT lack are gorgeous buildings and unique historical architecture. These photos don't truly capture the essence that is Prague but trust in knowing it's well worth your time to wander around the city center.
Find a spot by the Astronomical Clock (not pictured) to watch the "12 apostles" passing by their "windows;" walk across historic Charles Bridge for some great waterside views of the city; and stroll through Old Town Square to see street performers, cool buildings, narrow street ways, and great restaurants.
Check out my video blog of the 48 hours spent in Prague: