KOH LIPE!
Half a days travel from Krabi, we reached the little island of Koh Lipe, near the Thai/Malaysian border. White sand and turquoise sea, this island is paradise!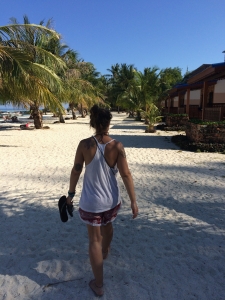 You can get here a couple of different ways. We travelled by bus and then boat from Krabi, but there is an airport at Hat Yai, where you can pick up a bus to Pak Bara, and from there a boat. This island is amongst the Tarutao National Park, so there is a small fee to enter.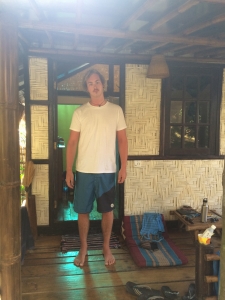 We stayed in a lovely place called Gecko Lipe Resort, definitely recommend! Its made up of wooden bungalows that come with their own bathrooms, mosquito nets and veranda. It is also eco friendly and is working with the community to reduce plastic. They provide non plastic water bottles for the duration of your stay with unlimited drinking water, free of charge.
We joined 'Trash Hero Ko Lipe', who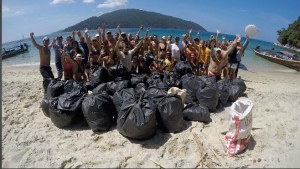 get together every Monday morning to clean the island and those surrounding. It's amazing to get together with like minded people to make a small difference with the pollution that floats up from near by Malaysia. Free beer, water and food is provided after all the hard work and many bags of rubbish have been collected. Unfortunately, when we were there, they didn't provide any vegan food, so we just ate watermelon and rice.
There are many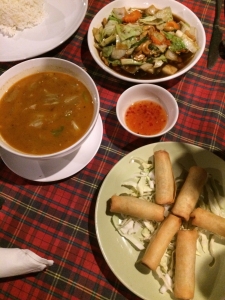 options for vegans on the island. I had read in to Castaway restaurant being good for vegans, but wasn't willing to pay the prices! Instead, just down the beach, there is a neighbouring restaurant
called 'Zanom Sunrise Beach Restaurant'. This was our most favourite place to eat! It does get a little bit windy, but its a quiet chill out area where you can enjoy happy hour and tasty food! They also understand the word vegan!! Get here by travelling to the east of the island, head south. Its one of the last restaurants. Try the cashew stir fry or massaman curry! Nom nom!!
For more tasty food, head back to the walking street. Next to Gecko Lipe resort is a tiny indian restaurant which also serves Thai food (try the samosas with mint and coriander dip). Head down walking street towards the main beach and you'll come to 'The Pancake Lady'. Cheap tasty food but make sure you emphasise no dairy – no egg! Their english isn't great! (try the green tea, no milk). Also, turns out 7/11 is pretty good for quick, on the go food. Check in the freezer for rice with protein and theres a noodle variation as well. They heat it up for you there and its ready to go!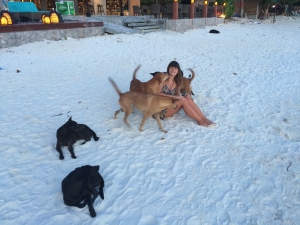 If you're an animal lover, which you should be if your reading this, then prepare to fuss many dogs! By day, they relax on the beach in their holes which they have dug, and by night they hunt around looking for yummy scraps. On the main beach, their is a lovely pack we visited every night, we named one of the dogs caramel 🙂 – there isn't any vet care on the island, so if you see any wounds or illness, please contact Koh Lanta Animal Centre.