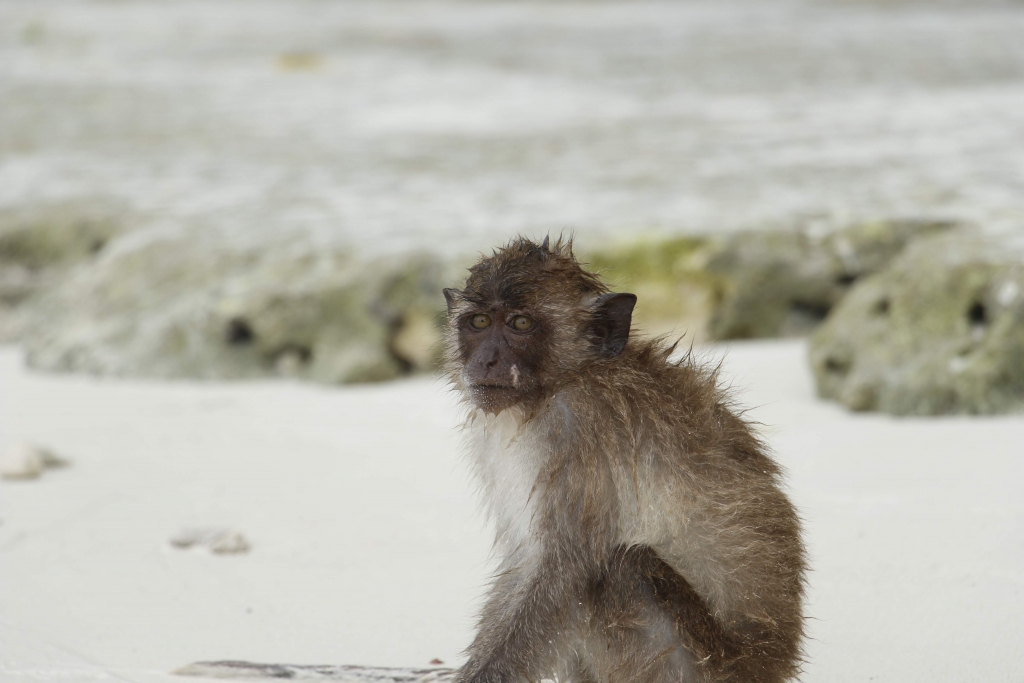 Have you ever found yourself worn out with life, even though everything is going right? Me (Craig) and my girlfriend Ellen both hail from Newcastle Upon Tyne, a gem of a city that we feel is the best in the UK. We both had decent, promising starts to careers in marketing, we rented a flat and even got engaged. But something was missing…
So, in what still feels like a dream, we decided to quit our jobs entirely and travel asia – something we'd always talked about but never managed. It wasn't easy, we had to return home to Ellen's parents, put our stuff in storage and sell my car. But, a few months later, off we went! Thailand was our first destination, and I had so much fun I didn't manage to write as often as I wanted to. Instead, I thought I'd recap our adventure place-by-place to discuss the amazing vegan food we ate throughout Thailand!
First stop, Bangkok!
Eating Vegan in Bangkok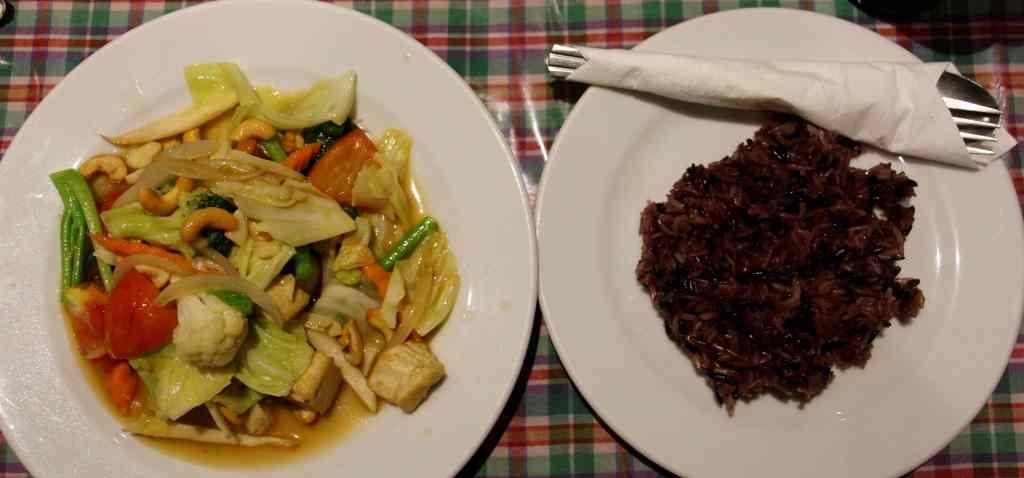 We arrived in Bangkok after a one hour and 11 hour set of plane journeys, so we immediately set out to find food. Luckily, we were staying near the infamous backpacker street, Khao San road. Nestled just off Khao San is a little street called Tanao Road, which has three veggie restauarants which are all very well-reviewed. We opted for Mai Kaidee, our first taste of authentic thai veggie food. And what a delight it was! A month later, I still remember that first taste of stunning lemongrass flavour, delicious tofu and unbelievably refreshing Chang lager (also vegan.) The price, at about £2 a meal, was fantastic.
We wandered Khao San road both nights we were in BKK, enjoying the atmosphere and eating fruit from vendors. The mango in Thailand is like nothing I've had before.
The next day, after oversleeping until 3pm, we visited Ethos, which is a more upmarket restaurant just next to May Kaidee. I had a pancake with mango and banana on top and some coconut milk to pour on. Ellen unwisely chose a chocolate sauce coated one which was too rich. I was a bit irked to find lots of warnings about soy being bad for your health, despite comprehensive studies which have proved otherwise. Don't spread the same rumours that dairy and meat use against veganism guys.
That evening, we went to May Kaidee again to enjoy an all you can eat buffet! There was a lot on offer including stir frys, deep fried tofu and more, but it didn't take long to get absolutely stuffed.
Our time in Bangkok was short and sweet, but we're returning late August to try even more food. Nevertheless, the glimpse it gave us of Thai vegan options was exciting!
Eating Vegan in Koh Samui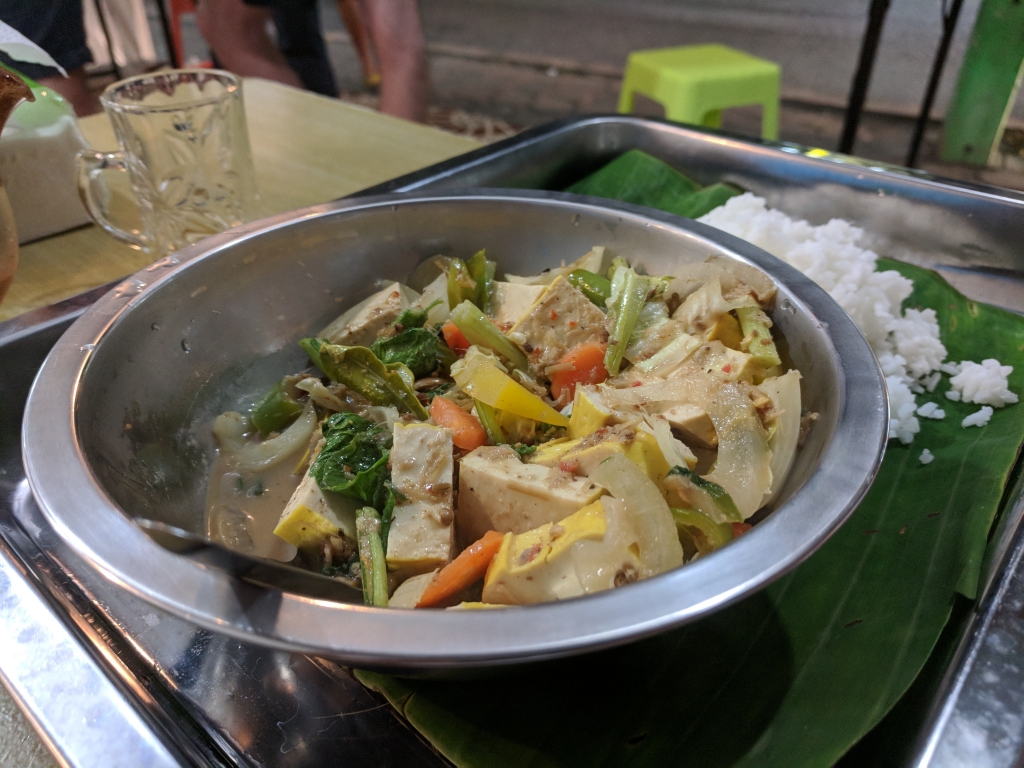 Next, we took a plane down to Surat Thani and a ferry to Koh Samui. This paradise island turned out not to be as idyllic as I'd hoped for – and instead reminded me of Spain or Greece in its tourist-heavy, flat beaches. We didn't get great weather for the week we were there either. Considering we visited during rainy season, we chose the gulf islands because they're supposedly less wet than the rest of Thailand – but we enjoyed plenty of sunny days in Krabi, Phi Phi and Phuket.
Anyway, vegan options were good in Samui aside from places to eat later at night. In Thailand there's a way of eating known as 'Jay' which is represented by a symbol that looks a bit like a 17. These restaurants are entirely vegan and also omit some 'smelly' vegetables like garlic, but in practice you'd never know as food is still delicious.
We stayed in Lamai, Koh Samui, and ate at 'Veggie Lamai' which is one of those jay eateries. The woman who runs it does a daily set menu and you can add some soy mock meats to your meal for 20 baht each – so of course we did. The menu consisted of a tray of curry, a cauliflower dish, rice and some salad. For 80 baht, how can you complain?
Elsewhere, we ate at Funky Vege Cafe, who don't use any animal ingredients and make curries from the finest mushrooms I've ever had. Definitely look them up in Samui. We also ate at Wild Tribe Cafe in town, attached to Visit Natural Detox Resort. Unfortunately, this place advertises itself as vegan but serves meat. The food was great, however, with a focus on health including smoothie bowls and raw desserts.
We also ventured to nearby Chaweng, the party capital of Samui. We don't love partying but felt it important to see the island. Unfortunately, Chaweng is terrible for vegan options and our only choice, an Israeli restuarant called Basilicom left a bad taste in our mouths – underwhelming food, poor service and ridiculous prices for Thailand.
Our best food, in truth, came from a small duo of two brothers who cookd food in a shopfront with no name. They used gas burners, simple ingredients and made all your food to order. We ate here almost every night for just 70 baht per meal. It wasn't vegan, but they made vegan food for us every time. We had tofu green curry, massamam, tofu stir fry, a spicey mango salad and more. Truly special, and all served with lovely green tea.
Of course, there's always Mango Sticky Rice to quench your sweet cravings. We ate lots of it in Samui…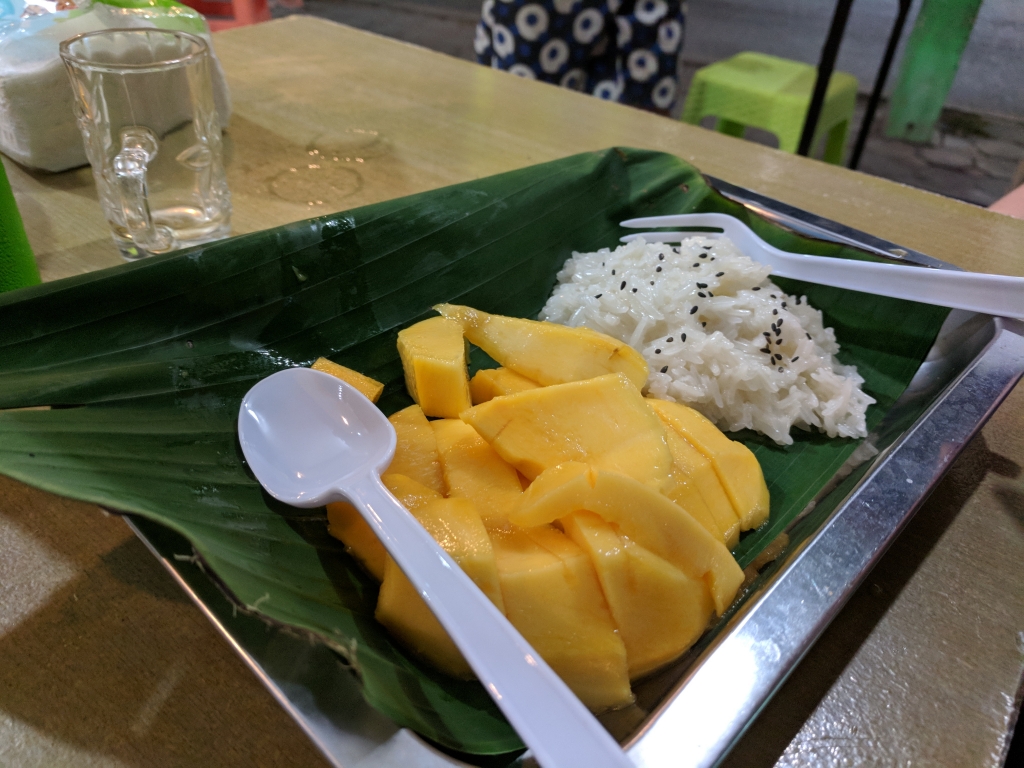 After Samui, it was on to 'vegan heaven' – Koh Phangan.
Eating Vegan in Koh Phangan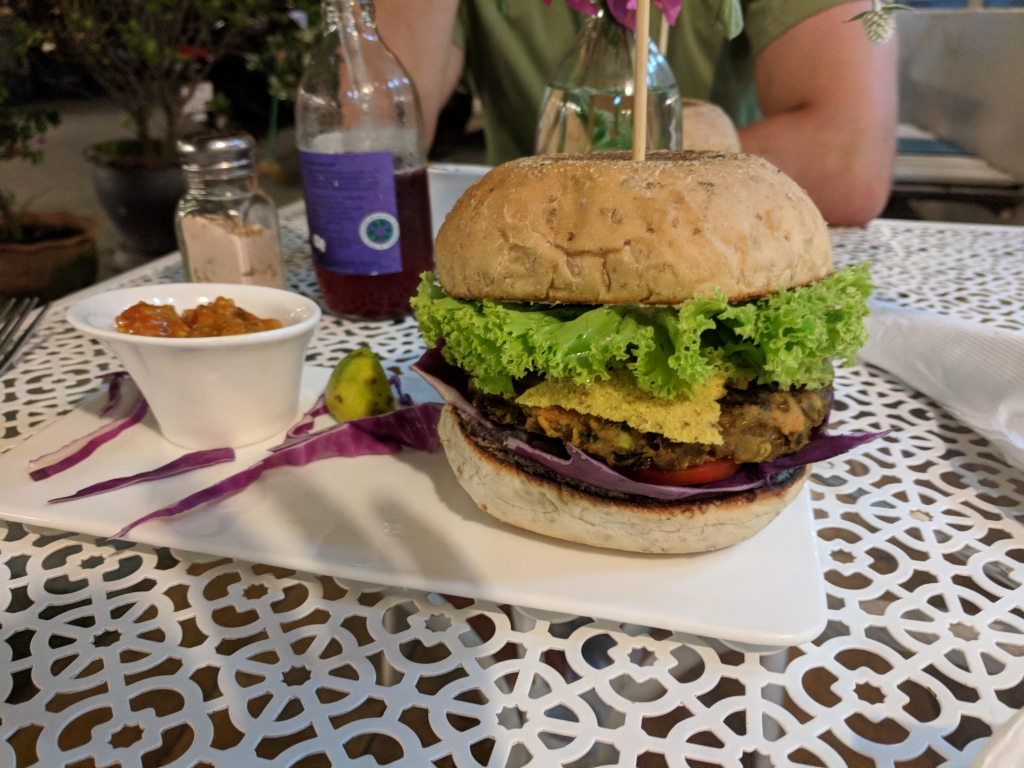 Koh Phan'gan is truly vegan paradise – an island where even the normal eateries typically advertise vegan options. Loads of vegan restaurants are available across the west side of the island, mainly centering around the pier area Thong Sala and more trendy yoga area Srithanu. We stayed in Thongsala as it was cheaper, and enjoyed vegan burritos at the Phantip night market, delicious burgers from Cabana and homemade thai food from Soul Organics – with each meal catering to various budgets from 80 baht up to about 240 baht.
We also hired a motorbike and visited Srithanu, where we ate at Pure Vegan Heaven – a place so full of delicious vegan options it actually boggles the mind. We both had bowls here, mine was a Mexican one and Ellen's a BBQ jackfruit delight that I was a bit jealous of.
As always, fruit was a mainstay in Phangan and we ate loads of it on the beaches, drinking fresh coconuts and eating mango to keep our energy up as we splashed in the shallow waters. We also ate breakfast at a place called Eat Co in Thongsala, a lovely vegan cafe but pretty pricey for Thailand. I tried both a meaty mushroom baguette and a smoothie bowl that were both delicious despite the price tag.
All in all, it's hard to go place-by-place in Phan'gan as there are so many amazing options for food that you'd struggle not to find a great vegan choice anywhere on the island. We skipped the Full Moon Party and left before the end of the month – but otherwise I could have stayed forever. It's a beautiful island with a really laid back vibe and a place I could seriously see myself living in.
Eating Vegan in Ao Nang, Krabi
Our next stop was Ao Nang, which is a seaside town that is full of tourism and hawkers. You can't get down the street without being asked to grab a taxi or Tuk Tuk – so it was a little disheartening trying to find good vegan food here. The options were limited to Govindas, an indian restaurant that serves almost entirely vegan food but seems to not really care if you're in or not (we waited at entrance for ages only to take seats ourselves in an empty restaurant, then the staff just sort of lazed about playing on their phones) or veganising normal meals at other restaurants. We ate at Jungle Cafe, Ao Nang's top restaurant, which we had to reserve. It was nice and they understood what vegan entailed, but I don't really see why it's top of the list. I had a green curry and it was about 100 baht with rice, so maybe it's just the affordability coupled with nice food.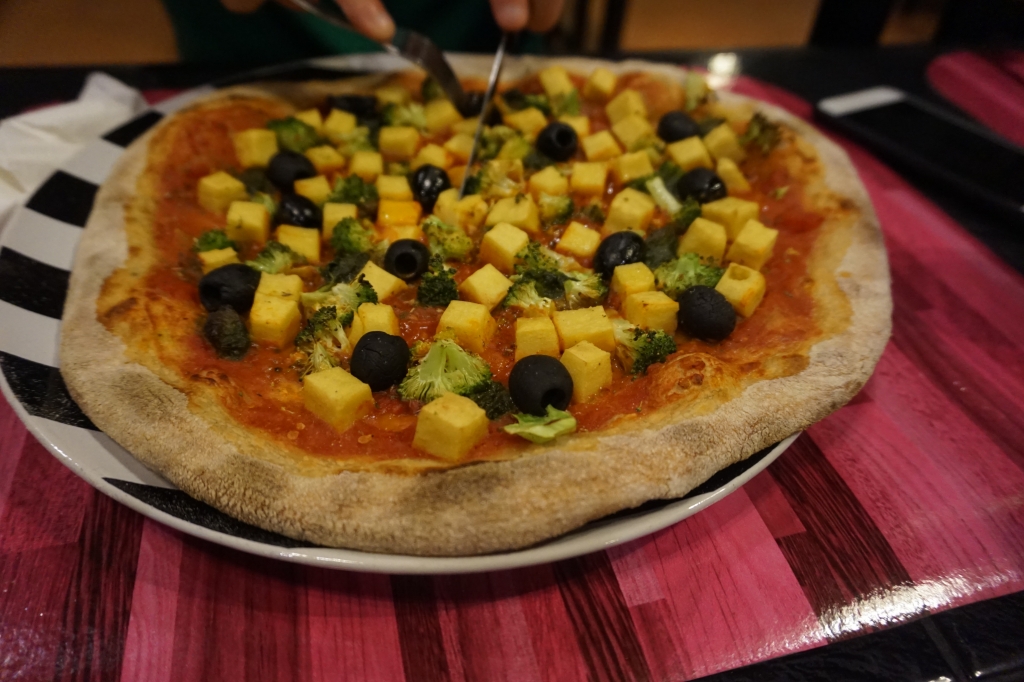 Hungry for pizza? A place called Bouganville pizzeria does a cheese-less tofu vegan piza that is absolutely amazing after a month of not having one. Bring mosquito spray though, or have it delivered to your hotel for an extra fee.
We had a vegan breakfast at an omni place called Buzz Cafe, which was an unusual mixture of hummus, beetroot slaw and seeds on toast, but absolutely welcome after a night out on the town. The owner is vegan, so I imagine more vegan options would be on the menu if more people ate there – so get yourself along!
We also took a trip to Railay Beach, which was absolutely stunning apart from all the plastic and rubbish in the sea. I didn't eat here, as we'd been warned about it by other tourists who claimed they got sick there because the sanitary system is poor. However, we did see wild bats in the caves which was great.
Next, we took a trip to the laid back island of Koh Lanta.
Eating vegan in Koh Lanta
Koh Lanta is an island that looks small on a map but is fairly sizeable in practice, taking about an hour on a motorbike to get from north to south. We stayed up north at the pier, where all the restaurants were shut and vegan options non-existant. Further south, however, is the delightful Happy Veggie, which serves up a vegan menu that is terrific.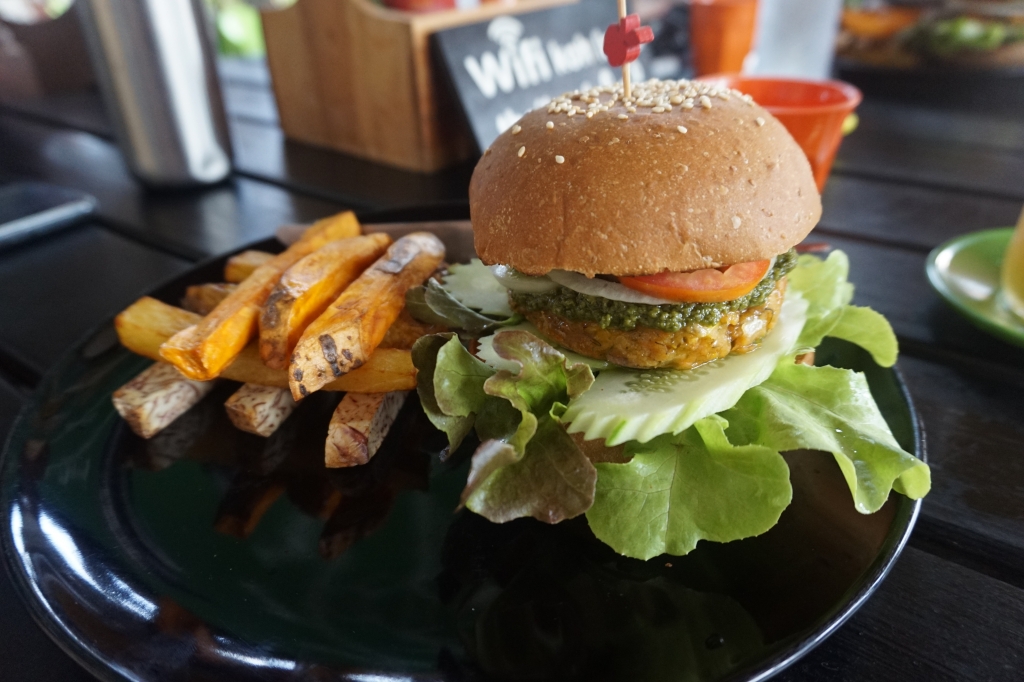 Better still, it's right next to Lanta Animal Welfare – a rescue centre for cats and dogs that visitors can go to and either play with kitties, walk dogs or eat at their little onsite vegan cafe. It's a beautiful place and Ellen and I spent a day here walking dogs, meeting cats and learning about the centre. We loved it so much that we volunteered – and we'll be spending three weeks there in September!
As a side note, if you're an animal lover but don't get to see many animals due zoo ethics, Koh Lanta is amazing – there are monkeys all over the south of the island and even monitor lizards. We trekked to a little waterfall and spotted an entirely wild family of monkeys that we got to observe in their natural habitat. Amazing.
Koh Lanta went by quickly, so we're glad we are going back.
Eating vegan in Koh Phi Phi
The party island of Koh Phi Phi was our next stop. Unfortunately, we're not huge on partying – but we are big on discovering vegan options. We ate at Dow Vegetarian both nights of our stay. It's got a monumental menu and is, to my knowledge, the only pure veggie restaurant on the island. We also had lunch in the grand arcade at a little Thai place, where the woman understood our request for pineapple fried rice with no fish sauce, egg or milk.
Phi Phi also saw me unwisely fighting a guy in Reggae Reggae bar, a place where you can compete in Muay Thai against another bar patron for a chance to win a bucket of alcohol. At 600 baht each, I couldn't turn down the chance so agreed a match against a french guy who was keen to prove himself. Luckily I've trained for a long time so was able to set the pace and relax, especially after four cocktails.
Phi Phi is also an unbelievable area of beauty. We hired a private longtail driver for 4 hours for about 20 British pounds and it was so worth it. We snorkelled in crystal clear water, saw monkeys on a beach and even had a nice encounter with a friendly chicken who ate some of our coconut.
Unbelievably, our last stop in Thailand was upon us already…the tourist-heavy island of Phuket.
Eating vegan in Phuket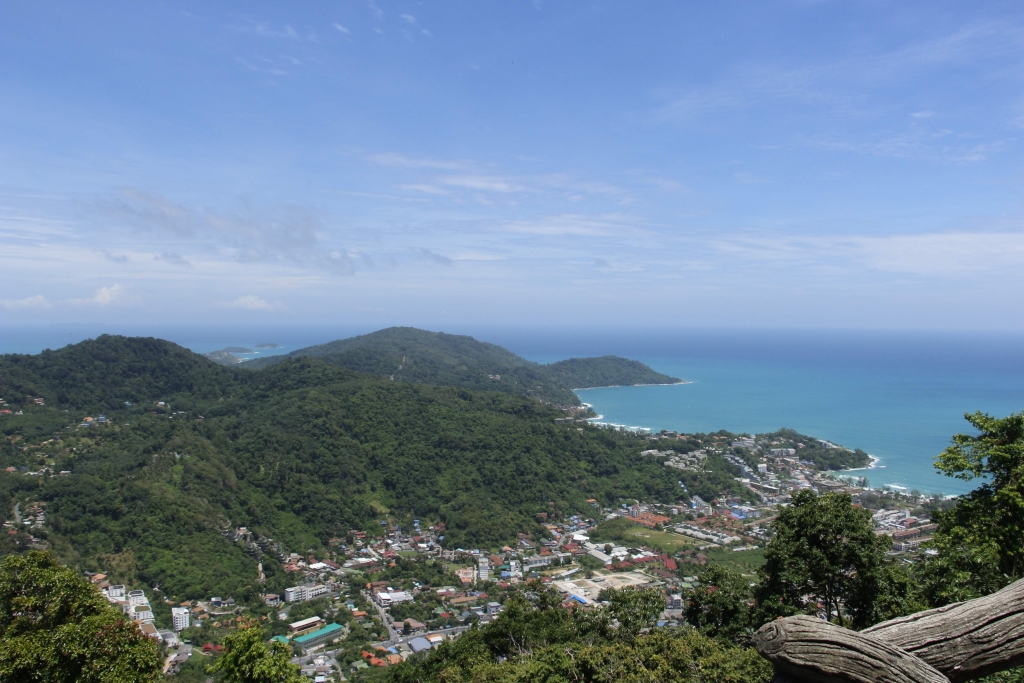 Phuket is big. It's a place where the resort area you stay in will sort of limit your range. We stayed in Kata, so our options were limited to where I dared motorbike to. We ate after a horrific boat crossing through massive waves at an Italian restaurant that had vegan options called Buon Gusto. After a splash in the sea, we had dinner at Pure Vegan Heaven (the sister restaurant of the Phan'gan one) and it was lovely, with a similar menu and the same amazing bowls. This time, I got the jackfruit one!
We also found a great Jay place in Kata, Sai Than Boon, which is on a main road but so worth the fear of crossing. It's got a fantastic mock meat menu whose crispy mock pork was scarily close to the real thing but absolutely delicious. We had a really quiet meal here with no one else in, and the staff were lovely. I'd recommend this place to anyone looking for vegan food in Kata.
Unfortunately, that meal was the last of our trip to Thailand. Our bags packed and bellies full, we headed to the airport to catch an extremely early flight to Siem Reap, Cambodia. This also marks the end of my first post. If you'd like more digestible, shorter content around vegan travels, our attempts to be ethical and what being vegan means to us, follow mine and Ellen's journey on our website Howay the Herbivores. We'd also love it if you subscribed to our YouTube channel!
Until I write our Cambodia overview, which will be a lot shorter consider we only spent 8 days there, it's goodbye from me. Thailand was a really special place as a vegan, and I can't wait to return in September.