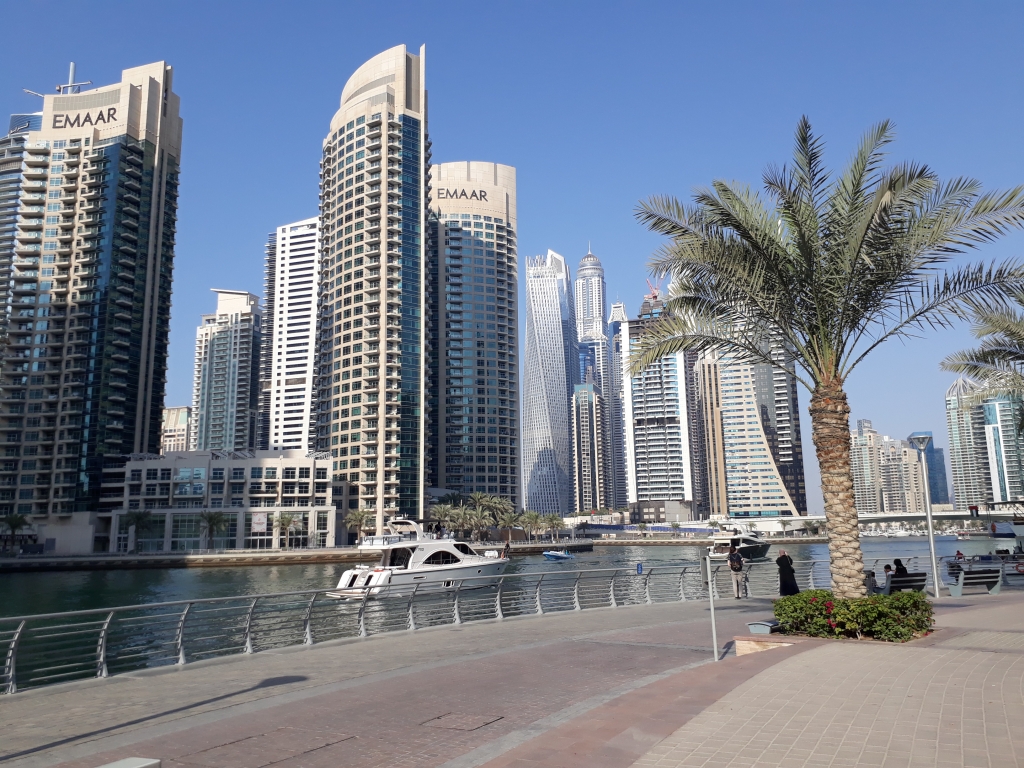 In the Arab Gulf, we have ample access to authentic Indian cuisine and an array of Mediterranean delights, but there is nothing more affirming to the vegan palate than a proper vegan pizza. We're not talking about the cheese-less veg pizza or the hummus substitute for cheese. We're talking stringy, stretchy, cheese-substitutes adorned with or without whatever veggie goodness that may follow. A few years ago, such a treat was a far-fetched dream in this region but in the last two years, a few brave restaurants offered a vegan cheese option and have seen a five-fold increase in demand. So much so that many pizzerias offset the higher cost of non-dairy cheeses just to supply the growing requests for vegan options on their menus. In a classic example of "supply and demand", several businesses have been forced to create a dedicated vegan menu including salads, sandwiches and desserts. If you find yourself in the Arabian Gulf, here are three vegan pizza options not to be missed.
Vegan Signature Pizza at Freedom Pizza, Dubai, UAE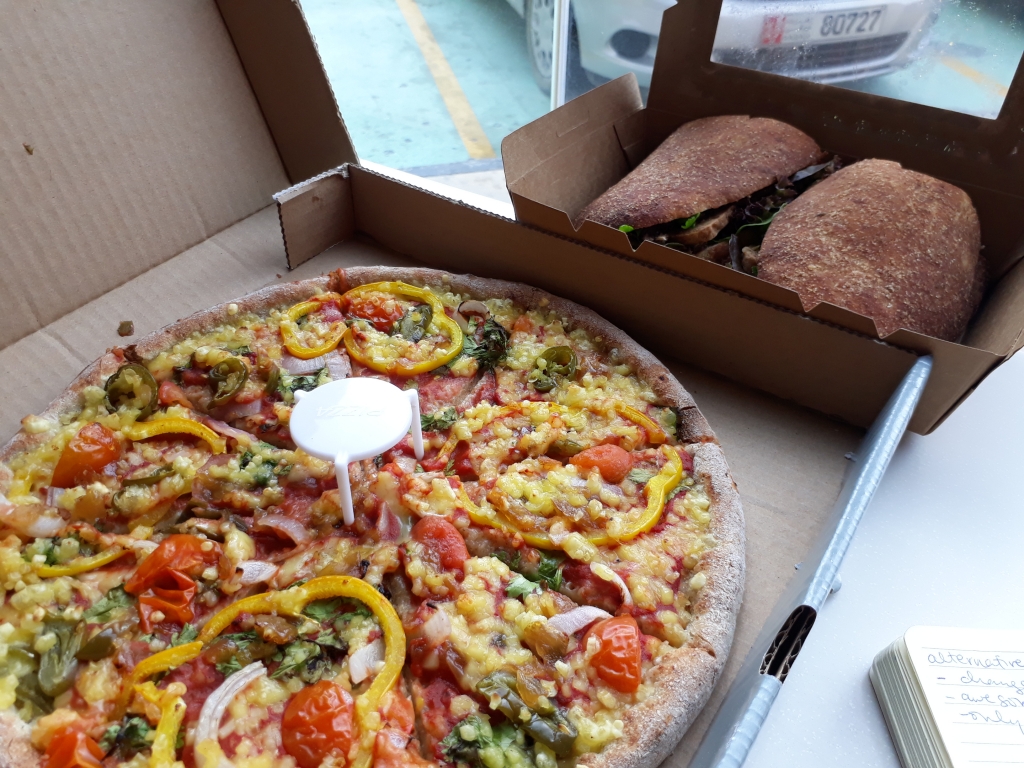 Collaboratively created by the votes of dedicated customers, Freedom Pizza's latest creation is a tasty crowd-pleaser. Their wholesome multi-grain (or gluten-free) crust is topped with a coconut-based vegan cheese and adorned with freshly picked jalapenos, cilantro, caramelized onions, yellow bell peppers, and cherry tomatoes, all sourced from Greenheart Organic Farms in nearby Sharjah, UAE. Additionally, Freedom Pizza serves an amazing Vegan Tartina Sandwich, Superfood Salad and locally-made, raw vegan treats like Salted Caramel Cheesecake from Coco Yogo and Bounty Balls from Essentially. With a simple ethos of delivering delicious pizza without compromising conscience, Freedom Pizza has something for everyone. It's one of the rare eateries where everyone from raw vegans to gluten-free diners can enjoy their meal in peace.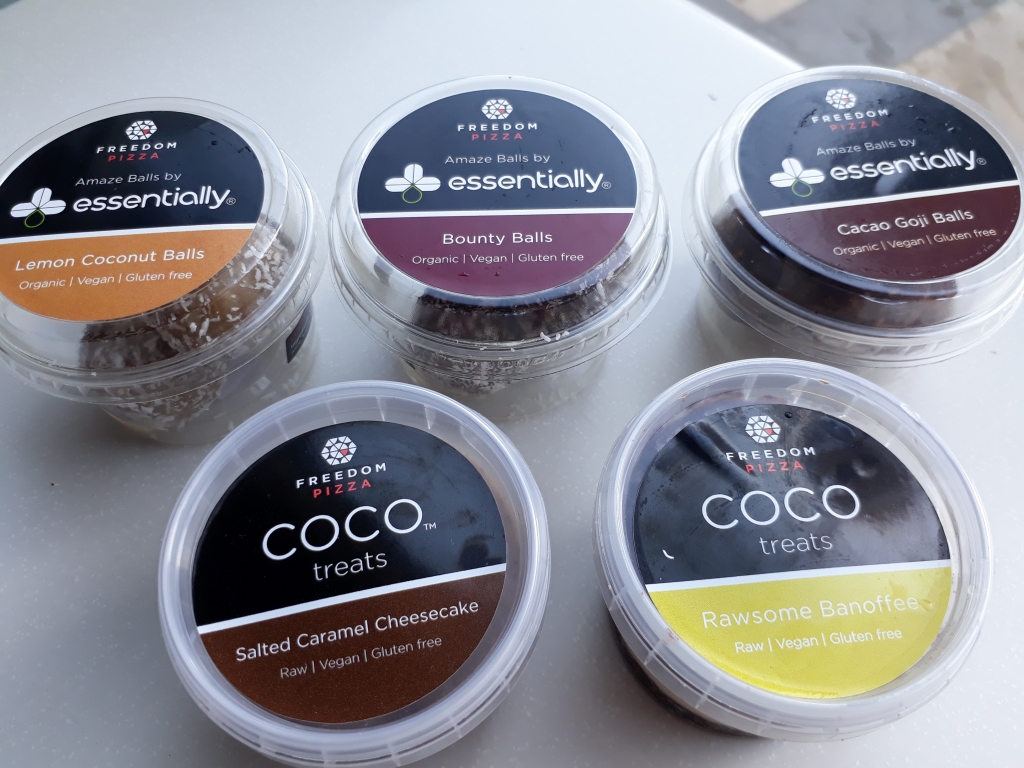 Ortolana Pizza at Pizza di Rocco, Abu Dhabi, UAE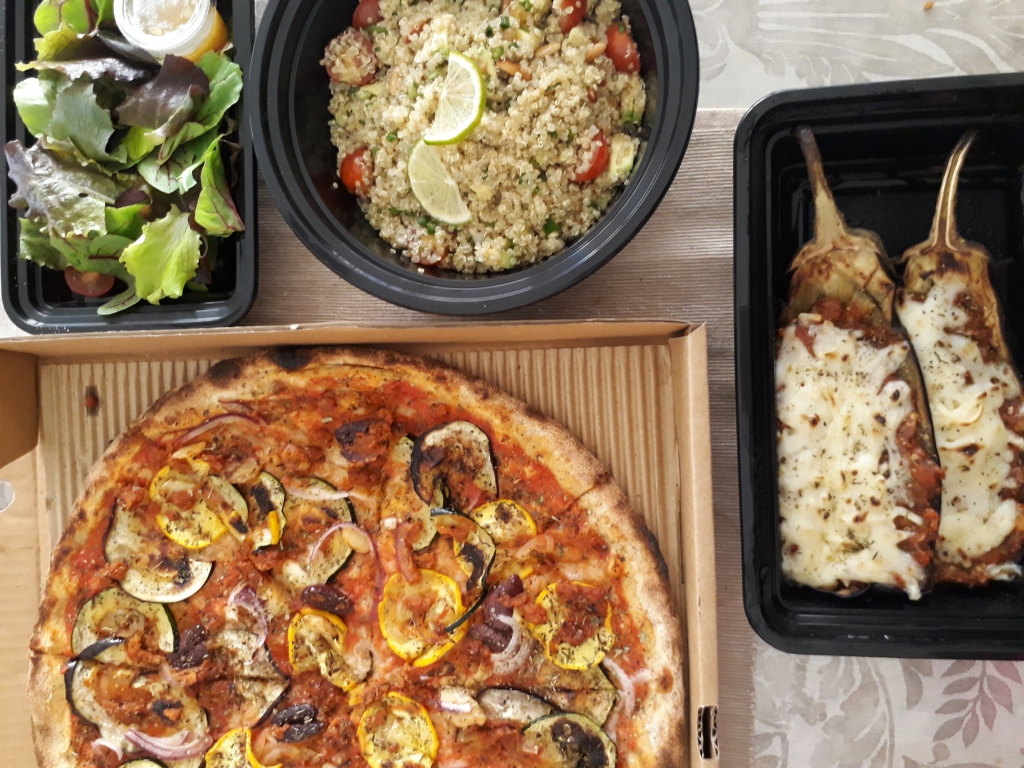 Priding themselves in authentically Italian cuisine, Pizza di Rocco's Ortolana pizza masterfully combines sliced eggplant, roasted zucchini, olives, onions, roasted garlic, sun-dried tomato pesto and mixed herbs. I love that they offered a whole wheat crust as an alternative to white flour. The delicious cheese-less pie was rich in flavor and paired well with the Melanzane Al Forno, baked eggplant halves generously topped with vegan mozzarella, chopped garlic, fresh herbs and sauce. Both the green salad and Organic Quinoa Salad rounded out the meal to feel fully nourishing and healthy. Their recently launched vegan menu has a selection of several pizzas, but also antipasti appetizers, build-your-own salads, and, coming soon, vegan dessert options.
Superbiotic Pizza at NKD Pizza, Janabiya, Bahrain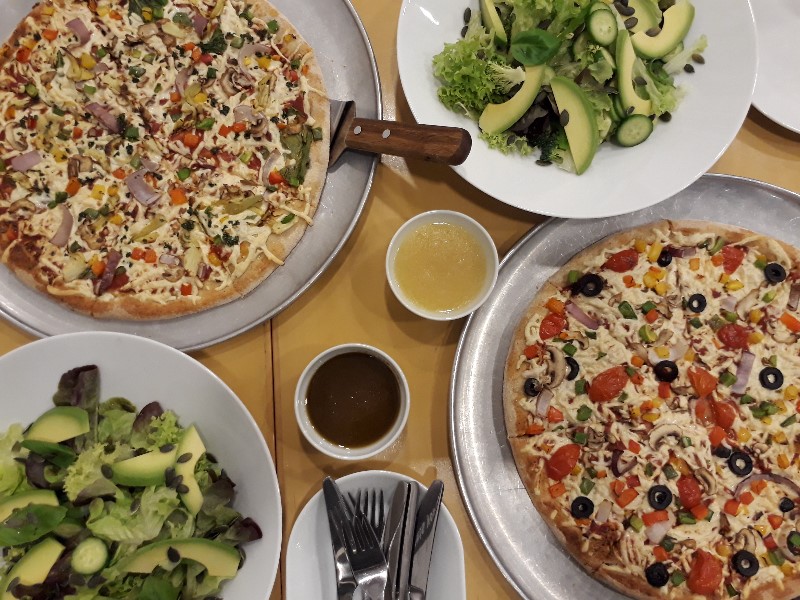 The foundation of NKD pizza is their trademark ancestral 10-grain crust which includes spelt, quinoa, and teff. Followed by a fresh herb-infused tomato sauce and shredded Daiya cheese, the Superbiotic is topped with artichoke, spinach, mixed bell peppers, mushroom, garlic, onion, and cilantro. This prebiotic and probiotic-packed pizza sneaks in more nutrition than you can taste and pairs well with the Green Salad topped with broccoli, avocado, cucumber, pumpkin seeds, and basil. Though founded in New Orleans, the NKD Pizza has reached far and wide in its effort to make shamelessly good pizza with no fillers, preservatives, or ingredients you can't pronounce. Though my first taste of NKD pizza was in Bahrain, I hope the franchise will make its way to my city soon.