Penang is a wonderful mix of European colonial charm, and Asian empires. Georgetown is Penang island's main city, and it is where we spent most of our time eating. Unbeknownst to us, Penang has a large Chinese Buddhist population, so eating vegan was incredibly easy.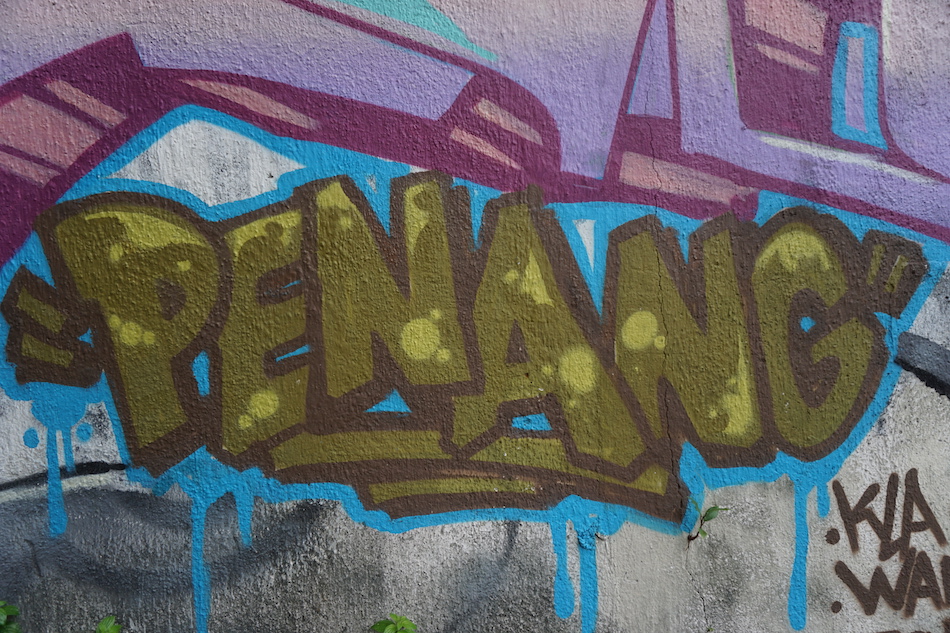 In Buddhism, there are varying schools of thought. Chinese Buddhists follow Mahayana Buddhism which generally recommends a vegetarian diet free from animal products, as they believe the Buddha insisted that his followers should not consume the flesh of any sentient being.
The first precept in Buddhism is usually translated as "I undertake the precept to refrain from taking life".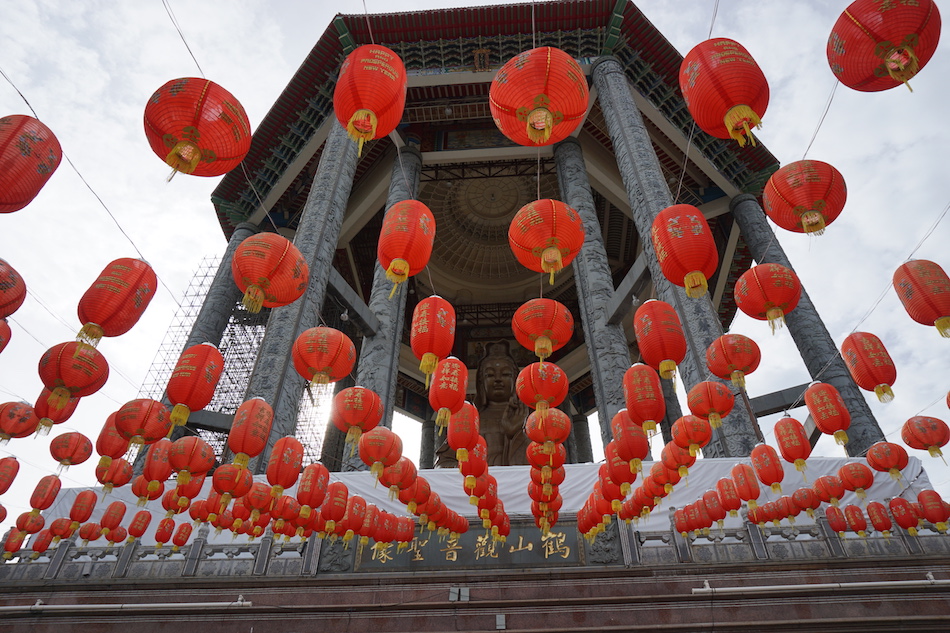 Buddhist Chinese food consists of a lot of seitan, or 'wheat meat' which doesn't usually upset my stomach, but tended to give me an upset stomach during our stay, so I stayed away from it for the most part.
Without wasting anymore time, we present you with every place we ate while in Georgetown, Penang, with the exception of Cloud Dreaming (Sungai Ara)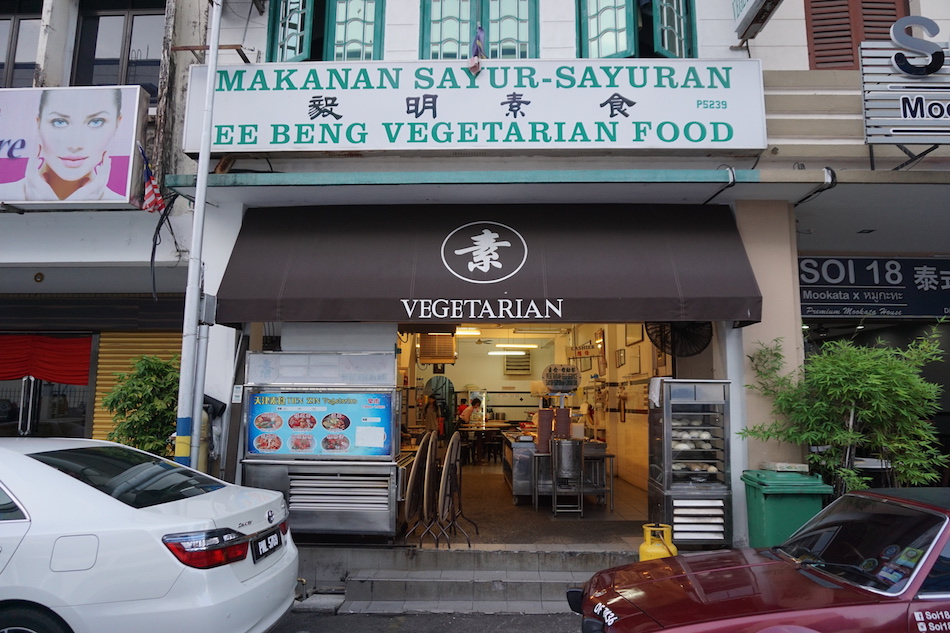 Ee Beng is a typical Chinese canteen serving vegan food. They serve soups, steamed buns, savoury porridge, or you can opt for their buffet.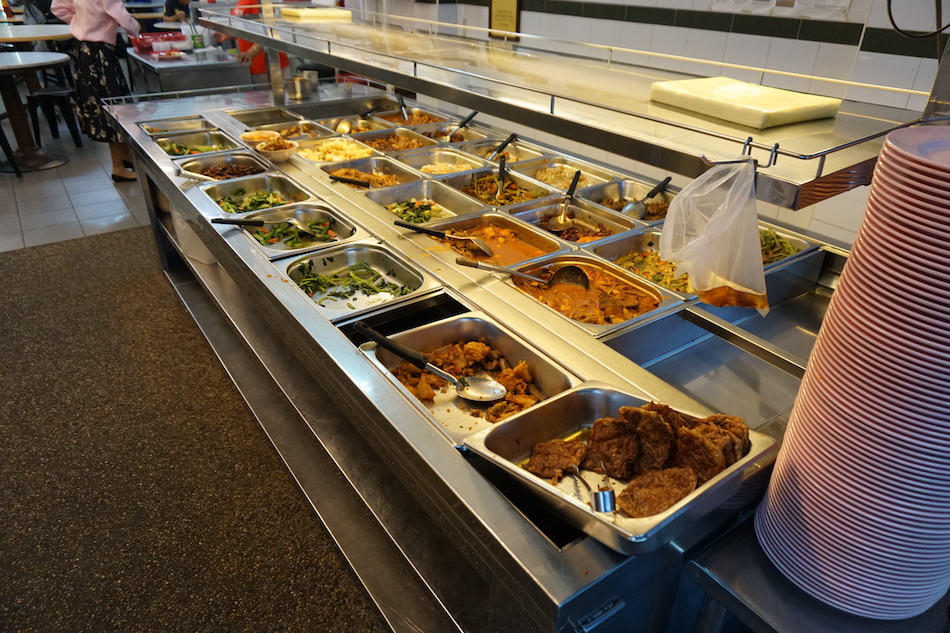 The food was good and plentiful during our lunch visit, but there was much less when we visited in the evening. The price depends on the amount of dishes on your plate, but whether you choose to eat light, or pile it on, it will always be inexpensive.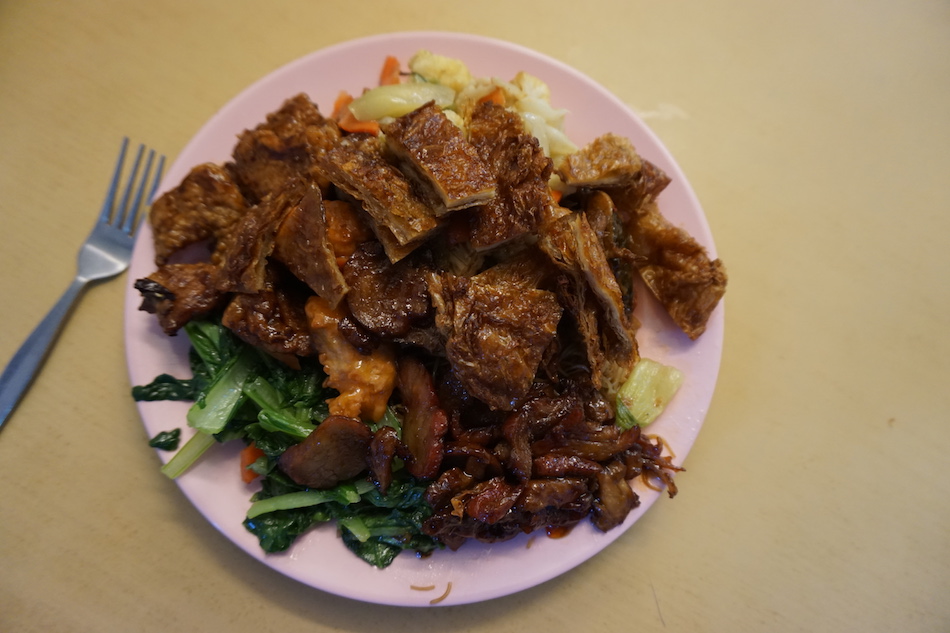 That is the beauty of Buddhist vegan restaurants.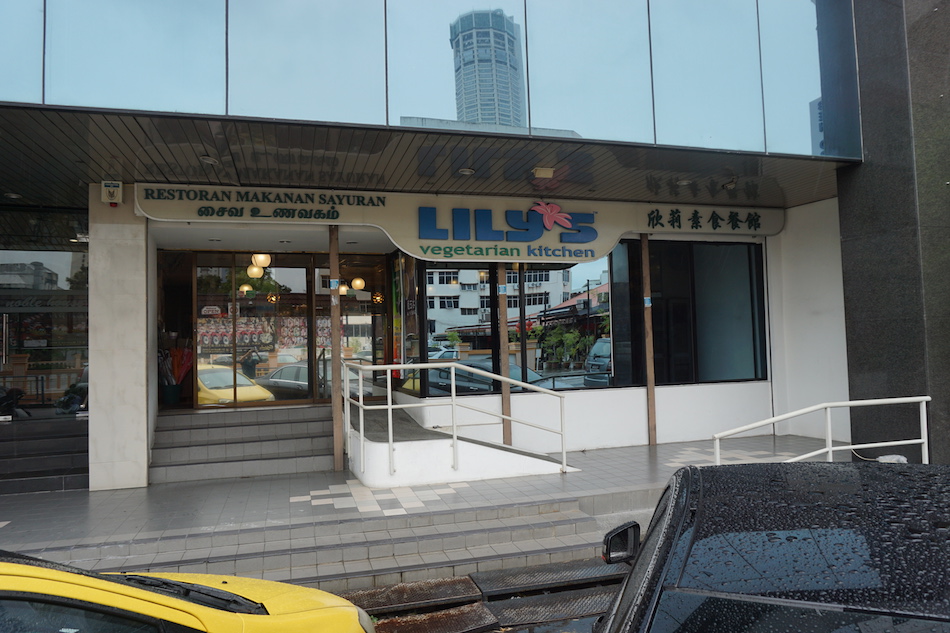 This veg restaurant has a large menu full of Chinese and Malaysian vegan options. The laksa is worth a try, but if you are craving something western, they also serve croissant sandwiches, but be sure to ask if they are fully plant based.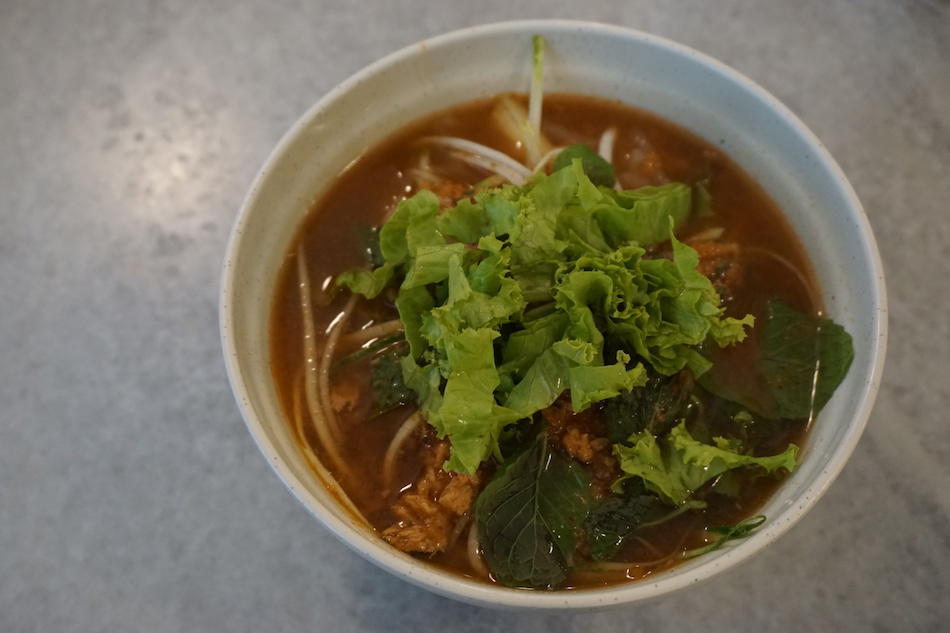 Lily's was busy for lunch when we arrived, but there were still many tables available.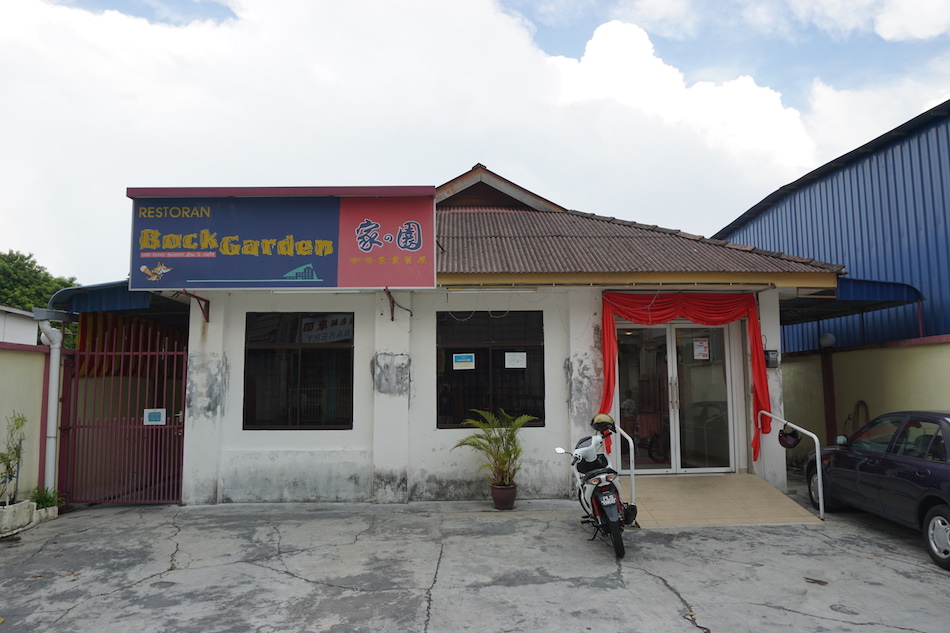 Bock garden is another Chinese vegan restaurant about a 10 minute walk from Ee Beng.
The menu here offers mostly Chinese and Malaysian cuisine, and fish and chips! It's amazing what can be done with seitan and an imagination.
The set meals are a good choice, and the fried wonton in sweet and sour sauce were really tasty, although they could have gone gone a little easier on the sauce.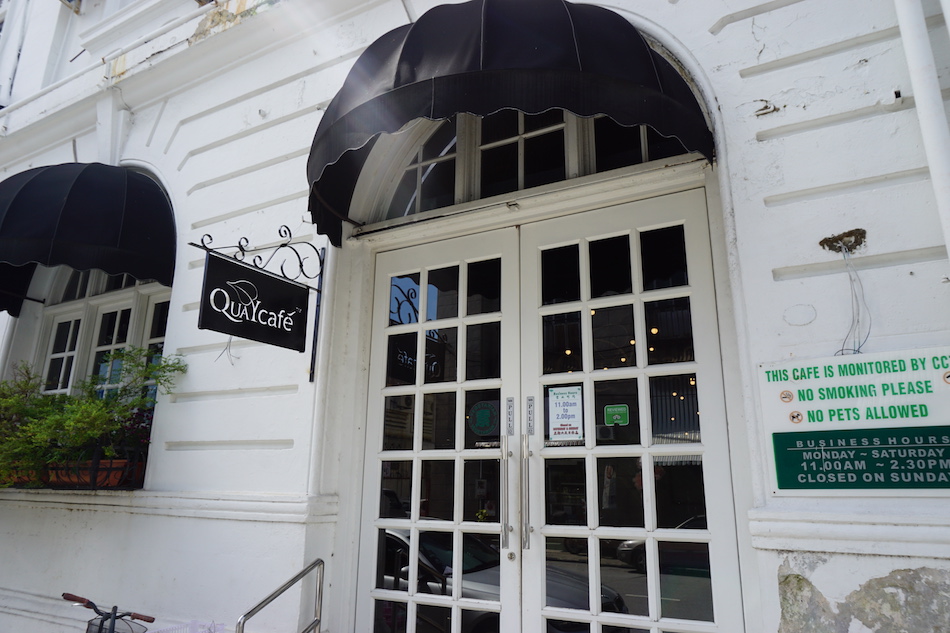 Set in a beautiful building with exposed brick and a high ceiling, Quay Cafe has a nice vibe and good value. This is yet another Chinese vegetarian restaurant, but the food we had here was fresher and healthier.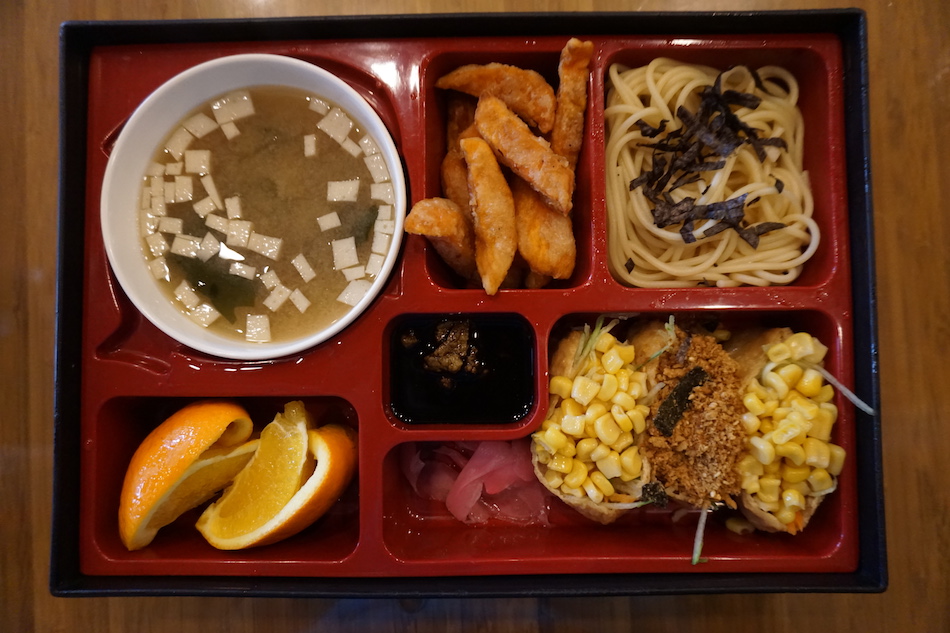 My Japanese bento box filled with sweet potato fries, spaghetti and seaweed, stuffed tofu skins, miso soup, and sliced oranges was a delicious choice, however, Cody's noodle soup was on the bland side.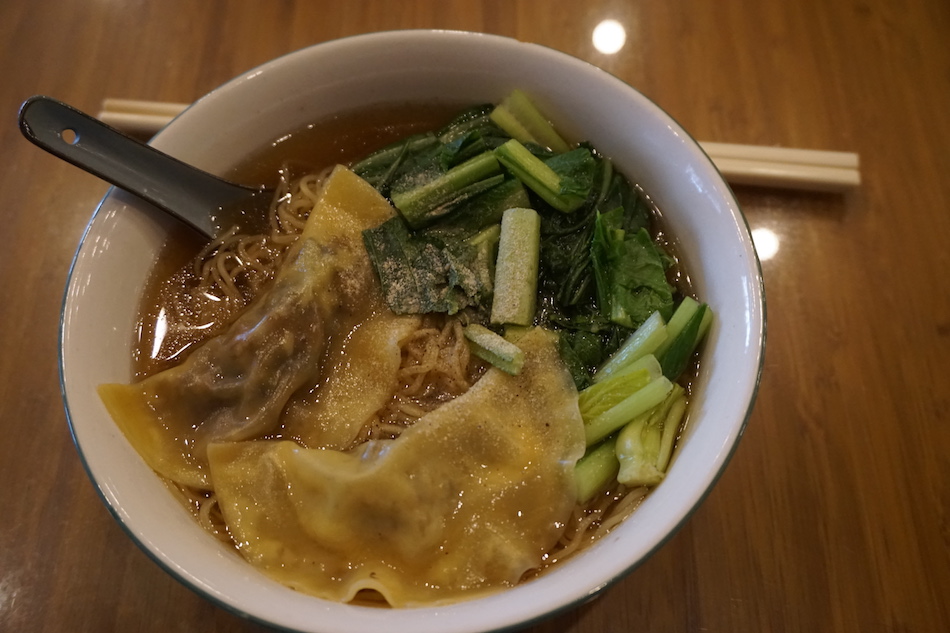 This restaurant is surprisingly only open for 3 hours in the day, from 11am to 2pm.
This lovely Cafe is quite busy during lunch serving up wholesome food including soups, salads, fruit juices, and set meals to locals and tourists alike.
The atmosphere is tranquil, and the food is fresh and light. We had a great lunch at the leaf.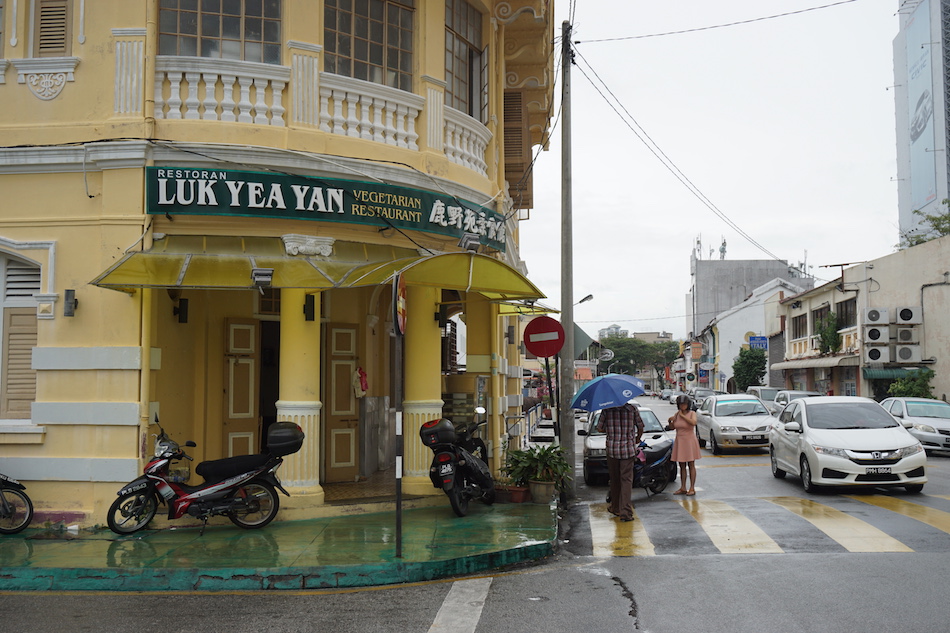 Yet another Chinese vegetarian restaurant with a very large (2 layers), and tasty buffet.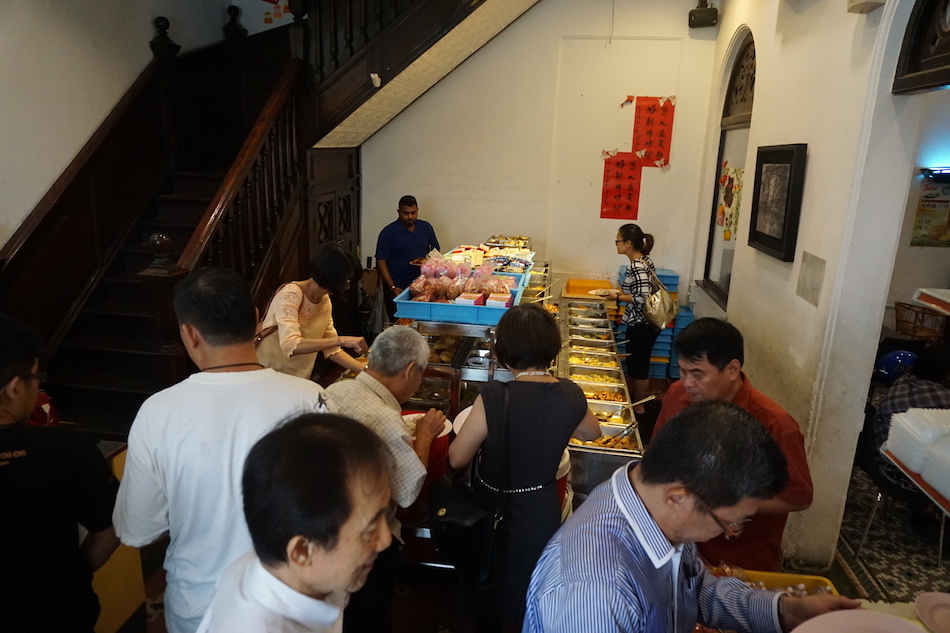 We arrived during lunch time and it was buzzing with locals. Plenty of veggies here, curry, potatoes, mock meats, rice porridge, and you can even order spaghetti and tomato sauce at the front counter.
They also sell biscuits and other vegan takeaway items.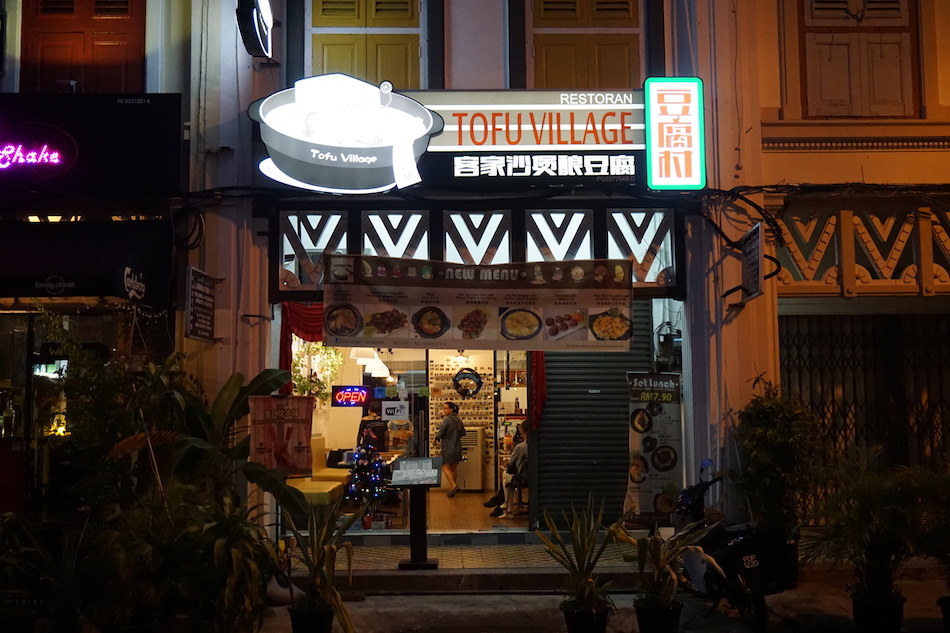 This delicious resto is a must when visiting Penang. It is not a vegetarian restaurant, but they do have several vegan options and a really fantastic spicy chilli tofu served in a clay pot.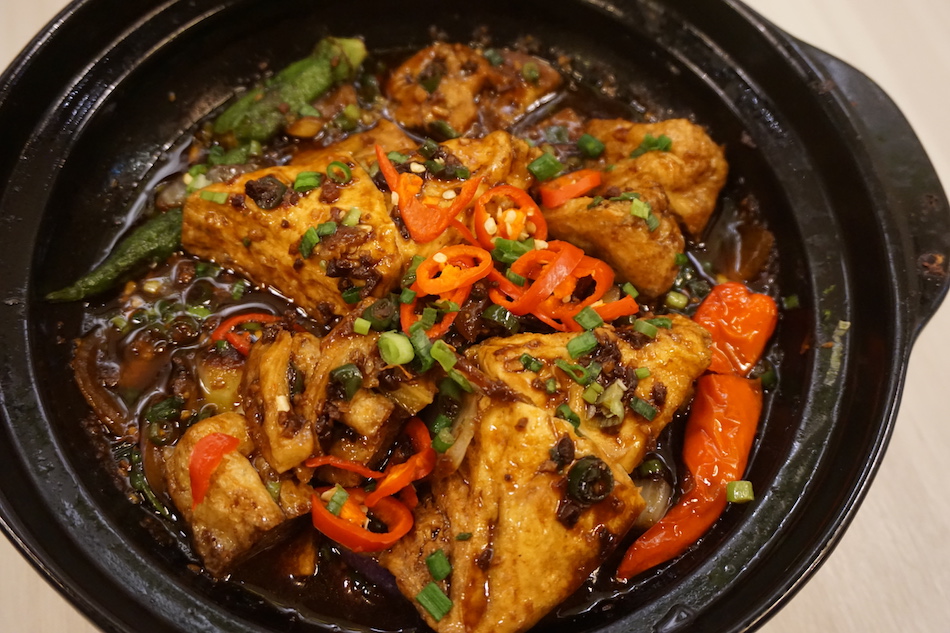 The staff at Tofu Village were very helpful and friendly and they have cute little cardboard cutout veggies and tofu that you can snap photos with.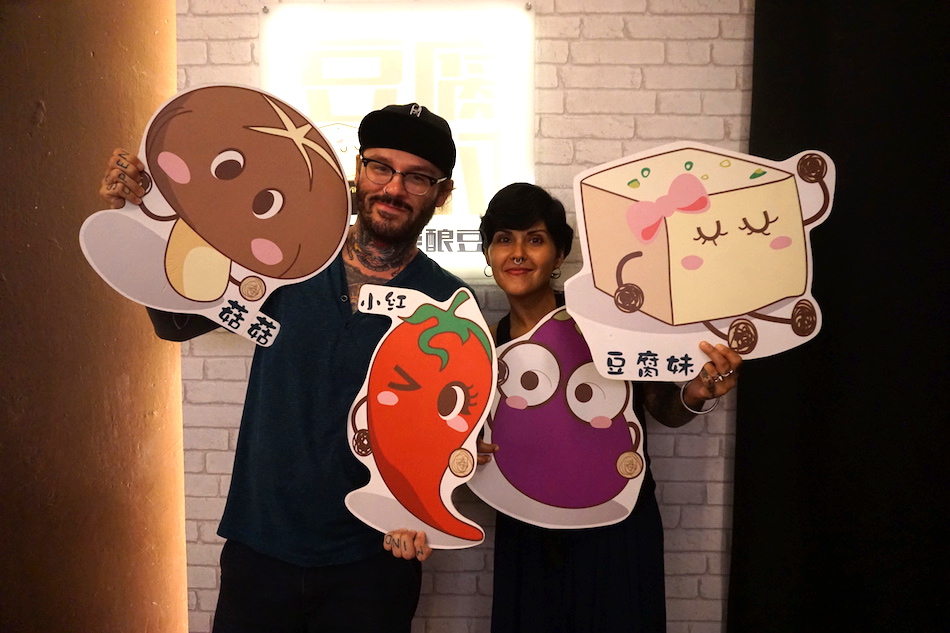 Cody and I shared the spicy tofu with a plate of rice, and it was the perfect portion for the 2 of us. I wish we had visited a second time for more tofu.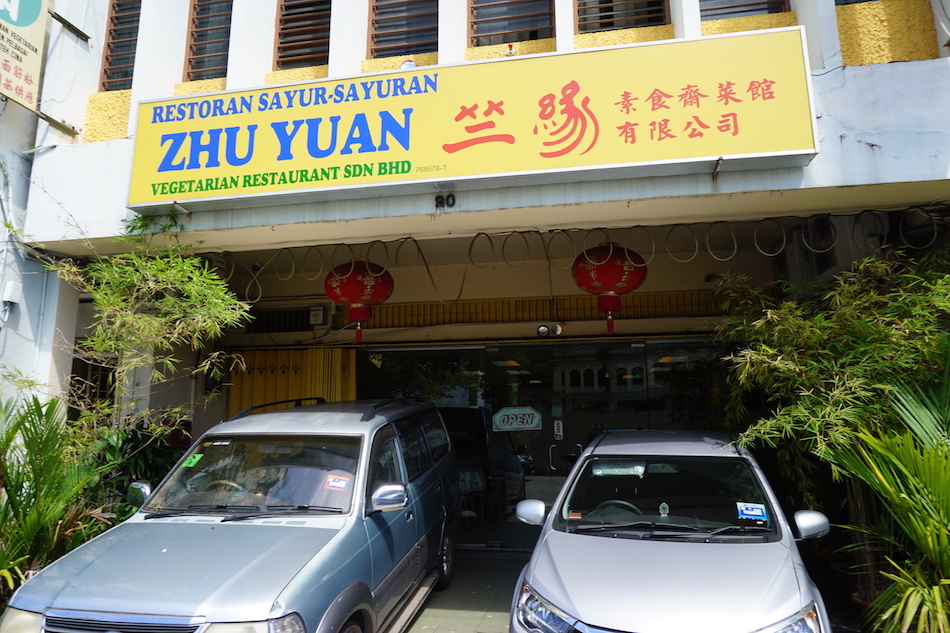 Zhu Yuan is another delicious Chinese vegetarian restaurant serving several different vegan meals.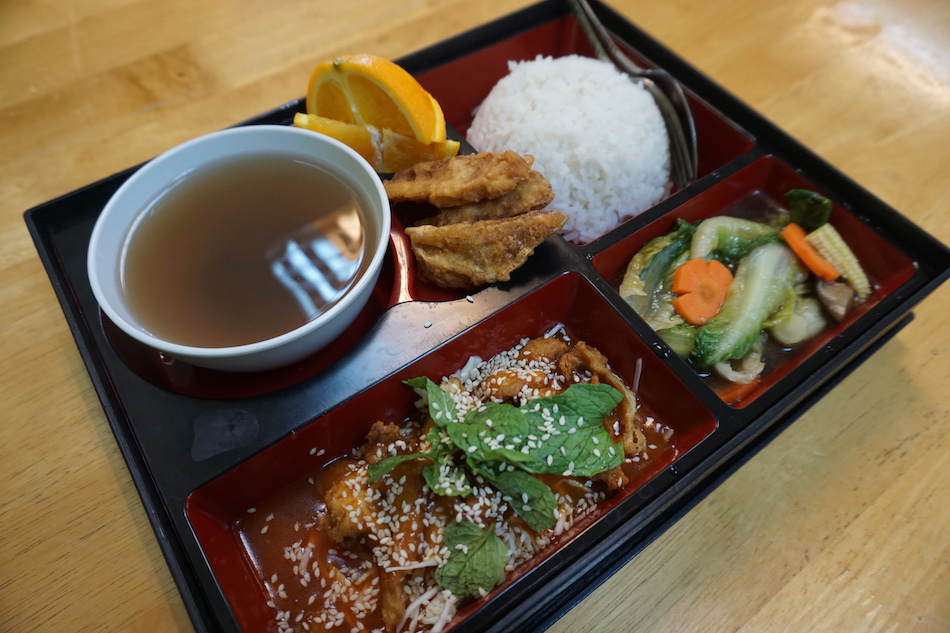 The bento box was delicious and fresh, as were the incredible chik'n satay skewers served with peanut sauce. The bento box consisted of sesame chik'n, steamed veggies, rice, sweet potato wedges, and a soup. Really a must try if you visit.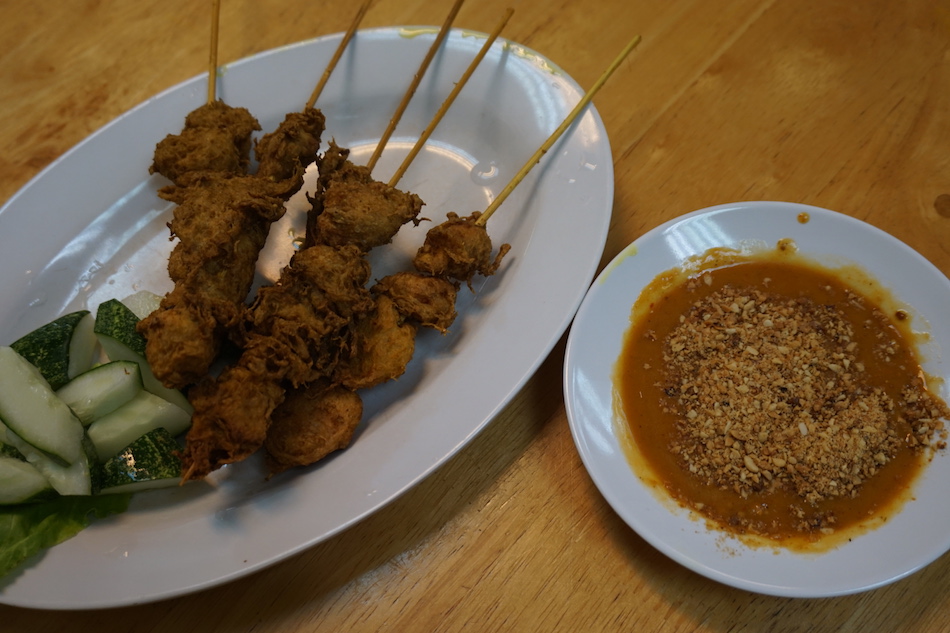 The atmosphere is casual, and the price is right.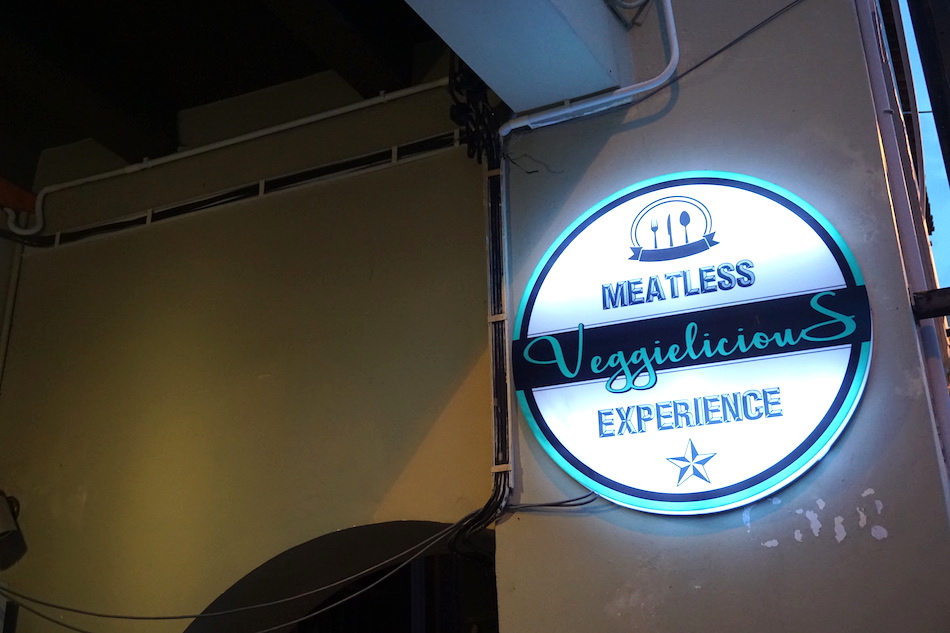 Stumbling upon this little vegetarian Cafe was a nice surprise. While exploring the art on Armenian street, I spotted a sign reading 'Veggielicious', so we decided to pop in to take a look at the menu.
Cody and I shared a tasty mushroom burger with spiced potato wedges. We weren't expecting much, but the burger and fries were quite delicious.
Veggielicious is located in Armenian Suite; a hotel in a busy tourist area, making it a great place to duck into from the intense heat for a quick bite.
COCONUT ICE-CREAM STALLS
There are coconut ice-cream stalls all over Penang, you just have to be sure to ask whether there is cows milk in the ice-cream.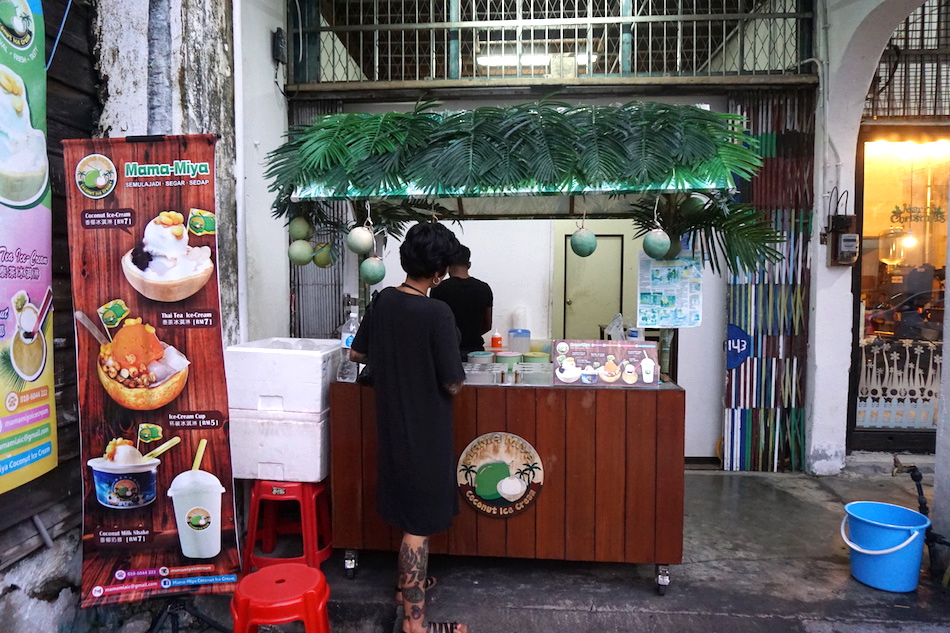 Some are completely plant based, and others contain milk-for some reason. I loooove coconut ice-cream; it is heavenly on a hot day in Penang, or anywhere for that matter!
Penang's Little India is located in the heart of Georgetown, and it is covered by 3 streets. There are quite a few pure veg restaurants to choose from. It is well known that Malaysia has some of the best Indian food outside of Indian, so we were in luck.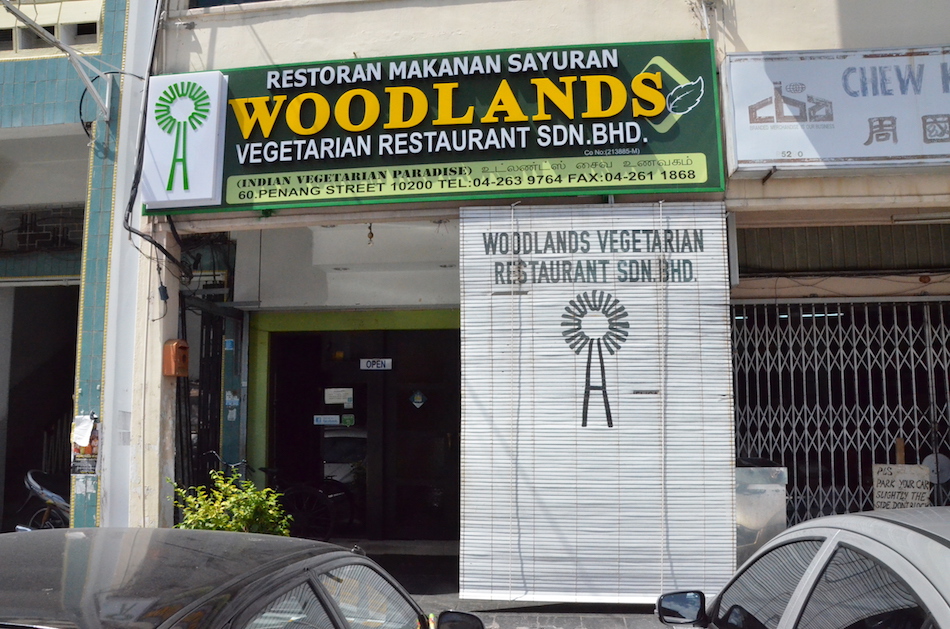 Woodlands is a clean and simple pure veg restaurant in Georgetown. Their massala dosa and idli are savoury and lip smackingly good.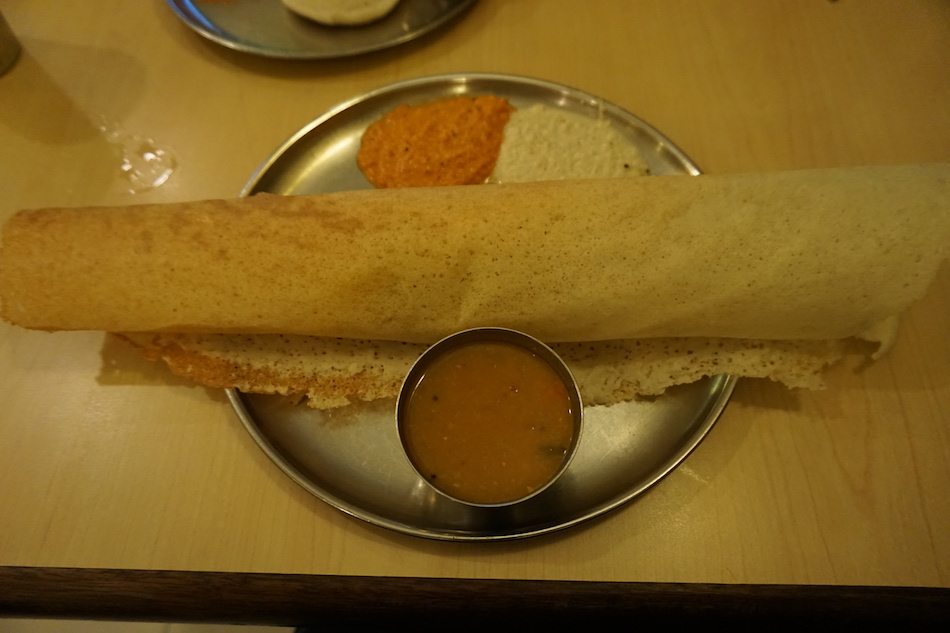 Dosa is a thin crispy crepe like Indian snack usually served as a breakfast dish with coconut chutney. If you have never tried coconut chutney, you need to go get some right this minute! Coconut chutney is made with fresh chopped coconut, green chilies, ginger, and lemon juice and is served as a dip or side dish.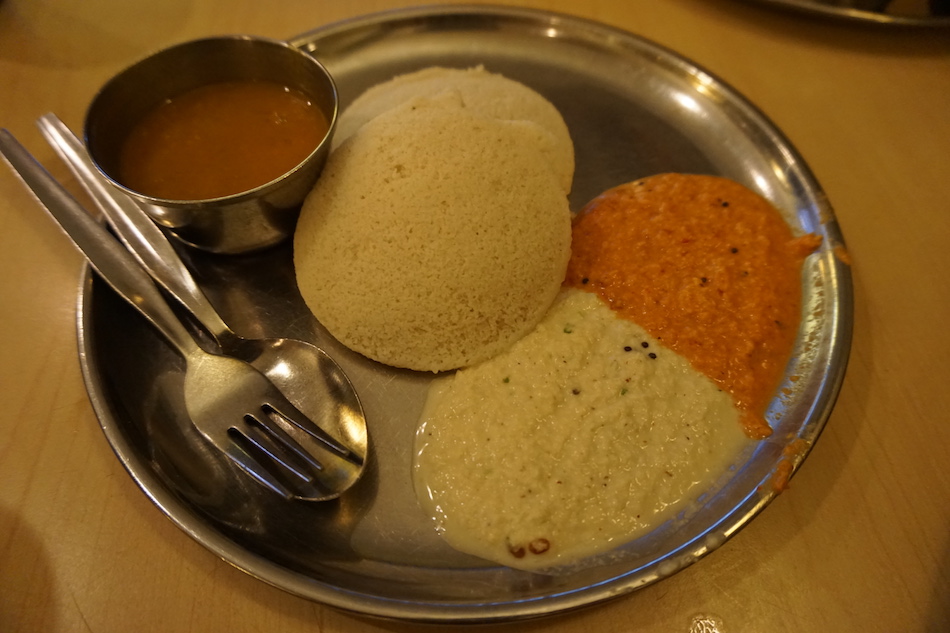 We also shared some idli, a savoury snack made with rice flour, and fermented black lentils, then steamed and also served with coconut chutney, and sambar- a veggie based lentil stew.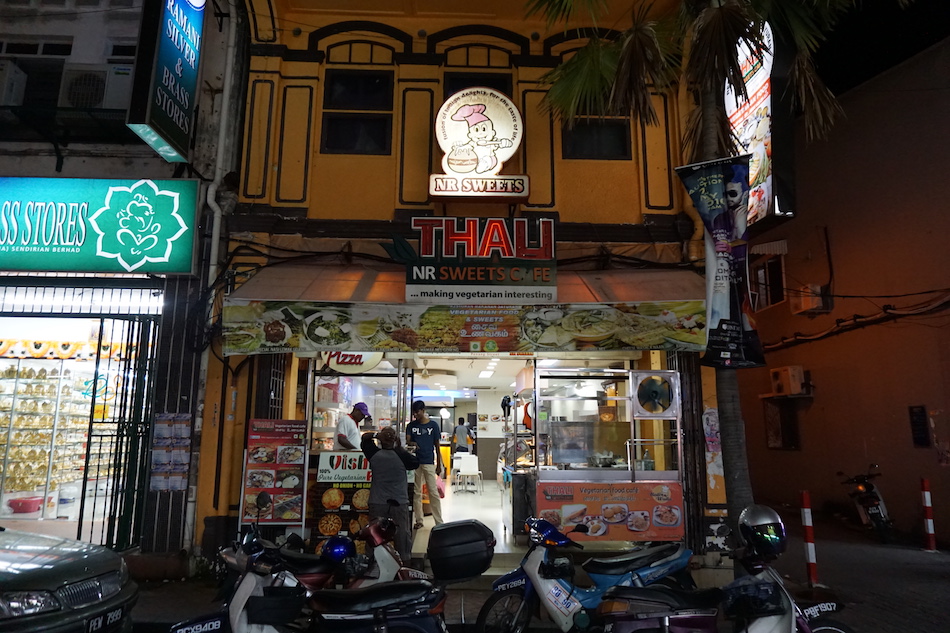 Another pure vegetarian Indian restaurant serving several different types of thali, and who'd-thunk-it? Pizza! Hawaiian with vegan ham, and even mutton. The pizza was pretty decent, but the laksa or Curry Mee was even better. As was the masala dosa.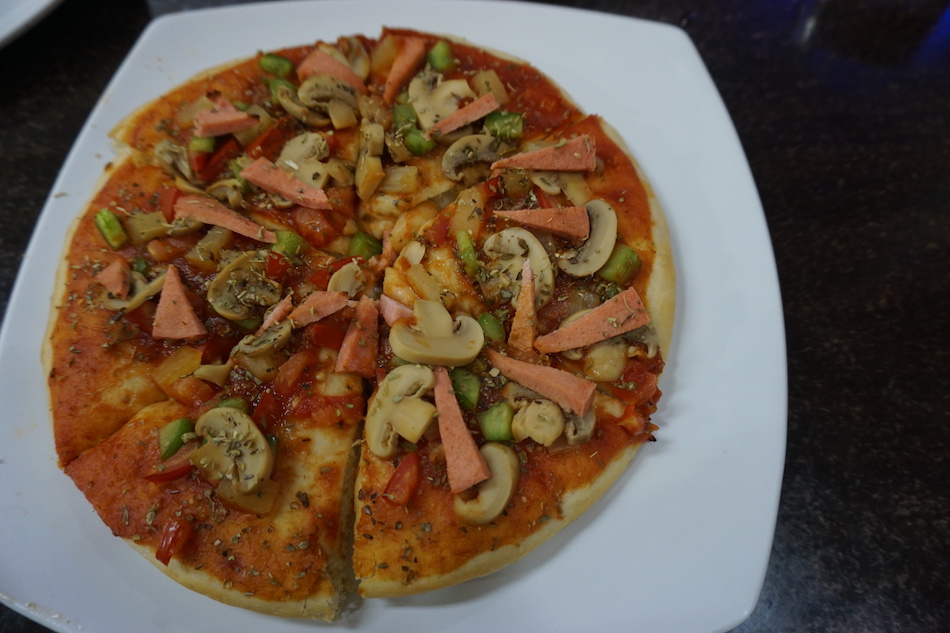 They also have 2 Indian sweets suitable for vegans, but the neon pink coconut bar is incredibly sweet and close to being inedible.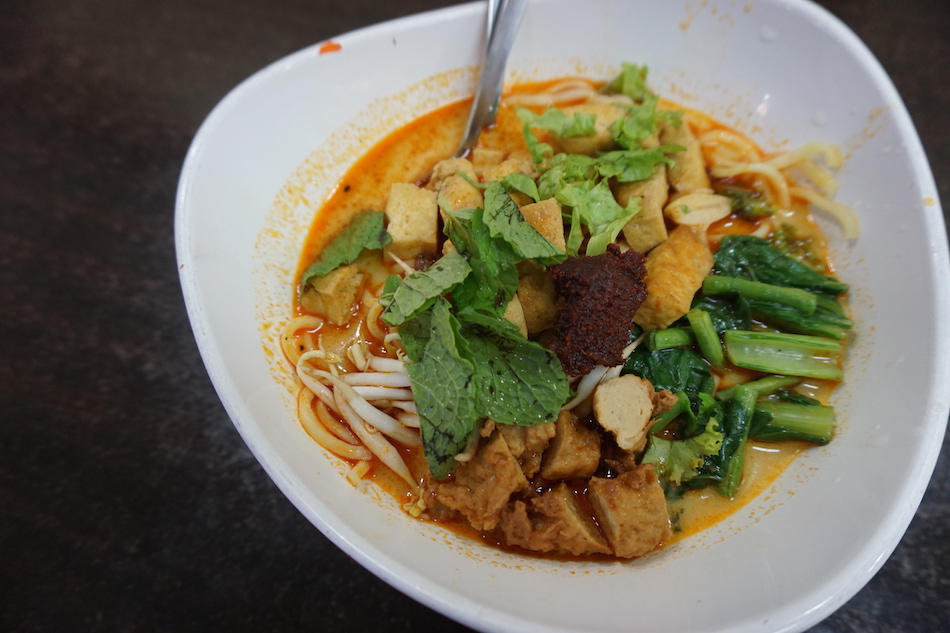 Go for the chocolate coconut bar. It's perfect with tea.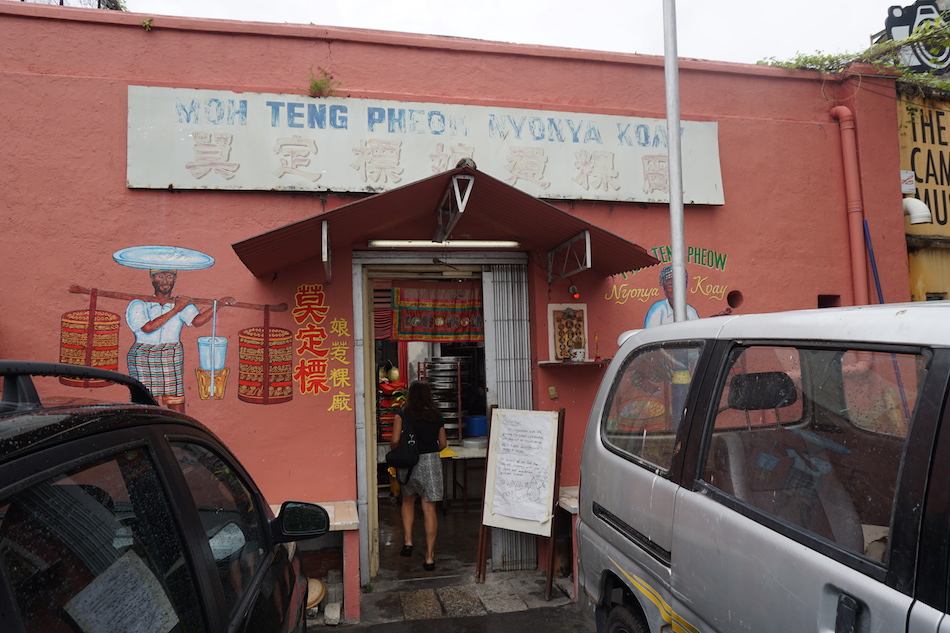 I am always on the lookout for accidentally vegan sweets, and I'm happy to report that we found quite a few at Moh Teng Pheow in Penang.
This traditional Chinese canteen serves up a dessert called 'nyonya kueh', a steamed sweet made with rice flour, coconut milk, mung bean, and coconut palm sugar.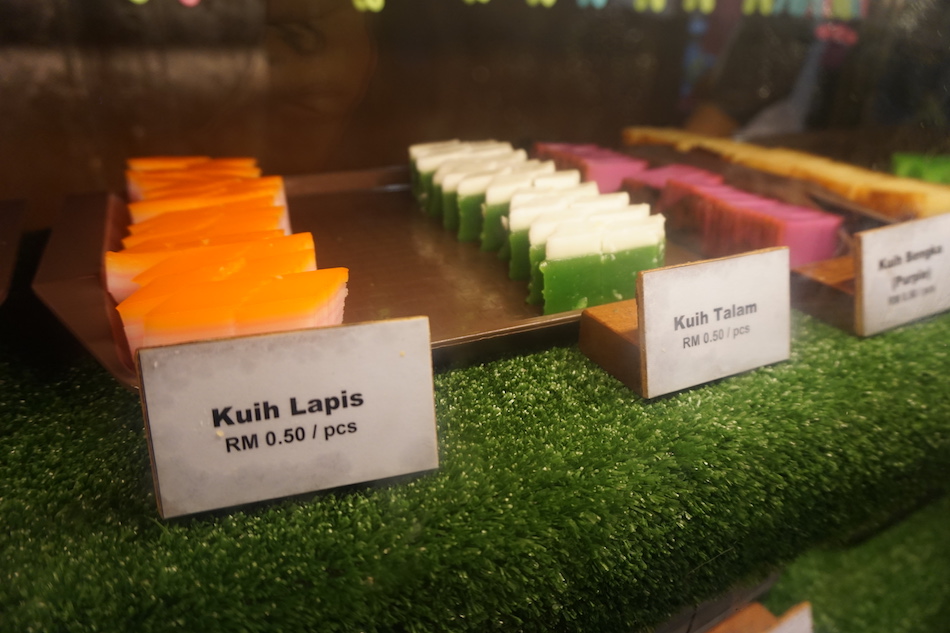 They have a custard like texture, and their vibrant colors are made by using natural plants like butterfly pea flower, and pandan leaf. We had a variety to choose from, and at .15 cents a piece, we tried them all.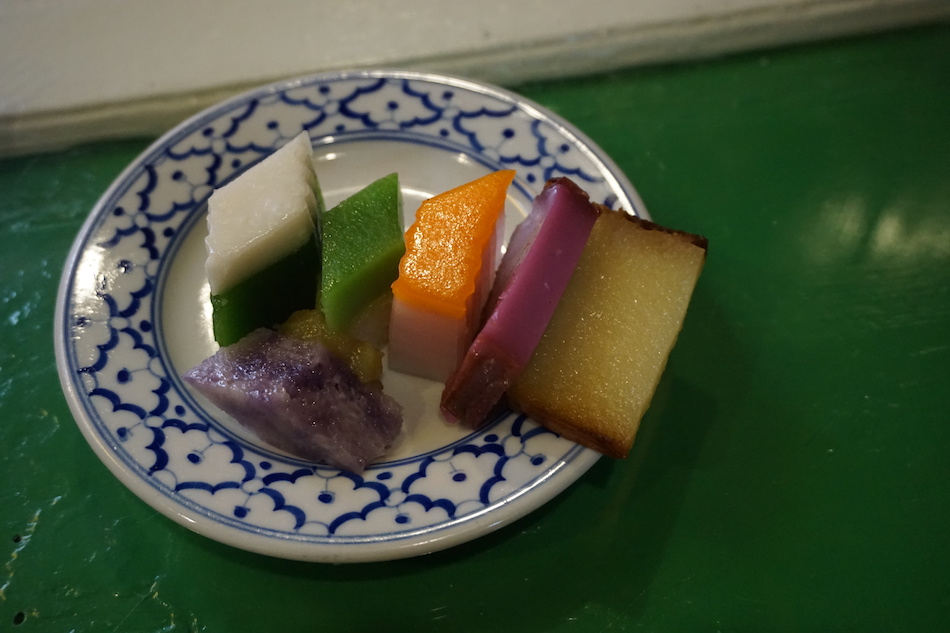 The front of Moh Teng Pheow may not look very inviting, but once you enter you will be greeted warmly by the exposed brick and retro vibe. They recently opened up the kitchen to allow patrons access to the kueh making process. Definitely a must when in Georgetown.
Kuehs are an integral part of Malaysian cultural heritage, and they are delicious to boot!
CLOUD DREAMING VEGAN CAKE HOUSE (LOCATED IN SUNGAI ARA)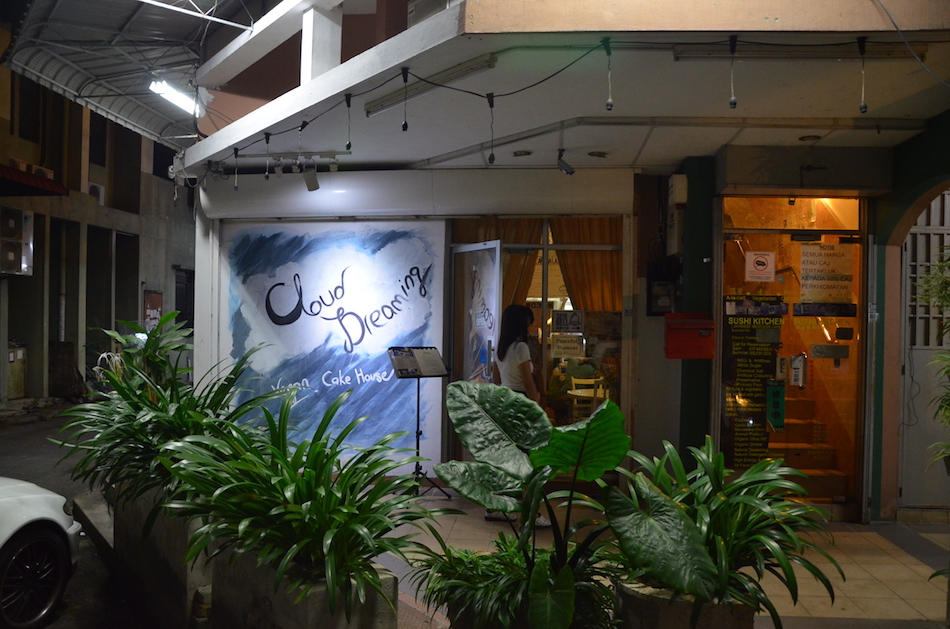 Cody and I took a city bus for 1 and a half hours just to visit Cloud Dreaming Vegan Cake House.
This sweet Cafe with an even sweeter owner is located outside of Georgetown, in a very local neighbourhood in Penang. We were thrilled to have found a fully vegan restaurant that served western dishes.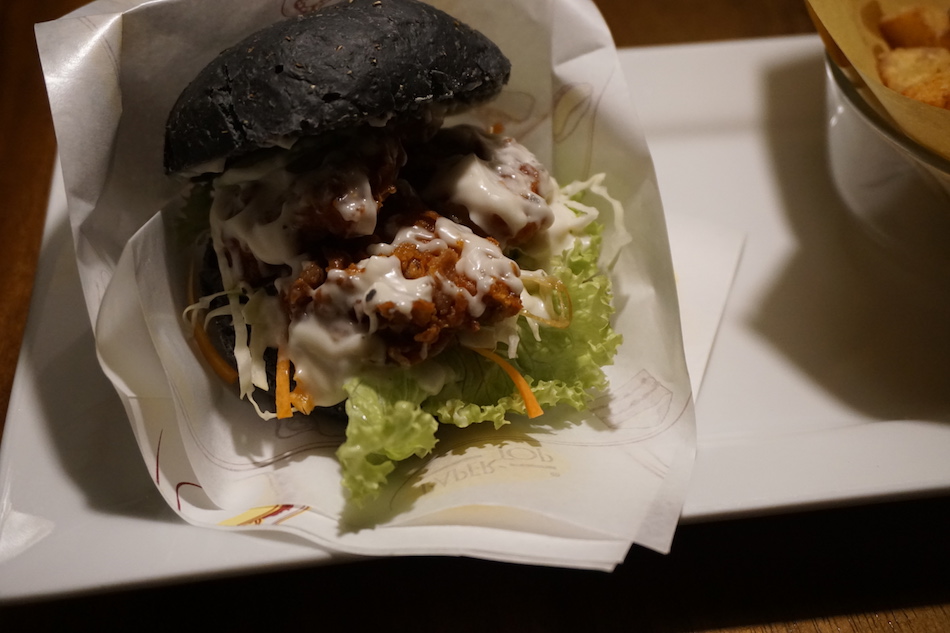 We absolutely loved our time there, the food was incredible, the coffee with oat milk and whipped cream indulgent, and the chocolate green tea cake complimented the coffee perfectly.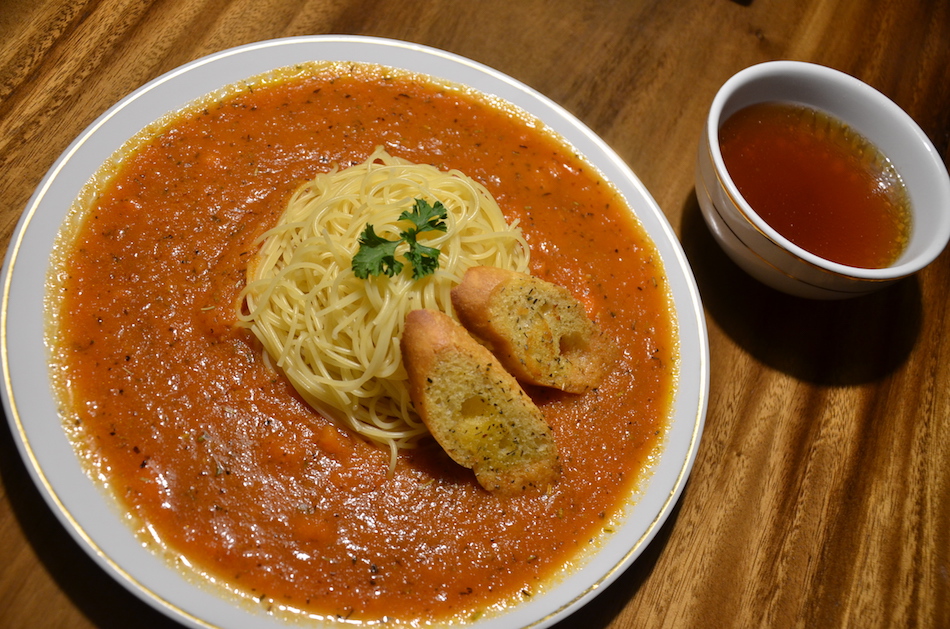 The founder, Jing, is so gracious and friendly. We tried 3 dishes that evening; the battered porcini mushrooms burger, topped with with lettuce, mayo, tomatoes, enoki mushrooms, and homemade mayo on a charcoal bun, pesto spaghetti, and spaghetti bolognese.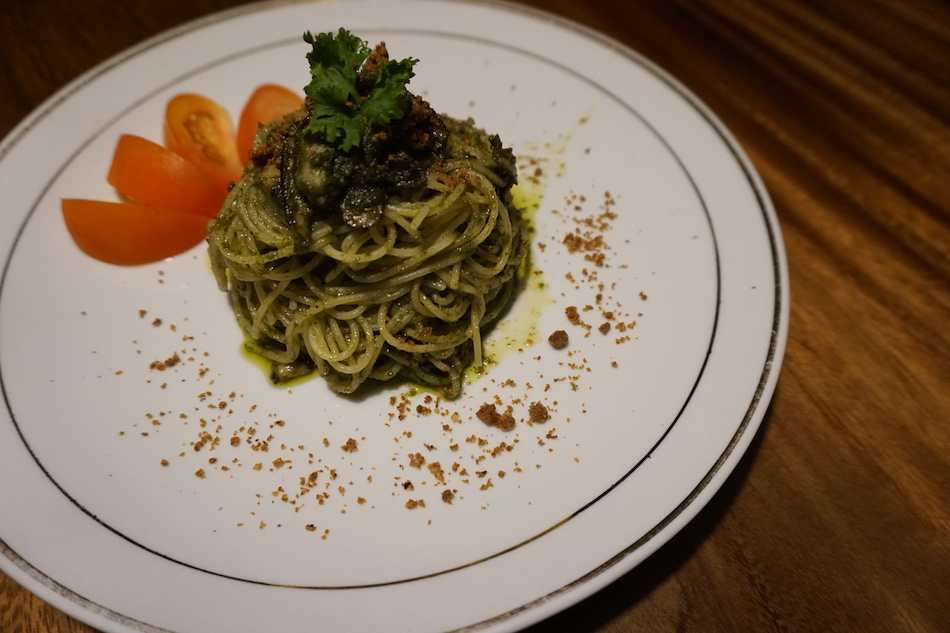 Every dish was incredible, and fresh. Jing also treated us to a step by step coffee siphoning demonstration, explaining specific aromas and flavours of the coffee. We watched as the liquid defied gravity, and by the end of the demo we were all sipping on smooth Indonesian coffee.
The whole process was very theatrical and entertaining. We definitely recommend visiting Cloud Dreaming if you are ever in Penang.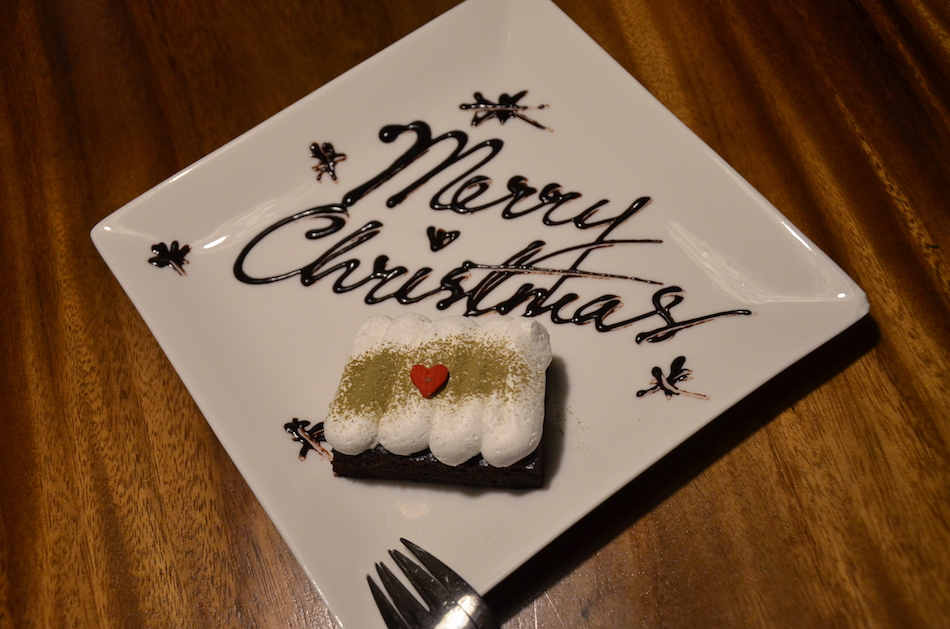 But take an uber, rather than the hour and a half bus ride!
Overall, we really enjoyed all of the vegan options in Penang, and we hope more pop up in the future.