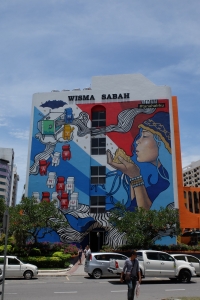 At Kuala Lumpur airport we got a flight to Kota Kinabalu. From the airport there are public buses (5RM) to town. Kota Kinabalu or simply called KK is the capital of Sabah, located in the Island of Borneo on the west coast.
Borneo is all about its green lush rainforests, wild jungles, wild animals, high mountains and countless caves, but for me Sabah was mostly about it's paradisiac beaches, small towns, villages, markets and the food. We missed intentionally all the sanctuaries, jungle trails and natural reserves, because we did it all in the other part of Borneo – Sarawak.  Sarawak is less touristic, unspoiled and cheaper for those kind of activities.
We arrived at night and I got instantly impressed with all the night markets, lights, smells and busy vibe. During the day time KK is still picturesque (not as much as Kuching), but still has its own beauty. The best way to know KK is by foot, so walk around and lose yourself in the city.
I really love markets and KK doesn't disappoint, at least in number 🙂 The Central Market – 'Pasar Besar' is a great place to explore KK's culture– it has countless vegetables and fruit stalls and an area that sells homemade delicacies and even fresh tobacco. Markets are the life and blood of a city, so they are always a nice place to go if you want to feel it and the local culture. Sellers aren't pushy at all so you can just wander around seeing all the different stalls. Behind this one they have a fish market, the 'Pasar Ikan'. Nearby there's the Pasar Filipino, that is basically a salted fish market, and a small Fruit and vegetables Market.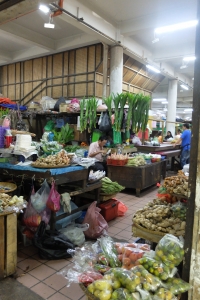 The Gaya Street Market opens on Sunday mornings and finishes by 1p.m. It is full of souvenirs, crafts, trinkets, clothing and lots of live animals for sale, which is very upsetting. It's bustling & crowded so the key is to get there early, but don't expect anything extraordinary. The food and natural medicine products are interesting but that's about it.
The Handicraft Market has a few workers sitting outside sewing, inside all the stalls are selling the same, so nothing special.
The night market sets up at around 5 pm or so and is located beside the Handicraft Market and beneath Le Méridien Hotel, and it has two main sections – one where they sell fresh ingredients, and another where you can eat. The food stalls are more focussed on seafood than anything else. Obviously we don't eat seafood but we eat seaweed 🙂  They're not like the dried ones I'm used to buying at the supermarket -these have a soft and succulent texture and are called sea grapes, sea caviar or Latok. Despite the seaweed that I found extremely 'exotic' they have other plant-based dishes and delicious treats like fresh fruit and juice, fried bananas,  pancakes filled with peanut butter and sweet donuts.
KK Waterfront is a very sophisticated part of KK  and nice for a walk to the mall's ocean front mostly during sunset, where boats are docked for the night. Tanjung Aru Beach is a great place to walk along the beach and to observe the sunset too, (bus from City Hall or Wawasan Plaza (4RM)).
Because we didn't want to do any organised tour, we rented a motorbike at 'gogo' for 45RM. We rode up the north coast, visiting a few villages and beaches. It was a lovely day, without plan, so we drove with the wind and stopped as many times as we wanted.
Kota Kinabalu, was actually a very pleasant surprise, through my stay I easily found really great places to eat. I just need to start to say that KK has countless markets, all selling fresh fruit, juices, coconut water and lots of other local vegan delicacies.
I had no trouble at eating at the 
street markets
either
,
 the food was okay, nothing too extraordinary but I appreciated that they could always veganise something for me.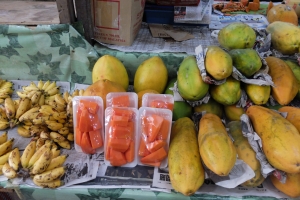 I'm going to start with my very favourite place of all, the 
Vege Garden.
The only reason I didn't have all my meals there was just because I wasn't always in the city and they are only open till 5pm.
This small eatery is located between an Orange Convenience store and a Tourism Operator, and it's part of Wisma Sabah mall. The food is just amazing and it's very affordable.
The owner is super friendly and is always happy to give you some advice about the food he has for the day, and if they have run out of food they will arrange something for you. I loved this place so much that I had all my breakfasts there, a few lunches and even a couple of meals as a snack 😀 😀
The Liew Chai Vegetarian has really delicious options of mock meat, and its very affordable. If you are not a mock meat fan they also have a good selection of vegetables and tofu.
Beyond Veggie
is located
in the Suria Sabah Shopping Mall. Its a bit more sophisticated and modern and more expensive than the other ones I mentioned. It has a huge variety of dishes and desserts and the food is tasty.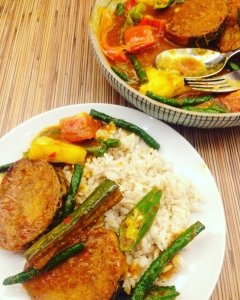 Among all the food, the most surprising things we found on KK was the coconut jelly/pudding that is served in a coconut shell with the flesh of the coconut, I truly enjoyed it.
The green caviar (called also by Latok or sea grapes), that is a type of seaweed found in Sabah and Philippines. I found it at the Night market.
Click 
here
 if you are planning to visit the islands.
Safe travels ????