As so many of you know, leaving for a trip (it doesn't matter how long or short) often means packing up a lot of emergency food: we are always fearing that we will starve and that we won't find enough vegan food to survive ????
This is of course an irrational feeling, maybe due to the difficulties we experienced years ago, when the offer of vegan food wasn't so wide and people didn't even know what "vegetarian" meant.
Lucky enough, things have changed now, and I have actually learned that you can find something great to eat in most countries…. But sometimes the problem is the price.
Before leaving for Stockholm I packed my usual selection of pasta, biscuits and gnocchi, just to be sure that I had at least the main ingredients for my dinners; I heard the Stockholm can be rather expensive, so I was prepared to eat really basic food for the whole week.
After visiting some supermarkets and some restaurants, I honestly can say that the prices are a bit higher than in other European countries, but you can still have a great food experience at reasonable prices if you just pay a bit of attention.
The best vegan restaurant in Stockholm
We visited Legumes  on a cold day when the kitchen in our hostel was so full of people that cooking was totally out of the question. We had had a long morning, and we were starving.
Imagine our joy when we entered this "all you can eat" vegan buffet and we discovered that we could actually eat whatever we wanted for something like 9.5 euros! Bread, tea, coffee and water were included, and everything except a vegetarian lasagna was vegan.
The quality of this mediterranean-style food is amazing, you can have rice, cous-cous, dolmades, different sauces and legumes, falafel, vegetables and so many other dishes that you won't know from where to start.
We honestly felt a bit ashamed of asking for more food after the first plate, but it's totally normal…so just enjoy your meal!
The best vegan bakery in Stockholm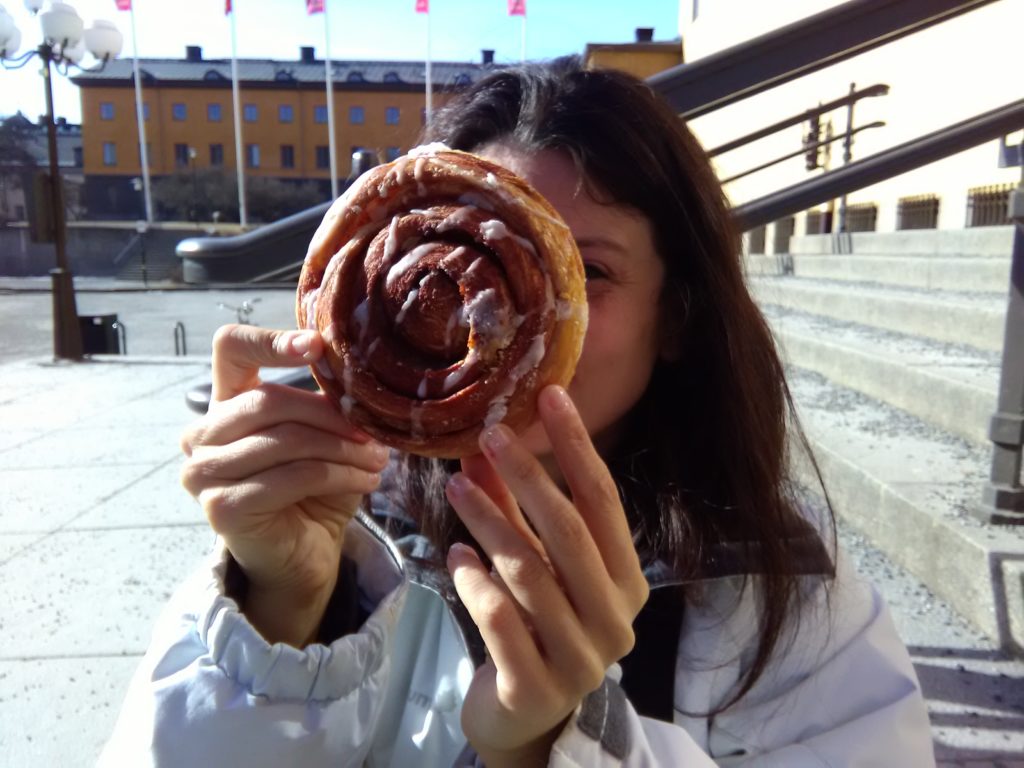 Before this trip I had a dream: eat a giant vegan cinnamon roll! I accomplished my mission at Sattva Naturbageriet, a shop with two locations (one in Sodermalm and one in Gamla Stan) where you can have a FIKA (traditianal Swedish coffee break)) or just buy a sweet or some bread.
Almost everything here is vegan: they only have a couple of sandwiches which are vegetarian.
Vegan food in supermarkets
We where happily surprised to notice the variety of vegan food in supermarkets: plant based milk, cheese and ice-cream, fake meat, iced products…
Prices can be a bit higher compared to other countries, but if you have booked a place with a kitchen it is still much cheaper than eating at a restaurant.
We stayed at the Rygenfjord hostel and we really loved their kitchen: it had a beautiful view and was equipped with everything we needed!
Want to know more about my trips? Follow me here!