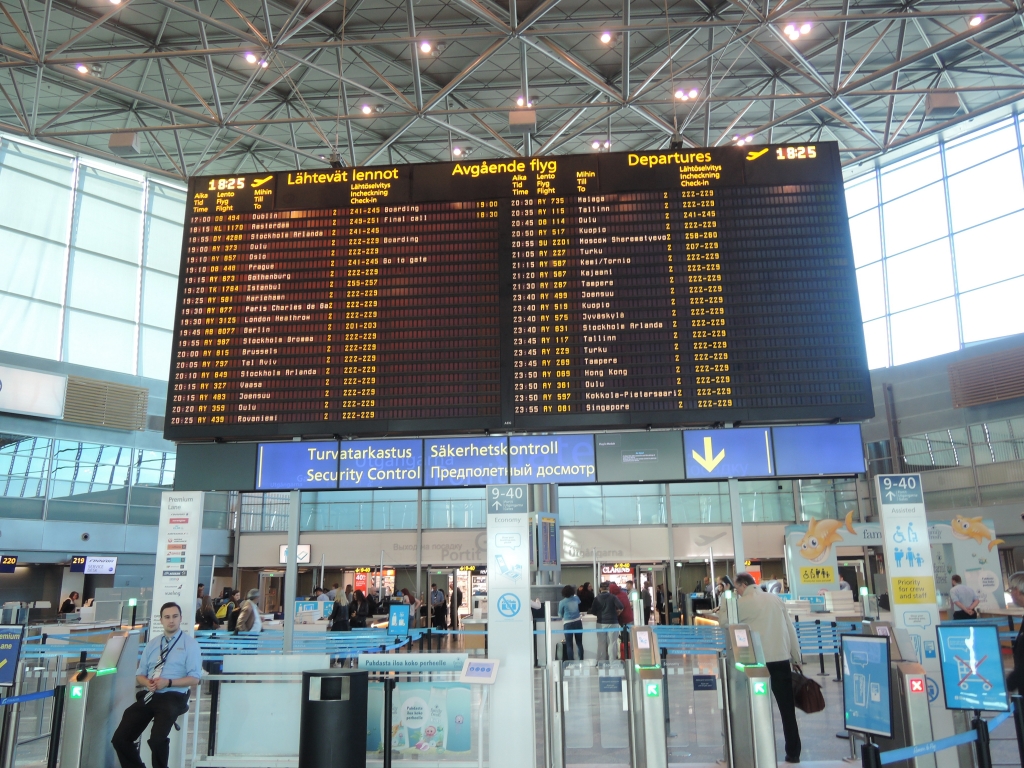 I arrived at Helsinki airport much earlier than planned for my next flight, so I've had plenty of time to document the options for sleeping, eating, and hanging out at the airport. I'm not sure how much time I will have on the other side of security tomorrow morning, but I will be adding a part 2 to the post for offerings inside the terminals at some point during the summer.
The Layout
There are two terminals in the airport. Terminal 2 is actually the main terminal, and the bigger of the two. Flights with Star Alliance (SAS, Lufthansa, Aegean, Swiss Airlines, and TAP Portugal), as well as Air Baltic, Vueling, and Braathens Regional Airlines check in at Terminal 1, and all other flights check in at Terminal 2. However, if you're not checking bags and already have your tickets, and don't mind walking a bit to your gate, the security lines in Terminal 1 are almost non-existent, while the lines in Terminal 2 can get quite long at peak times.

Transportation
Helsinki Airport has just added a train line connecting to the airport, and it is great! For somewhere around 5 euros, you can get to the city straight from the airport, as well as to Tikkurila and other connecting stations, from which you can continue straight on to other cities in Finland. The train station is located in the walkway between terminals 1 and 2. Buses are slightly cheaper, but not by much and not enough to be worth the extra time and stops. However, they are still an option, especially if you're looking to go to the areas closer to the airport. Taxis are quite expensive, costing about 50 euros to the city centre. If you're looking to rent a car, the rental offices are all in the walkway between terminals 1 and 2, but I don't advise a rental car, unless you're going to a very remote area. The public transportation in Finland and especially the Helsinki-area is superb, with connections to almost anywhere, and the transportation is mostly on time.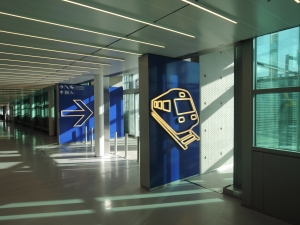 The train station entrance between terminals 1 and 2
Sleeping
Sleeping outside of the terminals is a fair bit less comfortable than sleeping on the other side of the security, but still doable. The airport is quite safe, so all you really need to watch out for is pickpockets. The amount of comfortable sleeping spots outside of the two airport hotels (the Hilton, a 2-minute walk outside, and GLO, which is downstairs a floor below arrivals in Terminal 2) has increased in the last few years.
The area outside of international arrivals (2B) is right across from the grocery store and can get noisy, but has some comfortable couches to lie down on.
There are some couches on the departures floor, left of the main entrance, past the R-kioski and Coffee Spoon.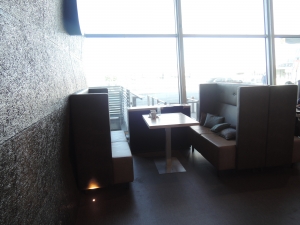 Couches near Coffee Spoon
The other restaurants may also have some seating available, but my personal favourite is the lobby of the airport hotel, GLO. They have a fair amount of couches and pillows(!!!), and no one seems to wander down there unless they are a guest. However, it is a hotel lobby, so you have to be somewhat discreet, look presentable enough, and not cause them bother, or they might ask you to leave.
Eating
You can actually order a vegan meal at the airport beforehand, if you know you'll be wanting to eat when you arrive or depart. To do this, call +358 (0)207 629732, or e-mail sales@sspfinland.fi.
Both terminals have a few vegan options, mostly snacks or small meals.
Terminal 2:
Alepa – My first stop for food at the airport is Alepa, a grocery store by the international arrivals (2B). It is open 24/7, and has your basics. In Finland, basics means that it also supplies a variety of soy yoghurts and puddings by Alpro, tofu, and a new hit vegan product in Finland called kasvispiirakka. The kasvispiirakka is a vegan take on the traditional meat pasties, and they are the perfect snack for on-the-go. Although best warmed with a little ketchup and mustard, they still taste great cold to the hungry traveler.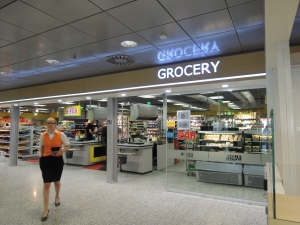 The Alepa grocery store by international arrivals (2B)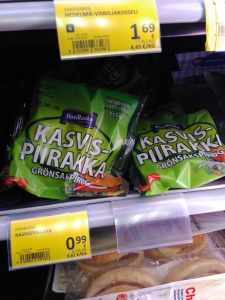 The vegan mince pies can be found in the cooler next to the bakery items
Bistrot Airport
This sit-down restaurant by arrivals in Terminal 2 was closed by the time I got there to ask about their vegan options, but their menu looks promising, if expensive. It sounds like the pastas and pizzas could possibly be made vegan, as long as the pasta and pizza crust don't contain egg or dairy. I will email them and update as soon as I hear back!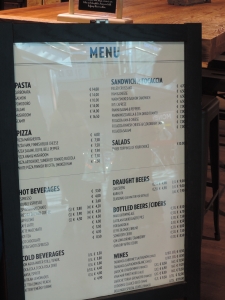 The menu at Bistrot
R-Kioski
R-Kioski is a national kiosk brand in Finland, and there are two locations in Terminal 2: one by the arrivals downstairs, and another by departures. Both have basic snacks, including some fruit, chips, and candy, as well as magazines, some books, and other basic needs.
Coffee Spoon

If you're feeling like having a nice, healthy salad, Coffee Spoon's salad bar should do. For a smaller snack, they offer little take-away fruit cups.
Burger King
Fast food. It's got your vegan staples, which pretty much consist of french fries and salad. Since the US Burger Kings use MorningStar burgers for their veggie burger, I'm not too sure if the burgers in Europe are vegan, as MorningStar hasn't made it to this side of the Atlantic. Still, it's worth an ask, so let me know if you find out!
Starbucks
Sadly, this Starbucks doesn't offer any vegan sweets, but many of its drinks are easily veganisable by replacing cow's milk with soy milk, and removing the whip cream.
Terminal 1:
Urban Food Market
I was really looking forward to trying the hummus, grilled pepper, and artichoke heart sandwich in this cafe, but they were closed by the time I got there at 6pm! So keep in mind that it's open only earlier in the day, but it is a good option for a snack in Terminal 1.
Fågeli Grab & Go
I couldn't see any vegan sandwiches or offerings at the counter, but they may be able to make something on request. They did have some fruit juices that would suit if you're looking for just a small treat.
I'm not sure how up-to-date the following sites are kept, since I've already seen a few places at the airport that aren't on the list but that I suspect have vegan offerings, but it's still worth a look: https://www.finavia.fi/en/news-room/news/2015/check-out-the-list-where-you-can-find-vegan-food-and-drinks/
There is also a general list for specialty diets, which lists gluten free options: https://www.finavia.fi/en/news-room/news/2015/a-useful-list-options-for-special-diets-at-the-airport/