Iceland has been on my bucket list for a very long time, and finally in February 2017 I went! However, I travelled to Iceland filled with excitement but also fear that the only things to eat were shark and whale!
However, Iceland was amazing and better than I expected! From the pictures below you can see that Iceland is just stunning, mountains/glaciers/geysers everywhere and even in Reykjavik (not once have I spelt that correctly!) there is amazing street art on the buildings. We did the classic Golden tour to see; Geysir geothermal area, and spent a very long time waiting for water to shoot up in the air (totally worth it), Gullfoss (Golden Falls), Thingvellir National Park, where the American and Eurasian tectonic plates are pulling apart. We also stopped in a greenhouse and tried Icelandic tomato soup with fresh basil, it was good!
The South Shore adventure is also excellent, with the best landscape views, we saw Seljalandsfoss waterfall, and you can walk behind this one although you will get soaking wet! Black sand, basalt rock formations (this looked similar to the Giants Causeway in Northern Ireland), and glaciers.
A souvenir you can buy is fresh Icelandic air!!
We tried to see the Northern Lights but for 7 nights in a row the tour was cancelled due to bad weather. However, on the day we left the tour went ahead and the pictures of the Northern Lights were gorgeous!
It is true you can eat puffin, whale, fermented shark and even the Icelandic Horse. However, there is one fully vegan cafe (Kaffi Vinyl) and most restaurants have vegan options (for example Glo – Engjateigur) and if not when I asked they were happy to make something special for me (hopefully they didn't spit in my food!)
We ate at a nice restaurant called Kol; they had the best starters of maple glazed roots, which was the best dish I had in Iceland, then Vegan Nut steak, which was good but I preferred the starters. For dessert they did not have anything vegan so the chef made me a lemon sorbet with a berry consume-really good!
Another good restaurant was Grillmarkadurinn for lunch. They didn't have anything vegan (although for dinner they have one dish) the chef made me grilled mushrooms, fried vegetables and then a salad with nuts and pomegranates-very impressed!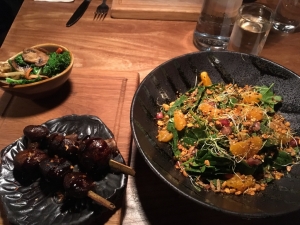 Reykjavik has an amazing bakery called Braud & Co and they have great rye breads and sourdough breads, they even have a vegan dark chocolate, nuts and fruits cake-heaven!
We also went to the Blue Lagoon, and definitely go early because at 10/11am we noticed a big increase in people! However, the Blue Lagoon was gorgeous and relaxing. We ate in the Lava restaurant there and it was gorgeous food!
PS The fur in my hood is 100% fake, and I was using it to stop the wind chill.
Additional Iceland Vegan Travel Blogs:
Flying into a place that looks like Mars, I expected it to be pretty difficult to get around from place to place without the help of aliens. Even on a map, it really only looks like there is one road […]
Iceland Vegan Travel Videos:
Vegan Iceland - The Healthy Voyager! Join Carolyn Scott-Hami...
VeganTravel.com is a place where vegans from around the world can share their passion for travel and adventure, help promote and grow interest in going vegan, shed light on the issues animals are facing around the globe, and help build a more sustainable and compassionate world. By sharing our collective experiences, we believe we can show the world how easy it is not only to travel as a vegan, but also spread a message of compassion with those we meet along the way.