Ever since mayor Chiara Appendino pledged to make her city more vegan friendly, the city of Turin was at the top of my travel bucket list. Turin is a northern Italian city of the Piedmont region, which is often famed for its traditional meat and dairy dishes. But usurping this tradition, the drawcard now for visiting Turin is its substantial number of wonderful vegan cafes and restaurants.
After visiting Rome and Venice, Turin has a much more relaxed and progressive feel. You'll not only be impressed by the large number of vegan restaurants and options but also the beautiful Art Nouveau buildings and coffee houses and the pretty River Po. With only 2 nights in this very welcoming city, you can't help but feel a little more at home here than Italy's more popular tourist cities. The attitude is open and friendly; perhaps this is why veganism is spreading here.
Turin's First Vegan Restaurant
Our first stop had to be Mezzaluna, the pioneering vegan restaurant of Turin. Established in 1994, Mezzaluna offers an la carte dinner experience as well as a more casual deli service for lunch. We popped in for lunch and had a plethora of options to choose from, including impressive veganised Piedmont dishes such as bagna couda. Similar to fondue, bagna couda is traditionally made with butter, anchovies and garlic. Chef and owner Daniela uses a type of sea vegetable to achieve the fishy flavour. Mezzaluna's bagna couda is served on roasted capsicum and is a rich salty flavour hit. The highlight was a generous slice of cheesy quinoa bake. I vowed to try to replicate this on my return home (but haven't yet!).
If you're also looking to grab some vegan products during your stay, Mezzaluna has a well-stocked grocery store. What more could you want? Well, perhaps some gelato to finish off your meal? Directly next door to Mezzaluna is Mondello Gelati, who offers a selection of vegan ice cream flavours.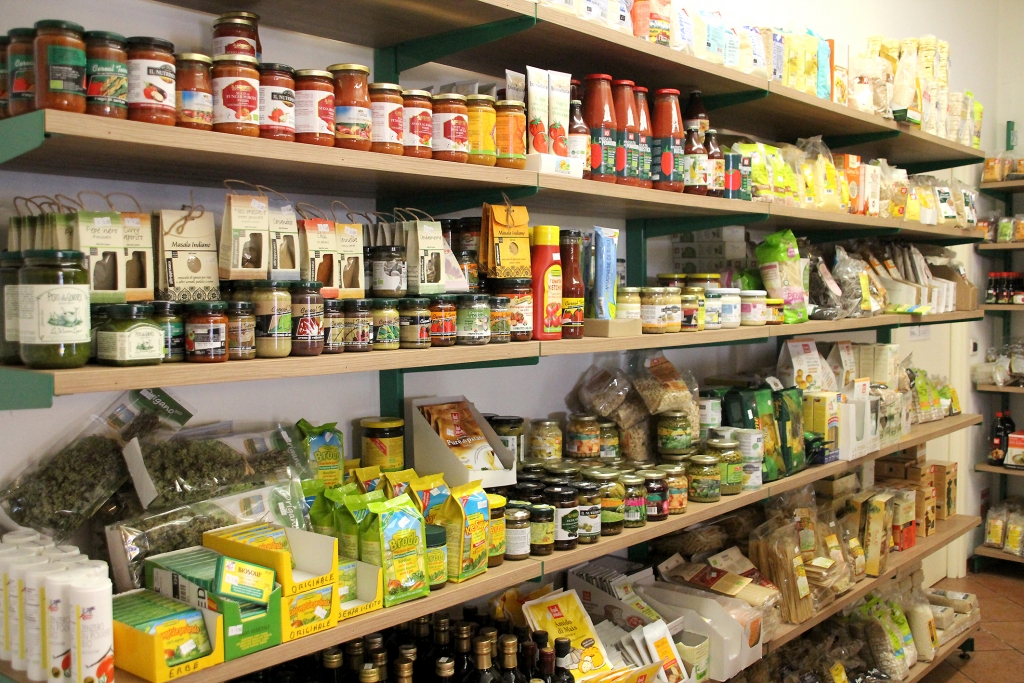 Mezzaluna's well-stocked grocery store
Vegan Tapas 
For something a little different (and lighter on the stomach) we enjoyed an aperitivo menu at the funky and friendly-staffed Gorilla Bar. Our tapas meal included falafel balls with aioli, spicy potatoes and a variety of bruschetta. If you're up for something heartier, there are plenty of vegan burger options too. Completely unnecessary (yet necessary) we ordered their vegan brownie which was as rich and decadent as I'd hoped.

The Perfect Dinner
With friendly service, veganised Piedmont dishes and wonderful piazza location, the all-vegan Coox restaurant delivers a meal experience to remember. For entrée, order the L'insalatarussa, a simple vegetable dish traditionally made with egg mayonnaise.
For mains, order the Coox Balls (polpette) slathered in a punchy tomato sauce. For mains we devoured La Lasange with its silky smooth pasta and rich seitan ragu sauce.
The tiramisu was an elegant last note to a perfect meal. Perfectly spiked with coffee and liqueur, it was a necessary indulgence to end a memorable stay in Italy's vegan city.
Porta Nuova Train Station
Another honourable mention must go to Turin's Porta Nuova train station. For a vegan food souvenir, pop into chocolate store Venchi, established in 1878. It has a wide array of vegan options featuring the region's famed ingredient 'gianduja' (a fine paste of ground hazelnuts).
For a slightly different food experience, pop into the train station's well-stocked bookstore, ​Feltrinelli Express and peruse the shelves of vegan cookbooks for another excellent souvenir.
Beyond Turin 
A relaxing 25km train ride from Turin is Avigliana, a small town base for exploring the nearby lakes and ancient abbey, San di San Michele. Buses weren't running on the day we visited so we splurged and ordered a taxi to take us up the mountain.
While waiting, we stumbled across a buffet style self service restaurant, Gran Caffe Del Corso. Populated by locals and across the road from the train station, it's a great place to enjoy a gratifying rustic lunch. We selected the Spaghetti Pomodoro and a simple yet memorable lentil and pasta soup, so memorable in fact, I recreated the dish when we got back to Australia. We also added sides of bean salad and potatoes and capsicum.
If you're looking for the ultimate vegan foodie travel experience, place Turin on your must-see bucket list.
For more of Nadia's tempting tips on Vegan Travel in Italy, visit:
Blog: www.theveganitaliankitchen.com
Instgram: @theveganitaliankitchen
YouTube: The Vegan Italian Kitchen