December 2016 me and my boyfriend travelled to Belfast, Northern Ireland to freeze our butts off in search of as many Game of Thrones locations we could get to in the three days we were there for.
Just a bit of background, we are massive GOT fans and since Summer 2015 we have made it our 'mission' to visit as many countries with GOT locations as we can. Granted the previous trips we had taken were in hot sunny countries, we couldn't not visit Northern Ireland as that's were a huge part of the show is filmed.
As always I did my research prior to travelling as to where we'd be eating our meals. It is always a pain but we prefer it opposed to going full board in the hotels we stay at due to limited options and variety.
I have to be honest, there wasn't a lot of info out there regarding vegan restaurants in Belfast and even limited reviews of places, i.e price, variety and taste. So while I was there I was determined to document and picture everything I ate and touched that was vegan to make it easier for anyone else who maybe visiting.
As I mentioned we were only there for three days and we had a very packed schedule to get to as many GOT locations as we could. We didn't have a lot of time to be hunting for a restaurant and cafe that sells vegan options. The majority of places we ate at were 100% vegan or had a separate vegan menu. They were all incredible and delicious which I must share with you 🙂
I will start with the best raw vegan cafe I have ever been too and probably ever will!! If you find yourself in Belfast you MUST go here- ideally for breakfast, lunch AND dinner!!
336 Lisburn Rd, Belfast BT9 6GH. Do check opening times as they're not open past 6pm.
We went there for breakfast the first full day we were there. We had seen the cafe the night before and I was determined to go there despite our very tight and packed itinerary.
We were both starving and intrigued by the menu. The cafe itself is raw- together we would like to start incorporating more raw items into our diet, so we take up the chance to eat raw whenever possible. They had a great selection of drinks and breakfast items, we were stuck at choosing, so ended up getting a mixture and sharing (as we often do). They also  had a vast variety of smoothies that were so delicious and individually named something creative i.e ' The Stevie wonder' and 'Buddy Holly'.
The staff in there were so friendly and passionate about what they do. It was a pleasure to see, as often I've been to vegan cafes and restaurants where I find the staff to be slightly cold and not very engaging.
Anyway, back on to the food…..
Our feast began with coffee, I had a bullet coffee aka strong black americano with grass fed butter inside-or in a vegan's case it's usually coconut oil but I never got the actual replacement confirmed. I was glad to finally try this weird mix and it wasn't that bad. My boyfriend not wanting to be too experimental had a Chai Latte.
Then came the food:
If we could we would have had everything on the breakfast menu but unfortunately we are only two people so we ordered what we could. Dean had raw cocoa and vanilla granola with Almond milk. I must point out he did not share this so I can't say what it tasted like but I think the picture speaks a thousand words….
I myself had dehydrated cinnamon toast with two raw spreads. I struggled to share these myself.
With room to spare we had the very mouth watering blueberry pancakes. No word of a lie they were 'Incredible.' In the words of Augustus Waters himself- I wanted to run away to Las Vegas and marry those blueberry pancakes!!       It saddens me as I have not had anything as good since :(.
On our way out we couldn't resist getting ourselves a smoothie each- for health purposes only!! :P. I had the 'Kelis- my milkshake brings all the boys to the yard.' In which I included some vegan protein powder. Dean had the 'Jay- Z- 99 problems but my health ain't one.'
We went back when we could and ordered a health boosting turmeric latte and 'Buddy Holly- Shake rattle and roll.' smoothie. Unfortunately we couldn't go back for dins as they closed early but I saw the menu and it included raw dishes such as Zoodles and Pad Thai which I was gutted to have missed.
A place that was recommended by Raw Food Rebellion was a cafe simply named That Vegan Cafe. We went here for lunch one day and loved the 'cosiness' of it and the values they uphold. It was a small menu but they also had a salad and sandwich bar with a variety of options as well as a few cakes and sweet treats.
141 Stranmillis Rd, Belfast BT9 5AJ
Dean had a full English which had scrambled tofu,sausages, hash brown and mixed beans.
I had a sweet potato soup which was perfect and warming as it was so cold walking around all day!!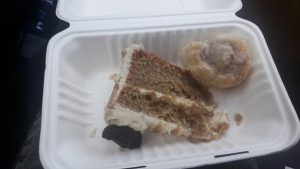 Dessert included a peanut butter cup cake and a cinnamon roll. Also stocked up on a few sausage rolls.
411 Ormeau Rd, Belfast BT7 3GP                                                                                                                                                       73 Botanic Ave, Belfast BT7 1JL
Just popped in here for a late dinner. Staff were very helpful in informing us of the vegan options as not everything was vegan. Kaffe O had a small menu with daily specials with a variety to choose from. I had a curry style dish and Dean had a burger type meal. For puddin' I had a snickers style shortcake bar and a moo Free Christmas edition chocolate bar (which I forgot to picture).
17 Brunswick St, Belfast BT2 7GE
Again just popped here for a late dinner one evening. The staff were friendly and we didn't need to book.
We had tried going to Home restaurant, at this time it was about 6.15pm, and we were told there wouldn't be a table free til 8.30pm!! When we walked past later about 8pm it was dead- glad we didn't wait….
Acton and Sons had a separate vegan menu where everything was listed. There was a good selection to choose from for starters and main but my eyes were on the desserts.
I very rarely give a vegan restaurant a big thumbs up unless they have a good dessert menu because to me that is the most important course. If I could, I'd have my dessert first before anything else.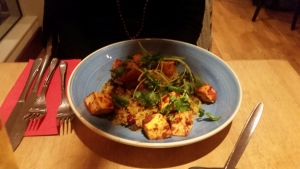 I had a very spicy Tofu Moroccan couscous dish and Dean had a Mexican Chili dish with rice. Both extremely tasty and well priced. He also had a starter of hummus and Pitta dipped.
As hard as we both find it we often share each other's food. There was a chia seed pudding cup I think that was a honey dressing which I left and there was chocolate brownie smothered in sauce and ice cream to boot!!
Very satisfying meal both on our tummies and our wallets. Definitely recommend.
Another great places for a fuss free, satisfying meal was Green's pizza.
Greens Pizza
549 Lisburn Rd, Belfast BT9 7GQ
If you're anything like my boyfriend you enjoy a good cheesy, doughy pizza with lots of toppings. This place did not let us down. They had their own vegan menu and used Violife cheese. As an added extra they had cheesy garlic bread!! The menu had a lot of different choices and there were good prices.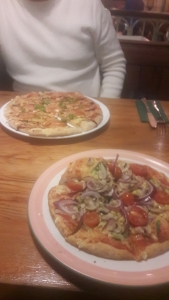 On a side note: it was just down the road from Raw Food Rebellion and next door to a Pizza Express, which as I have previously discovered is not vegan friendly!
For dessert that night and again just around the corner was Spoon Street, where I got a watermelon sorbet and as many vegan friendly toppings I could fit in the tub. I believe they do offer or are in the process of including vegan ice cream on the menu but it wasn't something they had here.
5-, 19 Ann St, Belfast BT1
451 Ormeau Rd, Belfast BT7 3GQ
This wine and beer bar was not too far from Kaffe O
Good selection of drinks and peacefully relaxed atmosphere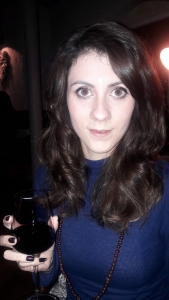 There were loads of other places we wanted to eat at but we didn't have time unfortunately. The place I wanted to eat at the most was a volunteer run cafe called Giro's Cafe. I have them on Instagram and the food looks incredible but we tried several times but we could not find it. Maybe we were putting it in Google maps wrong or we were looking in the wrong place, so if anyone has been there or knows where it is please direct me and I shall have to go back!!
Finally snacks, AKA fuel for our busy days- at least that's how we justified it!! When we arrived in Belfast because we had only taken carry on luggage I wasn't able to take any shampoo or conditioner so that was the first thing we did when we landed. We visited a wonderful health store called The Nutmeg, however we didn't expect to leave with a bag full of vegan 'junk' food!! But you know what, it was so worth it.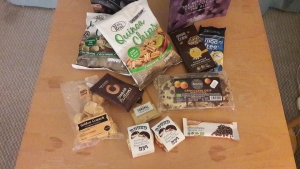 The 'honey' comb pieces were something else and the wagon wheels by Ananda's round up hit the spot whilst in the middle of the freezing countryside.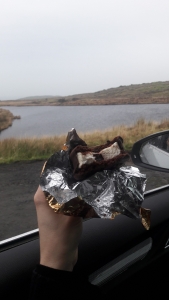 Right across the road from the Raw Food Rebellion cafe was a M&S Food Hall where we stocked up on fruit and there tubs of rice, grains and couscous dishes, which I have to say is very impressive, convenient and always delicious and filling. These are what we had for lunch each day.
I have included some pictures of the places we visited. If you'd like to know where exactly they are or what you can do there please just send me a message and I'll tell you in a lot more detail.