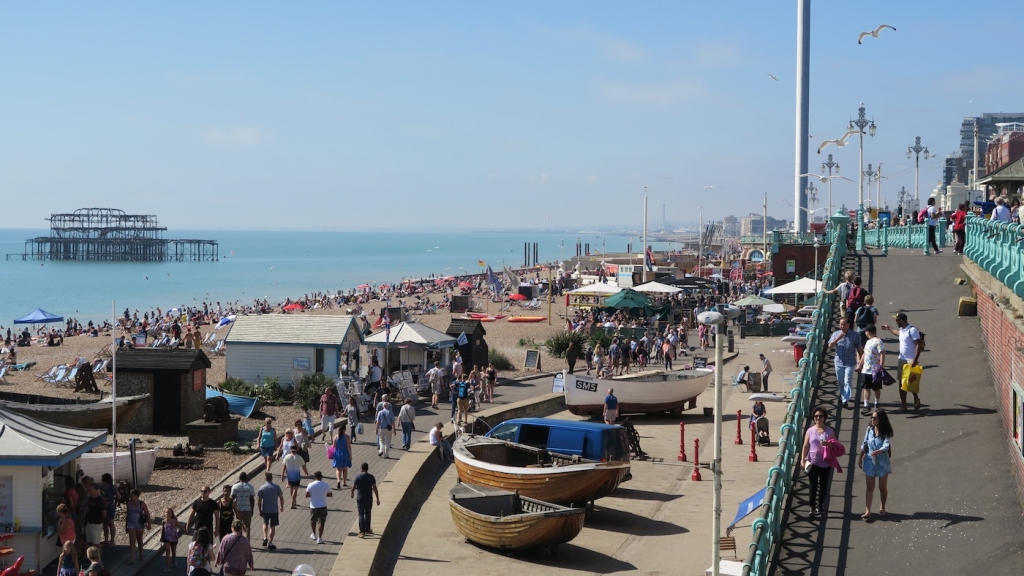 At first I was frustrated, and then overwhelmed, and then I fell in love. What is this? Some kind of cray version of Eat, Pray, Love?! Hehe! Nawwww, it's just lil' ol' me about to jump into a short story of my short stay in Brighton, UK. ::smooch:: Ready?
I flew into Gatwick Airport, which is quite convenient because it just so happens to be a one hour train south, direct to Brighton from there. You could also take the train one hour north, direct to London. Easy peasy!
ELECTRICAL PROBLEMS

Once I arrived and settled into my room (a friend of a friend who generously let me stay at their place while they were out of town) my initial frustration began with the fact that, for the first time in my life, I encountered 'switch on/switch off' outlets.
I'd flown in from the Netherlands and for nearly the entirety of my first TWO days in England I thought alllllll the outlets around me just weren't working. I know, I know.
Thankfully my curiosity (and frustration) got the best of me at some point and I took a chance by pushing that little switch-ee-doo next to the socket. And voila! The energy was pumping and I was back on track! Aaahhaha! So silly because pretty much every country I've been to since has this whole 'switch on/switch off' dealy. Eh, I would have figured it out eventually.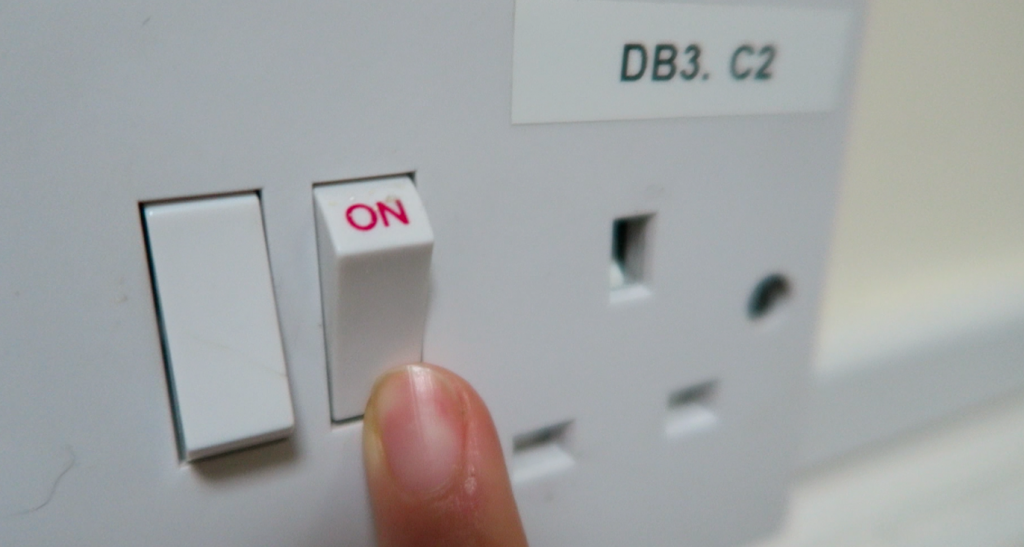 Once I had the electrical outlet problem solved it was time to let the panic set in further as I was already behind on my freelance and passion project works, and the whole electricity fail caused even more of a delay.
Plus, the place I was staying at didn't have wifi at all which meant I had to go find it in the wild (hence, so many coffee shops featured in my video tour that accompanies this post ::wink::).
The only problem with that was how limited or slow or non-existent the wifi in Brighton was. It took several tries and a lot of stress-sweat (and walking) to find a few good spots I could visit over and over, to at least get the time sensitive stuff done. I was in Brighton for nearly a full week though so you can imagine—with weekly work deadlines—how stressy THAT was. BUT, I made it through. Phew! Not the worst problem to have, I know.
Next came the overwhelm.
SO. MUCH. FOOD.
Oh goodness me do I know how much of a NON problem food choice overwhelm truly is. But when you've got limited time in a place (not only limited by the duration of a stay but by the fact that I can't "tourist" mode the entire time: see work stuffs to get done) it makes figuring out where to go, and when, a bit more of a task.
Thankfully Brighton is super small. I didn't need to use the public transit at all—I was able to walk to every location on my list, including the beach front, Brighton Pier, and all the foodie stops. The longest trek was about 30 minutes one way. Done!
Speaking of food: let's dive in, shall we?!
When asking around as to the best place to go for my 10 year vegan anniversary celebration dinner, Rootcandi came up many a time. So, it was settled.
Arguably one of the most popular vegan establishments south of London, Rootcandi is a quaint, cozy, and vibrant eatery beautifully decorated with vibrant green foliage and subtle, beautiful neutral tones throughout.
I chose three small plates to sample a few things (and to save room for dessert); enjoying a tastefully rich mini salad, gnocchi, and snack platter with seasoned walnuts, crisps, and popcorn. For dessert I coaxed my way through a strawberry crème brûlée and a strawberry hazelnut pavolva. Amazing.
Oh and that cucumber rose cocktail? Yaaassssss.
Everything was fantastic. The service was top notch. The atmosphere was inviting and relaxing. Ten out of ten!
Touted as the very FIRST fully-vegan pizzeria in the whole of the United Kingdom, Purezza sure has made its mark. They've got quite a large menu with everything from classic pies like marinara, pepperoni, and Hawaiian, to their signature dessert pie: the chocolate calzone (over stuffed with hazelnut chocolate spread, walnuts, and pistachios).
You'll also find things like marinated olives, garlic bread, and bruschetta for starters/appetizers, and even some raw food, smoothie and coffee options.
Put this one on your must-visit list because it's all-around fantastic!
VBites – 100% vegan
Started in 2009 by English media personality Heather Mills, VBites is a local favorite. This two-level comfortable eatery is home to a variety of vegan cuisine including their own brand of prepackaged vegan cheeses, meats, and sauces—as well as tasty menu items like burgers, hotdogs, pizzas, fish and chips, and more.
They also offer brunch items (including traditional English-style breakfast platters) and weekend specials like Sunday Roasts. I enjoyed everything I tried here and the staff was super friendly and helpful!
Wai Kika Moo Kau – 100% vegetarian, vegan options
One of the longest standing veg establishments in Brighton is Wai Kika Moo Kau (get it?). This is a great brunch place as they've got heaps of vegan options (including that traditional English-style breakfast of beans, mushrooms, potatoes, veggies, and sausage. You'll find a wide variety of specialty coffees and vegan cakes here, as well as organic vegan wine and beer.
Additionally it's got a great 'home' feel, like you're in someone's kitchen but with a backdrop of bustling diners and quick-on-their-feet wait staff.
Another long-time and fully-vegetarian business in Brighton is Infinity Foods. This coop/grocery store is gorgeous, and the fact that it's all veg is even better! Make your way to the back and find the bakery where there are loads of vegan baked goods, like these scones, buns, and pizza!
Just around the corner you'll find their sister establishment, Infinity Kitchen. This vegetarian restaurant boasts a variety of cuisine from Thai to Mediterranean and English. They've also got great breakfast options and lattes!
Place your order at the counter and choose between indoor upstairs seating (great view) or, if it's a sunny afternoon, they've also got great outdoor seating right in the middle of the bustling narrow walkway amid the ever-popular North Laine.
If you need to catch your breath or step away from the tourist hustle of the North Laines and the Pier, take a 20 minute stroll up Preston Road to Green Kitchen.
Immediately I loved the energy of the place. They were just opening (and I was waiting there like a crazy stalker, but that's alright) and the enthusiasm of the two ladies prepping the small intimate space was just lovely.
I watched regulars come in for their morning cup of coffee while waiting for my maple bacon pancakes and freshly pressed beetroot juice to arrive. Oh my HEAVENS was that meal delicious! Agh! I wish I could go back in time. The photo doesn't do it justice but gosh darn was this a tasty and surprisingly filling stack of sweet goodness.
Not only was the food fantastic but I also love that they have a small menu (makes it easier to choose and is usually an indication that the food will be great); and the ladies working were just ever so friendly. I one thousand percent recommend this place! Go! Go now!
This was definitely the most exciting discovery of my time in Brighton: a fully-vegan donut and coffee shop! Well, you *can* get dairy milk for coffee, upon request, but other than that this is a vegan joint and it's super, DUPER rad.
I only found out about it thanks to some locals as it never popped up on any searches I did on my own. I'm so glad, too! It turns out this place is (1) adorable, (2) edgy, (3) has free wifi, (4) has awesome coffee, and (5) specializes in making fresh vegan donuts every day!
According to my sources, this place was founded by a couple of young-ish skater types (see: skate park right across the street) who were getting together after skate sessions to chill with friends, wishing there was a place to get some good donuts while they hung out. So, they set out to solve the problem on their own. And voila! Glazed was born.
I asked the guys working, "Why vegan donuts?" and they said, "So anyone and everyone can enjoy them." Perfect.
I loved this place, I loved the decor, the energy, and the rad kids working there. It's just a hop skip and a jump from Green Kitchen. So, post breakfast donuts, anyone?!
I almost missed this one, too! Thankfully someone who had been following my travels tipped me off: "There's this kitschy bar on Queens Road called Hope and Ruin, and their entire menu is vegan!" What? I had to check it out!
Turns out there is a food biz called Beelzabab located WITHIN The Hope and Ruin. I believe it was once a pop-up type of thing but they've since found a home here. And I believe it's the only food the bar offers so essentially (sans possibly some of the drinks) it's a vegan bar!
They offer kickin' bar food, too ,like loaded chili cheese fries, nachos, hotdogs, and hamburgers. You can get them in a trillion different styles and it's exactly what you'd expect from hearty bar food. PLUS, the bar was pretty cool looking inside with it's strung holiday lights, mismatched furniture, and creeky floorboards. I loved it!
Last but not least we've got another noteworthy coffee shop, located right in the North Laines: The Plant Room. I'm willing to bet that MOST of their sweets and pastries (at least the ones I saw on display) are vegan. Everything was clearly labeled so it was easy to identify what the options are.
This place is GORGEOUS, you guys. Oh my gosh! Talk about a stunning minimalist design with perfectly placed plants (of course), clean lines created by simple, elegant tables and stools, and beautiful natural lighting. I think my eyes were just as tickled as my tastebuds!
They'd just opened as well (within the month I'd visited, I believe) so things were still getting sorted, but they were still rockin' it pretty hard. Oh and there was some outdoor seating by a nice little water fountain, too.
Thanks so much for reading along! Now here are a few of my favorite scenic pics from my few days in Brighton, United Kingdom.