Originally, I was planning to spend a full week in London, but the moment I arrived (via the direct train from Brighton) I met local, high-on-life, vegan enthusiast, Alex Walker.
Alex and I had been put in touch via a mutual friend when I was asking around for places to stay and he had offered his then-shared abode. So, when I landed at the Victoria train station in London, Alex was there with a huge grin, open arms, AND a proposal to join him on a mini road trip that week from London to Liverpool, with stops in Blackpool and Manchester. I said yes!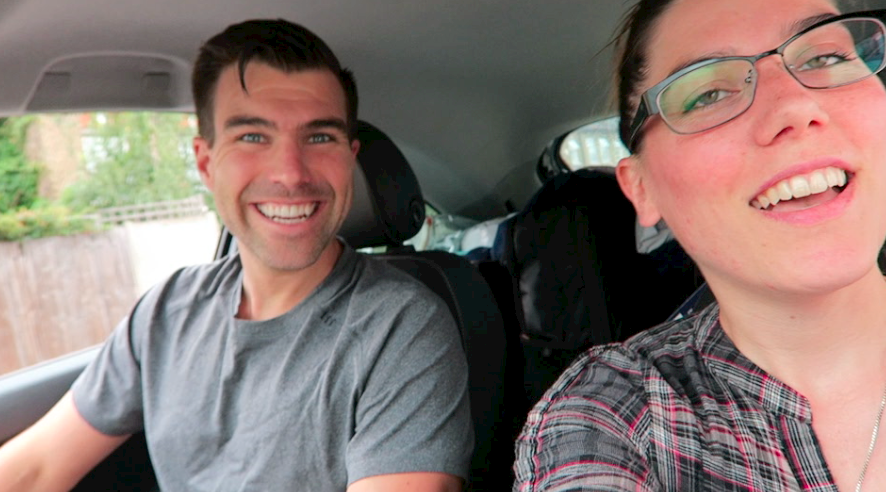 Therefore, I ended up spending about 2 full days (give or take a few hours) in London—on either side of our road trip—and so I give you: The six restaurants I managed to visit during my whirlwind London excursion! 🙂
With a focus on raw, whole foods, and set within a beautiful floral-clad (with many surrounding shops alongside and across from it) alcove in downtown London, Wild Food Cafe is quite memorable. Located on the second floor of a narrow Victorian-style building, you'll be presented with a plethora of vegan and raw vegan options.
Starting with a raw coconut, I slurped up the water inside and then picked away at the coconut-meat until my burger arrived. I believe it was labeled as the "world's best burger (raw "buns" sandwiching a bean-based patty layered with lettuce, tomato, and a raw homemade cashew cheese; a side salad and sweet potato wedges).
Their menu is seasonal so chances are it'll be totally different when you go. Which is just one of the many reasons this place is so great!
Vantra – 100% vegan
Vantra was, hands-down, my favorite foodie stop in London! From the outside you'd think it was a standard funky, vibrant juice bar, but as you walk past the luxurious buffet of both raw and cooked vegan foods (with a big "no animal cruelty" sign among it all) the room expands into a beautiful artisan wood-carved furniture oasis.
The foods here taste unbelievably fresh and oh so delicious. With a huge variety of help-yourself options (payment is by weight) you're very likely to find a combo plate of all the things you love! Be sure to save room for dessert because they are equally as impressive as the buffet options.
Oh and their freshly pressed juices are amazing too, of course. 🙂
NOTEWORTHY: It is a touch expensive but worth the price. If you're on a budget maybe don't go if you're super hungry, but for a mid-day snack or light meal.
I can't speak to the proper food stuffs from Juicebaby because, as you can see, I went for one reason and one reason alone: ice cream. They call their 'ice cream on a stick,' "magnums." I know. Haha. But Alex was all in a whirl over photos his friends had posted about Juicebaby's magnums, so we made a brief stop on our way out of the city.
In addition to these rare treats (I guess they don't always have 'em), Juicebaby is known for its fantastic raw options. They make their own freshly pressed juices, superfood smoothies, nut milks, snacks, sweets, coffee, and tea. You can also enjoy breakfast or lunch with options like acai bowls and berry parfaits, and salad bowls, hot pots, and sandwiches.
The magnum was delicious, by the way. 😉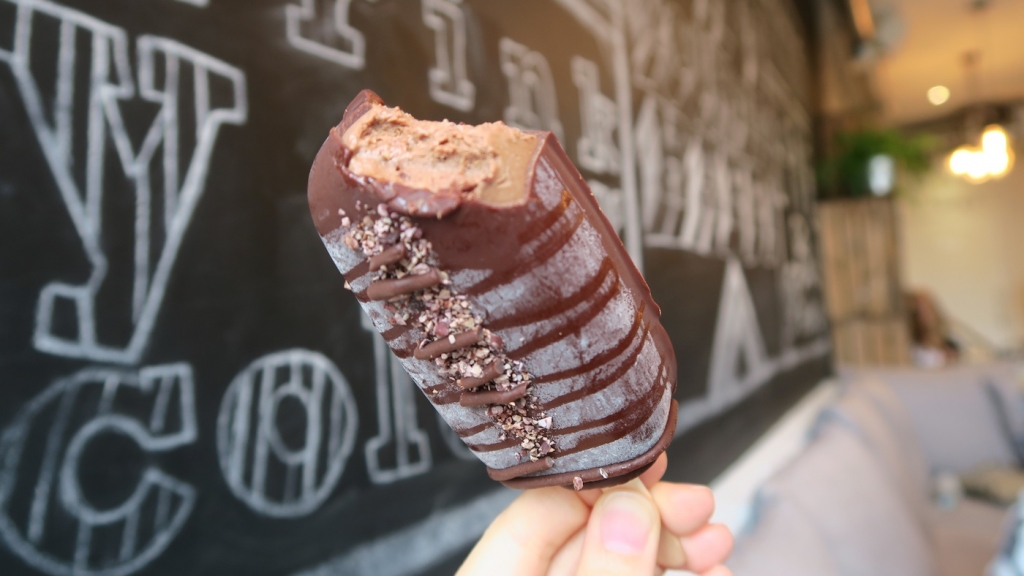 Farmacy – 100% vegetarian
This place had just opened when I sat for a meal with three local vegans who, dare I say, are considered rather famous among the vegan community in England (Alex included, of course). Alex had arranged this fancy dinner bringing together a popular vegan chef and vlogger, a vegan restaurateur, and the two of us. 🙂
Farmacy brought me my fanciest (and most expensive) meal while in London. I watched as a couple of the others at my table tried the "Farmaceutical Syringe Shots" (shots of concentrated fruit and vegetable juices in a literal syringe that they would then squeeze out into a shot glass). Over the top? Maybe. Fun to watch? Yep.
They do serve eggs and possibly other non-vegan things (which surprised me considering their going for the ultimate "clean"/healthy living angle) but myself and the celebs seemed to really enjoy their bowls, wine, and juice shots!
Bonnington Cafe definitely pulls rank among my most unique experience dining in London. Alex and I stumbled upon it somewhat haphazardly as we were seeking a quick meal on our way out of the city to Liverpool.
Tucked into a side street of Vauxhall is the cozy, inviting, and somewhat confusing Bonnington Cafe. Their menu rotates seasonally and typically features foods from around the world. I'm not sure what the theme was when we sat for our meal. And what made it a little more confusing was a bit of a language barrier when asking about the options. Thankfully, fellow patrons explained the menu to us to clarify the three vegetarian options and three vegan options. They said everything was delicious and always is.
It turns out Bonnington has been around since the 1980s! It's a cooperative run establishment. It was started by squatters that offered pay-what-you-can-afford meals for the community when both food and clean water were sparse at the time. If you venture upstairs to the toilet  you'll see remnants of the Bohemian style that the building and community living within had become known for.
What makes this place even more unique is they have a different chef cooking each day, everyone we encountered working there was extremely nice (the other patrons as well!), and the food was absolutely out of this world! Definitely add this one to your must-visit list (and go check out the toilet). 😉
Mildreds – 100% vegetarian
The last place I had a proper dinner at before leaving London altogether was Mildreds. Several people encouraged me to dine here saying it was some of the best food they'd ever had. And I must say it was surely quite yummy!
This is another well established vegetarian restaurant that started in London back in the late 80s. After a tedious but steady start, the restaurant is not only extremely popular among locals but boasts three locations (SOHO, Camden, and Kings Cross).
I slipped into the tiny SOHO location with my two carry-ons in tow. It was a tight squeeze but well worth it as I enjoyed small talk with the couple sitting to my right (they wanted to know where I was from and where I was off to next), while snipping away at three of their small plates (goyza dumplings with sweet chili sauce, the chili, lime, and mirin fried tofu with mango soba noodle salad, and flavorful black sesame seed samosas).
Go here. Try all the things.
Finally, the morning before flying from London to Dublin I met up with the founder of Lucuma Magazine (a London-based vegan print magazine) and my dear friend Miranda for breakfast.
Another popular, raw restaurant, NAMA Foods offers breakfast, lunch, and dinner—and has become quite well known for their incredible raw desserts. On this morning I indulged in their vibrant Acai Bowl (acai berry blend topped with seasonal fruits, seeds, and raw crumble), with a side of 'Internal Radiance' juice (carrot, orange, pear, lemon, turmeric, sea buckthorn oil), and an almond milk cappuccino.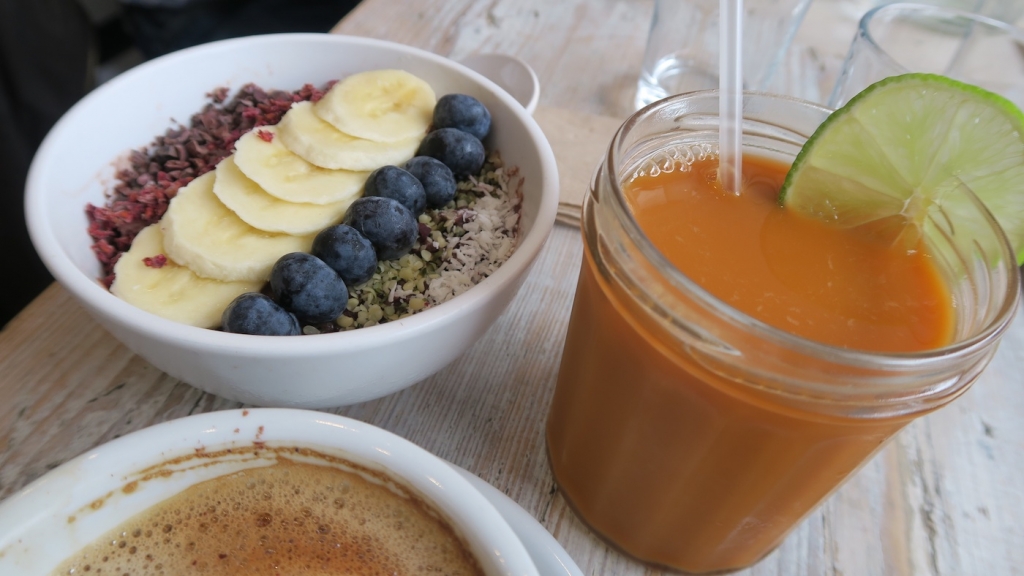 The vegan options in London seem almost endless. I only touched on a few that were either convenient to get to or came highly recommended. I suggest creating an itinerary based on where you're staying in the city, to determine what the best places to visit are. I enjoyed each of these places very much and after chatting with a handful of local vegans, I'm convinced London is the next "big" deal city for vegan foods. 🙂