There are few places I've felt as comfortable and 'at-home' in as quickly as I did when I landed in Athens, Greece. From a relatively small and easy to navigate airport and public transit system, to the incredible kindness of my host Dimitra, and the clean, walkable city-scape, surrounded by stunning islands and crystal clear waters, and plenty of vegan food options, Athens is easily one of my favorite European cities to-date.
While the vegan establishments may seem relatively limited—though the local vegan community is growing quickly—there are still plenty of delicious options to choose from as you make your way through one of the world's coolest historical cities.
Yi ( describe themselves as 100% vegan, but they do include honey in some things)
Offering many raw vegan options, Yi (it's the Greek word for Earth in English) is one of Athens more upscale eateries. With an ample covered outdoor seating area and cozy cushioned indoor decor set inside a large, Pottery Barn-esque interior, you'll feel inspired to slowly sip a glass of wine or cup of tea, while perusing their menu.
This restaurant is set just outside of Athens proper so you may want to catch a ride with a friend or put on your walking shoes. But it's in a cool, semi-fancy, shopping area. So perhaps plan for a stroll before or after dinner!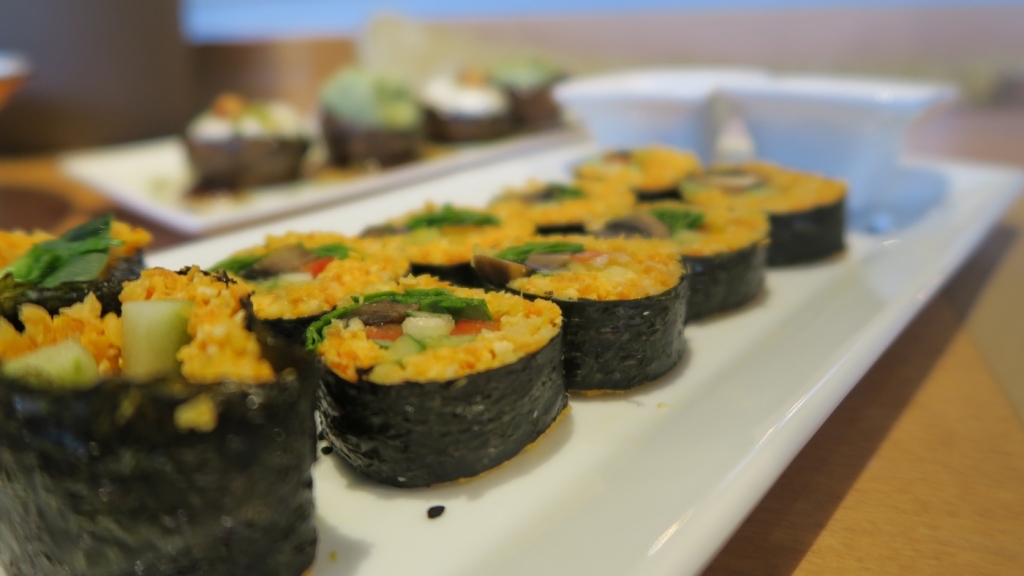 Dimitra and I shared the vegetable roll and stuffed mushrooms as appetizers. I indulged in a cacao mocha latte before the raw zucchini noodle dish arrived. And Dimitra had the Caesar salad.
The food was all fantastic. Each dish popped with flavor and the service was quite good. I believe they have menus in English but not to worry, many locals speak English (particularly those around 30 years or younger).
Be prepared for people smoking cigarettes in the patio area! If you're not a smoker (like me) it can be a bit uncomfortable but I quickly learned that many big cities in Europe have a major smoking culture. So pretty much any public venue that offers outdoor seating may also come with some serious smokers.
Rosebud (100% vegetarian/many vegan options)
One of my favorite foodie stops in Athens was at Rosebud. According to the locals, Rosebud is one of the longest standing restaurants in Athens. But they weren't always a veggie-friendly place! It's believed that one of the owners became vegan or vegetarian, not too long ago, and soon thereafter they changed the menu to be fully-vegetarian with many vegan options.
Easy to get to via public transit, and offering high quality vegan noms, I can't recommend Rosebud enough! I enjoyed their tomato-based "meat" balls on a bed of lemony-caper-ish local greens (seriously though, those greens; OMG).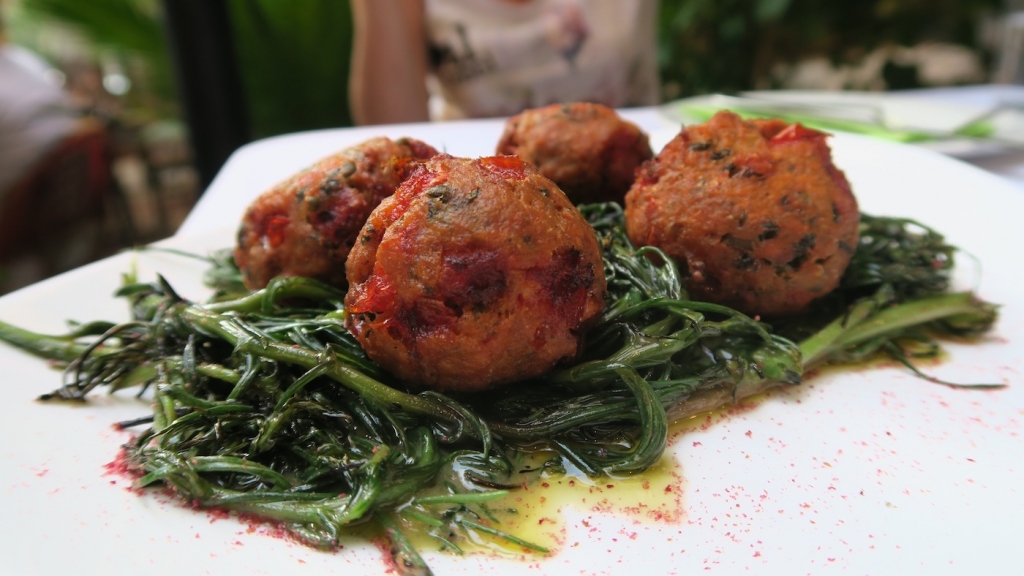 I had a few slices of one of their homemade vegan pies, with faux sausage, mushrooms, and a vegan yogurt-based cheese on top. It was quite good and the crust was perfectly crispy, not too thick, with a nice crunch.
Dimitra ordered the vegan souvlaki (AKA gyro) and fries, which looked awesome. I wish I'd gone back to try that one. She said it tasted really good!
Mama Tierra (100% vegetarian/many vegan options)
Another stop I enjoyed quite a bit was to Mama Tierra. Again, super easy to get to via public transit! I arrived an an off meal time so I was the only one in the restaurant. But I overheard to-go orders being placed and there seemed a pretty steady pace of takeaway meals.
I also heard one of the owners talking to someone about veganism and how smartly and passionately he spoke to and answered the person's inquiries about vegan living. It was pretty inspiring!
The service was warm and super friendly and their falafel is—I believe—the best I've ever had! They were perfectly crisp on the outside and ever so slightly soft and warm on the inside. The dips, pita, and sides were also fantastic (and everything very affordably priced). I wish I'd had time to go back again. I truly loved everything about Mama Tierra!
Avocado (100% vegetarian/many vegan options)
I was too full to order a proper meal when I arrived at Avocado (so thank-you to 'Vegan in Athens' for the first photo below) but according to the local vegan community this restaurant is the hottest veggie place in town!
They've got a sprawling menu filled with vegan and vegetarian options, with a variety of choices including things like burgers, sandwiches, salads, quinoa and tempeh bowls, macrobiotic plates, sweet and savory desserts, freshly pressed juices, and organic coffee and tea.
The bright entrance, accented by light wood paneled flooring, made it feel open and welcoming upon entrance. And the second level is super cute with floor/cushion style seating and low tables. It was quite cozy!
Thanks to everyone who came out for the meetup on this eve. We had more than twenty vegan and veg-curious peeps come to mingle, eat, and spread the veggie love! 🙂
A relatively new vegan establishment, Trivoli specializes in drinks of the caffeinated and alcoholic nature. They also offer a few food items as well (like burgers and fries). This is another place that's set a bit outside of Athens proper so public transit and a bit of a walk are in order if you wish to check it out.
I had a chance to speak with one of the owners and learned that he'd become vegan shortly after watching Gary Yourofsky's 'The Best Speech You Will Ever Hear' video—as it was introduce to him by his now business partner.
The two guys are passionate about the cause and providing a place for vegans to converge and support one another. Oh and they've got free wifi!
I tried one of their frappes (pictured below), which was quite good; which is also new to me: it's freeze dried instant coffee that froths into foamy, caffeine goodness, sans any milk products!
Ice Queen Gelato (some vegan gelato and waffle options)
One thing that is hard to find in Athens is good vegan ice cream. But fear not, Ice Queen Gelato has our backs, you guys. Located almost immediately off of the Acropolis Metro stop, Ice Queen Gelato has clearly labeled vegan options. I hear the variety and amount of vegan options changes daily but I went twice and there were about a half dozen flavors both times.
They don't stop with vegan gelato options though! You can even get a friggin' Belgian vegan waffle with scoops of gelato and vegan chocolate syrup on top. I mean… seriously though. Just go. Go there now. 😉
Pictured below are the dark chocolate and mocha gelato flavors.
Bamboo Vegan (100% vegan grocery store)
Definitely make time to swing by Greece's one and only fully-vegan grocer, Bamboo Vegan! Founded by a compassionate couple and having been in business for about five years, this one of a kind grocery store has a little bit of everything. They even have a mini hot bar with some vegan sausage rolls and other snacks!
Per some flyers I saw around the store, they also host regular pop-up food events—showcasing different styles of cuisines and various chefs. This place seems to be at the heart of the rapidly growing vegan movement in Athens. Be sure to stop in and show them some love!
For the beer drinkers in the crowd you'll love '500 Miles Away'! The food options are what you might expect for bar food. So maybe don't go for just the food; or wait until you've had a few drinks first. Ha! But seriously, it's got a cool vibe, free wifi, clearly labeled vegan foods, and friendly staff.
Oh *but* they DO allow smoking inside so again, if cigarette smoke bothers you it's probably best to skip out on this one altogether.
Novagea (freshly pressed juices)
I was delighted to happen upon this freshly pressed juice bar, within walking distance to the Acropolis/Parthenon and museums. I was feeling a bit parched and it was the perfect pick-me-up to continue my exploration throughout the Plaka District.
You can build your own juices or choose from dozens of blends that range from various fruits, vegetables, and super food add-ins. Watch the baristas filter your selected veggies through the juice presses and into your glass jar on the other side.
Aaahhhh the famous Greek Lukumades! If you love fried dough balls (see: basically donut holes) then you'll surely enjoy lukumades. You can actually find them all over Athens but this establishment, that touts the name of the treat, is said make the best of the best.
They are most commonly made with honey on top so be sure to specify the non-vegan options, like cinnamon, powdered sugar, and possibly even dark chocolate syrup.
This place is also within walking distance to the popular walking area, near-ish the Acropolis.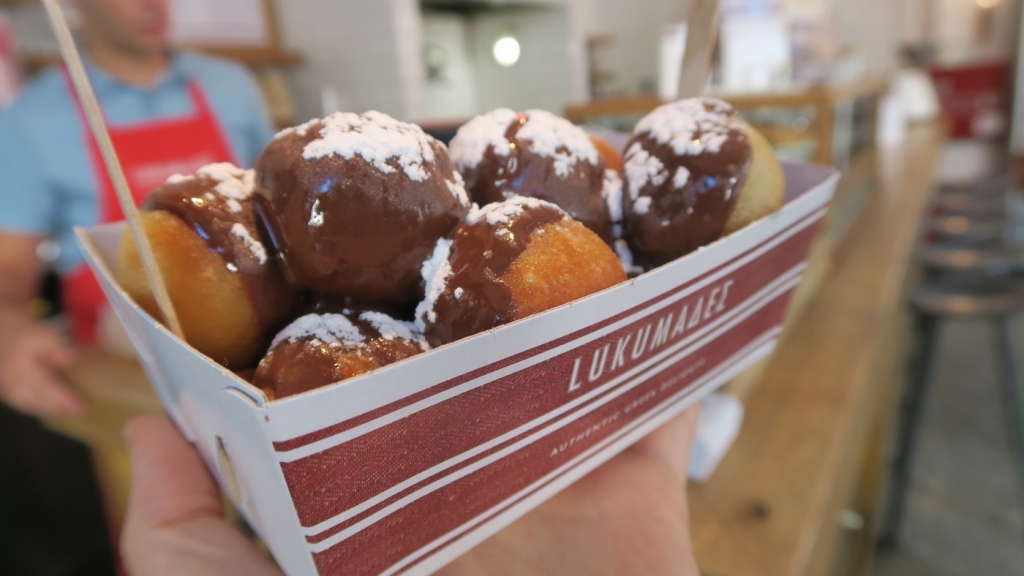 THINGS TO SEE/DO
If you need a food break or want to take advantage of some of the incredible sights in Athens, here are few of the things I experienced and highly recommend:
See the video tour here!