These are giant, fat, Greek butter beans ideally slowly cooked in a wood fire!
You will fall in love with their nutty and mushy flavor.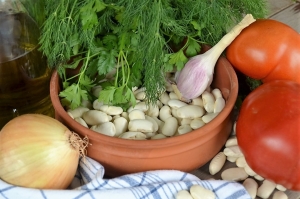 Giant beans, a staple in most households in Greece, are a fantastic source of both carbohydrate and protein. The best giant beans are grown in the north of Greece and never in large amounts. It is not easy to find those outside Greece; any type of butter bean would work with this recipe.
A traditional dish originally made to feed the workers in the farms it is now a favourite among the Greeks even among those who do not favour pulses very much.
Ingredients
400g dried butter beans (large) – in Greek this variety is known gigantes – a produce of Northern Greece
about 30 ml Greek extra virgin olive oil, plus more to serve
1 large onion, finely chopped
2 garlic cloves, finely chopped
2 tbsp tomato purée – if you want a darker richer red color you may use more tomato puree
800g ripe tomatoes, skins removed, roughly chopped
1 tsp sugar
1 tsp dried oregano
"pinch of a pinch"of ground cinnamon
some orange peel
a bunch of chopped flat-leaf parsley, plus extra to serve
about half a bunch of chopped dill
Preparation
Soak the beans overnight, or soak for at least 7 hours, in plenty of water. Drain, rinse, and place in a pan covered with water. Bring to the boil, reduce the heat, then simmer for approximately 50 minutes or until they are well cooked but not mushy. Drain and set aside. Keep about 2 cups of the liquid.
Heat some of the olive oil in a large frying pan, tip in the onion and garlic, then cook over a medium heat for 10 mins until softened but not browned. Add the tomato purée, cook for a further 2 minutes, add remaining ingredients, then si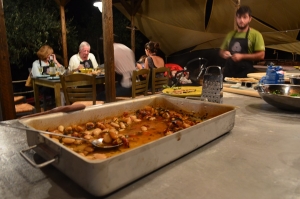 mmer for 2-3 mins.  Season generously and  stir in the beans, the two cups of "bean liquid", set aside and add a bit more olive oil. Tip everything into a large ovenproof dish (the beans and the sauce), then bake for approximately 1,5 hrs at 180 degrees C, uncovered and without stirring, until the beans are tender. The beans will naturally absorb all the extra liquid and the sauce will thicken. Allow to cool, then scatter with parsley.
Make sure you serve with some warm freshly baked crusty bread, to soak up all the wonderfully rich tomato sauce. This dish may work either as a side or a main course.