I was planning to write a couple of recipes for vegan dips but as I was clicking through the pages of the blog I saw a post on Lukumades accompanied by a photograph of the store in the old part of Athens.
Lukumades is the Greek version of a doughnut. A childhood classic, a sweet that we used to only have in special occasions, when there was some grand festivity. I was never too keen on those we used to buy; I always preferred the ones we made at home. Back in the 80's you often bought lukumades from street merchants. They had developed some form of mobile frying units and walked the streets of Athens selling lukumades. In the summer they would migrate to the islands or to sea-side villages. For some reason I have associated lukumades with summer walks on the promenade and fanfares, with off tuned music and hysterical laughs
Did I mention that I always preferred the ones we made at home? The ones we bought form those mobile units felt as if they had been fried in overused oil, and they probably had been.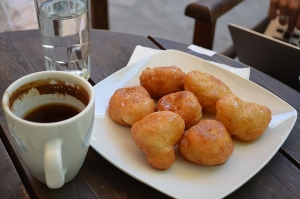 Nowadays of course things are different, the street merchants and their mobile frying units are long gone but you can still find lukumades in specific stores and usually of much better quality! Most families only rarely make them at home anymore. It is the frying you see..it is time consuming and makes the house smell!
I am lucky enough to have my share of lukumades from time to time these days. Our chef makes them often at the end of our cooking workshops, just to wave everyone goodbye with a sweet bite!
Lukumades are great with any kind of sweet topping you can imagine. The dough is totally vegan and with a grape molasses topping they look like little jewels.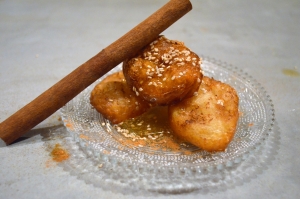 Here's the recipe directly from Petros, our chef. Lukumades accompany wonderfully a cup of black coffee. Served originally with honey …our vegan friendly version is with grape molasses, cinnamon and toasted sesame! Do make it at home. We hope you will love them as much as we do!
Ingredients (serves 10 people)
500 gr of self-raising flour
25 gr fresh yeast
2 tbsp of sugar
1 pinch of salt
about 600 ml of a clear fizzy drink
grape molasses
cinnamon
toasted sesame seeds
sunflower oil for deep frying
Preparation
Dissolve the yeast and a teaspoon of sugar in a glass of lukewarm water, keep in a warm place. When the sugar/yeast mixture starts to fizz the yeast is activated and ready to use. Add the mixture to the flour along with the extra teaspoon of sugar. Whisk while pouring in the fizzy drink gradually. Keep going until you end up with a thick custard like mixture. Cover with a clean cloth and keep in a warm place until it almost doubles in size. Then add the salt and whisk again.
Heat the oil is a deep pan (a wok works beautifully). You need high temperature for this to test that the temperature is right through some dough in, it should start to bubble and float. Make sure you rinse the spoons before you get your next round of dough
Use two tablespoons to remove some dough from the mixture, shape the dough by transferring it from one spoon to the other. Try to make the shape as round as possible but do not get frustrated if the shapes are not round in the beginning. Making round spherical lukumades is a craft! Make sure you rinse the spoons before you get your next round of dough
Place in the hot oil and flip them over a few times until golden in color. Place in a plate covered with thick paper towel. This will absorb any excess oil form the surface of the dough. Serve with a good amount of grape molasses drizzled all over, cinnamon and sesame seeds.
Enjoy!