Vegan and Music, in Seoul.
Until now, all my posts have been about vegan restaurants and food, but in this entry, I wanted to include some reviews of music performances that I saw in Korea. Hopefully, you could make your vegan travels extra inspirational with a bit of rhythm!
Also, due to my tight schedule,  I didn't get to explore as many "vegan" restaurants as I had wished. However, I could still make a list of non-vegan places for you to visit and enjoy!
For three weeks, I stayed with my cousin, who lives near the metro station, Namsung. And I love this area for two reasons: 1) I can get to any place in the city in less than an hour ; 2) Boulangerie GAMA is only a block away.
This boulangerie doesn't look very special from the outside, but when you step inside, there is a completely different world.
There are numerous vegan bread (different ones every week) that are made with rice. They all looked amazing, and I got to try the pumpkin flavour. When my family tasted this bread, they never bought the one with dairy again.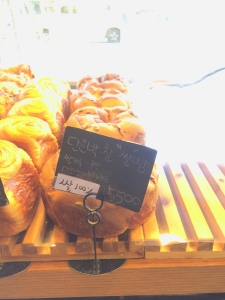 After unpacking, my aunt and I went out to Express Bus Terminal to do some shopping. (Yes, it's actually a bus terminal, but the whole underground section is more like a mall.) When you go downstairs, you will find hundreds of clothing shops side by side, competing for customers. I wish I could show you what it is like, but it was too crowded and hectic for me to take a photo! ????
<Babione> – 19-6 Banpo-dong
Stressful shopping is really not my thing, but the dinner I had afterwards made me forget about all the exhaustion. Just above the Bus Terminal, there were places to eat, and I found a vegan place called Babione.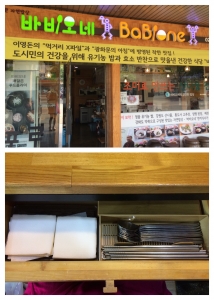 We got a spicy tofu and a mushroom miso soup, and we immediately fell in love with them. Of course, the quality was guaranteed since everything was organic and non-GMO. What we loved even more was the owner. Every time we cleared a side dish, he would happily refill it.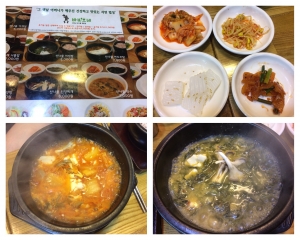 That evening, my family and I went to see a rock concert at a pub nearby. We are a big fan of all genres of music, so we did a bit of research and found out that there was going to be a live performance by four famous Korean bands that day.
Among them, my favourite was the last band called KICKSTART, whose energy – in my opinion – was the closest to that of Nirvana and Guns N' Roses.
It was an awesome evening where I could bang my head all night and live the moment. Surely, I have become their huge fan, and I will try to see them again when I visit Korea next time.
<Bad Farmers> – 523-21 Sinsa-dong
A few days later, I took my cousins to Bad Farmers, which focuses on uncooked, organic vegetables. As you can see in the photo, the price is a bit on the expensive side. Instead of a salad bowl,  I got a beet-hummus sandwich and a bottle of juice called, "Goodbye, Fat!"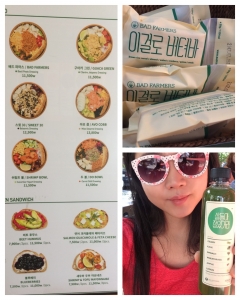 As we were having our lunch, we met a very kind gentleman across from us. He was visiting Seoul from Paris. Through our conversation, I learned that he was the founder of Kumiko Matcha, an online boutique that sells premium organic matcha powder. It was so wonderful to see a fellow friend sharing his love and passion in maintaining people's health as well as the environment !
<Holly's Coffee>
We all went for dessert after lunch at Holly's. Whenever my family suggests a place, I don't have high expectations. Perhaps this is the reason why I get overly excited when I see a vegan option. We shared a pineapple-grapefruit flavoured shaved ice. Although slightly bitter, it was a good choice for a hot, sizzling day!
<Gogabin Curry House> – 110-48 Naesu-dong, 3rd floor
The day after, I met a friend for dinner and a musical performance. We hadn't seen each other for three years, so we were looking forward to having our girl talk. She had kindly looked up several veggie places near us and let me decide. I wanted to try something unique, so I picked Gogabin Curry House. When we went in, we were so surprised by the atmosphere! A lot of the exotic plants made us feel like we were in a tropical forest.
The location was very ideal too. I was able to move away from the big streets and all the crowd, and appreciate my time. This place is highly recommended for Indian cuisine lovers!
Musical Mil-Sa at Sejong Theatre
Mil-Sa is a musical that I had wanted to watch for the longest time. Mil-Sa means "emissary" in Korean, and it is about the three Korean emissaries who were sent off to The Hague by the King of Korea to appeal for peace during the Japanese invasion.
I was absolutely moved by the actors' and actresses' singing and dancing. Everything was impeccable: the music, the costumes, the settings, and the ensemble. There were intense and dramatic moments that brought tears into my eyes. The only thing that was a bit difficult for me to understand were some of the ancient vocabulary, but that didn't stop me from enjoying the show.
Even if you're not a huge fan of musicals, I can assure you that you won't regret. It really felt like I was watching a Broadway musical!
To be continued in Part II…