Hello! 🙂 Welcome to my blog entry, hope you find it helpful! Feel free to comment and share your thoughts! 
This is already my third time visiting Seoul since I started writing on vegantravel. I must say, this entry will interest you if you are looking to do some animal rescuing. It sounds intimidating, but do not be afraid! It does not cost a cent, and it is legal 😛
Before I explain further though, I am going to start by giving you some new vegan places that I found in Seoul! You can skim through them and see which ones look good enough to eat 😉
Are you bold enough to try temple food? Go to:
Maji – 19 Jahamun-ro 5
As some of you know, Buddhist monks do not use/consume these five ingredients : garlic, leek, chives, wild chives, and hingu (I don't know what this is). So if you're a big fan of these spices, you might feel that the food is a bit bland. However, my brother and I loved every bite! (I think I just like anything that's vegan). The photo is not the best, but check out we had. All I see is protein 😛
The owner, who spoke a bit of English, was very kind, and she gave us some free dishes to try as well. I would definitely come back again in the future!
Cook and Book -361-26 Hapjeong-dong
This place has been around for a long time, but I never had the chance to visit here until last week! I was very excited, and was certainly not disappointed. I went with a friend who had never had vegan food before, and he was shocked. He said that his body felt cleansed by all the freshness. He ordered vegan lasagna, and I got the vegan cutlet.
Nammi Plantlab – 55 Bangbaecheon-ro 4 an-gil, 2nd floor 
My amazing aunt, who used to not approve of my vegan diet, had finally accepted and embraced my decision. She even looked up some vegan places that we could go together, and she picked the perfect place. She even invited my cousin and treated us. It was surely a very special day for me.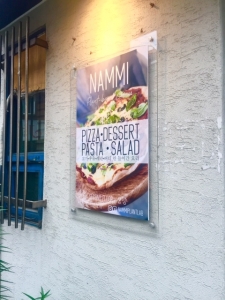 As you can see, the food was more than enough for three of us. Luckily, we had to pack the left over pizza to go. As for the price, it is relatively higher than most vegan places, but not too bad, and definitely worth it. I would say this place is in the top 3.
Dr. Robbin – *many locations *
Dr. Robbin is known for its healthy ingredients, using olive oil and avoiding sugar, dairy, and MSG. Although it's not completely vegan, it is rather easy to choose a plant-based option because all of their cream is made with local soy beans. I was so happy to know this because it is mostly the butter and milk that are hidden in a lot of cooking.
As I promised, I am going to tell you how you can rescue a few dogs from Korea! So many dogs are still waiting to be euthanized because they cannot find a loving home…  I recently found out that I could be a volunteer to help transport the dogs who have been adopted by Canadian families. The only thing is, it is more ideal if your final destination is Vancouver or Toronto, but I'm sure you can find other organizations that do similar jobs to other countries. All I had to do was go to the airport an hour earlier and sign a form saying that the dogs are mine, and after I landed, I met the family that had adopted the dogs. They will reimburse all the inspection and porter fees that you pay.  If you want to know the details, send me a message and I can help you get in touch with the person who is in charge! Thanks for reading ^_^