<Han Gwa Chae> – Insadong 10-gil, 13
Han Gwa Chae is a vegan place that I had kept an eye on for months. Not knowing their break times last winter, I stopped by one day only to find out that it was closed. This time, I couldn't make the same mistake. I called them in advance to make a reservation for 10 people, and took all my cousins there for a lunch buffet.
When we went in, the owner gave us a warm welcome and had beautifully set the table for us. I didn't know too well about the traditional Korean cuisine, so I asked the owner many questions and he explained all the ingredients as well as the cooking process for each dish.

There were more than a dozen plates of cooked vegetables, as well as some desserts. Also, every time a plate was cleared, the owner brought out a completely new dish, so in the end, we got to try about 20 different cookings.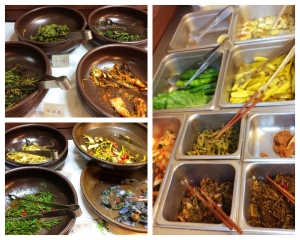 It was indeed a wonderful lunch and I truly enjoyed the authentic taste. The only thing that I couldn't agree was with the owner's comment, "do not eat vegan meat, since all of them are GMO!"
<Dos Tacos> – 12-3 Gwancheol-dong
Before going to a performance at Chang-Kyung Palace, I was going to visit Ppuri on the Plate (a vegan resto). When I got to the location shown on Google map, I noticed that the restaurant did not exist anymore. Since I didn't have much time, I decided to eat around the Palace, and that's when I found this cool Mexican place called Dos Tacos.
It actually looked closer to a pub, so I felt a bit weird going there alone, but I didn't have much choice. I ordered a vegetable burrito, without cheese and sour cream, of course. Then the waitress asked me, "What about gosu?" I asked her what that was. She had hard time explaining, but I figured out eventually that she had been trying to say "cilantro". I did hear about how most Koreans were not a big fan of cilantro, so I appreciated her intention of asking.
As I was waiting for my food, I saw a bunch of chargers on a shelf right in front of me. They were for customers who needed to charge their phones. I thought that was very generous, since a lot of people would find them helpful, especially travelers like me!
Performance at Chang Kyung Palace
This place would have been so romantic had I come with a guy. All the paths, statues, and old architectures were lit up with pretty lights. That week, there was a concert series, and I was able to catch a very exciting performance by a group of young Korean traditional musicians.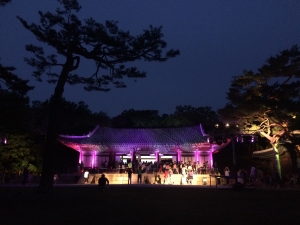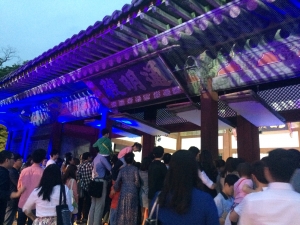 There was a huge crowd, so it was a bit difficult to watch, but at least I could listen and sing along. It was a really satisfying evening, other than a terrible mosquito bite I got here!
<The Bread Blue> – 54-58 Nogosan-dong
Visiting The Bread Blue made me regret that I didn't come here before. Better late than never though, now I know where my first stop will be for my next trip to Seoul. The Bread Blue is just amazing in every single way. Countless desserts and French pastries were available at the highest quality. I was completely dazzled by them and I had the hardest time picking my dessert for the day. Well, what do I do…. I decide to get more than one: a pizza roll, mont-blanc, a millefeuille, and a sweet potato latte. I must say, they were about 100 times better than pastries made with dairy.
Again, I don't know what it is about the owners of vegan places, but they seem to be just super polite and friendly. The man who runs The Bread Blue gave us a free orange marmalade biscuits for me and my friend. I've never had this kind of service in my life, especially in Seoul. The owner really treated us well.
<Ryun at Jung Dong Theatre>
One of the most memorable shows that I've seen in Seoul was a play (but no words) called Ryun, which was the name of the main character. What was very special about the play was that all the actors and actresses were professional musicians as well, so I got to see some talented drummers as well as string players. It was mind-blowing.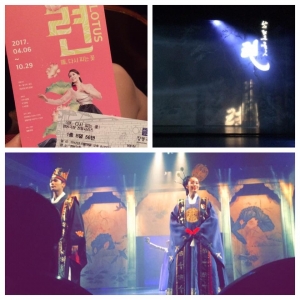 After the performance, the audience had an opportunity to take photos with some of the actors. The man who played the role of a promiscuous king turned out to be a super goofball off stage – it was hilarious.
<Chae Keun Dam> 
Enlisted on the Michelin Guide, Chae Keun Dam is 99% vegan. (If you ever decide to go, please ask which kimchi has the oyster sauce.) Although the quality was impeccable, I am not sure if I would go back. The taste was just too strong for someone – aka: me and my brother- who did not have an acquired taste…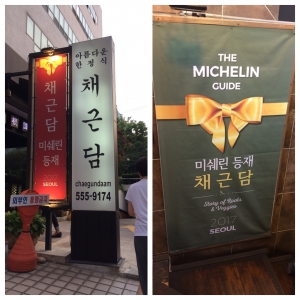 This place was no doubt an upscale, and I really loved my experience here, but I have a feeling that this was my last visit. However,  one should definitely go at least once!
A little conclusion:
While it is a common knowledge that veganism is not as well-embraced in Asian countries, the awareness is definitely growing rapidly in Seoul. Many restaurants, shops, and brands are now incorporating vegan options in their products. I am definitely excited to continue exploring as I make more trips to Korea! Thank you all for reading my post 🙂