An-nyoung ha seyo! 
My 10-day trip to Seoul in January actually turned out to be much better than I had imagined (vegan-wise). In December, my parents suddenly suggested that we go to Seoul to visit our relatives for the New Years (and to attend one of my aunts' 70th birthday party). In the beginning, I wasn't too pleased with this suggestion, knowing how unfriendly this country was for vegans. I didn't want to hurt my families' feelings, but…  I wasn't interested at all in going.
First of all, I knew how eccentric the word "vegan" would sound to most Koreans, and I didn't want to feel like I was the weird one. Second of all, I didn't want to have to answer the inevitable questions raised by my relatives; for example, "Why did you decide to go vegan?", and "Where do you get your proteins?"
However, after much contemplation, I decided to use this opportunity as a way of introducing veganism to some of my relatives. With such hope, I changed my mind and booked a ticket just one week before my travel. I must say, if I were to give this whole trip a score out of 10, I would give it a 10 without the slightest hesitation (despite the fact that I was asked those inevitable questions).
On the plane…
Now, I'm not saying this because I'm Korean, but Korean Air is seriously the best (so far). I had an amazing experience with them. When I called the airline in advance to request for the vegan meal, the agent was incredibly polite and made sure the meal was vegan, and not vegetarian. And on the day of my flight, when I was served those meals, I could tell that they were made with much effort. All four of them were extremely tasty and unique, and at the highest quality. (Yes, you can see that the grammar is not perfect on the sticker, but they did their best!)
Of course, visiting a vegan restaurant was the first thing I did as soon as I landed. One of my cousins wanted to take me out to a vegan place called, O-seh-gye-hyang, which is known to be the best vegan restaurant you could find in Seoul.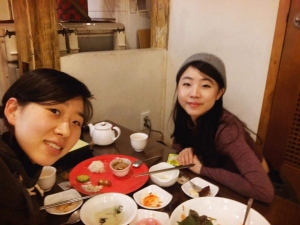 The salad and soup are always complimentary. We got vegan bulgogi, vegan breaded pork chop, and vegan steak. (I ordered a bit extra to take home to feed my omni brother who had been expressing his interest in becoming vegan.)
Café In-sarang

<24 Insadong-gil, 2nd floor>
Sarang means love in Korean, and I really LOVED this place. This wonderful vegan restaurant was suggested by a vegan friend (who runs a Facebook page called "I Love Animal" in Korea), and we decided to explore this place together. We had a bit of trouble finding the location because it was not registered on Google Map; we had to type the actual address instead of the name. I still don't understand why this place is not well-known.
We both got the Yun-Ip combo (approx. $14), which was their specialty. (Yun-Ip means lotus leaf.) You flip it upside down and unfold it like a wrapped gift – there is your yummy rice with chestnuts and all sorts of beans!
Café Plant

<63-15 Itaewon 1 dong>
After a very nice meal, my friend and I went to get some dessert at Café Plant. This charming café sells tasty vegan cakes, and we got a piece of pumpkin gingerbread, and a piece of strawberry red velvet. This place is very small and cozy, which makes it ideal for you and your special friend.
Oons Bakery is run by a kind-hearted lady who makes all sorts of pastries, cookies, and crackers from scratch. I asked the owner so many questions about her products, and she answered each and every one with great patience. I think I spent about $25 and brought home these goodies to share with my family.

Gye-Jul Bap-Sang

(underground of the InterContinental Coex Mall)
Gye-Jul Bap-Sang literally means Season's Dining Table. This buffet place is not necessarily vegan nor vegetarian, but you can surely and safely taste numerous Korean dishes that are vegan. In front of each plate, there is a label of ingredients as well as allergen information in English, so no need to worry!
InterContinental Seoul Coex (Hotel Restaurant) <524 Bongeunsa-ro Samseong 1 dong>
This is where my aunt's birthday celebration was held. Of course, the whole family looked at me with pity while they had their plates full of seafood, but I couldn't care less. There were four different dishes that were clearly marked vegan, but I found some others that were vegan friendly!  The small bowl on the plate is filled with buckwheat noodles and seaweed, which is actually very similar to Japanese style, and just next to it is a Korean traditional tea, made from dried persimmon, brown sugar, and ginger.

*You do have to be cautious with rice porridge (jook), though, if they are offered in buffets. It can be tricky to find out whether they are vegan or not. Traditionally, they are – and should be – completely vegan. However, many places now use their base with beef broth, and they won't tell you unless you ask. For example, a very famous porridge place called Bon-Juk offers a vegetable porridge on their menu, but they use beef broth, unless you request to have it made with water. Sometimes, you just have to be extra careful!
So you can see that Seoul is actually not so terrible to visit as a vegan! It was exciting to notice that my home country was changing and growing much quickly than I thought. Although I have a good list of vegan places already in this blog entry, there are many many others that I missed due to tight schedule, such as Loving Hut and Dalnyang. These are also highly recommended! 
Thank you everyone for reading my post, and I hope you enjoy your trip to Seoul! 🙂