Fancy helping a dog to travel to their forever home? Become a flight volunteer!
At Elephant Nature Park Dogs – now Dog Sanctuary Thailand, there are over 450 dogs waiting to find love! There is usually always a dog waiting to travel to their forever home, but they just need some one to be their volunteer to help make this happen! If you are inspired by our blog, and are travelling from Thailand in the near future, then contact Dog Sanctuary Thailand to see if any dogs are awaiting their trip, and to what airport they will be flying to. Everything can be arranged for you, but we arranged all the flights and transport ourselves. Let us tell you how 🙂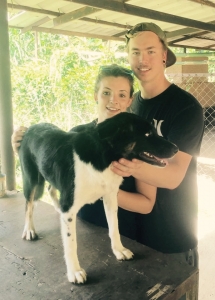 Our first time at Elephant Nature Park, we fell in love with Tay, and just had to bring her home with us. There are many checks and procedures to go through, like rabies vaccinations, passports, vet checks and blood tests. For us, this took 6 months to complete, as we were travelling S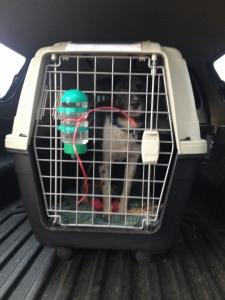 outh East Asia as well. It also depends on the destination, UK has different preferences to US and Canada.
We left ENP to Chiang Mai, with Tay in her crate. She spent a few days in the ENP office whilst we got the last few bits of paper work done. Whilst enjoying our last few days in Thailand, we spent a lot of it enjoying the water festival and eating at 'A Taste from Heaven', just down the road from the office. Serving all vegetarian food with many, many vegan options, this is definitely the place to eat in Chiang Mai!
From Chiang Mai, we took a 1 hour Thai Airways flight to Bangkok. This was really easy to take Tay with us, hardly any checks and easy check in. We picked her up again in Bangkok airport and took her outside for some fresh air. She was very happy and calm! Then to check in for our long haul flight to Amsterdam! We underwent all document checks, and stickered up her crate! We then said bye for the 11 hour flight! We went with KLM as it is the easiest, and cheapest to take a dog on. (The vegan food is awesome on board!!) I was worried sick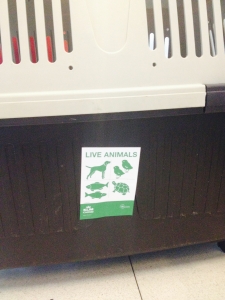 throughout the flight, wondering how she was doing! But to my surprise, when we got her back on the other side, she was so cheery! We stayed in a hotel  close to the airport, which was dog friendly with a  big field next door for her to have a sniff around! She was very cold but had her first experience of rabbits and snuggling up in a duvet!
We then hopped on to a train the next morning, to Hook Van Holland, where we caught the Stena Line ferry to the UK. This took about 2 hours. Checks are made boarding the ferry, so make sure you still have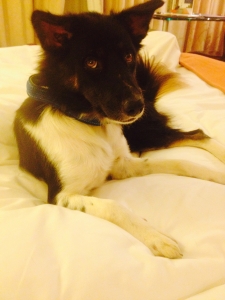 all correct documentation! Doggies go in their own kennels, which are on cctv so you can watch from your cabin! When stepping foot back to home ground, we were free to go! Another 4 hour journey to the south of England! All in all, the journey took about 48 hours, but was so worth it!
Now, she really enjoys the english life and weather! The rain and cold don't faze her at all! We were worried how she'd get on with our other dog, Sasha, but they are the best of friends! 🙂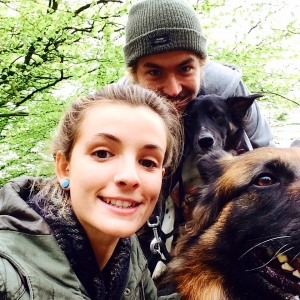 We couldn't have done this without all the help from Sabrina! If you think you may be able to help, contact Dog Sanctuary Thailand. If you are unable to be a flight volunteer, but are still visiting Thailand, pop to ENP for a week and help volunteer with the dogs. It's a life changing experience! See if you fall in love <3