This is my first blog ever!!!
This summer I was lucky enough to go traveling around central and northern Europe with a part sponsorship  by VeganTravel. We began in Italy :).
We had already been in Italy a little while before the official trip started so we arrived in Milan by train. Our first stop (obviously) was food! We left the colossal station and walked for 10 minutes to nearby Alhambra which was unfortunately closed, luckily there is a little vegan cafe/coffee shop around the corner! It's a really cosy little place that is completely vegan and a perfect start to the trip.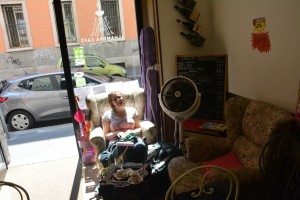 After this we went and picked up our rental car, which I think is the best way to travel around Europe! Although this may have been because I wasn't driving!!
Before we left Milan we went to pick up some supplies for our trip for a bio supermarket chain called NaturaSi. This huge health/organic/bio shop is amazing for vegans, although not everything is vegan. They have a massive selection of seitan, tofu and other mock meats as well as cheese and everything else you might need if you were cooking your own meals or lunch.
Brescia was our next stop (pronounced bre-sha, not bres-kia!). Again first stop was food :), there's a trend to this blog. We went to Universo Vegano, which is an Italian vegan fast food chain, you can't get much more exciting than that! We'd been to one of the three in Milan previously and really enjoyed it. It's a franchise though so the quality is not always the same. This one wasn't particularly good, but was vegan and fairly cheap so better than most places. I'd recommend going to them for a quick lunch or if you can't find anything else.
Brescia is a really pretty city with elegant promenade shopping streets and a lovely rustic town square with two impressive churches. One of them was built 2 metres below the current pavement so the original entrance is  blocked up, you therefore enter half way up the church and descend to the floor. This gives it a mysterious feel. Anyway back to food! Another place to go is Capre e Cavioli, it has a very local feel to it. It's completely vegan and very welcoming. We had panni, which were good and caldi-al-cioccolato which you HAVE to get if you're in Italy, it's almost as important as gelato!! It's a thick chocolate drink, some places offer it in various flavours, we tried a hazelnut one that was delicious!
Next was Lake Garda :). We arrived fairly late in the day but just in time to see the sunset on the mountains overlooking the lake which was beautiful! We went straight to our VEGAN B&B, La Casata. The hosts are lovely friendly people who directed us to a restaurant nearby that had vegan options labelled. We had a lovely walk for 10 minutes to the lake shore and then along to find the restaurant Villa Cian, which was very dissapointing and touristy. I would definitely recommend going to a standard pizzaria and inquiring about their vegan options instead (pizza marinara is vegan as long as the base doesn't have milk in), also a new vegan restaurant was setting up in Arco which is about 5km inland on the lake. Torbol (the town we were in) is a small town on the lake, it's a really pretty place to wonder around at night with lots of live music and active bars.
The next morning was breakfast at the B&B! I'm going to copy from my review cause I'm lazy:
The breakfast patio looks out onto views of the nearby mountains and is the perfect place to have breakfast. First there is a homemade buffet consisting of: seitan, three different cheeses, various breads, donuts, muffins and more things that I've forgotten because there was so much choice. After stocking up our plates and excitingly sitting down to eat the host brought over some cereal with homemade yogurt! Then a little while later french toast with bananas on!!! THEN after we were sitting full of unbelievable food and thinking we could never eat any more they brought out an Italian classic, cannoli, which somehow we also managed – which is a testament to the quality of the food!
Note: you can inquire about the vegan breakfast even if you're not staying at the B&B. So if you're staying in the area at a non-vegan hotel or anywhere you can pay just for the breakfast, which I would strongly recommend.
This day was spent going around the east side of Lake Garda. It's an amazing lake to visit, the north part is surrounded by mountains which flatten as you go south. We had a lovely drive down, most of it right next to the water and stopped off at some of the many pretty little towns on the lake. In particular we liked Garda with it's romantic little streets and building! At the south end of the lake is Sirmione, an incredible town. It's set on a peninsula and as such the clear blue lake is never far from sight. As you enter the town you pass through a fairytail gateway with towers and castellations. It's another classic Lake Garda town with small pretty streets and beautiful buildings, the perfect place to sit, eat gelato and relax. GELATO! I'm writing a blog about food in Italy and it's taken me this long to get to gelato?! In sirmione there are SO many gelaterias, but on in particular advertises vegan gelato! Gelateria Artigianale Fortune has about 16 different flavours of vegan gelato and sorbets, including rice and soy based. Needless to say we got a bit excited about this after searching all day for vegan gelato. We got a medium cup and it was about 12 scopes of gelato!! It was amazing but too big for one person.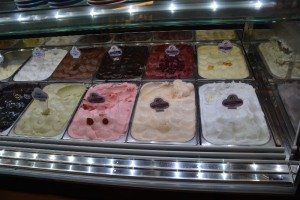 Apart from gelato Sirmione also has an impressive roman ruin at the end of the peninsula that is well worth a visit even if you normally find roman ruins boring (I like them but they are just piles of stones sometimes).
After being stuffer with icecream we fast tracked to Trento where we had dinner in a new vegan restaurant, Veggy Days. This is a bright airy fully vegan restaurant. Unfortunately the food that we had was kind of boring and I think if I went back to Trento it wouldn't be my first choice. It wasn't bad though so if you're stuck for choice definitely go there.
We spent the night wildcamping in the mountains above Trento which was a novel experience. Apart from being alert to any noises, we woke in the morning to find we had rolled to a precipice three metres above a road and had to VERY carefully disentangle ourselves from the tent without falling. The view of the Italian Alps that greeted us was worth it though and was the perfect way to start a day.
The rest of the day was uneventful as we drove towards Slovenia which will be my next post eventually 🙂
Simon