Many vegans will agree that our diets are sometimes incompatible with a jetsetter's lifestyle. Some destinations and cultures don't fully accept veganism or can sometimes confuse it with a different diet. Fortunately, London isn't one of those places.
In fact, the number of vegans living in the UK have risen by a whopping 360% in the past decade, with the country being home to some 542,000 vegans in 2016. One in five of them reside in London, where there are farmer's markets on the weekends, vegan options in restaurants, and even full-on vegan establishments across the city. There were some places we'd love to visit again, while others… we'd gladly pass up. That's the thing about London, though: the vegan restaurants and dining options are so abundant that you don't really have to be forced to eat mediocre meals from the same place for the rest of your trip.
But of course, restaurant hopping is not the only reason to visit this wonderful city as there's plenty of magnificent things to do and see. Take a look at how we spent our weekend in London.
DAY ONE: SATURDAY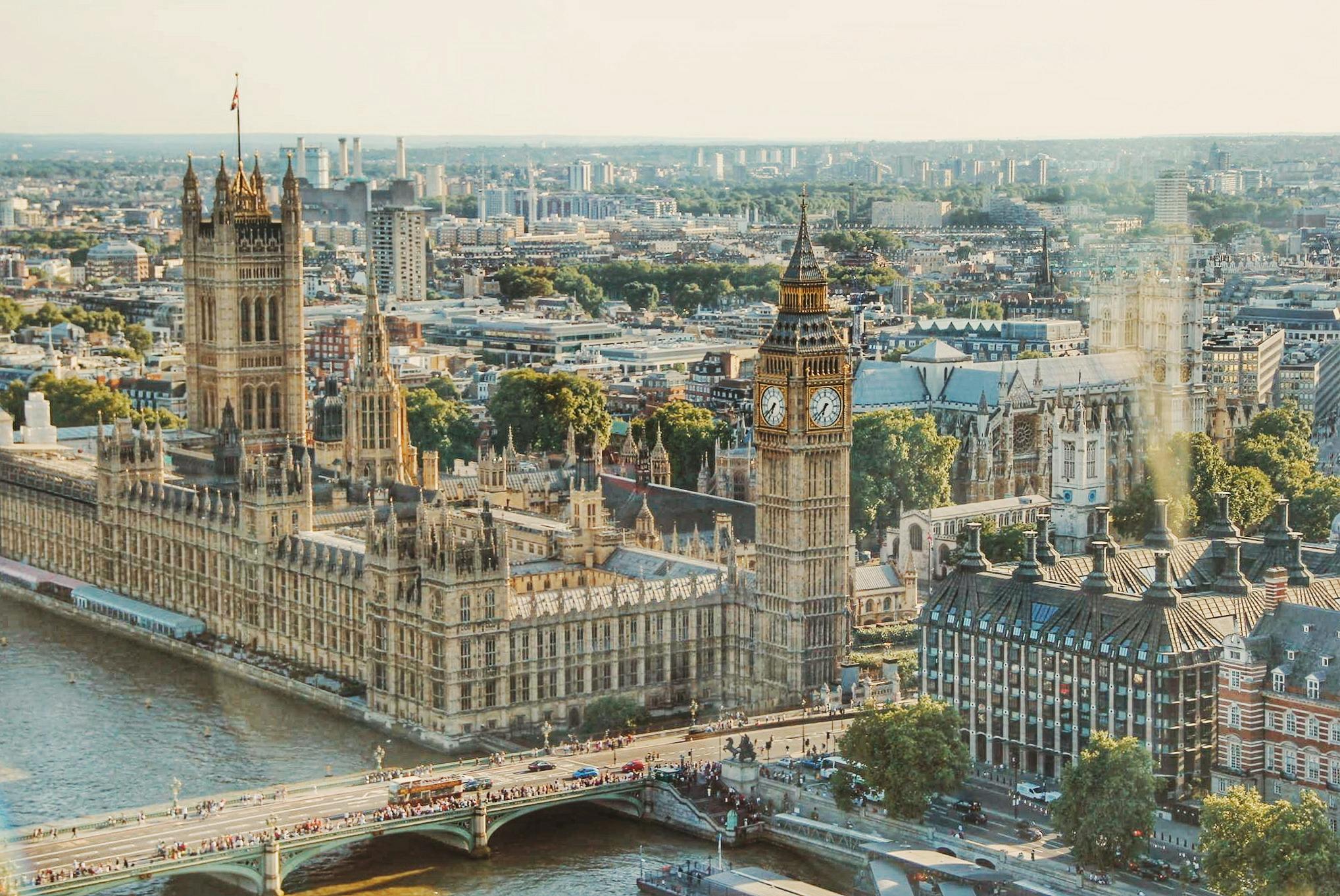 Since we only had two days in London, we wanted to fit everything we could into our stay especially since I was traveling with a first-time visitor to the UK. You could say it was a jam-packed weekend and we've probably seen more during those two days than most people get to see of their own city! Our Airbnb was a centrally located mid-rise flat, as the locals would say, with lots of access to public transportation. The place was clean and nothing too special, but all we really needed was a comfortable bed to sleep in after a full day of exploring.
We arrived the night before and tried our best to sleep and counter the effects of jetlag. We woke up early the next day, had some oatmeal and fruit in the apartment that our gracious host left for us (we were saving our appetite for brunch), and went on our way.
8 A.M. HOP-ON, HOP-OFF
The first order of business was seeing the city from an iconic open-topped red bus. There are different companies that offer the hop-on, hop-off tour but we took the route offered by The Original London Sightseeing Tour. We stopped by some of the most postcard-worthy places on London's map, including St. Paul's Cathedral, where the late Princess Diana and Prince Charles got married, and Trafalgar Square. The 48-hour tour even includes a boat ride, but since we were short of time, we only took the short route. Nonetheless, it was a lovely ride on a warm Saturday morning.
12 NOON BRUNCH
The bus ride took us a few hours but it was finally time to eat. We'd done our research and decided that the all-vegan Black Cat Cafe in Hackney was the most promising. An order of fishless chips was due, as well as a breakfast fry-up, chickpea 'tuna' sandwich, an omelet bowl, and some cupcakes, not knowing that the portions were huge. The fry-up consisting of vegan sausages, beans, mushrooms, and the tofu bacon was delicious and hearty. The bacon did not taste too much like the cholesterol-riddled animal-based bacon, which I had no problem with as it was still tasty on its own. The small cupcake bite I took was just the right consistency and sweetness, but I was already too full to finish it. After brunch, all I wanted to do was take a nap or fall into a food coma but we still had much to do!
2 P.M. ART, CULTURE, AND SCIENCE
The rest of the afternoon was spent taking in a little bit of art, culture, and science in London's galleries and museums. The National Gallery boasts some of the most important paintings of renowned artists such as Leonardo da Vinci. There are free pamphlets and guides to help out those who aren't well-versed in art.
As much as I loved looking at important works of art, the National History Museum was a different kind of wonder. The museum's centerpiece was the larger-than-life skeleton of a blue whale, and it was a mesmerizing sight to behold. The BBC notes that Hope, the blue whale, is actually a new exhibit as the former star of the museum was a dinosaur skeleton.
6 P.M. VEGAN FAST FOOD
Dinner was quick and where else to get rapid service but at a vegan fast food restaurant? That's right. Temple of Hackney serves unbelievable fried chicken using a seitan base. Again, the servings were generous at an affordable price. For me, the star of the meal was the mac and cheese, which was creamy, gooey, and just outstanding.
7.30 P.M. WEST END SHOW
A visit to London isn't complete without catching a show and that is exactly what we did. I have seen Les Misérables multiple times (once on Broadway and a few times in the cinema) but it never fails to captivate me. The West End production was absolutely glorious — I sang the lines under my breath and held onto the edge of my seat during the most tense-filled scenes of the musical. I couldn't stop humming the tunes before I slept that night, and Fantine's vocals were haunting.
DAY 2: SUNDAY
10 A.M. COMFY BRUNCH
The second day was much more relaxed than the previous day as we felt that we had already seen a lot of the city. Kin Cafe served us a memorable quiche as it was simple yet flavorful, but I thought the tofu scramble was so-so. We also ordered some fluffy pancakes, an oat milk latte, and a dirty chai, which was my favorite. They also serve pastries and muffins but the previous night's fast food was still weighing me down. Nonetheless, brunch was pleasant in the cozy interiors of the restaurant and the friendly staff at Kin Cafe.
12 NOON THE ROYAL FAMILY
We walked around a lot during our second day, mostly through parks, the iconic Notting Hill, and around the Kensington Palace. It is a royal residence built in the 17th century where many royals have resided and still do today, including the newly-weds Prince Harry and Meghan Markle. We spent most of our afternoon in the palace grounds as there is just so much to learn about the Royal Family and the culture surrounding the monarchy. The Kensington Gardens were especially beautiful with fountains, colorful flowers, and a tranquil scenery all around. Strolling through the gardens was the perfect respite from the busy streets of London.
Since I was traveling with a soccer fanatic, we also had to swing by the Emirates Stadium, home of Arsenal Football Club. We went on a self-guided tour around the massive stadium, which Ladbrokes explains can seat a staggering 60,355 people. My companion was particularly excited about the stadium's museum, which runs visitors through the club's history. While football is more or less an alien concept to me, one thing that has interested me is the news about the Forest Green Rovers. They have recently been promoted to League Two but what's more groundbreaking is how the team is the first vegan football club in the history of the sport. Owner Dale Vince is a vegan and environmentalist who owns a green energy company, Ecotricity. He convinced the team's chef to replace red meat with vegan alternatives and since then, it was a gradual change for the athletes. It is not just the food, though, as the footballs themselves have also been replaced with those made from non-leather material. As a vegan, it is inspiring to see the change happen in influential groups and all the measures they take to promote a completely vegan lifestyle. I might learn to love soccer/football after all.
7 P.M. JACKFRUIT CARNITAS
When we finished exploring, there was only enough time for our last proper meal in London. We went to the so-called Vegan Quarter again in Hackney and sat down for an unforgettable dinner in Club Mexicana. The jackfruit tacos were as amazing as they looked in pictures and I didn't mind splurging on another order as the portions are smaller than the previous meals we had. We also ordered chicken but Temple of Hackney's version of vegan chicken was tastier to me. However, I would happily go back to London just for those righteous tacos.
Submitted by EatsSmarter18