London has many places to eat for vegans, and I was very eager to come back to London and try as many places as possible!
We had two days of restaurant tasting and sight seeing.
It is impossible to see all of the main sights in London in two days, but we definitely tried! We went to the National History Museum (free), which is always fun but because it was summer holidays there were many children/people around.
We also went to the British Museum, Victoria&Albert, and the National Gallery, the common theme here is that they were free. The V&A is sometimes overlooked but the museum is really good with a wide variety of objects and artwork to see.
To keep ourselves active we ran around Buckingham Palace, Trafalgar Square, Big Ben and Parliament, Thames, Westminster Abbey and Westminster Cathedral, Piccadilly Circus, Convent Garden, James Palace. I also think combining exercise and sightseeing is a great way to see the city.
We also went on the Emirate Sky Line, it cost £3.50 with an Oyster Card/Contactless, or £4.5o, and the views of the Thames were gorgeous. I would definitely recommend this as a fun way to see London.
We tried the afternoon tea at La Suite West RAW, it is normally £28/person, but groupon had vouchers for £30/two people. I did not enjoy this as much as I had anticipated. The sandwiches were BBQ tempeh, turmeric scrambled tofu, sun-dried tomato and cheese, they were nice but nothing amazing. The scones with coconut cream, were a little dry. The cakes were carrot and brownie and a truffle, again the cakes were a little dry but the truffle was good.
https://www.lasuitewest.com/hotel-afternoon-tea-london.html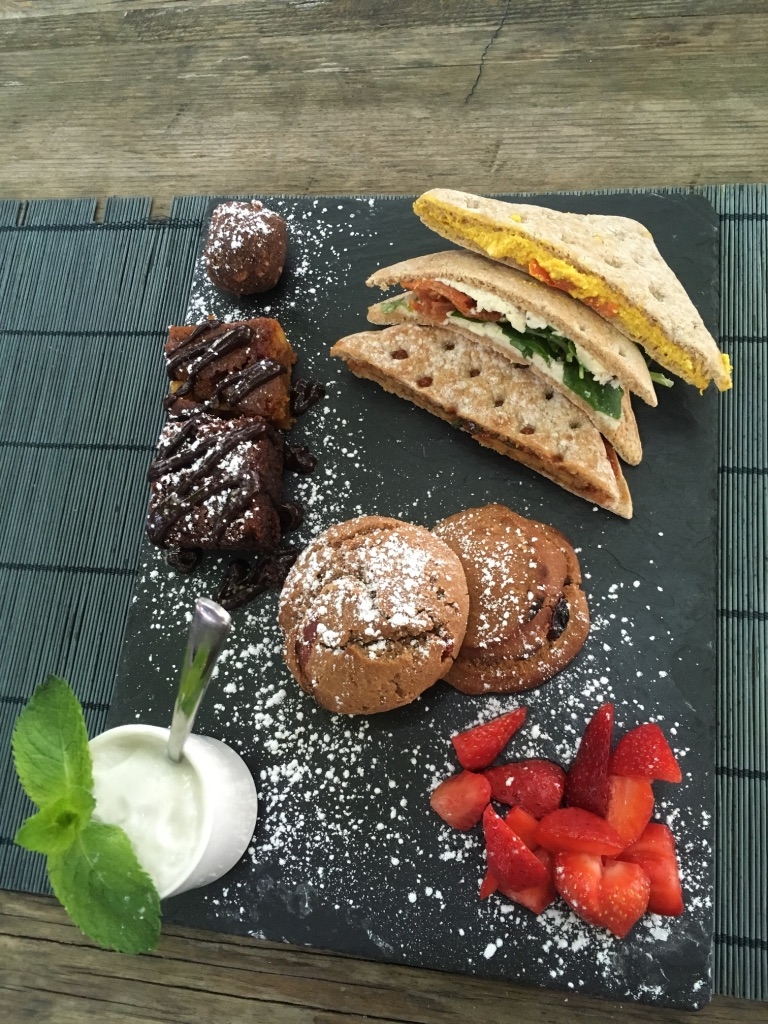 We tried Mildred's in Soho after many good reviews from friends and sister, and it was good. We tried the vegan burger with sweet potato fries (it came with an amazing green sauce, £9 and £4), soul bowl (quinoa, avocado, salad, beans, seeds, sprouts, £12). My friends tried the sweet potato curry bowl (£12) and they both loved it! We also had the salted caramel brownie with vegan ice cream (£6.50), which was really really good! The queue for this restaurant was long, and we were told it could be 40minutes but we actually waited only 10minutes! This restaurant is based on a first come, first served bases!
In Convent Garden we were happy to find that Venchi had six vegan ice cream flavours, we tried the coconut, dark chocolate and strawberry ones (£4.50) and they were amazing!
http://www.venchi.com/uk/stores/london-covent-garden/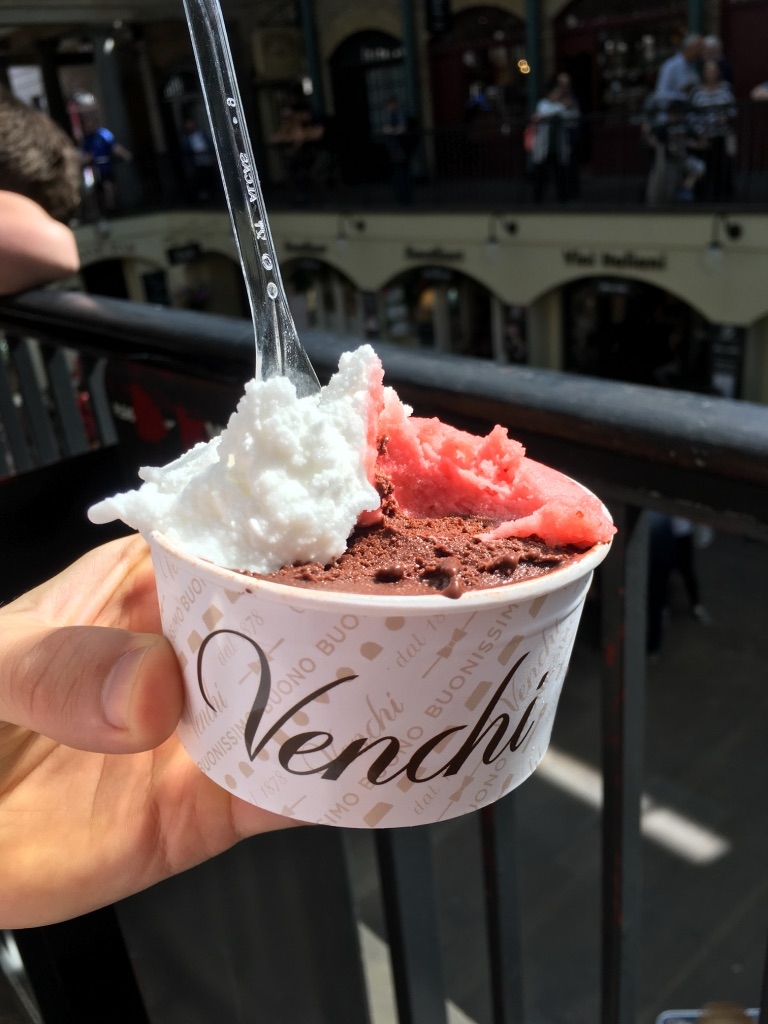 I have been wanting to try Deliciously Ella for a very long time, and finally we had lunch there. We tried the falafel and hummus, quinoa (£7.95) and sweet potato bowl (£7.95), fudge brownie (£3), the food was really yummy! Even my friend who is not vegan, said she could be convinced to go vegan if the food was as tasty as this!
www.deliciouslyella.com/our-delis/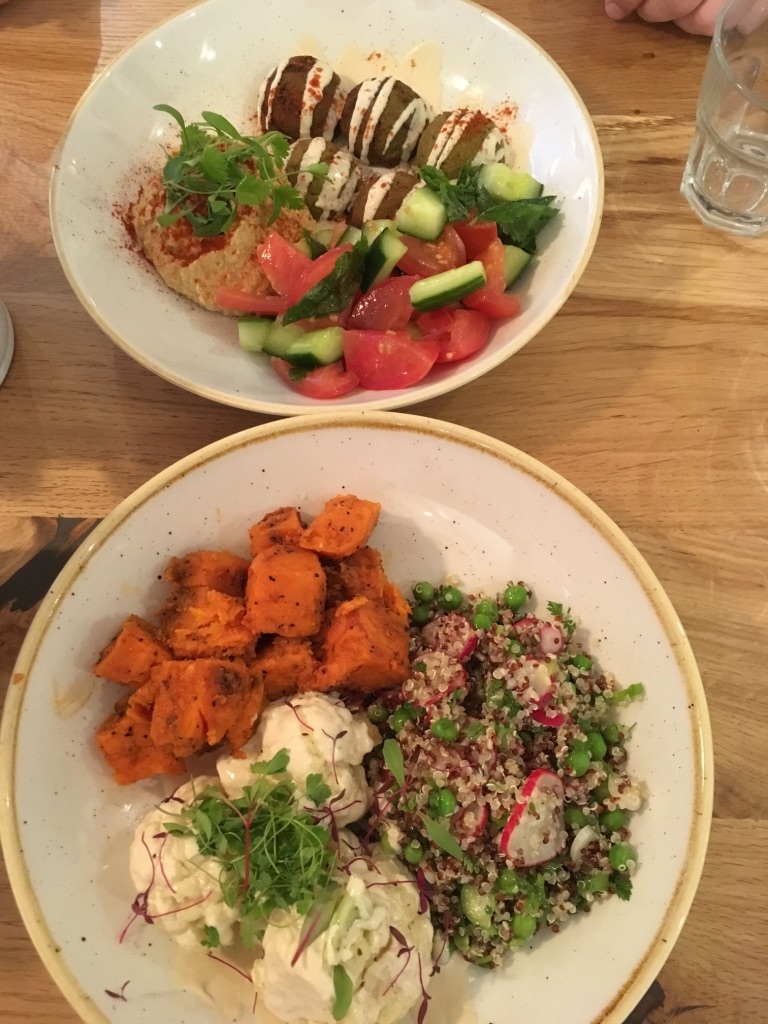 I have been seeing lots of people go to Ethos and so this place was on my list. However, I was not impressed, there were not as many vegan options as I would hope although the food they did have was good (aubergine in miso, hummus, lentil dahl, BBQ tempeh, salads). You have to fill your plate and then weigh it, for two of us we spent £18. We tried a carrot cake cupcake (dry and too sweet), peanut butter raw cake (not much taste), chocolate bomb (cake too dry but good ganache), all were £3.50-4.50.
After the disappointing Ethos we got ice cream at the fully vegan ice cream shop Yorica! We were impressed, the staff were very helpful and the ice cream was amazing. We tried the salted caramel with brownie and jammy dodgers (they had a big range of vegan biscuits and sweets, and free sprinkles), chocolate and strawberry soft ice cream. I will definitely be going back!