After a few weeks exploring the busier parts of India, It was finally time to slow down in Goa.
Cody and I had visited once before, but Goa is quite large, so we wanted to explore another part of this formerly colonized state. This time we stayed in the Anjuna area.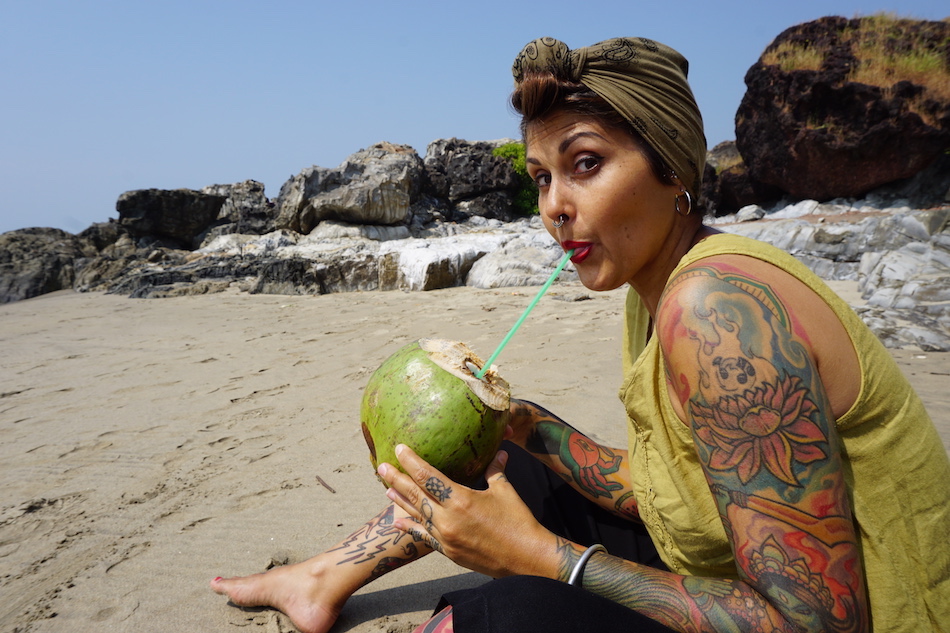 Portugal established a colony in Goa a few hundred years ago, bringing with it Christianity, and European culture, and you can clearly see strong traces of it in all of the colourful European style homes and churches in the area.
Anjuna is one of the most popular beaches in India, so if you are not a fan of crowds, this is not the place for you. We did however manage to find a semi-private area on the beach to enjoy fresh coconuts with limited annoyance.
We also rented a scooter for a few days and just cruised around through beautiful fields lined with palm trees and gorgeous Portuguese architecture. There is also a popular Wednesday night flea market that shouldn't be missed, and if you enjoy yoga, there are plenty of studios to choose from.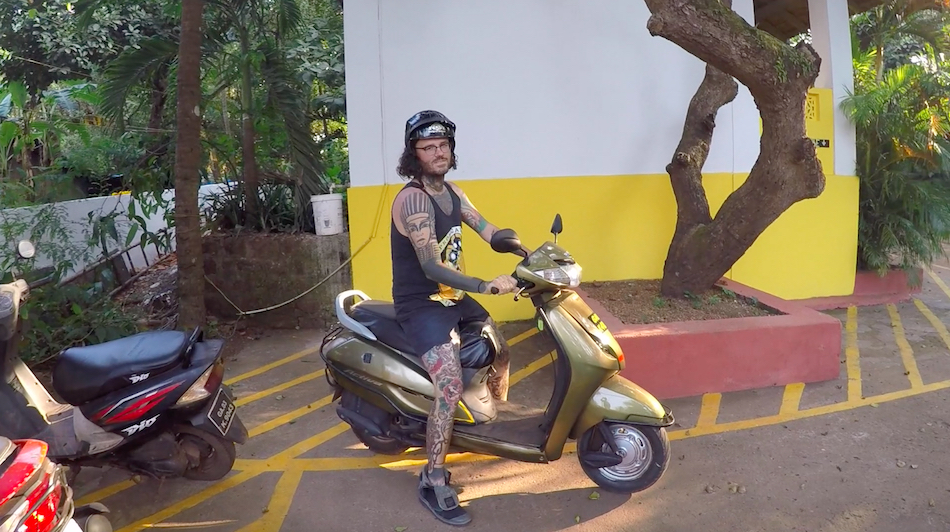 India really is one of the simpler countries to travel through as a vegan, although you do have to be careful of butter/ghee or milk in some dishes, but all in all, you can easily navigate through the subcontinent without having to ever worry about eating animal products.
And then there are the magical times when you have the absolute pleasure of never having to ask about a single item on the menu because it is ALL completely vegan. 
Bean Me Up in Anjuna, Goa is that magical place.
From a banana split, to an omelette, to a burrito stuffed with organic brown rice, veggies, and vegan cream cheese. There are no worries here.
For the past 6 years, Bean Me Up has been a labour of love for Shawn, the owner.
This incredible restaurant, surrounded by tropical jungle plants, serves some of the best food we have ever had. The staff are lovely, the vibe is casual and laid back, and the menu seems never ending.
Bean Me Up also offers 20 guest rooms adjacent to the restaurant, and Cody and I were fortunate enough to be invited to stay for 4 nights and sample quite a few dishes from the extensive menu.
A lot of love, care, and thought is put into the dishes at this vegan restaurant which is probably why every single thing we tried was phenomenal in freshness and flavour.
We rarely give 5 out of 5 stars for restaurants; but the service, atmosphere, and food was outstanding. We were waiting for the next meal to be a miss, but everything was so damn good!
It is very clear that Shawn has high standards for Bean Me Up. He told us that he is consistently trying to improve the food, and quality in any way he can.
Kombucha is made in house, as is their tempeh, tofu, seitan, and fresh coconut milk. Every morning a new soup, bean, and veg of the day goes up on the board, and their bread is also baked fresh on the grounds.
All of the fruit, veggies, and grains are washed in a water and vinegar solution, so there is no cause for concern when it comes to bacteria.
The vibe here is tranquil. We loved waking up, opening our door to a jungle atmosphere, and ordering a beautiful nutritious breakfast with a booster smoothie and almond milk latte.
It was heaven.
The wide selection of smoothies, coffees, cocktails, perfectly spiced tempeh, and al dente pasta dishes sprinkled with cashew cheese were inspiring. Everyday was a struggle to decide between the BBQ seitan sandwich, or the Moroccan chickpea stew. The flavours blew our mind, and the portions are huge.
After one meal at Bean Me Up, you will be coming back for more. We guarantee it.