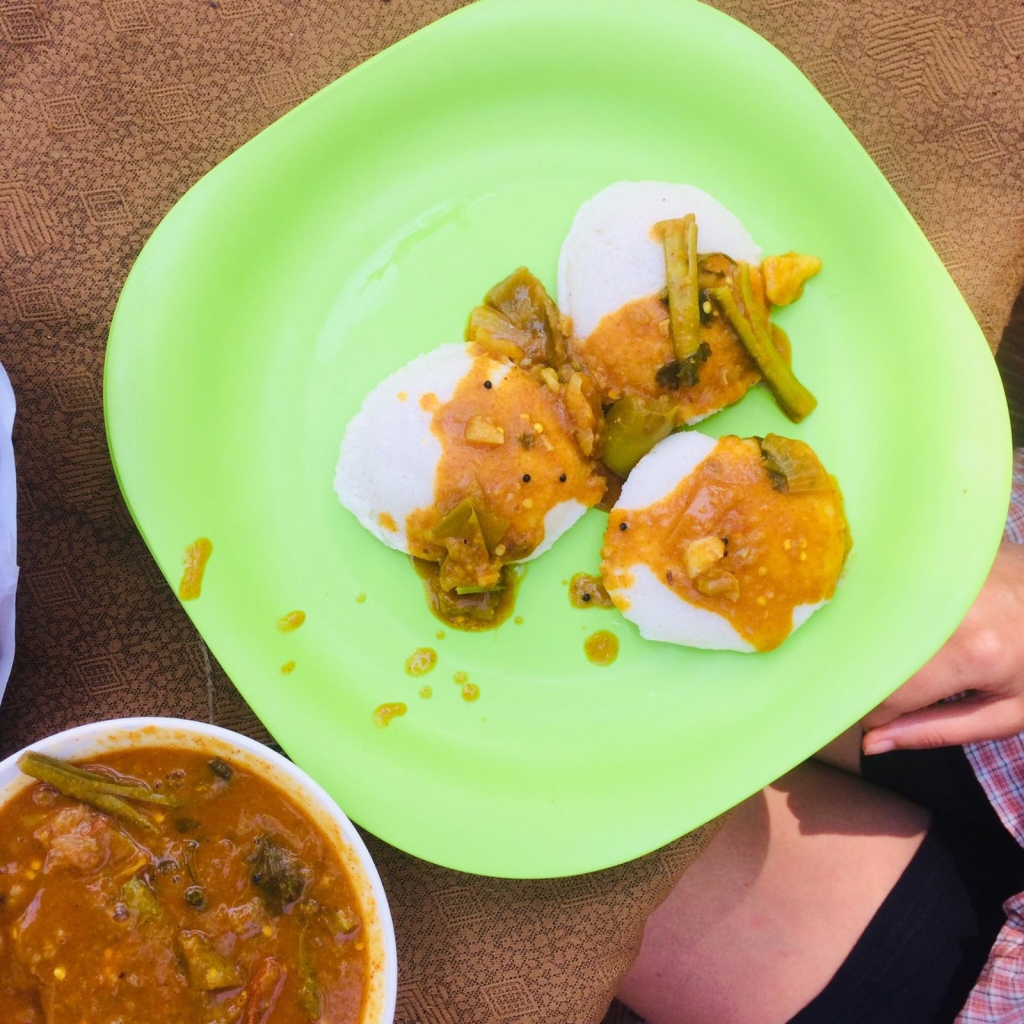 It's not too much of a challenge finding vegan food in restaurants all over India – even egg is seen as non-veg to many vegetarians here, and it's easy to inform the waiter that you can't consume anything from the cow. As a result, we haven't really been looking for vegan epicenters. But oh gosh golly does it feel good when they find us.
When I say vegan epicenter, I simply mean a place where you see vegan food specifically advertised on at least 2 storefronts around town. No, not very strict guidelines. I'm sure there are many of you out there who would guffaw at my classification of an epicenter. But when you have been traveling for weeks without seeing the word vegan at all, it feels so comforting when you do see it, and know that behind those cafe windows are people who feel the same way that you do about life on this planet – that is – they have the right to natural, unmolested LIFE.
The first spot in India I visited where I felt the love emanating off my fellow vegans was Auroville. This little community outside Pondicherry rocks for vegans. It's also a great way to forget you're in India, because it's just so darn peaceful and well-kept! Their visitor's center has a gift shop and a cafe or two selling vegan yummies, including sandwiches, cupcakes, cookies, and ice cream! Their gift shop also has a ton of other ethically sourced and crafted items. I bought my reusable panty-liners there, which I am very grateful to have.
There are also a few micro-communities within Auroville that are vegan havens. One of them is Sadhana Forest, a shanti-traveler's paradise for people who want to settle down in the forest for a spell to commune with plants, participate in the rich community culture there, and eat delicious vegan food. People can just show up, no pre-correspondence necessary. But do be prepared to work. Planting trees is the name of the game at this reforestation center, and the work starts every weekday without fail at the crack of dawn. They also have a 2 week time commitment in the spring and a 1 month time commitment all other seasons.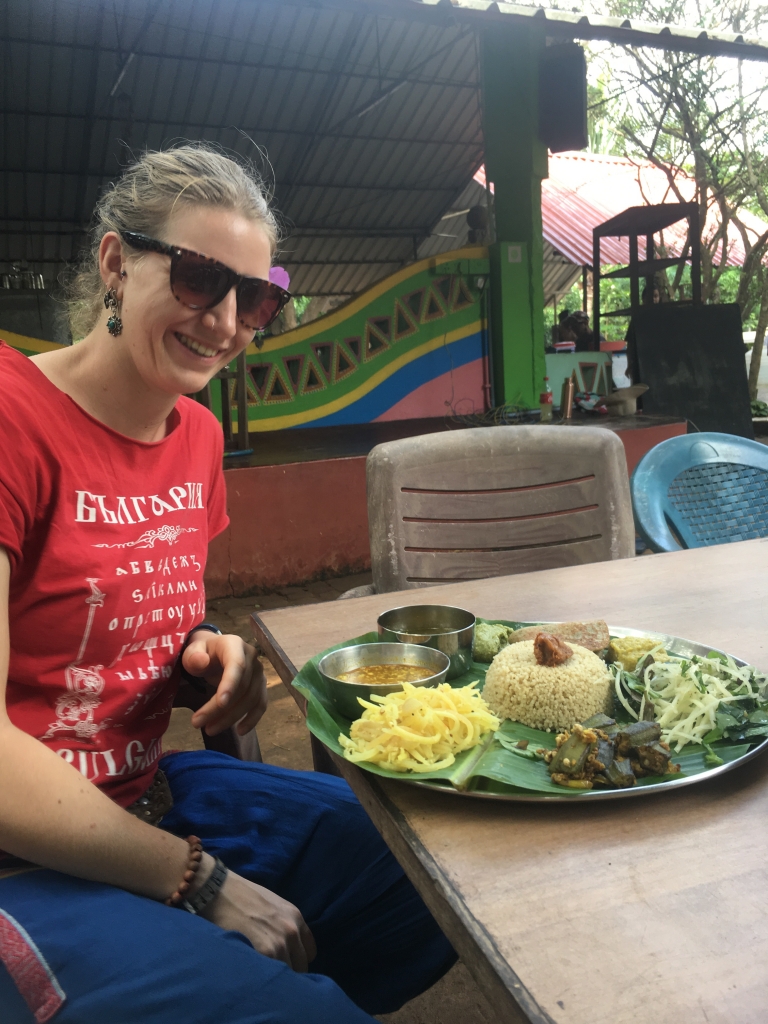 Of course If you'd like to simply visit for a day to help out, eat vegan food, and learn about what they are doing, you can do that. Or plan to attend their free Friday night dinner, tour, and movie!
Another micro-community within Auroville that we visited was Solitude Farm and Cafe. There you can enjoy delicious organic food just steps away from where it is grown. This place also loves volunteers, though you'll have to dig for the details on your own.
The next vegan paradise that found us in India was Rishikesh. Their main tourist drag is bustling with vegan baked goods. Among other great spots, we loved Nirvana Cafe for it's extensive vegan menu and wide selection of alternative milks.
We also were crazy about Ramana's Cafe – a lunch spot located within – and helping to support – an absolutely lovely orphanage. This orphanage has more of an intentional community vibe to it, complete with organic vegetable farm. They grow almost all of their own vegetables and utilize Western sanitation practices, so it's a great place to enjoy some much-needed fresh greens.
They have tables with a killer view looking out over the breathtaking valley of the Ganga River, and on rainy days, a fireplace to cozy up to. The food itself is delicious. On the day we went they had at least 5 vegan entree options, and about 5 freshly-baked vegan desert options. The prices were more towards what you'd pay at a cafe in Europe or the States. But it was well worth the splurge.
A tough part of being in India is missing out on the chai – it's almost always cooked with cow lactate. But in Rishikesh, you can find solace in the region's popular and soul-warming fresh ginger lemon tea, which can be found in most cafes and restaurants.
It makes sense that India's two main yogic destinations also correspond to her vegan epicenters. Yogic philosophy is that you do not harm others. You will have a much more rich and fulfilling life not harming others, even if it means you have to give up your meat-laden cultural traditions. Naturally yogis also make the connection that enslaving an animal for her reproduction by-products is another form of harm that can and ought to be eradicated.
A third shout-out I would like to mention is Aum Cafe in Varanasi. Although I didn't quite get the epicenter vibe in this fanatical Hindu city, I did spend two blissed out mornings stuffing my belly to my heart's content with vegan chocolate-chip pancakes at Aum. If you go to Varanasi, definitely check out this sweet little cafe. It has a lovely atmosphere and a great selection of food fare, from medicinal Ayervedic teas to pies. I also enjoyed a delicious vegan brownie at Brown Bread Bakery.
There have to be so many more vegan epicenters in India that we missed, because we have only been to a small number of cities. And of those places, it's entirely possible that we missed the vegan scene completely. The locations we have visited besides the three cities mentioned above are: Cochi, Munnar, Varkala, New Dehli, Mahabalipuram, Calcutta and Bangalore. We probably missed great vegan scenes in Bangalore and New Dehli, because those are bustling urban centers. Bangalore especially, as it has a very 'hip with it' vibe. And what's more hip than veganism!?
I hope this helps you to have a cruelty-free vacation in this beautiful and complex country, where the phrase Not Your Mom, Not Your Milk does not apply (Hindus see the cow as a Mother….)
Read more about our search for Ecotopia at Seeking Ecotopia!