I have just returned from two weeks in Japan. I went over there with my partner, and we spent two weeks travelling around the amazing country. It was cherry blossom season (end of March), so it was particularly beautiful. The vegan lifestyle is not well known over there.. in fact, even vegetarianism is often greeted with a confused face, and a "but you eat fish right", type question. However, thanks to happy cow and vegan travel, we found some vegan gems in most of the places we visited and wow, weren't these restaurants worth seeking out. Japan has instilled a new found love for soy in my partner and I. It is often used as a meat substitute (alongside tofu), and it is delicious. I asked one restaurant if I could buy some of the soy they had used, and have bought it home to try to replicate their delicious dish!
Firstly, we were visiting family in Japan so the start of the trip was a wedding. As part of this wedding, we went for two very posh (I have never eaten such posh food!) meals. These were meals of around 10 courses. Both restaurants prepared me 10 vegan courses which I was very grateful for. Most of it, I did not know what I was eating; but it was vegan, so thats fine! The only dish I was not keen on was gluten. Yep, they eat gluten on its own. I did not even know this was a dish in its own right but yes, apparently it is. I personally was not a fan, but the food was so beautifully presented and the rest so delicious, I just grinned and bared it! I am unsure of where these restaurants were as it was part of the wedding celebrations but I wanted to share some photos of the gorgeous food nonetheless.
After the wedding in Nagoya, we went onto Osaka; which is an extremely futuristic and chaotic, bustling city. We walked to the edge of the city, away from the hustle and bustle, to a vegan restaurant called Paprika Vegan. I saw this sign outside and instantly felt at home 🙂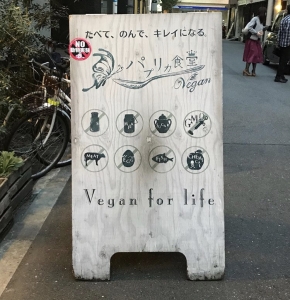 I cannot express how good this food was! I had Soy meat yakiniku donburi rice bowl and my partner had a tempe teriyaki soy meat pizza.
It is fair to say that my partner had serious food envy !>>>>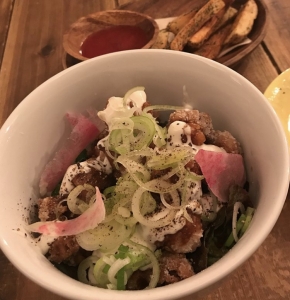 Not only was the food amazing, the restaurant had lovely, relaxed decor and lots of vegan merchandise to view and buy. My favourite thing being a Japanese, anime vegan comic book, telling the story of the meat industry (pictures included :))
So then we travelled to Hiroshima; a city I would recommend to everyone. The magnitude of the disaster that took place there is difficult to comprehend, but I feel it is somewhere everyone should visit.
Here we found a restaurant called the Art Cafe Elk. We actually stumbled across this restaurant by accident when walking around the centre. I looked up and saw "being vegan, being mercy, being peace", written on the window, and knew instantly this was somewhere I needed to go.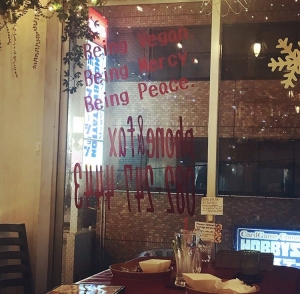 They also have vegetarian and meat options here but it is clearly aimed at the vegan community. Here my partner and I shared two dishes; the vegan BLT burger and the stir-fry udon noodle dish. Both were delicious! Our friend who was with us, who isn't vegan, had the vegan Japanese platter and she loved it. Again, I strongly recommend this restaurant to anyone travelling Japan. You can easily miss it as it is above a shop, so look it up on google maps before you go 🙂
Next.. Tokyo… we found another hidden gem in the Shibuya region of the city. This is the same region where the famous scramble crossing is. It is very very busy. Personally, I prefer the quieter places so was happy that this restaurant was slightly out of the way. The restaurant is called Nagi Shokudo. This restaurant was very hard to find. Luckily, we had looked it up on happy cow and we used other peoples directions to find it! It is in the basement of a building. You have to go down some steps which are quite hard to see! The restaurant is very shabby inside, but the food was delicious, so who cares! Here, we had the vegan platter. This included food from all over Asia. Lots of different courses bought out. It was all delicious and a great way to try new foods.
Next.. Yokohama. Firstly, I really recommend visiting this city. We found that not many travellers had it on their list of places to see but we were really glad we went and preferred it to Tokyo and Osaka. It has a much more relaxed atmosphere, is next to the sea but is the second largest city after Tokyo, so still lots to explore. It was here that we tried Korean food which I now love! The restaurant we went to was not specifically vegan, but did lots of vegan options. The restaurant was called Uriduri and is in central Yokohama. I am not a avid fan of Korean pancakes (vegan style). So delicious and simple to make. Oh and kimchi!
Here is a recipe link to vegan Korean pancakes 🙂 I strongly recommend giving it a try.
I hope these restaurants help some fellow travellers. General piece of advice, in Japan they view vegetarianism as still eating fish and often, also white meat. I hoped that trying to explain vegetarian instead of vegan may help me, but I soon realised this was not the case! There is amazing vegan food in Japan, you just have to look for it 🙂 I strongly recommend Japan as a travel destination. The people are so friendly, the culture very interesting and such a beautiful country.