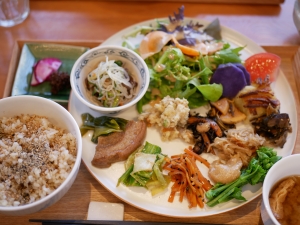 Where to go in Kyoto
It had to be fate. We booked our Airbnb in Kyoto quite a while ago because we would be arriving in the busy cherry blossom season (Sakura). When the blossoms start to bloom, Japan is packed with tourists eager to see and photograph the beautiful blossom and even participate in the local customs to celebrate the beginning of new life with picnics and parties under the blossoming trees (Hanami).
To decide which neighbourhood we want to stay in, I always research in advance where the vegan and plant-based restaurants are. I do this for convenience reasons and because they're often situated in the hip and happening neighbourhoods of a city. Like the Marais in Paris or Omotesando in Tokyo.
But in Kyoto it was not that obvious as the city is quite stretched out, which made it difficult to choose the right neighbourhood. We didn't know what to expect, but hey, there were bikes included in our stay so we would be mobile enough to find those hidden veggie gems.
And then, just before we left Paris, I checked the restaurants in Kyoto again and there was Gomacro! Just around the corner of our apartment. It looked cozy, clean and advertised itself with a healthy Japanese macrobiotic menu, a small shop and even take-away. It had to be fate.
Sesame sesame sesame
So on our first day we headed over to Gomacro for lunch and found a health food sanctuary.
When entering, the first thing you'll notice is the comforting smell of freshly grinded sesame. The seating area is bright, has large windows and a modern interior but they had me at hello! (Konnichiwa;)
There are several items on the menu such as a vegetable curry and a vegan burger. We went for the macrobiotic lunch set with miso soup, rice, seaweed and colourful veggies. During our wait we had a nice view on the open kitchen where we could see the smiling chef work his magic. But soon, we had to work too! We were provided with two grinders and bowls to grind our own black and white sesame. When our food arrived, the chef explained we could use the sesame as a condiment together with the hot sauce and the gomasio (more sesame).
Our plates looked too beautiful to eat. But our curiosity of what all these colourful looking dishes would taste like won. And what a pleasure it was. All of the small dishes were fresh, pure and perfectly balanced. Ginger, shiro miso, sweet potato, the set even included homemade fermented vegetables. Afterwards we felt nourished and understood.
Cooking course
Fortunately, they share their food wisdom and provide cooking courses above the restaurant. If you're in the area, definitely check out their monthly cooking workshops (in English) on vegan Japanese and macrobiotic cooking. Unfortunately for us, there was no workshop during the time we were in Kyoto.
Kyoto by bike
Kyoto is very easy to go around by bike. There are bicycle lanes all over town and a lot of temples and sights such as the Imperial Palace have small bicycle parking lots. Just remember to stay on the left side of the road. If there is no bicycle lane, usually bikes are allowed on the pavement.
The back alleys of Kyoto are often free of tourist crowds and great to explore by bike. You can also bike along the Kamo River and alongside the Philosopher's Path, which is both enjoyable by foot and by bike. The path begins around Ginkakuji (Silver Pavilion) and runs south towards Nanzen-ji temple. You can visit Honen-in en Zenrin-ji temple along the way. If you're really adventurous you can bike to the bamboo forest of Arashiyama but I would recommend going by train and maybe rent a bike there.
The Geishas of Gion
History comes alive in the small streets of Gion. Reading "Memoirs of a Geisha" before you go to Kyoto will give you extra insight into all the history of this neighbourhood. And if you're lucky you might bump into a Geisha or a Meiko (Geisha apprentice) on their way to an appointment.
Kyoto is filled with tourists wearing kimonos but when you'll encounter the real thing you'll know, cause it will take your breath away. Their hair, make-up and clothing is meticulous and easily recognisable and they're always in a hurry. You won't catch them devouring snacks like most tourists do!
Be careful to treat the geishas with respect and not to touch them. Geishas are still considered to be untouchable figures in Kyoto. This is explained in detail in Memoirs of a Gesiha. Hanami-Koji street and its side alleys, south of Soji-Dori, are a great place to spot geishas and meikos between 5 and 7 pm. Be alert to taxis picking them up.
Enjoy Kyoto!
Kyoto has so many sights to see and neighbourhoods to explore that we could have stayed there another week! In between site seeing, rent a bike, get a healthy bento box and join the locals for a picnic alongside the Kamo River. Enjoy!
Hiroshima
Our next stop will be Hiroshima. Thank you for reading!
Victoria – Greens Around The World
Vegan restaurants in Kyoto
These are some of the vegan restaurants where we ate during our stay in Kyoto. Gomacro was our favourite but if you look hard enough there are some more healthy vegan restaurants around.
Gomacro Salon Kyoto, all vegan, hours: 11am-7pm, closed on Mondays.
Shinmachidori Oike Shitaru Shinmei-cho, 67-3 (Oike Shinmachi Street southeast corner) Kyoto Nakagyo-ku
Metro: Karasuma line or Tozai line Stop: Karasuma Oike
Biotei, vegetarian and vegan options available in the menu and upon request, hours: Tue-Fri 11:30am-2:00pm, Tue-Wed 5:00pm-8:30pm, Fri-Sat 5:00pm-8:30pm, Sunday closed.
2nd floor, M&I Building, 28 Umetada-cho, Higashinotouin-nishi-iru, Sanjo-dori, Nakagyo-ku Kyoto
Tosca, all vegan, hours: 11:30am-3:00pm and 6:00pm-10:00pm. Closed on Mondays. Easy to combine with a visite of Ginkakuji Temple.
67-7 Kitashirakawa Oiwakecho, Sakyo Ward, Kyoto