By now, I think we are all aware of how simple it is for vegans to locate plant based food in Tel Aviv, so we chose not to do a vegan guide per say, but rather show you the meals we enjoyed and where we enjoyed them.
We spent our first week in Tel Aviv eating our way through 3 different parts of the city; Jaffa, Tel Aviv, and Givatayim which is actually a city just east of Tel Aviv. We simply wandered around the city, googling what was nearby.
Jaffa sits along the ocean at the outskirts of Tel Aviv. It is the oldest area in TA, an ancient port city, and our favourite place to spend time in.
The buildings are a sandy colour, beautifully contrasted with vibrant blue windows, and the narrow winding alleyways bring us back to biblical times where the streets were filled with locals selling a variety of goods, and crowds of people would speed past you in a hurry to arrive at their next destination.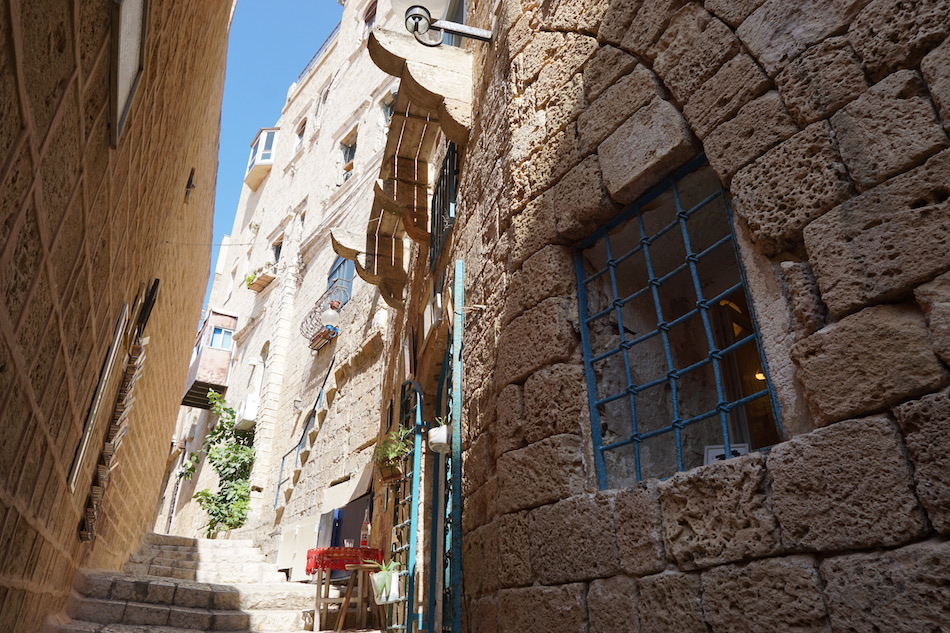 There is also a busy daily flea market in the area with several vendors participating, a thriving hipster scene where you can sit and people watch while enjoying a cold beer in the hot sun, or shop till you drop for locally designed fashions.
But none of what we listed above is why we so enjoy Jaffa. Jaffa is considered the Arab quarters of Tel Aviv.
Here in Jaffa is where we tried the best hummus in the world at Abu Hassan.
Abu Hassan is an Arab owned casual hummus joint in the old port city. Thousands of people flock to quickly get their hummus fix. With barely enough time to digest, they get up and leave so the next people in line can fill their belly's.
No falafel, no salads, no fries, just 3 types of incredible hummus sprinkled with paprika, drizzled with olive oil, topped with whole chickpeas, and served with warm fluffy pita.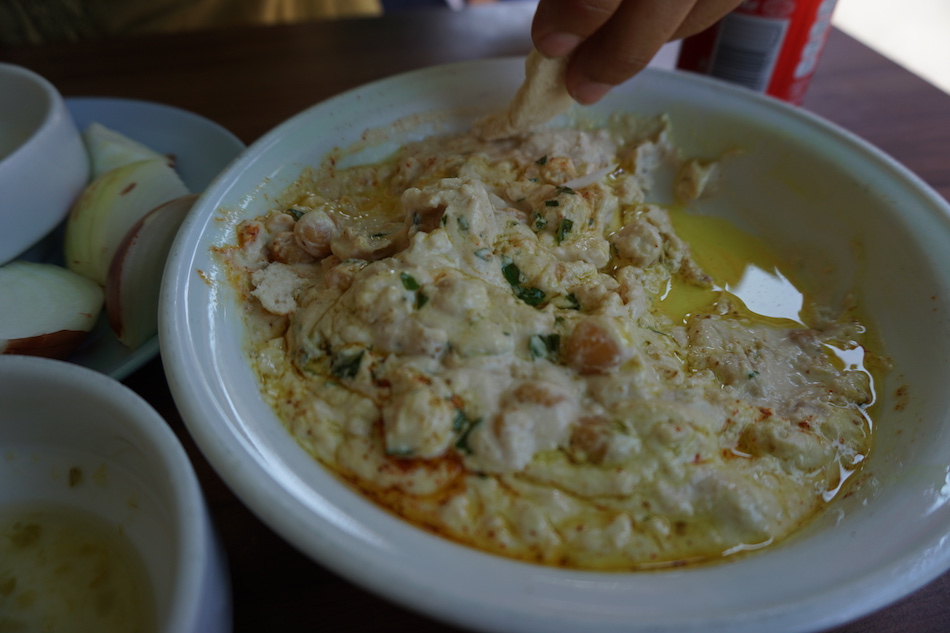 It is AMAZING, and you must make your way to Jaffa to try it!
Located opposite the clock tower in the heart of Jaffa, Haj Kahil offers tasty falafel.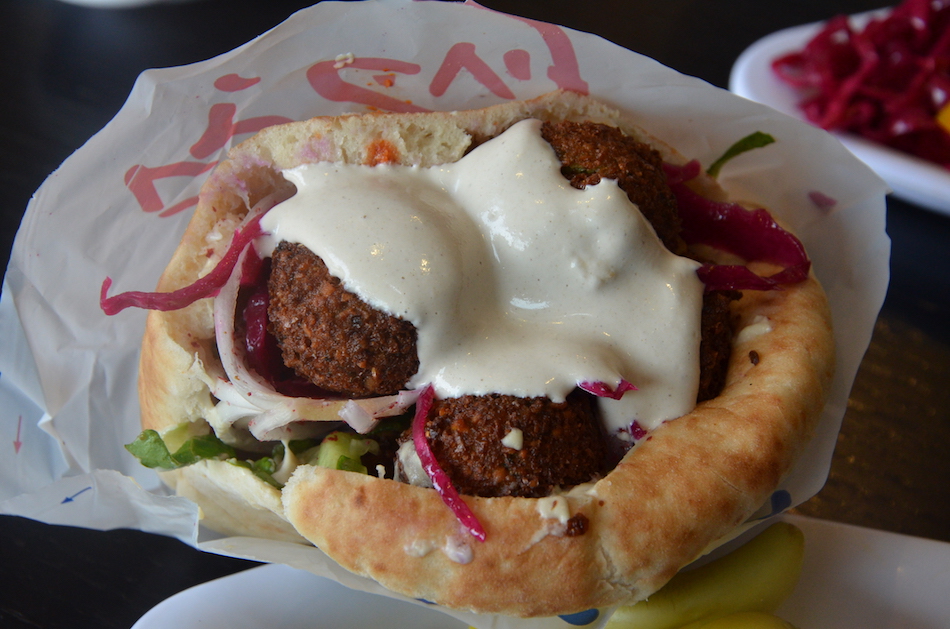 This restaurant is not vegan, but we have stopped in more than once during both visits because of the location and quality of the falafel. The crispy chickpea balls are made to order, and if you're lucky, they'll stuff some French fries in the falafel for you. So good!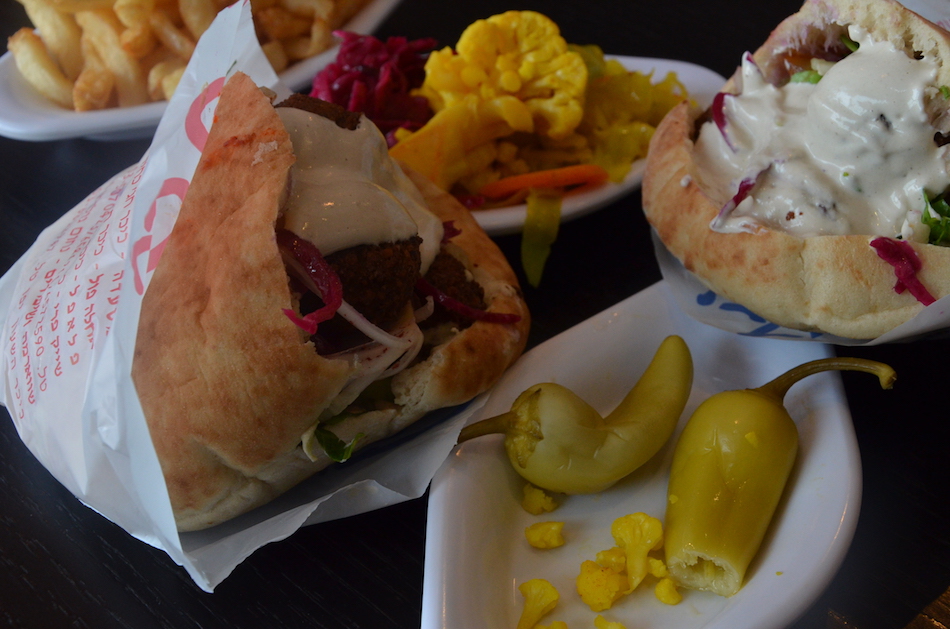 The mango curry sauce at each table is worth a try too. It's something we've never seen at any other falafel shop.
It doesn't look like much, but this Moroccan lentil soup with warm fresh baked bread was just what I needed during my two days of coming down with a cold from air conditioning.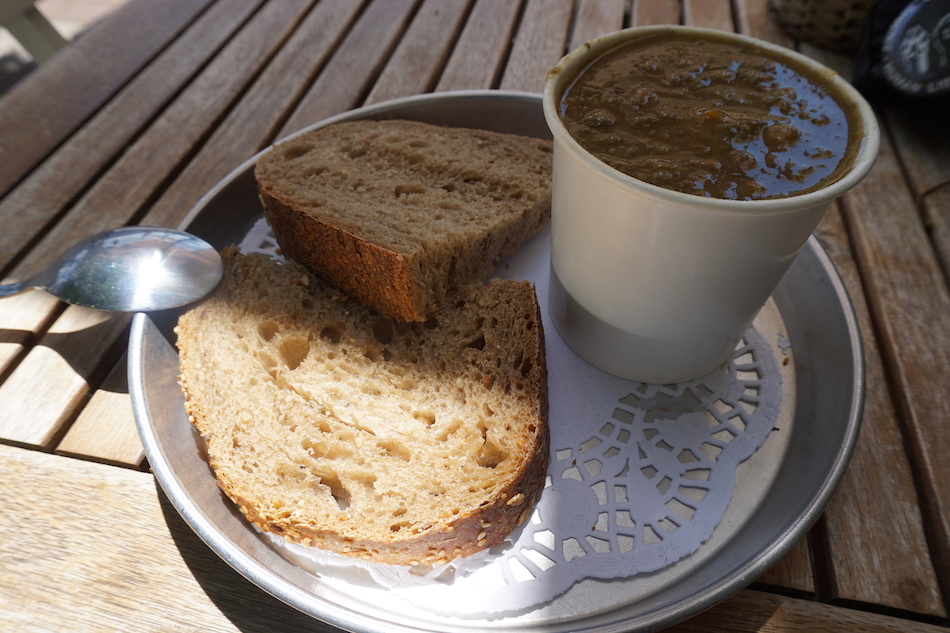 Mitz Marak is a cute vegan soup shop in Givatayim. Their soups change daily, and they also sell fresh baked goods. You can try all of the soups before making your decision.
They also have ice-creams, and fresh fruit smoothies.
Vegan Shawarma is located on King George in Tel Aiv- likely the most vegan friendly street in the city.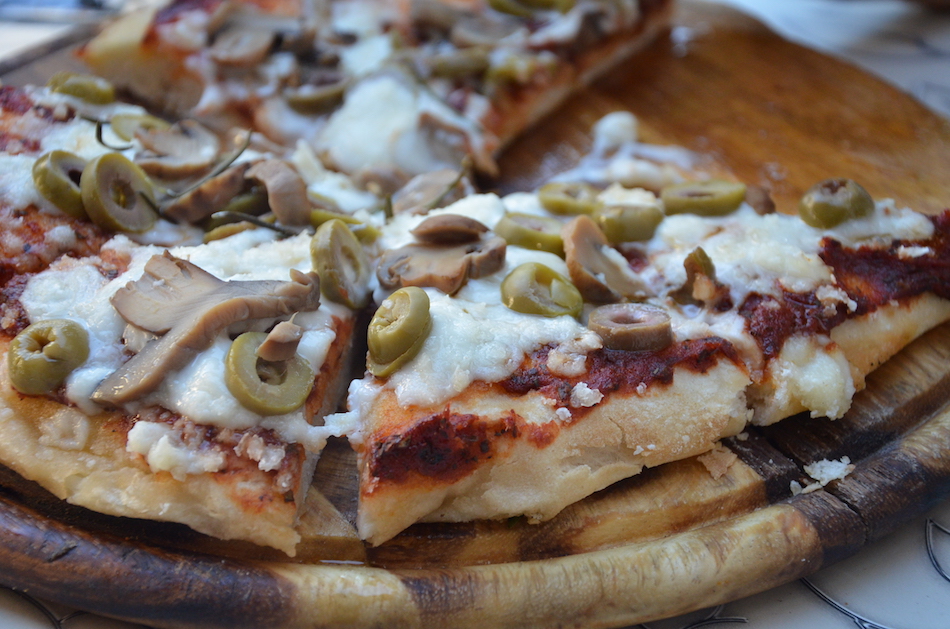 They do a great job with salty, meaty, fast food to satiate your junk food cravings. We gobbled down some tasty chick'n nuggets, pizza, and a schnitzel burger.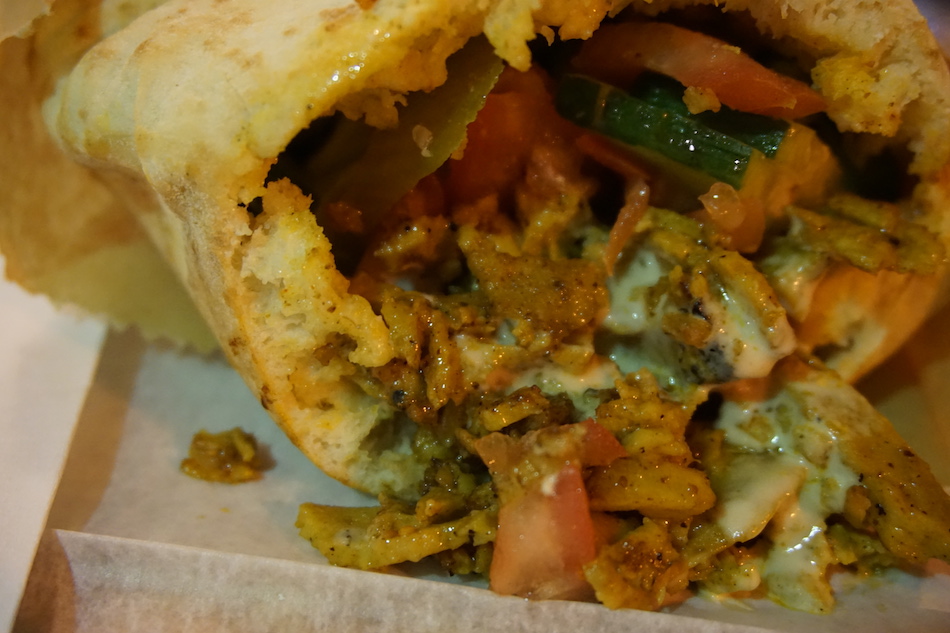 They also serve salads, cheeseburgers, and frozen food for takeaway.
Anastasia is where we enjoyed our favourite breakfast while in Tel Aviv.
The open table included a wooden board of several different spreads, including almond butter, cottage cheese, pesto, sundried tomatoes, and more; served with a variety of fresh sliced breads, olives, a big salad, and a delicious hummus omelette with a hot drink included. I LOVE this type of Mediterranean breakfast.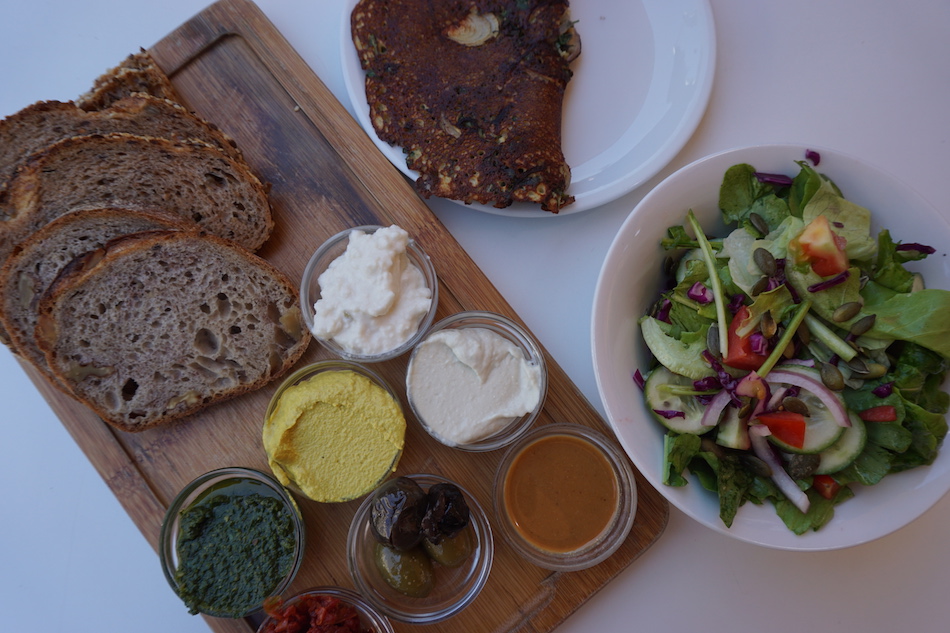 It is healthy, fresh, flavourful, and full of colour. If I had to choose one type of breakfast for the rest of my life, this would be it! Although I would probably add a mini sweet crepe filled with fruit; just for balance.
This ice cream sandwich place is not completely vegan, but they have vegan options, and bless them for that.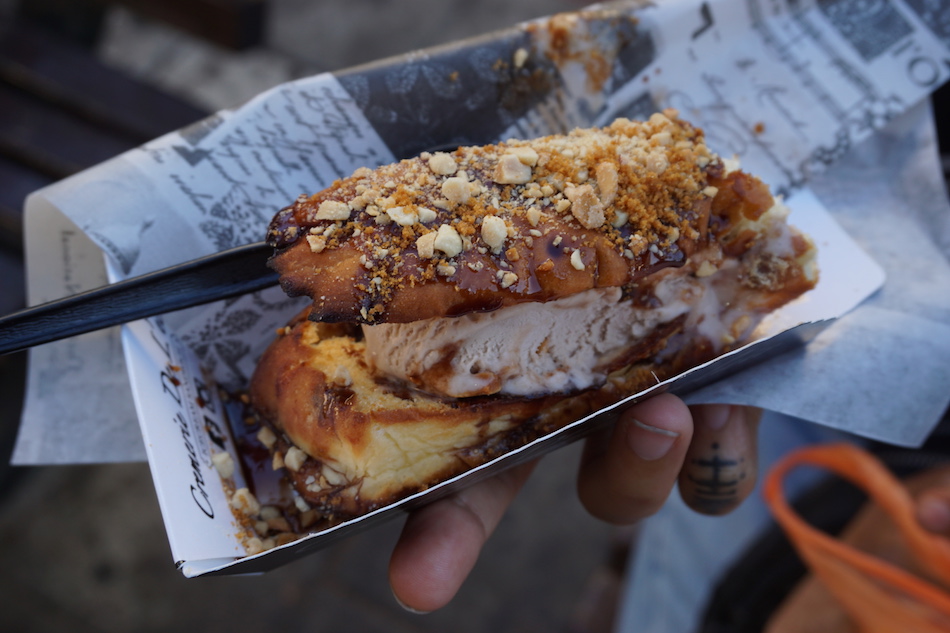 We ordered a toasted sweet eclaire, and filled it with vegan hazelnut ice-cream topped with peanuts, lotus biscoff cookie crumbles, and chocolate syrup.
"Heaven, I'm in heaven, and my heart beats so that I can hardly speeeeeak". That's me singing Irving Berlin's Cheek to Cheek song to my eclair.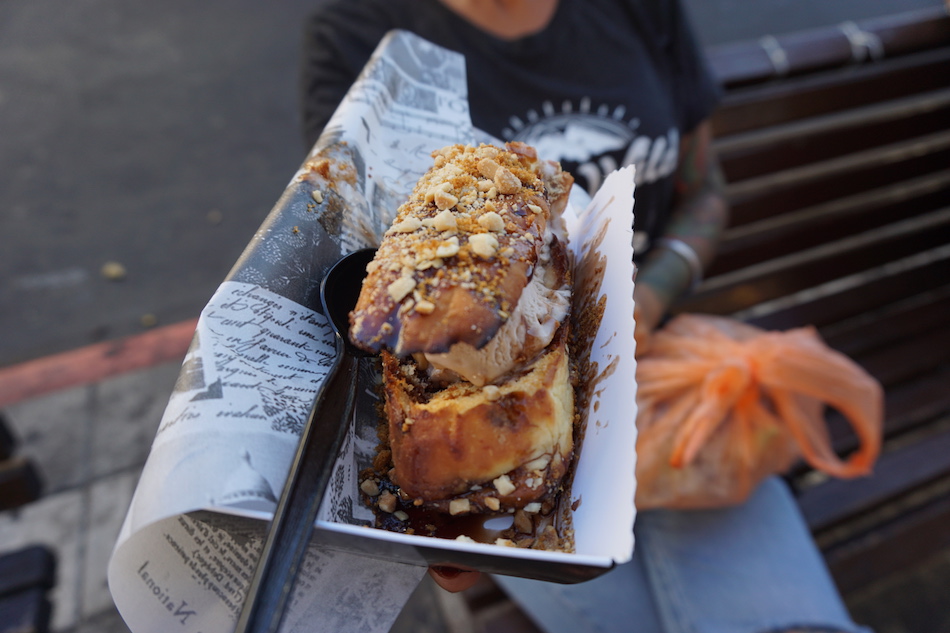 Don't miss the ice-cream sandwiches here! You can find a location on King George Street.
While walking to our 3rd accommodation in Tel Aviv, we passed by a small place with outdoor seating when paintings of clouds with faces caught our eye.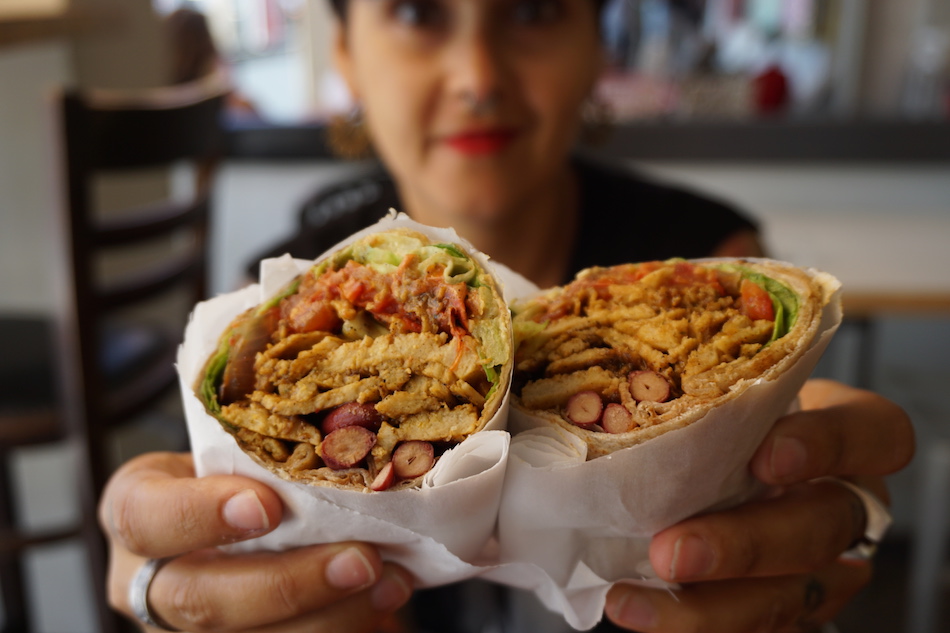 We thought for some reason that this place may offer vegan options, and when we asked the owner, he happily told us that they are 100% plant based.
Rainbow serves kebabs, burgers, and shawarma. Cody and I went for the burger and shawarma and were not disappointed. Their burger patty's are made from mushroom and soy, and my shawarma was made with seitan.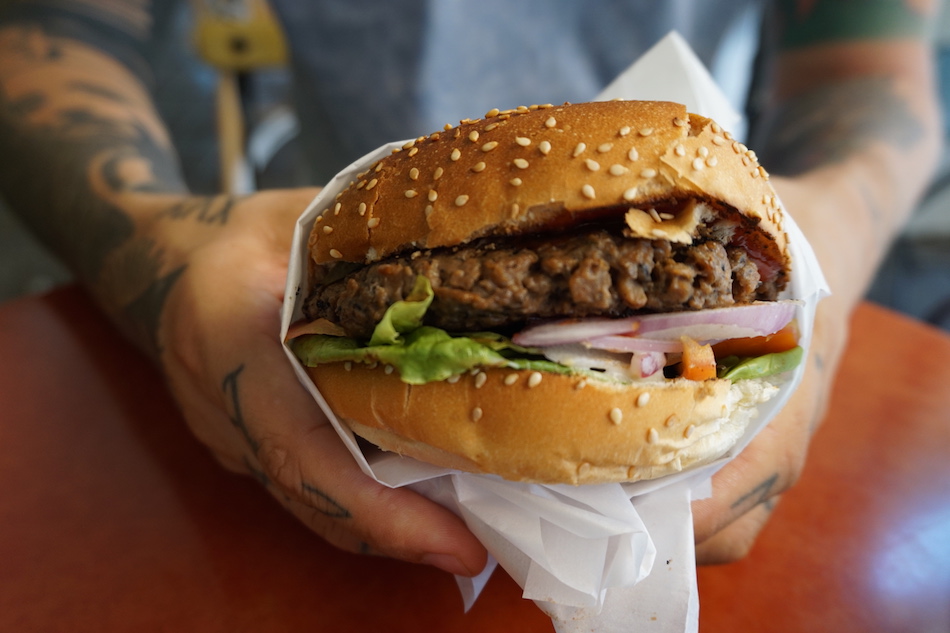 They were both extremely delicious, and full of flavour. My shawarma was especially flavourful. It had a smokey grilled flavour, and the texture was wonderful.
6 SHEKEL FALAFAL
You can't go wrong for $2.06 Falafal. That's why Cody orders 2 at a time.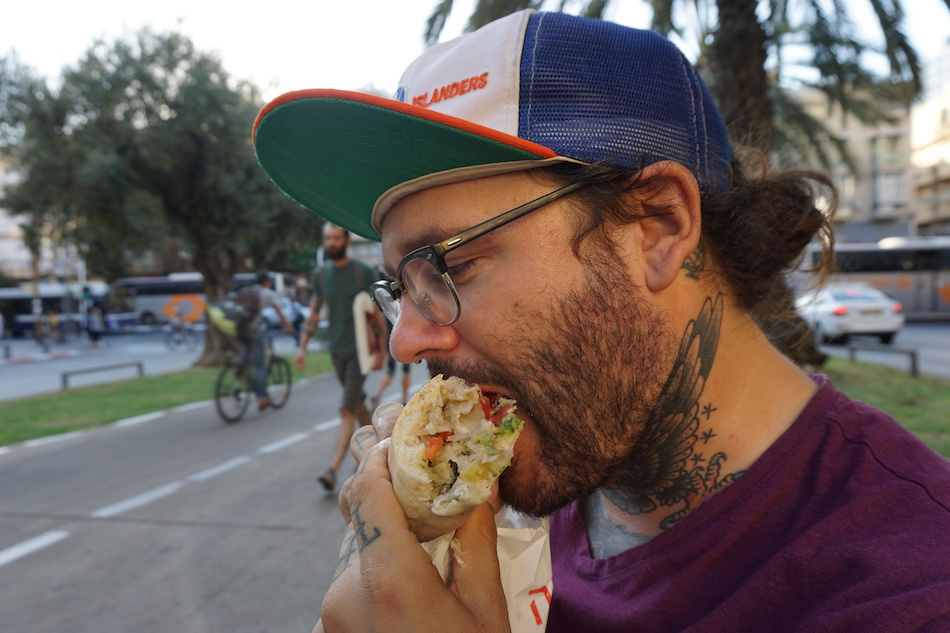 This pita counter is also located on King George and always has line ups. For $2.06 you get a fresh warm pita stuffed with 6 falafel balls, tomatoes, onions, lettuce, and a good amount of tahini.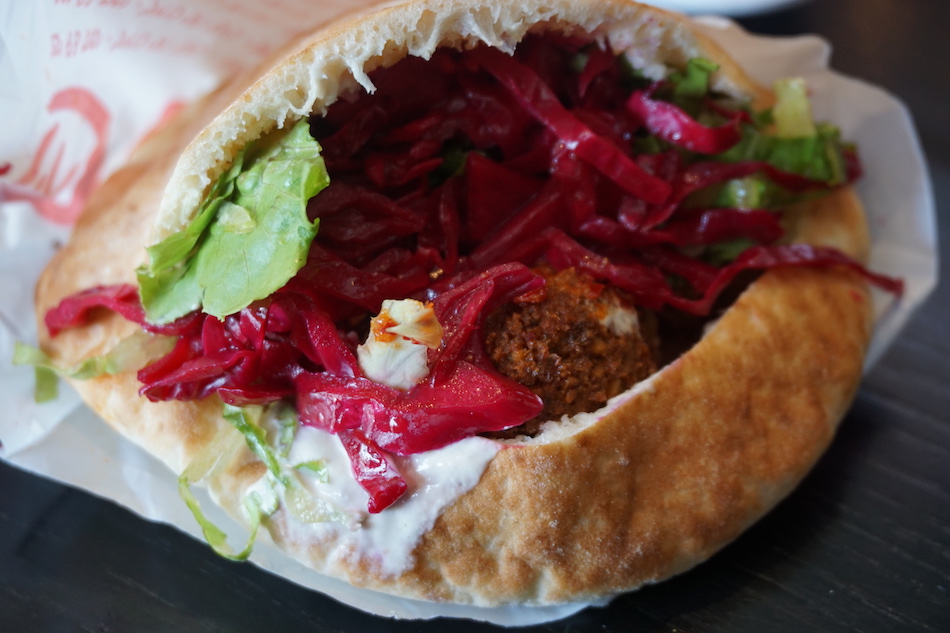 You can add your own hot sauce to it also. Next door is a great little juice shack where we ordered several pomegranate ice shakes.
We visited 6 shekel several times during our week in Tel Aviv.
Another cozy restaurant in Tel Aviv, about a 10 minute walk away from Rainbow, is Alegria; a specialty food shop and cafe offering daily specials, packaged cashew cheese, desserts, soups, and salads.
Our server recommended the blue cheese salad and toona croissant so that was that.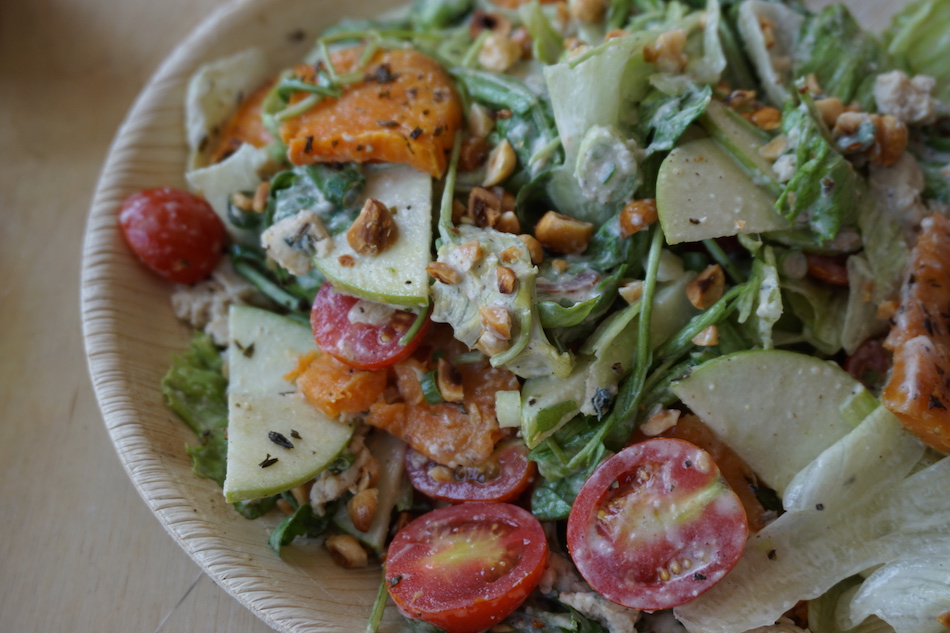 The large creamy salad was pretty delicious, and the cashew and almond based blue cheese was remarkably similar in taste, texture, and sight to dairy blue cheese. It was also mixed with sliced green apples, cherry tomatoes, crushed hazelnuts, and sweet potato.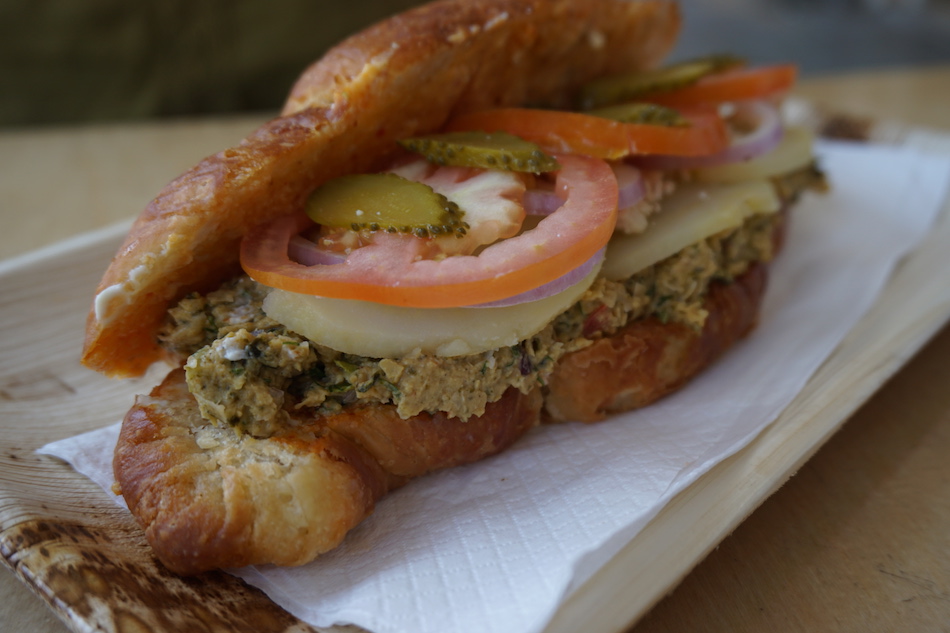 My croissant sandwich filled with mashed chickpeas, pickled lemon, apples, and green pickles was also deeee-liscious.
*TRAVEL BUDGET TIP*
MEATLESS MONDAYS
Meatless Mondays in Tel Aviv have really taken off in the past few years. Several bars and restaurants in the city participate offering separate vegan menus and top it off with discounts.
Tel Aviv is not the cheapest city in the world, so taking advantage of a discounted vegan menu is highly recommended.