In November 2016 I landed in Southeast Asia, for the first time in my life. Indonesia more specifically. Bali to be exact.
Stepping into the dated, stuffy airport terminal felt surreal. I still remember the longing I'd felt when brushing my fingers over the pages of Elizabeth Gilbert's Eat, Pray, Love a little more than ten years before this moment; reading of Gilbert's peaceful bicycle rides alongside dense green rice paddy fields, enlightening conversations with her guru Kutut, and her need to just be.
But now I was here. In real life. In Bali, Indonesia – not by way of daydreaming while sitting at my desk during lunch breaks, or by the pages of well traveled authors, but in real, true, honest to goodness life.
After a relatively quick and easy passage through immigration, the international arrival doors swung open and it was a whole other world. "TAXI! MISS! MISS WHERE YOU GO? TAXI, MISS! TAXI, TAXI, TAXI?" shouted dozens of local cabbies, each one vying more enthusiastically than the person next to him. It was overwhelming to say the least while I somewhat frantically scanned the hundreds of signs and placards, held high, looking for my name.
I'd booked my first three nights with vegetarian villa, Being Sattvaa. They'd arranged for a driver to pick me up and I'm ever so grateful for that because I realize now just how intimidated I would have felt if I had to select my own driver from the masses. There is no public transit from the Denpasar Airport so I definitely recommend booking transport in advance!
After my stay at the villa I headed to a neighboring village for a 5-day family homestay in a traditional Balinese compound. Believe it or not I found the family on AirBnB. For $15/night I had my own room and toilet in a basic hut inside a most stunning and elaborate open-air multi-building family home.
The excitement and awe of a lifestyle so utterly different than anything I've ever known was both thrilling and humbling. If nothing more I came to learn how very unprepared I was for this part of the journey. I wasn't expecting to be included so immediately into the family ceremonies (at least as an observer), given appropriate garb to wear, learn how to make 'canang sari' within the first 15 minutes of my arrival, figure out how to fall asleep to the sounds of still unknown critters aggressively scratching on the roof (so much so that dust would fall onto the bed and I was convinced I'd wake to something big and furry crawling on me), to the impossibly muggy nights, mosquito overload, and waking around 4-5AM to the sounds of various farmed animals screaming for their lives as they were being prepared for slaughter; or my last night there wherein I stayed up for hours using Google Translate to talk to Jero and her husband Made (pronounced "Mah-Day"), and that I'd end up purchasing one of his paintings before I'd left.
But let me back up a bit. Ready? Okay –
THE FAMILY & THEIR COMPOUND
The first person I met upon arriving was Jero, a 35 year old mother and wife. She is the 7th generation of her family to inhabit this compound.
Jero's husband, Made, is a painter by trade and sells his paintings at markets to bring in money for the family. They share their compound with their two children, Jero's brother, Ketut (who makes food at the family Warung/eatery- just at the entrance to their home), his wife and their three children, and Jero's mom and dad.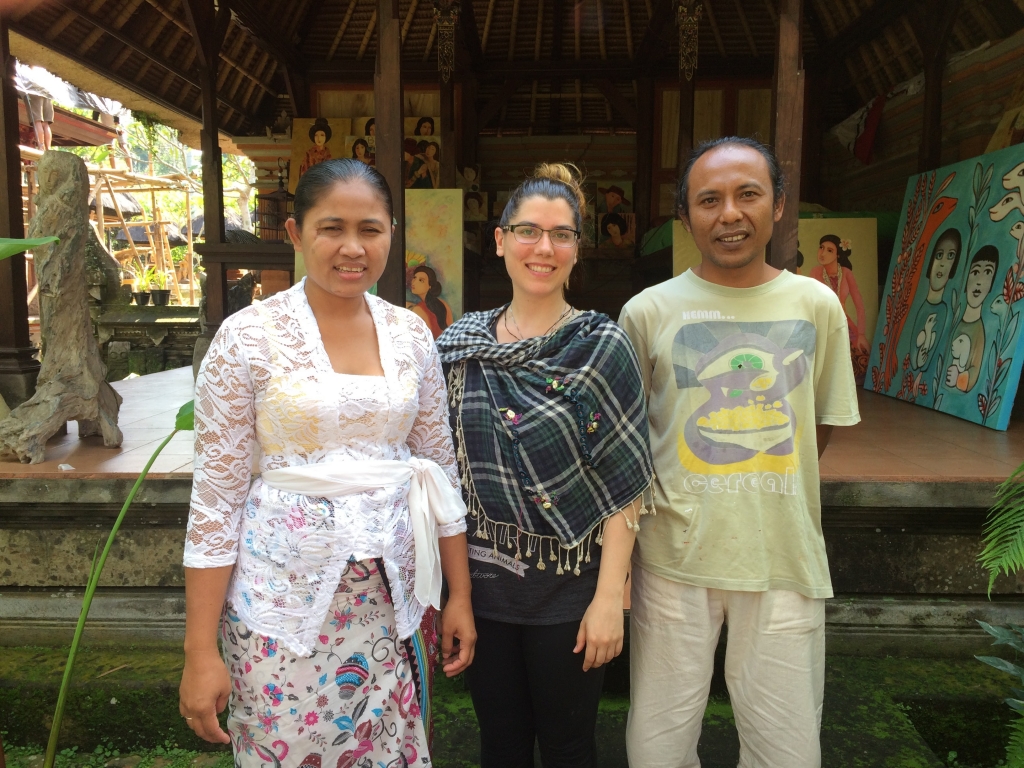 Balinese people typically live in what Ketut described to me as a balance of yin and yang: welcoming light (outside areas/plants/nature) with dark (inside the buildings). The compound includes a central courtyard, family shrine, pavilions, utilitarian structures, and the house gate. Each couple has their own single-room building, the children have their own, there's a separate temple area, kitchen, garden, and work areas- for painting, food prep, etc. Each of these buildings and spaces are divided by narrow walkways lined with moss-covered sculptures of various people and gods, manicured greenery growing from all directions, dotted with brightly colored flowers.
Each building is strategically situated depending on the rise and set of the sun and the role of said building. For example, the kitchen is (for reasons I do not know) typically on the side of the compound that is closest-facing the ocean.
It took me a few days to settle in but I soon came to enjoy how the compound was constantly buzzing with the sounds of kids playing, chickens roaming, puppies running, or tradesmen repairing this building or that.
Jero is incredibly nice and despite our language barrier she was always making great efforts to communicate and make sure I was taken care of. There were a few occasions that she drove me by scooter into Ubud city center. She dressed me in traditional ceremonial dress and brought me to two of their day-long village-specific and multi-village ceremonies. Jero is soft spoken but has a hardness to her that I interpreted as a sense of self-confidence muted only by the fact that her role within her family dynamic is dominated by child rearing and taking care of the men.
Jero's husband, Made shared an interesting and sweet story with me on my last night at their home. He spoke of a noticeable scar that Jero has, just below her right eye, that cuts into her cheek and spider webs out in two directions, from the outer edge of her eye. He explained that Jero had an accident when she was younger, and when she and Made were first dating (though I never asked or found out what exactly happened). She tried to break off the relationship because she thought the scar made her ugly and an embarrassment. But Made disagreed. They were married shortly thereafter.
Even though we were mostly using Google Translate to share and understand the story, the sweetness in which they looked at each other made the entire telling even lovelier. Jero's English is much better than Made's so he would also often ask her to how say this or that. She'd often giggle when he would ask something about how to say, "when we fell in love" or "I told her she was still beautiful to me."
The first thing Jero did when I met her was invite me to join her in making 'canang sari' for the next day's ceremonies. Canang sari are offers to their Gods. They place them out in specific locations three times a day. "It is…a ritual of giving back what has been given to you by the Gods. It is a sharing that is not based upon fear, but on gratitude to the richness of life." – Street Directly.
I watched as Jero expertly shaved, cut, and folded thin bamboo leaves into intricate designs using only her hands and a stapler! We sat together only communicating through subtle hand gestures and single word English as Jero stapled together 2-3 elaborate canang sari to my 1 simple one. Haha.
Jero spends hours each day making these offerings. They grow the flowers (that they fill each woven piece with) on their property right within the compound, and cut and store them in a designated refrigerator.
I really enjoyed getting to know Jero and her husband. Before departing on my last day I kept noticing this one painting—a bust of a woman, almost Picasso style. I was drawn to it and felt compelled to ask how much it cost. I walked out with my new painting and a sense of warmth and understanding that I will never, ever forget.
Their lives and world are nothing like the one I grew up in and the fact that they so generously welcomed me into their circle, their lives, and their livelihood, has made this one of the most memorable experiences of my life.

Oh, Jero also made me (and any other guests that may stay) breakfast every morning. We had several conversations about vegan options so she mostly stuck to fresh fruit and tea- which was absolutely perfect for me! 🙂

THE CEREMONIES
On my first morning at Jero's home she dressed me in traditional Balinese ceremonial garb. I then hopped on the back of her scooter and we jetted down to the first stop, which I can only equate to a temple of sorts, but it wasn't the "official" temple for further ceremonies later on.
As this ceremony was specific to this one village—a traditional monthly ceremony for every day before a full moon—I was definitely the only non-Balinese person there. This was not a 'show' for tourists, but their real life. It was pretty incredible, really.
The women were not shy about staring and smiling at me. One fellow kept asking me several questions, in broken English and even taking unsolicited pictures of me using his smartphone. I felt utterly useless not knowing a word of Indonesian (and of course a little uncomfortable having my photo snapped randomly and repeatedly).
Then some ceremonial things started happening. As the majority of the villagers sat on their bent knees or legs folded to the side (often atop their shoes), Made began an elaborate dressing process, wherein he entered and then exited a towering alcove wearing what resembled a big white lion-faced mask and gigantic fur-like dangles of ribbon, cloth, and things I don't even know (probably fur). When he was ready (wearing what looked like a huge, heavy lion mask and bulky long layers of cloth) the young men in the village put together large staffs adorning umbrella-like decoration and gold-figurine-topped flags. The young women placed and carried large canang sari atop their heads.
Made then stood in front of a man seated among offerings and incense (he somewhat resembled a priest of sorts, I'd guess), with the young men and women behind him. Everyone else began demonstrating various forms of prayer utilizing incense, flower petals, and sprinkled water, followed by placing some cooked rice on their foreheads and center of the chest, at the base of the neck.
Following, the young men, women, and Made began walking slowly in a line, circling the "priest" as he continued chanting and the chants from the other villages became louder. There were bells and clinks and clangs of ceremonial rhythm and magnitude.
I was in awe, I felt out of place, I almost cried a few times (overwhelmed with awe-inspired emotion cry, not sad cry). Oh and I could have done without watching them sacrifice a baby chicken. Yeah that happened, sadly. :/
Following this ceremony everyone formed a procession and piled into big trucks. They all went in a giant group to a much larger temple at the top of this incredible hill. I didn't see it for myself on this first day because I got lost when riding a scooter by myself (for the first time) and then toppling over, happening upon other similar ceremonies, and getting stuck in the rain. However, I did go with them the next day to the big temple and it was equally if not more stunning of a series of rituals (by each village, taking turns).
After each village conducted their similar but separate prayers with the walking, chanting, lion-masked endeavor (I noticed that each village seems to have their own color schemes as well!), they all came together to eat. It kind of seemed like a "mess hall." Gigantic pots held a few vegetable options and rice, and some non-veg things.
Jero made sure I had plenty of rice and veggies as I sat with her family (avoiding eye contact as absolutely everyone seemed to be fixated on me attempting to eat with my hands while straddling a plastic rickety bucket for a seat).
At one point someone said something to Jero in a joking manner while pointing a finger at me directly. She later tried to explain that she is the only one in her village who ever brings tourists or outsiders to these ceremonies and often gets picked on (in a light hearted way).
No matter, I'm so grateful she is willing to include guests because truly, this is no experience you would have outside of a family homestay. Just incredible.


SHOULD YOU DO IT TOO?
My inclination is to say YES YES YES! But I couldn't let you go on without sharing that it was a bit of a culture shock for me and I struggled the first few days. Especially hearing the crying animals and not having hot water for showers or toilet paper (oh yeah that's another thing – always carry toilet paper with you – or napkins or something – when in SE Asia as most public and even some private toilets don't have any). I felt dirty and smelly most of the time, like I couldn't get clean. That didn't bother me too much because I knew it was temporary but then I would remind myself that this family lives this way full time and then I'd feel guilty about feeling impatient and unclean and sweaty and gross all the time. It was kind of a mind game of sorts and definitely served as a solid reminder of my privilege.
But this is all to say…
Spending 5 days with Jero and her family reminded me of the importance of living with intention, mindfulness, generosity, and gratitude. And that we truly need so little (physical possessions and money) to be good people, to be happy people; to live fully and healthfully.
As The Minimalists would say, "collect experiences, not things." Jero and her family have given me so many experiences that I can now add to my memory bank. I don't know that I have the words to describe how it all left me feeling, other than to say: This life you have- do not take it for granted.
If you feel you are compassionate (or want to be) toward other cultures and way of life, and wish to experience a truly unique opportunity should you visit Bali, then yes, go for it 100 percent. Just don't allow your expectations (no matter where they lie) to cloud this for you. If it does to you what it did to me, it will change you – maybe just a little – but enough to feel incredibly thankful for everything you never knew you had.
Check out Jero and Made's AirBnB listing HERE.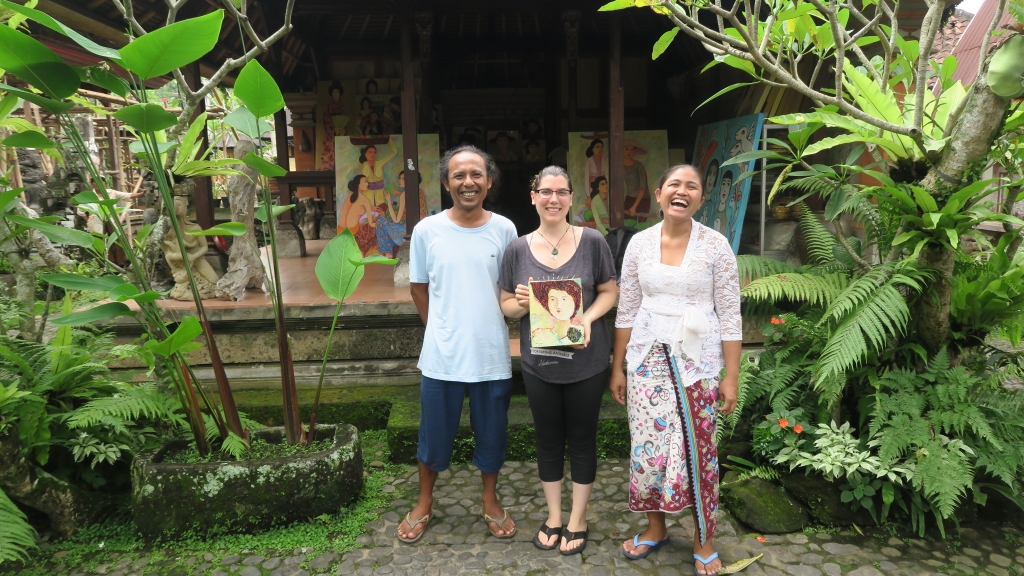 CHECK OUT MY SHORT VIDEO TOUR OF MY STAY WITH JERO AND HER FAMILY:
—