"

Vegan in Montreal – Oriental Flavour

" is the second part of my Montreal series! (For more vegan restaurants, check out the Winter Chapter.) In this post, you will find a list of Asian restaurants, including Korean, Thai, Vietnamese, and Chinese-Japanese fusion.
Yuan – vegetarian all you can eat ($$$) – 2115 Rue St. Denis 
Yuan is a restaurant loved by everyone, including non-vegans. I have already been here eight times, and just can't get enough. If you have a big stomach and love trying various dishes in one spot, this is a place for you! I am pretty sure everything is vegan, except the ice cream, which is labeled on the menu. Just a small tip for those of you with low budget:  if you go between Monday and Thursday, it is $20; Friday to Sunday is $22. With a limited menu, you can also do a brunch on the weekend for $18.
Chu Chai – Vegan Thai restaurant ($$$) – 4088 Rue St. Denis
I can assure you that Chu Chai is one of the finest vegan restaurants in Montreal. I took many of my friends to this place, and every time, all I got from them were praises after praises. My omni-friend was absolutely shocked by the quality of the tom yum soup, and claimed that he couldn't tell any difference between a real shrimp and a vegan shrimp.
Luckily, we were also able to get a nice cocktail for ourselves for 50% off! Tuesdays to Wednesdays before 7pm is their happy hour 🙂 A small tip: because of the price, it is better to go with a group of people and share!
Pho Da Son – Vegan Vietnamese buffet ($) – 3343 Rue Jarry Est
Pho Da Son is an all you can eat buffet, for only $12! This place is run by a Vietnamese couple, who were so generous and welcoming. When I asked the lady if the food was vegetarian, she corrected me with much assertiveness by saying, "Vegan, vegan!!!" There were over 40 different kinds of vegan meat, and of course, I couldn't try all of them. If I had to complain one thing, it would be that we had to use the microwave to warm up the food. Otherwise, it was pretty amazing.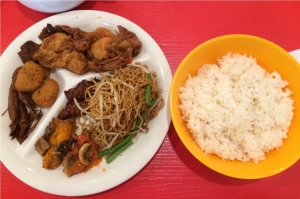 Man-Na – 1421 Rue Bishop 
If you read my other entry, "Vegan in Seoul", I have written there that veganism is not well accepted among Koreans. Therefore, it is difficult to find a vegan Korean restaurant here. However, Man-Na will respect your veganism, and will happily replace the meat and egg with tofu in your Bibimbap.
Kantapia – 364 Rue Sherbrooke Ouest
Situated near McGill university, this small Korean restaurant offers delicious food at reasonable prices, making it popular among McGill students. I ordered a combo called Kim-Tok-Goon, which are the first character of each of these three dishes (Kimbap, Tokbokki, and Goonmandu). All of them are listed vegetarian, but they can be veganized on your request.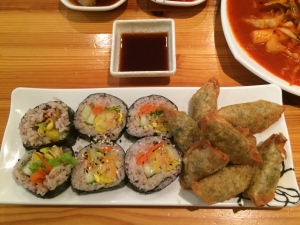 Additional Canada Vegan Travel Blogs:
Canada Vegan Travel Videos:
VeganTravel's Taste of Vancouver The VeganTravel team recent...

VeganTravel's Taste of Toronto Join us as we explore many of...

VeganTravel's Taste of Niagara Falls The VeganTravel team re...

The Vegan Roadie in Vancouver, BC (S02E11) Just a hop skip a...
VeganTravel.com is a place where vegans from around the world can share their passion for travel and adventure, help promote and grow interest in going vegan, shed light on the issues animals are facing around the globe, and help build a more sustainable and compassionate world. By sharing our collective experiences, we believe we can show the world how easy it is not only to travel as a vegan, but also spread a message of compassion with those we meet along the way.