"

Vegan in Montreal – Oriental Flavour

" is the second part of my Montreal series! (For more vegan restaurants, check out the Winter Chapter.) In this post, you will find a list of Asian restaurants, including Korean, Thai, Vietnamese, and Chinese-Japanese fusion.
Yuan – vegetarian all you can eat ($$$) – 2115 Rue St. Denis 
Yuan is a restaurant loved by everyone, including non-vegans. I have already been here eight times, and just can't get enough. If you have a big stomach and love trying various dishes in one spot, this is a place for you! I am pretty sure everything is vegan, except the ice cream, which is labeled on the menu. Just a small tip for those of you with low budget:  if you go between Monday and Thursday, it is $20; Friday to Sunday is $22. With a limited menu, you can also do a brunch on the weekend for $18.
Chu Chai – Vegan Thai restaurant ($$$) – 4088 Rue St. Denis
I can assure you that Chu Chai is one of the finest vegan restaurants in Montreal. I took many of my friends to this place, and every time, all I got from them were praises after praises. My omni-friend was absolutely shocked by the quality of the tom yum soup, and claimed that he couldn't tell any difference between a real shrimp and a vegan shrimp.
Luckily, we were also able to get a nice cocktail for ourselves for 50% off! Tuesdays to Wednesdays before 7pm is their happy hour 🙂 A small tip: because of the price, it is better to go with a group of people and share!
Pho Da Son – Vegan Vietnamese buffet ($) – 3343 Rue Jarry Est
Pho Da Son is an all you can eat buffet, for only $12! This place is run by a Vietnamese couple, who were so generous and welcoming. When I asked the lady if the food was vegetarian, she corrected me with much assertiveness by saying, "Vegan, vegan!!!" There were over 40 different kinds of vegan meat, and of course, I couldn't try all of them. If I had to complain one thing, it would be that we had to use the microwave to warm up the food. Otherwise, it was pretty amazing.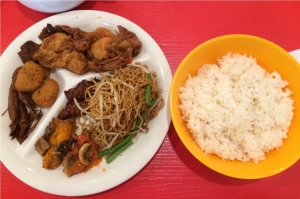 Man-Na – 1421 Rue Bishop 
If you read my other entry, "Vegan in Seoul", I have written there that veganism is not well accepted among Koreans. Therefore, it is difficult to find a vegan Korean restaurant here. However, Man-Na will respect your veganism, and will happily replace the meat and egg with tofu in your Bibimbap.
Kantapia – 364 Rue Sherbrooke Ouest
Situated near McGill university, this small Korean restaurant offers delicious food at reasonable prices, making it popular among McGill students. I ordered a combo called Kim-Tok-Goon, which are the first character of each of these three dishes (Kimbap, Tokbokki, and Goonmandu). All of them are listed vegetarian, but they can be veganized on your request.