Salut, tout le monde! 
For my third blog, I wanted to put together a nice list of vegan places that you can visit in Montreal. I have actually lived here for two years now, but I happen to discover a new vegan eatery every time I go out, making me feel like a traveler…! This winter, I have found some really cozy vegan restaurants, and I have grouped them together, to make a nice pair with Montreal's snow.
First of all, I am going to start with MY favourite place, where you can warm up your hands and feet, and enjoy the view of Montreal's plateau. And the winner is….
Invitation V (vegan) –  254 rue Bernard Ouest

Invitation V is really special to me because I love brunches (my mom and I went for brunch almost once a month before I turned vegan) and this one's got one of the best in town. As you can see here, I got myself an omelette, which I haven't had since going vegan. I also ordered their freshly brewed coffee, which comes with almond milk and raw sugar. Doesn't it look amazing?! Just watching the photo of it brings me so many warm memories.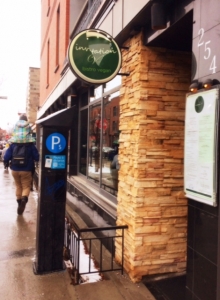 La Panthère Verte (vegan) – All over Montreal
Next up is La Panthère Verte, which means "The Green Panther". This one is the place to go when you're feeling down and need some alone time. The two collages are from different locations, and you probably noticed that many seats are empty in both. In the first location (near Metro Snowdon), I got a demi-pita falafel sandwich and soup, and in the second location (near Metro Berri-UQAM), I got a Viramisu and green tea. Since these places are known for their tranquility (and good wifi), whenever I have a pile of work to do, I come here and get them all done.
Café Résonance (vegan) – 5157A  Avenue du Parc

Do you like live music? Café Résonance is famous for their daily evening jazz music (and sometimes classical), and DELICIOUS vegan food. Last year, when I brought my friends to this place, I always got their signature bowls. Last month, I saw that they had added vegan mac & cheese on their menu!!! Of course, I had to try it. I believe they use miso powder to make the cheese, and it tastes like heaven (well, at least 100 times better than real cheese). Anyway, if you like loud music, I highly recommend Café Résonance. (No dance floor, though.)

Lola Rosa (vegetarian) – 4581 Ave du Parc
There are two locations of Lola Rosa: one on Parc and one near McGill University (but you need to make a reservation for the latter). I would say most of the dishes at Lola Rosa are more or less in Mexican style. My friend and I ordered a small size nachos (they accidentally made it a bit larger than usual) with vegan cheese, and burrito. This place might be one of the most popular vegetarian restaurants among non-vegans.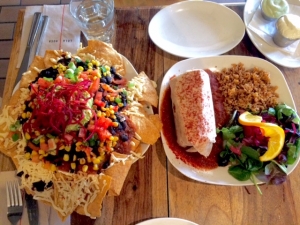 Café des Chats (vegetarian) – 3435 rue Saint Denis
If you're a cat lover like me, Montreal is the perfect place for you. There are three amazing cat cafés, where you can adopt a cat: Café des chats, Café Venosa (VEGAN- permanently closed) and Café Chat l'Heureux (vegetarian, with lots of vegan options). The friendliness of the cats depends on the café, and on the day, so do not expect too much. However, you can have some expectations for the food! The cupcake in the photo is vegan, and the meowchiato beside it, is made with soy milk. Below that, are photos of adopted cats from Café des chats. The rest are photos taken at Café Venosa, where you can see my friend and me being accompanied by the furry friends. The only difficulty I had was drinking my mocha with the 3D cat! (Because I felt bad…)
I hope this post was helpful and I wish all of you a wonderful trip to Montreal. There will be more Montreal series, so stay tuned!
A tout à l'heure !