Québec City is the capital of the Province of Québec, and I can assure you that it is one of the most charming places to visit in Canada. People are extremely polite and generous, and the scenery is exquisite. Of course, Québec City is rather a small town and there aren't too many vegan restaurants, but the level of awareness towards veganism was quite high. (Therefore, it wasn't too difficult to find vegan food.)
Crudessence is a high-quality raw vegan restaurant in Québec City.  Situated near the train station, Crudessence makes it convenient for travelers to stop by and enjoy the food. After a 3.5-hour train ride, I decided to get a nice meal before checking-in to the hotel.
When I went in, I was greeted by the friendly staff, who were more than patient with my broken French. I asked them for the most popular dish, and they recommended the Poke Bowl. Usually, I'm not a big fan of raw food, but this bowl was amazing. Not only the portion was just right, but the tempeh sticks also enhanced the taste of the fresh vegetables. After the meal, I couldn't help myself but try their dessert, so I got the berry cheezcake. It was a very good start to the trip.
After checking in at the hotel, and a nice promenade around the Old Québec, I decided to check out Restaurant NESS, a vegetarian restaurant. I believe they had cheese in some burgers, which, of course, you can opt out. I got a veggie burger with a side of salad, and as you can see in the photo, this was quite a masterpiece. I enjoyed every single bite of it!
For dinner, I went to the nearest restaurant from my hotel because I was exhausted from walking, and other vegan restaurants were too far away (on the other side of the river). Bello is a super chic Italian restaurant where you can savour the classy and luxurious taste. Because of the romantic atmosphere, this place was filled with young and old couples. I ordered the Tagliatelle Funghi, made with truffle oil. If you ever decide to visit, just make sure to get it without parmesan!
What I love about Bello is that you can get the pasta in two different sizes. If you're on a diet like me, or just not very hungry, you can always choose the smaller one. ????
On the second day of my trip, I went for a walk on the Grande Allée, where all the eateries cohabit. While strolling, I saw many restaurants that caught my eye, but none of them had a vegan option. Then, after passing about 10 places, I found Taverne, where people were spending their favourite sunny day on the terrace. Luckily, they also had a vegetarian burger on the menu, which came with a side of fries and a coleslaw (which I forgot to tell them that I couldn't eat it). ????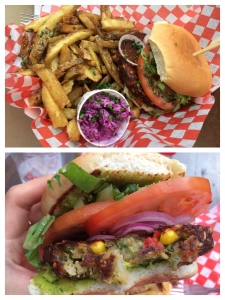 Café Félin Ma Langue Aux Chats
If you've read my previous posts, you probably already know how much I love cats. Well, guess where I went! A cat café! This cat café was one of the most well-designed places I had ever seen. Besides being bothered by kids and having to bite them, the cats looked somewhat content. On the menu, you can find three vegan choices, which I couldn't try, unfortunately.
Nili Alimentation
A mix of a souvenir shop and a café, Nili Alimentation brought me a wonderful surprise. I went in here only to avoid the rain, and serendipitously, I found something in the display that made me smile. Among the pre-made meals, I discovered a vegan soup that had a cute smiley-face sticker on it. ???? I mean, who thinks of doing that (unless the owner is vegan)?! I just thought it was so special. I bought one and took it to my room, and ate all of it while listening to the raindrops outside my window. It was surely an unforgettable moment.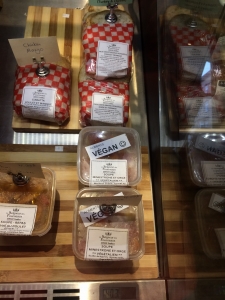 While walking back to the train station…
Although it was a very short stay in Québec, I was pleased to take so many wonderful memories with me. While leaving my hotel and wishing that I would love to come back soon, I heard some really exciting music from the distance. As I got closer, I noticed a drummer and his dog, both in matching hats (how adorable is that?!). The performance was impeccable, but what amazed me more was the sign in front of him that said: "Help the Planet, Recycle". It felt so great to see this powerful setting in Québec. I have much respect for people who push their limit to do good for the world because it takes a lot of courage to voice such strong opinion in public.
Every day, I see positive changes in people's perspective and awareness. I really do think that we can hope for a vegan world. ☘