~My First Visit to Toronto~
After visiting Toronto this October for the first time, I decided that it makes the top 5 of my favourite vegan cities. There were so many vegan eateries all over downtown that I just didn't know which ones to pick! Luckily (?), I arrived in Toronto on Thanksgiving Day, making a lot of places to go on holidays. And there was one place that was open: The Hogtown Vegan.
The Hogtown Vegan – 1056 Bloor St. W
I have heard so many good things about this vegan eatery, so I was really excited to try their food. The place was clean and serene, with nice art works on the wall. Definitely my type of restaurant!!
The food was truly amazing, and so was the service. I loved every bite of it! The Hogtown Vegan is highly highly recommended!
Vegetarian Haven – 17 Baldwin St.
I remember walking here on a cold, rainy evening, and I was just desperate to go inside anywhere and warm myself up. I was so relieved to find this place that I misread HAVEN as HEAVEN…
Vegetarian Haven is an Asian-inspired restaurant, so if that's what you're into, go check it out!
Fresh on Bloor – 326 Bloor St. W
Fresh was another place that was suggested by many of my friends. I met an old high-school friend in Toronto and had a lovely time catching up. We both ordered a bowl. They have two kinds: standard bowl and the premium (but I really don't know what makes one different from the other).
I really liked the unique sauce that they used, and it brought out a lot of exotic flavours – definitely something I had never tried before. However, frankly, it did not meet my expectations and the portion did not reflect the price. Unfortunately, I would not be returning. 🙁
Fuel+ – 471 Church St.
Just before heading to the train station to go back home, I made a quick visit to Fuel+.  Not knowing that this place is known for their smoothies, I made the mistake of looking for a sandwich. Thankfully, they had some prepared food in the fridge that I could take out.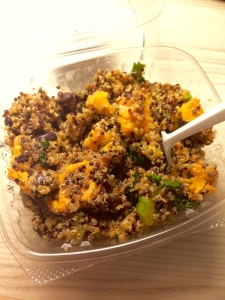 Although my last meal in Toronto was not as fancy as the previous ones, I was happy to find numerous vegan places without any difficulty. The only thing that I regret is that I didn't have much time to explore more vegan restaurants. Well, I guess it gives me a reason to go back!  So… yes, there will be a part II  ♥
Today is the 25th of December —  and I had the most amazing vegan Christmas! 🙂 I wish you all a very Merry Vegan Christmas, too!