I have mostly been exploring areas around Sydney since I got here: Blue Mountans, Hunter Valley, Manly. I finally took a weekend to explore a bit closer to the city, a suburb called Newtown.  It should really be called Vegantown.  It's just outside the city centre, maybe a 10 minute train ride, and close to the university.  It's got a funky vibe and you can't throw a rock without finding a place with vegan options.  These are just some of the gems I stumbled upon.
This is an amazing concept! It's pay-what-you-can, volunteer run, and extra money goes towards helping people get back on their feet. They do have a chart by the counter that explains that $15 will cover their costs, and anything above that helps to give back to others. And it's 100% vegan! They post their menu on Instagram so you can see what's available, but some items tend to go fast. There's no pressure to leave in a hurry and you can order coffees (soy latte, cappuccino, etc), so it's a great place to get some work done if you go during off peak times. Unfortunately, this location is not doing that well; some people think it's due to the hostel that's a few doors down. The food is great, so I wouldn't definitely stop by if you can and help #keeplentilsalive!
Just down the road I found the Golden Lotus, which is an entirely vegan Vietnamese restaurant.  It's got a nice vibe and a big neon sign that says "Veganism is magic" on the wall, so I thought I couldn't go wrong! I was pretty full by this point, but did try the mixed entree platter: a sample of the entrees (or appetizers for those from North America). It was almost too much food, but it was really good!  Like most places, they close between lunch and dinner, so be sure to time your visit!
This one is a bit off the beaten path, about a 10 minute walk from King St.  It's a small cafe, with limited seating, and tends to fill up quickly.  They also have a few tables out front for a bit of extra room if the weather is nice.  The cafe started out as a raw cafe but they add some cooked items for their winter menu.  I'm not sure if they'd have cooked options in the summer.  They also have a pretty serious dessert case going on!  I decided on the house chai to start, which was delicious!  The "egg" dish I got was a bit surprising since it was quite cold, like it had just come out of the fridge.  I had ordered it because I was looking forward to some vegan eggs benedict, a nice cozy breakfast, so it was a bit disappointing in that regards.  Still worth a visit though 🙂
Ever since Gardein came out with their "fishless" filets, I've been getting back into "fish" dishes. And Bliss & Chips is fantastic! They have their own brand of "fish" which they can do battered or fried with lemon and butter, and they also have the Gardein product. The woman at the register (who I think was the owner) was super nice and explained all the different options to me and had lots of suggestions. I ended up going with the classic fish and chips, which came with a lot of chips! If you're going with other people, I'd suggest splitting the chips between two or three of you and focusing on the delicious fishy bits 🙂
It was only in March of 2016 that this gelateria went 100% plant based, but I'm so glad they finally did! There are cases full of delicious flavours, and some yummy cones to eat them in! I literally spent 20 minutes trying to decide on flavours the first time I went in there… and then had to go back the next day and get two more! The shop is just by the train station, so there are no excuses for not stopping by.
This is a great little bakery stand at the Newtown Market on Saturdays. Selling rotating sweet treats at a little stand by the market, including cakes, donuts, lamingtons (an Aussie tradition), cupcakes, and bars. They run either $3 or $4 each, which is a really good deal! She will also do custom orders with about a week's notice; I ordered cupcakes for my office as a thank you before I left and they were a hit!
The Cosmetic Kitchen
I just happened to walk past a store front proclaiming cruelty free, vegan make-up all under $20.  They have pretty much everything: foundation, eye shadow, lipstick, bath salts, clensing masks… So if you're stuck in Australia and don't know where to go for some makeup or skin care products, check these guys out!  It doesn't seem to be a permanent location, so I would suggest looking them up online at Cosmetic Kitchen or on their Facebook page.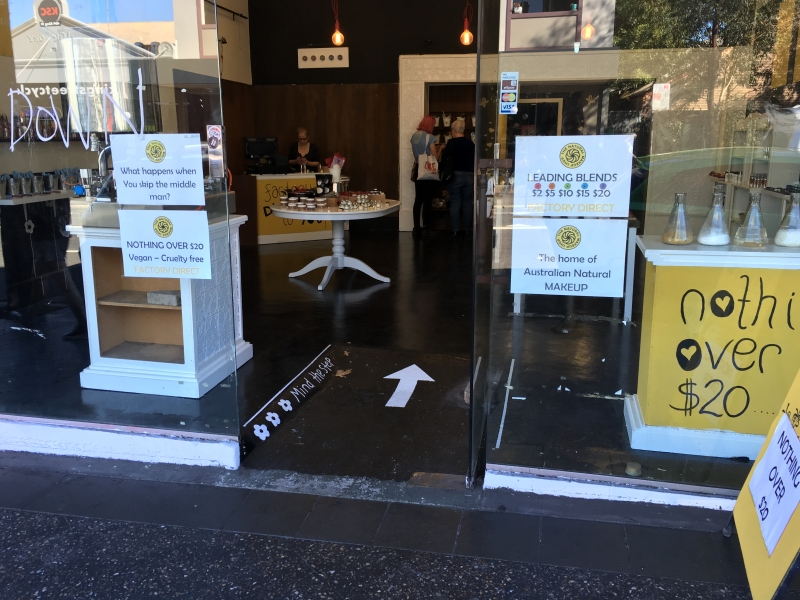 Honourable Mentions
There are many other places I walked by, sometimes I didn't have the time to stop in, but in case you're wondering…
I would definitely recommend visiting or staying in Newtown if you visit Sydney!
For more tips, tricks, and fun times, follow my travel adventures!
Blog: http://zenonaplane.wordpress.com
Facebook: http://fb.me/zenonaplane
Twitter: http://twitter.com/zenonaplane
Instagram: http://Instagram.com/zenonaplane
Snapchat: zenonaplane