Vegan Travellers!
Before I begin this post I would just like to to point that-
1. I was in Brunswick Heads for one week and I obviously did not eat out for every meal, this blog post is about the options available for us Vegans in Bruns, specifically focusing on what I did try.
2. Almost every cafe/restaurant I ate at offered avocado toast, hot chippies, salads, ect.
Now that I've got that straight, lets begin!
Day 1
My first vegan meal I treated myself to after a two hour flight from Cairns to the Gold Coast and 30 minute drive to my favourite little town in NSW, was a fat slice of Lasagne from the Bruns Bakery.
This was yummy! I will say I would have preferred it to be heated through more though! This place has seriously impressed me. What started as a small bakery that only sold standard loafs of bread, pies and sweets has now not only expanded its space, but its menu too! There are almost just as much vegan options as there are non-vegan, both savoury and sweet.
Day 4
I went back to the Bruns Bakery on day four to indulge in something sweet this time, good thing I did because….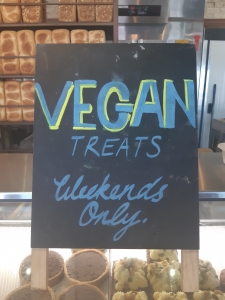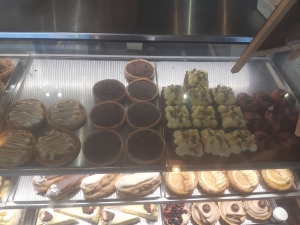 There were only four vegan sweet options in comparison to about 20 non vegan sweet options, but four is better than none right! Being my greedy self, I got straight into my treats before I could take a proper photo of them, so this is not my best picture. The top shelf were the four vegan sweets, from left to right there was a meringue tart, chocolate tart, carrot cake, and berry rhubarb to choose from. I stuck with what I know and ordered the chocolate and carrot cake. YUM! I definitely ate most of both of them but I did share them with my non-vegan family & friends on holidays with me.
Funnily enough they all agreed that you wouldn't know the carrot cake was vegan and they enjoyed the chocolate tart too (Who doesn't like chocolate though?). My only comment, which was to be expected, is the price. I paid $13.50 for the two vegan sweets in comparison to my friend who paid $18.50 for four non-vegan sweets. I was happy to pay the price but I can see why some people are happy to stick with the non-vegan options. Not only are they more expensive but they are also usually smaller in size as well.
Day 5
I am currently writing all this at one of the most iconic spots in town, Hotel Brunswick.
You cannot go past this place, this is where its at! Good views, good vibes and good vegan food!
As you can see they have a few vegan and vegetarian options on their menu with the V & VEG next to the descriptions. They also had a vegan option on their specials board.
Day 6
For dinner, three of us decided to eat at the Hotel Brunswick for dinner. My mum and I both ordered vegan options. I had the Sweet Potato & Dahl meal and my mum had chilli bean tacos! We both tried each others meals, but I have to say that we both enjoyed her tacos more (dang haha!)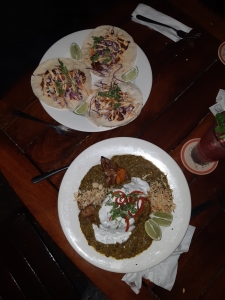 Personally I don't think I enjoy coconut yoghurt or any type of yoghurt in my meal, but if you enjoy it then this might be for you!
Day 7
Our final day in Brunswick we had to be out of our holiday house by 9pm so I ate my vegan lunch at the Burleigh Heads Surf Club. They had two Vegan options on their lunch menu- A vegan salad and vegan gnocchi- I chose the gnocchi and its a 10/10 from me!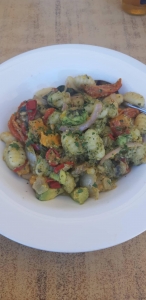 I definitely did not get around to every spot in town but I do hope this post inspires you Vegan Travellers to pop into Brunswick Heads for some delicious vegan good if you ever find yourself nearby.
It really is such a hidden gem with so many special places and so much good vegan food.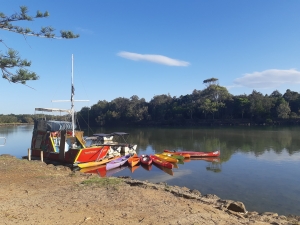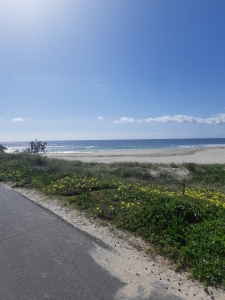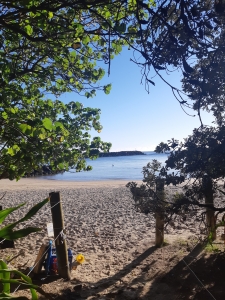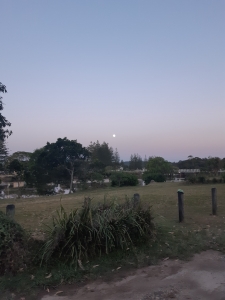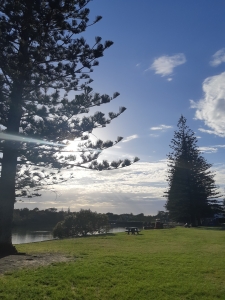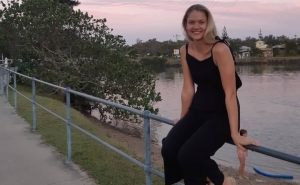 Since I did not eat out so much I decided to link a few more menus from the cafes in Brunswick Heads that I have eaten at before with a few vegan options! There are plenty more though : )
Yami
Brunswic Heads Health Foods
Table View
I also took some pictures of the vegan food on display which makes me so happy to see!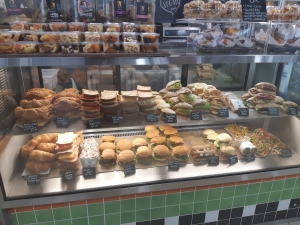 Great news- my family have booked the holiday house for next year again so I'll be sure to do another post with even more vegan meals I didn't get around to! If you guys are interested in hearing something else- e.g. what I ate at home on holidays, be sure to let me know : )
I will be travelling around Europe for a month in February so I am keen to share some of the food I get to indulge in when I'm there also!
Thanks for stopping by,
Happy Travelling,
Bronte (gratefuleveryday)