The line moved faster than I expected. I watched the three or so people ahead of me breeze through the Sabiha Gökçen International (SAW) Airport's "other nationalities" passport checkpoint—in Istanbul, Turkey—without so much a glance, let alone any questions, from the security guard at the end of line. "This will be easy," I thought to myself.
I'd been to Istanbul once before. It was about six years ago and was my first trip overseas. I recall being terrified of having to go through passport security, worried they'd find any reason I couldn't enter the country. I was sweating and carrying way too many bags. After a couple of routine questions, and trying to play it cool, I was through. Still shaken nonetheless.
After about twenty minutes in line I approached the young guard, passport diligently opened to the correct page. "Do you have a digital Visa?" he asked. "Oh. No, do I need one?" I queried. The guard somehow managed to make zero eye contact with me during the entirety of our exchange, but particularly so when he then exhaled loudly releasing a small groan of discontent. "Yes. Go over there," he pointed, "and get a Visa. Then go back to the end of line." he said. "Okay. This is something I need to pay for?" I asked. He nodded once sharply and pointed again, to a different line next to the one I'd been in. "Go." he said. "Uh. Oh. Okay. Thanks." I replied.
When I reached the woman sitting behind the glass-encased counter she appeared equally thrilled that I was unprepared. "25 Euro," she said. I attempted to slip a credit card under the narrow opening at the base of the glass before she said, "No, no. Cash only. ATM over there. Next to toilet. Euro only. No Turkish Lira." She gestured to the right and so I went.
At this point I was getting anxious as I knew my friends Melis and Sinan were waiting for my arrival. My flight into SAW had landed 30 minutes late as it was. As I paced quickly in the direction of the ATMs I pressed the home button on my iPhone to reveal that it'd already been about an hour since I had landed. Without wifi signal and no other way to get in touch with Melis and Sinan I hadn't been able to let them know what was happening.
Once spotted, I jogged up to the three brightly colored ATM machines, all blinking in different languages. On the first of them I selected this button then that, got to the end of the process, and then discovered the machine was out of Euros. I hopped over to the next one. Out of order. I gulped hard but kept my cool. Third times the charm, right? "English. English. There's no option in English." I tried once and then again to guess my way through the buttons until another unenthusiastic airport employee kindly helped me navigate the screen until I was able to withdraw the money.
I walked (see: near jogged) back to the passport Visa lady, handed her a 50 Euro bill, "No. 25." She said. "I only have this 50," I replied. She rolled her eyes so hard it looked painful. She reluctantly took the 50 and handed me the change and my passport and visa.
I jogged (see: near ran) back to the checkpoint line and zigzagged through the metal barriers until I was back in line. Another 20 minutes, and a different but equally unimpressed security guard, I was through!
Trying to not look like a total sweaty maniac I followed the crowd in front of me through the sliding glass doors to a dense crowd of people waiting in the pick-up area, for their friends and family. Now, nearly two hours since my scheduled arrival I spotted Melis and Sinan still there, waiting for me, and looking quite worried.
"Hi! Hi! Oh my gosh I'm so sorry! Hi!" I said as I approached. We exchanged cheek kisses and I trotted around the long barrier to meet them on the other side.
Finally. I'd made it BACK to Istanbul, Turkey. 🙂
–
Even though I was in Istanbul for a full week my agenda was tight! I arrived on a Wednesday evening, had two full days of friend-time with everyone who had come into the city for Melis and Sinan's weddings that Saturday. Sunday was a catch-up work day + more time with friends. Monday was my vegan food tour day with the lovely Maria (@mariatiqwah)! Tuesday was a touristy day with Melis and Sinan, and then I flew to Greece that Wednesday.
With all of that in mind, let's get to it, shall we? The food!
THE BEST VEGAN EATS
Vegan food may not be the first thing that comes to mind when you think of Turkey, but I'm happy to report that with the Mediterranean influence on much of the native cuisine, it's actually quite easy going out for food. However, I do recommend learning how to ask for vegan or meat-free options in Turkish if you don't have someone with you that can translate. You could pick up a copy of Vegan Society's The Vegan Passport (the booklet or the app) which contains vegan words and phrases in over 70 languages!
The following are the restaurants I had the pleasure of trying—which were either completely vegan or vegan-friendly.
Bi Nevi — 100% vegan
EUROPEAN SIDE
Necatibey Caddesi, Karanlık Fırın Sokak (Arapoğlan Sk.) No:5, 34425
(free wifi)
If there's one restaurant to go out of your way for when in Istanbul, it is Bi Nevi. With a daily rotating menu that's displayed using iPads (due to the frequency of updates), and many resources sourced locally—like their specially-vegan-made sesame seed burger buns from a nearby bread baker—I'd put money on it now that this will be one of your favorite meals in all of Istanbul!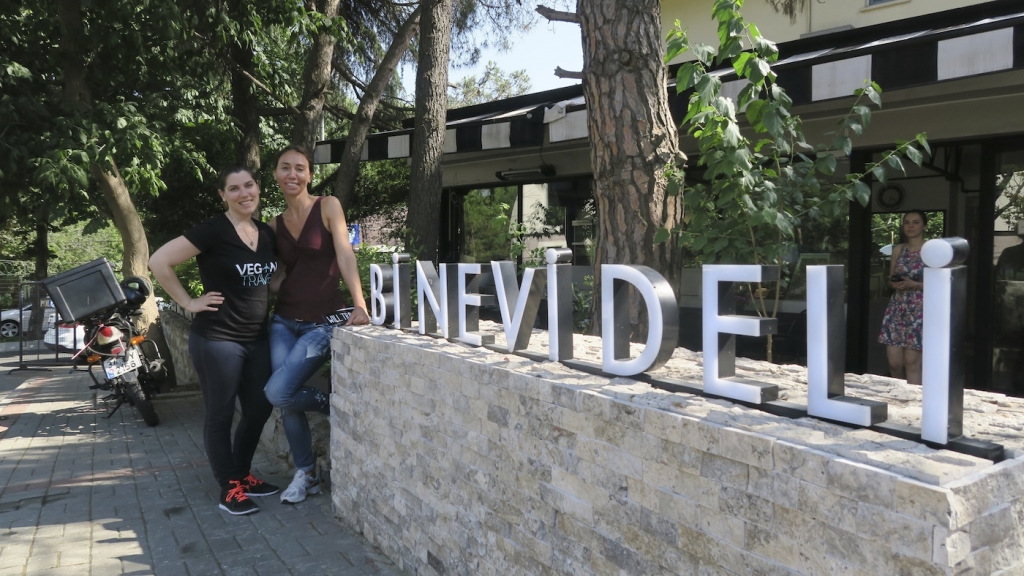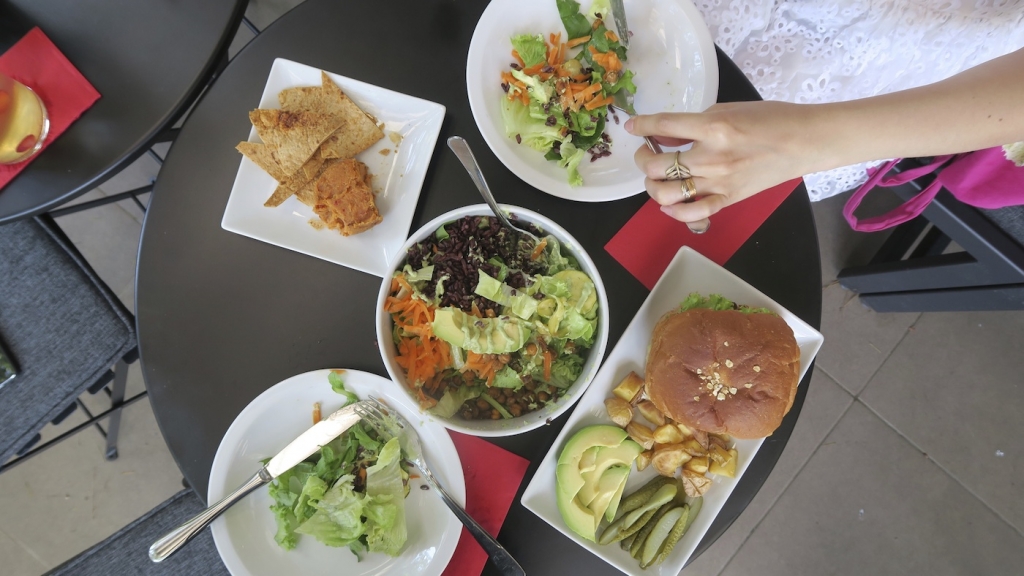 Bi Nevi was founded by Belkıs Boyacıgiller and Özge Şen (from California and Turkey respectively). Out of a passion for providing wholesome and unique vegan cuisine, catering to a niche market, and valuing quality over quantity – these two women have knocked it out of the park!
They plan to stay small as to best serve their customers; with Belkıs focused on the food side of the restaurant and Özge taking on the business and financial end of the spectrum (per their interests and specialties).
In chatting with both owners I learned that most of their customers are not vegan, but are vegan-curious and genuinely interested in healthful cuisine and dining out options.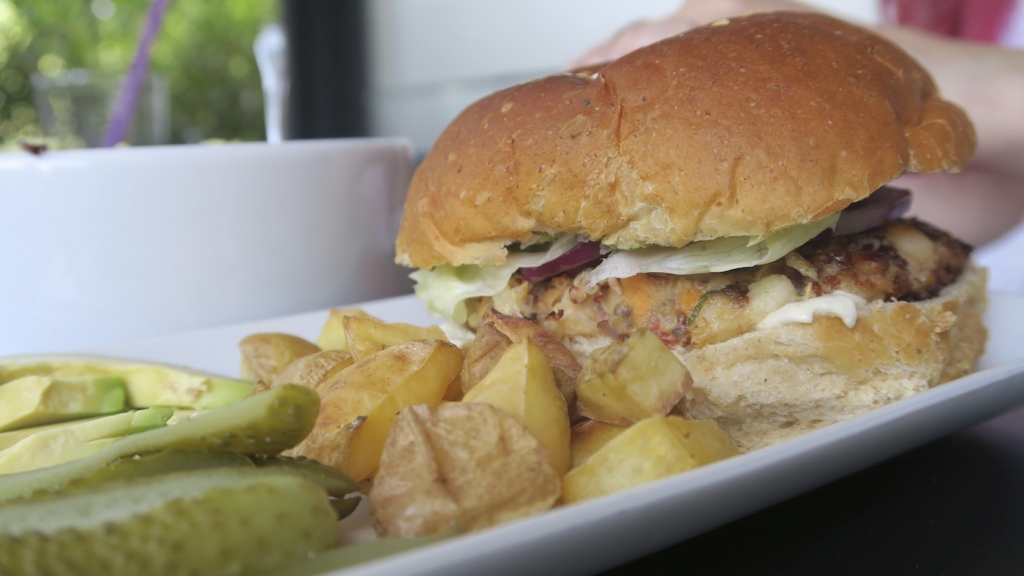 I loved learning that they sell freshly pressed juices in partnership with local juice companies, rotating the companies weekly in order to highlight and share as many of them as possible. Belkıs and Özge will also often sit and mingle with their customers while the customers are dining; particularly if they are eating alone. ::waves hello:: ←That's me. All the time! Haha!
Being in Turkey they do not have access to large vegan brands like Gardein or Beyond Meat. So they make their own seitan when possible and bring back things like nutritional yeast, from their travels.
They also focus highly on desserts as vegan sweets and treats are not easy to find in Istanbul. They even have a dedicated chef who makes new creations every single day. They give this chef full creative freedom to come up with what she'd like to do for the day, before testing it out and adding it to the menu.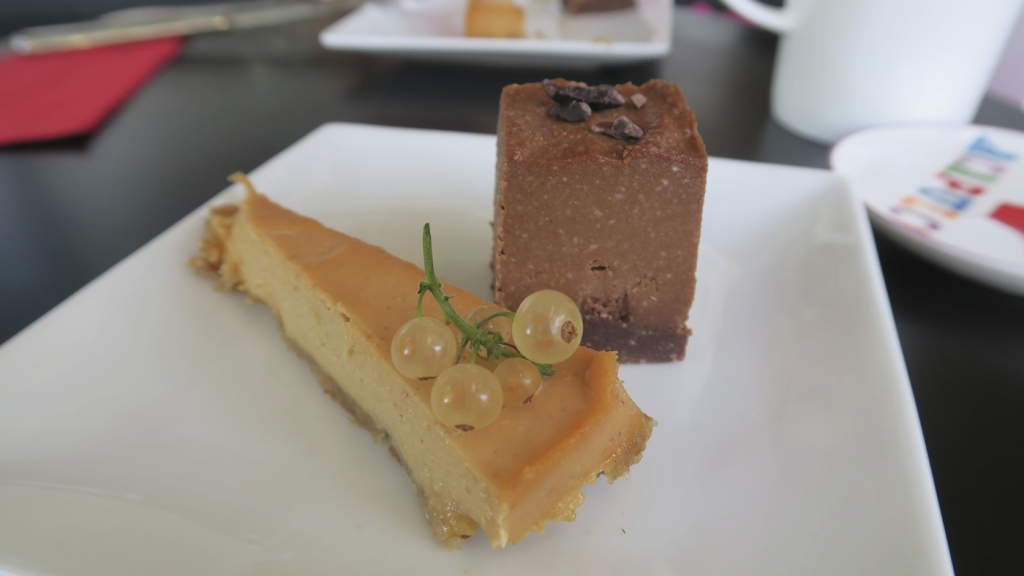 In addition to fantastic food, the environment and energy at Bi Nevi is palpable. They've got an black and white awning covered outdoor seating area, and a small walk-in section with a few more tables and chairs; and sweets on display. With bright white walls and a relaxing vibe, it's one of those places you could sit and lounge while the hours simply fly by.
Mahatma Cafe — 100% vegan
ASIAN SIDE
Rasimpaşa, Macit Erbudak Sk. No:53, 34716 Kadıköy
One of the very first fully-vegan restaurants (opened just two years ago) in Istanbul, Mahatma Cafe is making a name for itself thanks to its passionate founder, owner, and head chef Sait Biliz.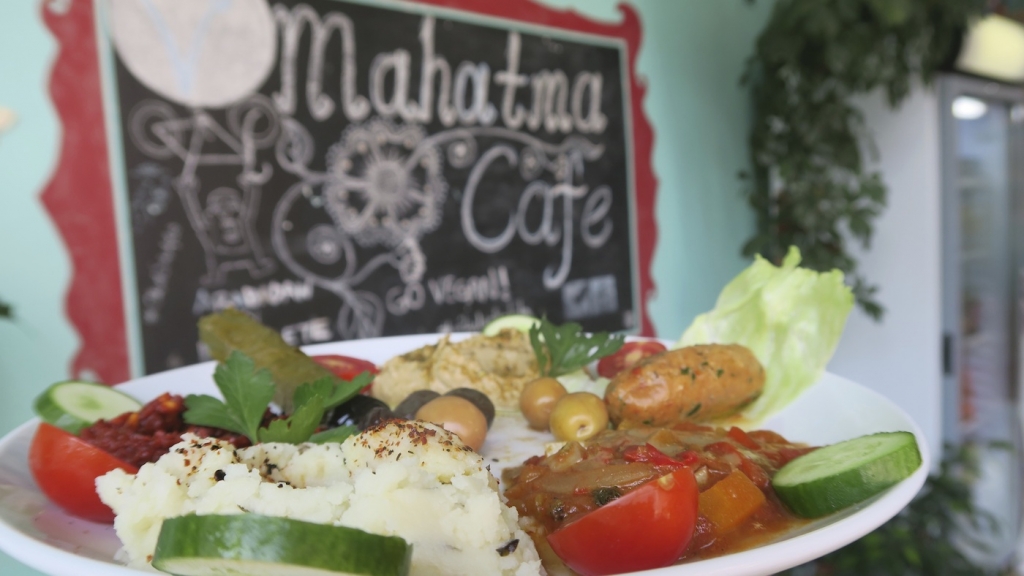 After becoming vegan and struggling to find vegan options around Istanbul, Sait decided to take the issue into his own hands. Despite just barely getting by (financially) Sait says that the restaurant is more of a passion project and form of activism for him. He wishes for the restaurant to serve as an example of how one can eat without using animals; and feels he's truly making a difference (even if it is little by little)—and especially since most of his customer base are non-vegans.
Serving only seasonal fruits and vegetables, as well as only using olive oil (no palm oil or hydrogenated oils), Sait believes he has one of the more unique restaurants in the country.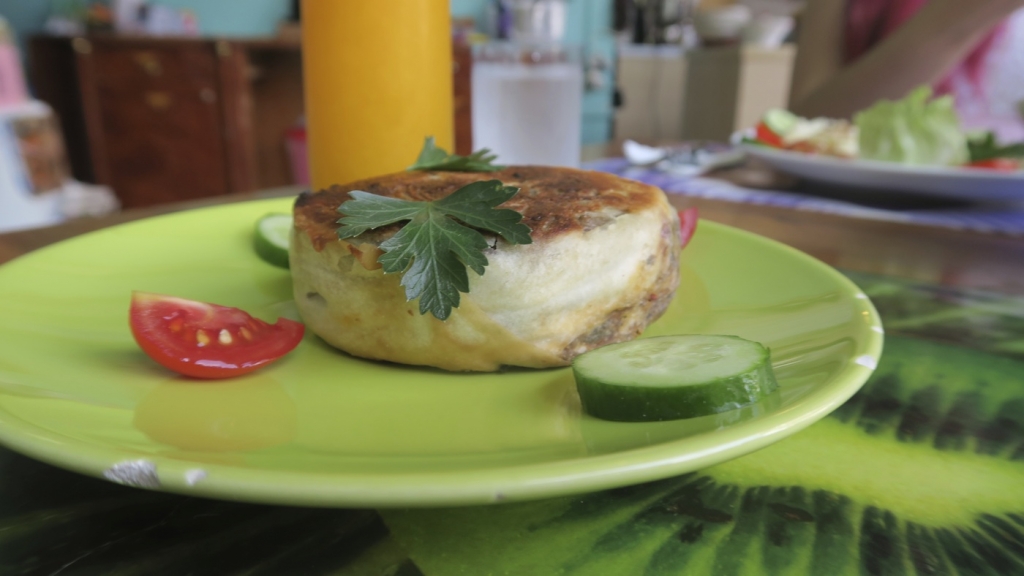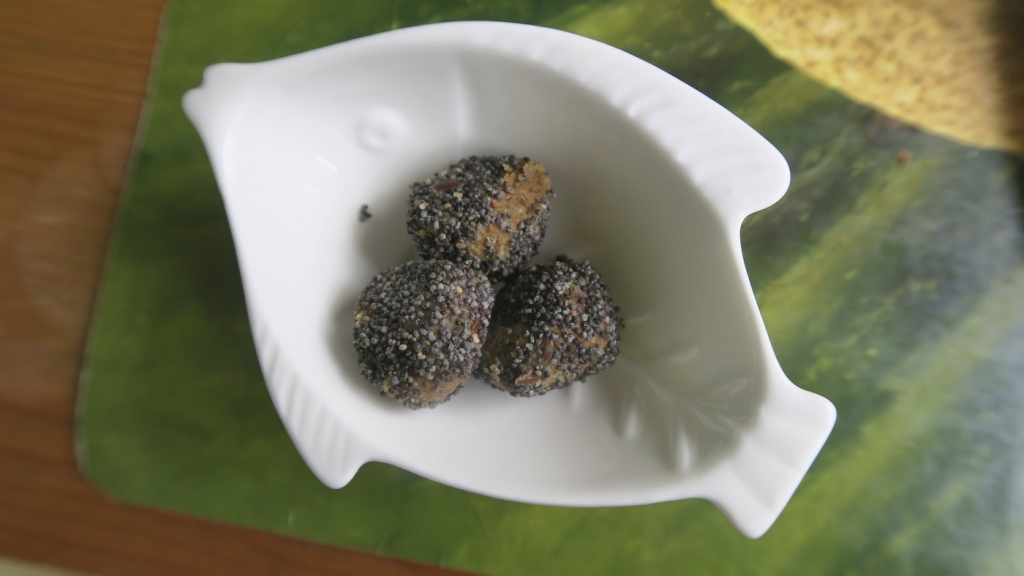 Something I've never seen in ANY other restaurant I've visited over the past five years or so is a vegan menu written in Braille. The owner of Mahatma Cafe has partnered with a fellow vegan, who is also blind. This person has started an organization and a movement called "Burada Engel Yok" (literal translation: "no obstacle here"). In other words, all are welcome and any perceived handicaps will not be treated as such at restaurants that display the window decal of the organization. "Görebilirsin" translates as, "you can see."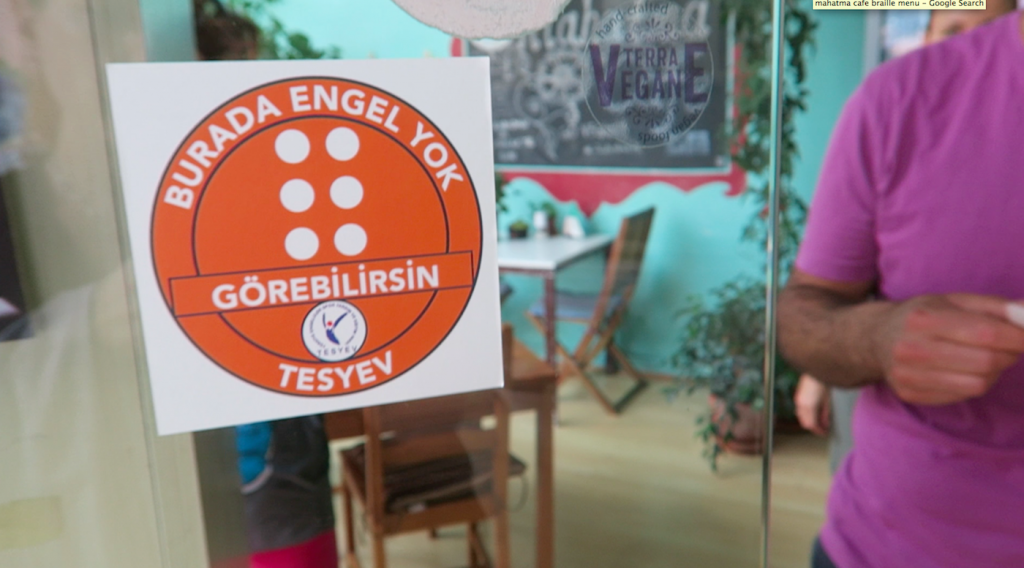 Before or after dining at Mahatma Cafe be sure to stop by CafeMU for a vegan mocha latte (with fancy Egyptian art!). I found it very challenging to find coffee shops and cafes that carried non-dairy milks. So if lattes are your jam, be sure to check this place out. They also carry some clearly-labeled vegan baked goods and they've got free, strong wifi! It's just a couple of blocks away from Mahatma Cafe.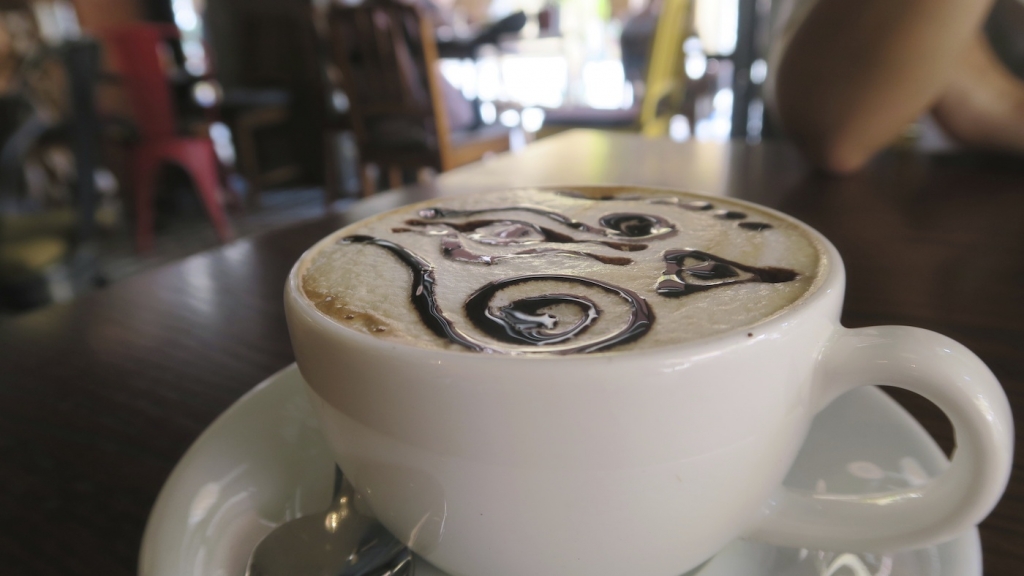 Within walking distance to Mahatma Cafe is a vegan clothing store called Tight Aggressive. I didn't get there but have heard it's a lovely place. Also within walking distance to Mahatma Cafe, I stumbled upon a blog recently talking of a vegetarian/vegan-friendly cafe called Muhtelif Mekan. It sounds a bit like a "cat cafe," with rescued cats roaming through the establishment. Again, a place I didn't get to myself but it sounds like it's worth visiting.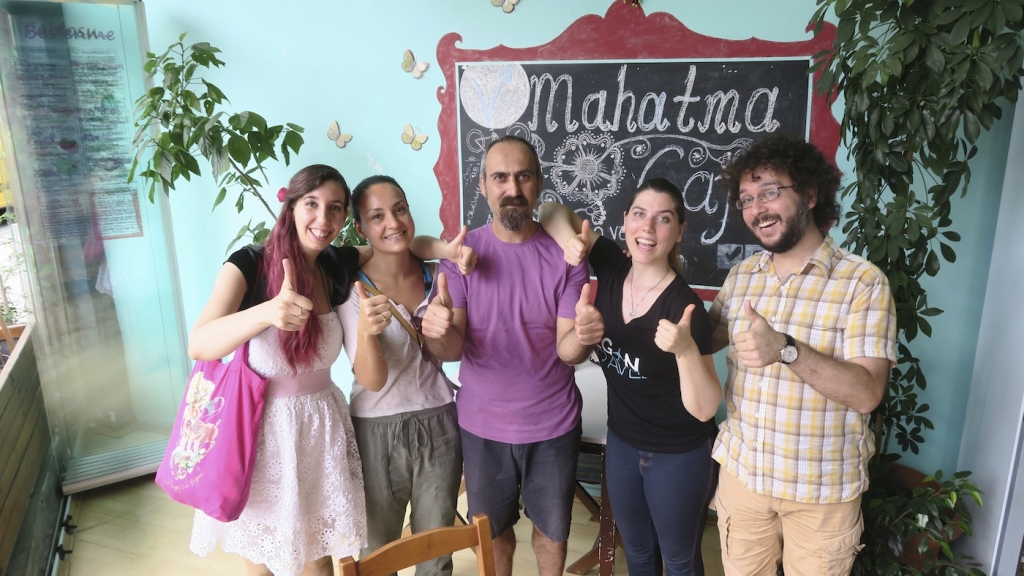 Zencefil — 100% vegetarian/clearly labeled vegan options
EUROPEAN SIDE
Kurabiye Sk No:8, Beyoğlu
(free, strong wifi)
If you find yourself out and about on Istiklal Avenue (which I highly recommend!) or in the Taksim area, you may want to grab a meal at Zencefil.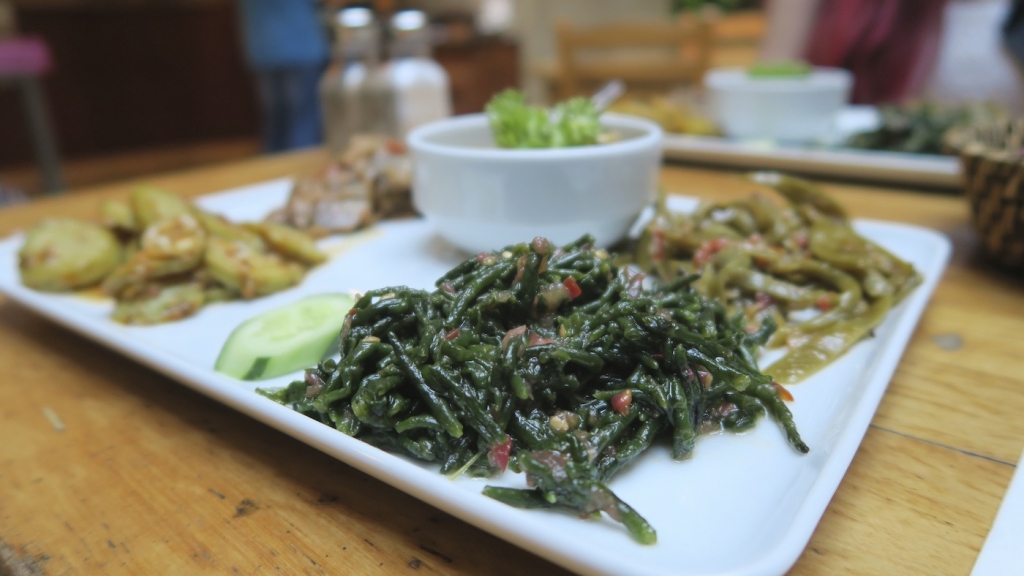 After making your way into the main entrance keep walking and then turn right into the high glass ceiling dining area. The naturally-lit interior accented by red brick walls, greenery, and modern décor makes for a comfortable setting.
Maria and I each got a mixture of all the small plate vegan options. Their menu changes regularly but on this day we enjoyed some zucchini in olive oil, local seaweed with spices, flavored string beans, marinated eggplant, and a lentil vegetable mix.
Betty Blue — vegan-friendly
ASIAN SIDE
Kuzguncuk, İcadiye Cd., 34674 Üsküdar
One of my most memorable stops in Istanbul was at Betty Blue. When my friends and I arrived at
Masum Mutfak (a vegan-friendly eatery) we were sad to see they were closed for renovations. As we were starting to walk away, a woman at the neighboring restaurant called us over. When she discovered that we were in search of vegan food she enthusiastically ushered us inside of her restaurant, Betty Blue.
One of my friends shared with her my travels for vegan food and she lit up! She began excitedly talking about how much she likes vegans and what we stand for. She feels we have trouble finding food in Istanbul and was happy to make us some vegan dishes. I found the unexpected kindness of this woman moving and inspiring!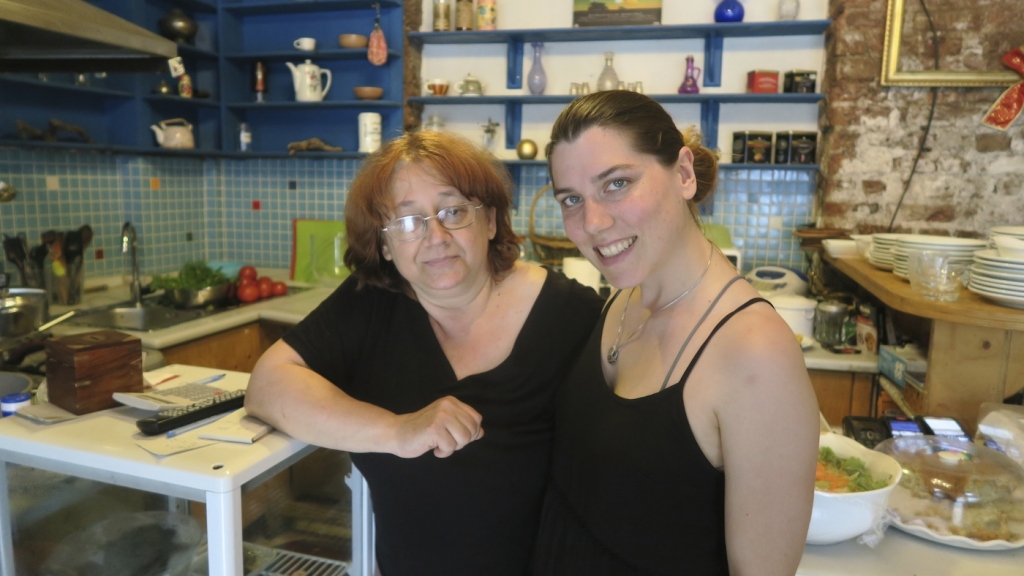 Kiva Han — vegan-friendly
EUROPEAN SIDE
Bereketzade, Galata Kulesi Sk. No:4, Beyoğlu
You'll likely find yourself in Galata at some point in your visit to Istanbul as it. The Galata/Beyoğlu area is full of restaurants, little shops, and cobblestone walkways.
As you make your way to Kiva Han (or strolling around the area) you will definitely spot the cylindrical Rapunzel-esque Galata Tower. According to Lonely Planet, the Tower was "Constructed in 1348 [and] was the tallest structure in the city for centuries and it still dominates the skyline north of the Golden Horn. Its vertiginous upper balcony offers 360-degree views of the city." If you'd like, you can pay to go up to the top of the tower.
But back to the food…
These are a couple of other places I didn't visit personally, but I've heard good things about both!
Bhakti Yoga Cafe — vegan-friendly
EUROPEAN SIDE
Bostancibasi sokak, Cihannuma Mah. 20 Besiktas
Offers Indian style cuisine and herbal teas.
Community Kitchen — 100% vegan
EUROPEAN SIDE
Şahkulu, Kumbaracı Ykş. No:57, 34421 Beyoğlu
Offers a changing menu focused on Turkish cuisine like vegan kebabs, baklava, and ayran.
Vegan Dükkan — 100% vegan grocery store
EUROPEAN SIDE
Cihangir, Soğancı Sk. No:8, 34433
I had the pleasure of meeting the owner of Vegan Dükkan—Istanbul's first and only all-vegan grocery store! It's a tiny place but it's packed from top to bottom with loads of hard to find vegan items including cheeses, milks, home care products, books, and more!
Targan, the owner and founder of Vegan Dükkan is the sole employee and works in the shop six days a week. After a chat I learned that he's been vegan for nearly ten years and opened the shop primarily as a passion project.
PRO TIP: more about the local food scene
A cool thing about Istanbul's food scene is that, due to the Mediterranean influence, much of the food is already vegan! So if you can't make it to any of the vegan-specific places mentioned about, chances are high you'll find an eatery with vegan options. Or, at the very least there is plenty of accidentally-vegan street food!
Çiğ köfte – Traditionally, this popular Turkish snack was made from raw meat. However (as of 2009) due to health concerns it transitioned to a fully-vegan nut-and-bulgar-based protein. Popularly eaten wrapped in lettuce and sprinkled with lemon juice, or in a thin pita or burrito like wrap with a spicy sauce, you'll find Çiğ köfte shops all over the city!
Roasted corn on the cob and roasted chestnuts – In many of the touristy areas much of the street food is 'accidentally' vegan. Some of my favorites are the roasted corn and roasted chestnuts. They are roasted (or in the case of the corn, sometimes boiled) without any additives!
Nuts, seeds, and dried fruits – If you've seen any photos or videos from Istanbul you've likely seen some of the amazing dried fruits, seeds, and nuts (and nuts IN fruits) most notably found in big markets, like the Spice Bazaar. But there are little shops all over the city that sell these. As well as things like big bags of roasted chickpeas and pumpkin seeds!
Freshly pressed juice – Similarly to the other street and small shop options listed above, you can find freshly pressed juice stands all over the place. My favorite is the orange juice ("portakal"). I've never had orange juice that's quite as fresh and delicious as what I've had in Turkey!
Turkish delights – This foodie review wouldn't be complete without including Turkish delights! 🙂 Fortunately most Turkish delights are already vegan. The gelatinous texture is created from a combination of cream of tarter and cornflour (among other ingredients). Just be sure to double check the ingredient if you're unsure. Some packages list the ingredients in English or you could ask a local for help in finding out. NOTE: The most interesting flavors can usually be found at the Spice Bazaar.
Additionally, you'll come to see that plain, sugar-free black tea ("çay") is a big part of life in Istanbul. Locals enjoy small tulip shaped glasses of it several times throughout the day – for breakfast, lunch, and dinner and between meals. I often saw men hanging out by their cars or with a group of friends drinking tea (vs. beer for example). It's part of the social culture in Turkey, so enjoy it while you're there!
Perhaps more of a tourist thing to do these days—but still worth it—is drinking Turkish coffee ("Türk kahvesi"). It's straight coffee (no milk added) and when ordered you can ask for it to be made with a little, medium, or a lot of sugar. It's unique because it's unfiltered and the beans are finely ground and then simmered (not boiled). The grounds settle at the bottom (don't consume those!) and the coffee is known to be quite strong. There is also a lost tradition of "fortune tellers" reading one's fortune from how their coffee cup looks, after the coffee is consumed and the grounds are tipped out. There is a customary way to have the reading done so be sure to ask some locals if you're interested in experiencing that part of it! 🙂
IMPORTANT THINGS TO SEE & DO
Istanbul has a very rich and fascinating history. It's 100% worth it to spend some time visiting the notable tourist attractions because they truly are incredibly interesting. You'll see some architecture, colors, and learn historical facts that will totally blow your mind. Seriously.
Here some things/places I highly recommend seeing/doing when in Istanbul:
Here is my video tour of the city if you'd like to see more of some of the things mentioned above:
VeganTravel, thank you for enabling me to explore one of the most fascinating cities in the world!